Early Childhood Development in Zambia
Photo by Dooshima Tsee/CRS
You can see the future of Zambia being strengthened in this room.
It is filled with more than 30 toddlers and children, some mothers, and volunteers engaged in different activities. However, it is not as noisy as you would expect. In one corner, toddlers play with felt books that have pages sewn with numbers, letters and shapes in bright contrasting colors. At the back of the room, children 3 to 5 years old draw in books or color with crayons.
Sister Ruth Kuyumba and Sister Teresa Kalaba move through the organized chaos helping children with their tasks or talking with volunteers and parents. This is a special space for children in Kasaba, Zambia. The room is equipped with age-appropriate learning materials for young children. It's a place where children and their parents gather to learn and interact. At the space, parents learn early stimulation, literacy and numeracy, and positive parenting techniques they can practice at home to improve interaction with their children.
"Saving one child will go a long way but I really believe we can save many more as the parents and communities are educated about what to do."
Sister Ruth of the congregation of the Sisters of Mercy in Zambia coordinates the activities of the ECD space—one of several child development activities put in place by the Strengthening the Capacity of Women Religious in Early Childhood Development, or SCORE-ECD, project to support holistic wellbeing for children. The SCORE-ECD project is a Conrad N. Hilton Foundation-funded project implemented by Catholic Relief Services. The project works through national associations for sisterhoods in Kenya, Malawi and Zambia to build Catholic nuns' capacity within congregations to ensure children under 2 years old thrive in a sustainable culture of care and support. Sisters work with children and their families to provide services focused on early child stimulation, nutrition, protection, water, sanitation and hygiene, and health.
"There have been a lot of changes since we started the project. With the kitchen gardens, children eat better, fathers are supporting their families, most of the children are now in school, families now store water hygienically. Even the staff at the hospital appreciate the work we are doing and tell us they see fewer sick mothers and children come into the hospital," Sister Ruth says.
Building a multilayered system of support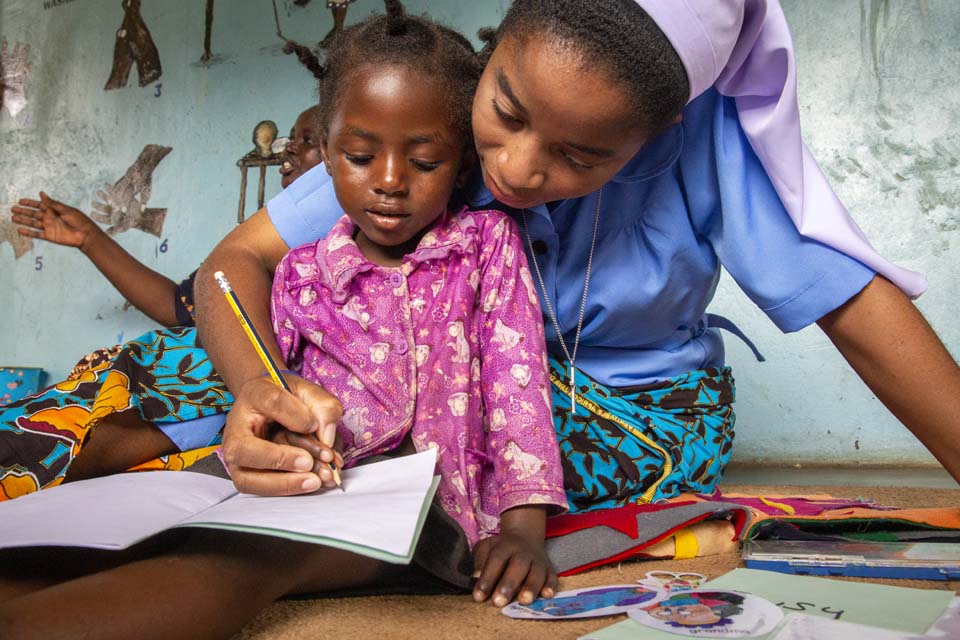 Sister Teresa Kalaba works with 2-year-old Christine Chibiliti at the ECD space in Kasaba, Zambia.
Photo by Dooshima Tsee/CRS
When a child is conceived, the clock starts ticking. The early years of life, from conception through the first 1,000 days of a child's life, are a crucial time when the most rapid and critical brain developmental processes happen. If this time is used properly, it can determine how a child's life unfolds many decades into the future.
Children need rich, diverse nutrition, psychosocial support, and proper health and sanitation services during this period to help their brains and bodies develop optimally. Their development during this period determines how they will perform in school, their economic contribution when they become adults, whether or not they engage in crime, and even their fertility rate later in life or the quality of care they provide to their own children.
In 2017, CRS trained Sister Ruth to implement early childhood development programming in her community. When she started the project in Kasaba in October of the same year, there were no community-based activities to help families learn how to take care of their children. It was hard to persuade the community to join the project and change age-old cultural norms. Mothers found it difficult to maintain child nutrition practices like exclusive breastfeeding or even the easiest hygiene routines like handwashing. 
"Mothers did not have the knowledge or support to keep their children healthy," Sister Ruth says. "A lot of children were malnourished because their diet was poor. Most times mothers fed children only cassava porridge, no vegetables or fruit. The children were not active and often left to themselves because the parents were busy."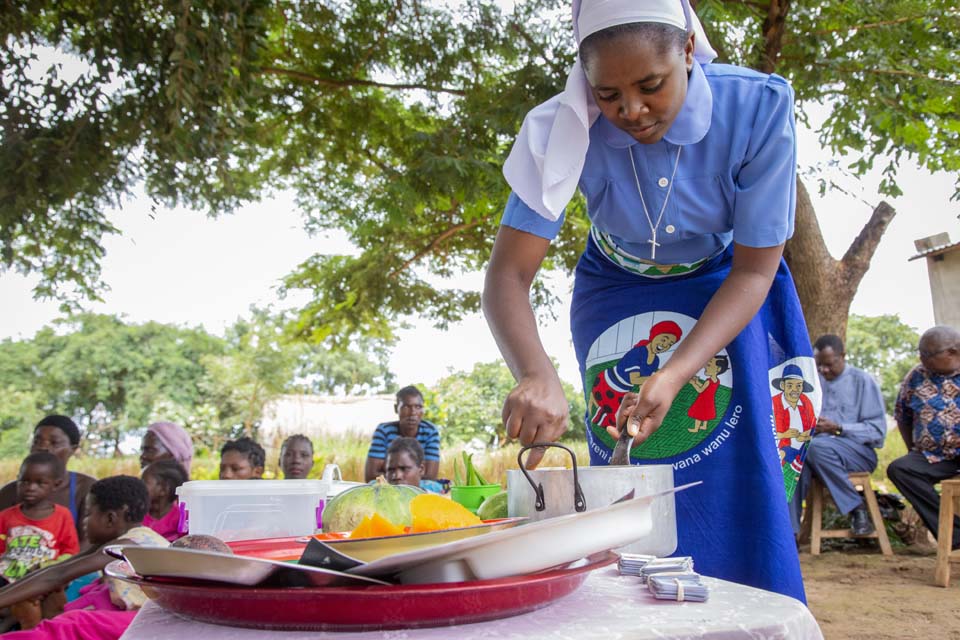 Sister Ruth Kuyumba oversees a cooking demonstration in Kasaba, Zambia.
Photo by Dooshima Tsee/CRS
Sister Ruth eventually persuaded a few women to participate in the program. Using the care group model, she worked with community health volunteers and experienced mothers to organize group sessions with pregnant women and families with children under 2 years old. At the sessions, mothers learned activities and practices that would help maximize the development of their children.
Eventually, the groups grew and parents began to see that the children who participated in the program were healthier, more active and more mentally alert. Volunteer role models—called lead mothers—visit mothers participating in the project in their homes every month to help them track the growth of their children and practice all they learn in group sessions. They also encourage pregnant women to start antenatal visits early. During antenatal visits, health staff reinforce messages about child development.
Parents participate in many other activities including sessions that teach them how to make toys for their children using locally available materials. The project also helps mothers start savings groups in which women save and borrow money to begin new businesses or revive existing ones.
One of the favorite activities for most participating families is the cooking demonstration. Imagine a cookout where families gather to learn how to make delicious, nutritious food from locally available ingredients through the basics of a food demonstration. At the end of the demonstration, everyone gets a taste of the various dishes. As part of activities to improve nutrition, volunteers also teach families to grow home gardens so they have fresh, readily available vegetables.
From a few courageous families who agreed to try a different way of doing things, there are now over 300 families participating in the project in Kasaba alone. More than 6,300 families have learned better ways of caring for their children through the SCORE-ECD project.
What about the fathers?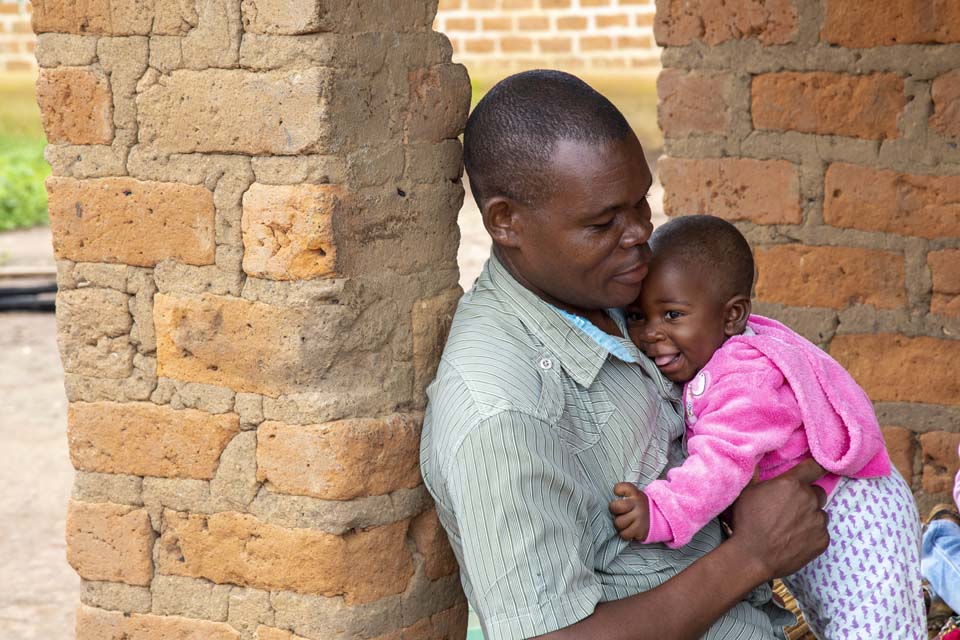 Francis Ngosa plays with his 11-month-old daughter Agatha in Kasaba, Zambia.
Photo by Dooshima Tsee/CRS
Raising healthy children, especially in communities with no formal child support systems, is not an easy task. In Kasaba, the Sisters are encouraging and providing the skills necessary for traditional and religious leaders, grandparents and fathers to pitch in and help raise healthy well-rounded children.
Fathers in particular play important roles in the development of children. Even though fathers have primarily been considered providers, as they learn new ways of improving the health of their children, they are expanding their interaction to include nurturing and stimulating children. As Sister Ruth tried to get more people to try these new methods, she found that the men were an important key to making this happen. In particular, building essential hygiene and sanitation facilities like latrines and Tippy Taps water dispensers was easier when the men were involved.
Francis Ngosa is a farmer in Kasaba, Zambia. He has five children with his wife Miriam. Every day Francis works hard on his farm growing soybeans, corn, peanuts and cassava. When he sells the produce from his farm, he earns money to meet the needs of his family. Working hard and providing the money his family needs to live on is what Francis thought the sole role of a father was. A year ago, he could not have imagined himself sitting and playing with any of his children. In the society where he lives, that wasn't something fathers did.
"The mothers were always the ones with the children. Even when mothers go to the farm, they would strap the child to their backs," Francis says.
Today, Francis still works hard on his farm, but he now realizes that his family needs more than the money he earns from farming. He gently holds his 11-month-old daughter Agatha as she tries to climb up his chest. She clasps his face in her hands and drools on him as she babbles in intense baby talk. He smiles at her and lets her pull his ears. Francis talks about how in addition to playing with Agatha, he bathes her and feeds her. It is a marked difference from how Francis interacted with his other children at the same age.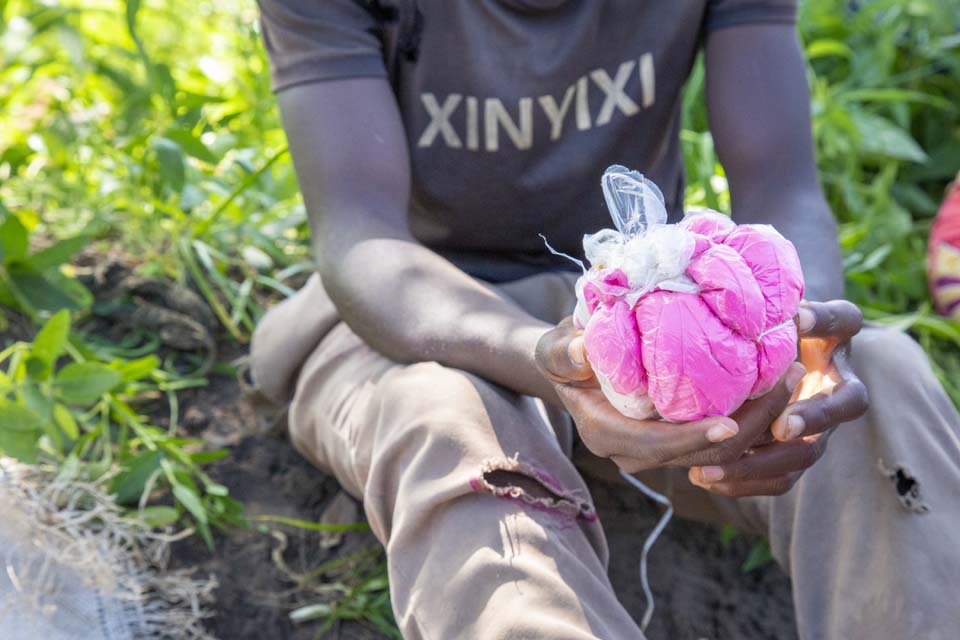 At a toy making session, a father makes a ball for his child to play with in Kasaba, Zambia.
Photo by Dooshima Tsee/CRS
Attitudes are changing. When the program started the Sisters set a target to persuade ten men to support the program. It was an ambitious target considering the resistance they faced. After two years there are 30 male champions in Kasaba—men who not only support the program but also talk to other men about the benefits of prioritizing activities and behaviors to improve the development of children in the community.
In the beginning, these men faced ridicule, but as more men see the benefits participating families gain—active, healthy children who fall ill less often—more and more of them have started to accept the new way of doing things.
"When I talk to other men in my community, I tell them how important the role of a father is. It's not just to bring money but also play with the children and make sure they are progressing well, help with the chores and be hardworking so you can provide everything your family needs." Francis says.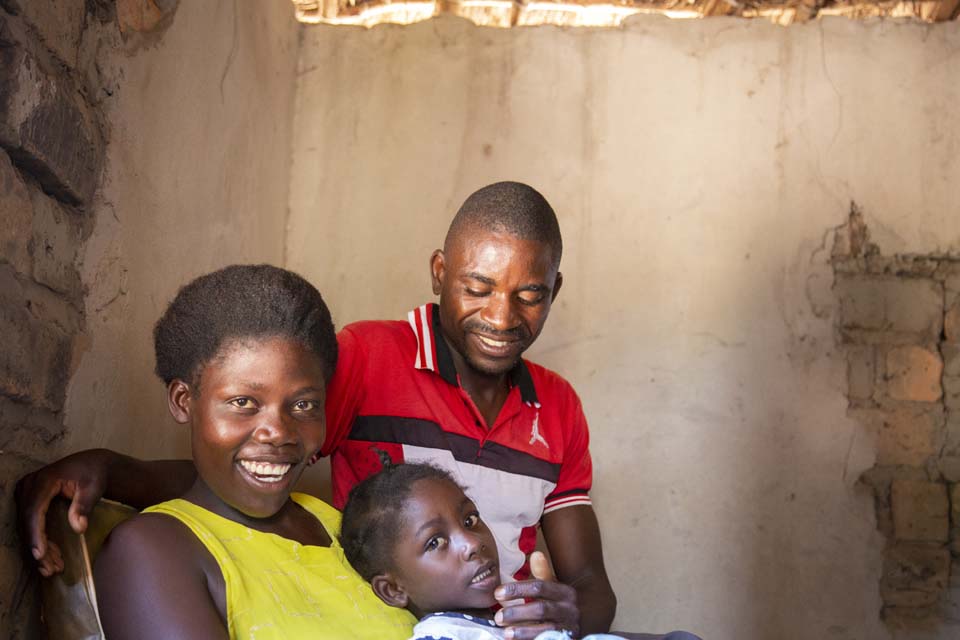 Grace Mwape, her husband Ntunta Mwape, and their daughter, Dorothy Mwape in their home in Kasaba, Zambia.
Photo by Dooshima Tsee/CRS
Ntunta Mwape, another male champion, sees the positive changes but he wishes they were more widespread.
"Everyone in the community needs to start doing the things taught by the program. This is the only way we can make sure there will be a lasting change in the community," Ntunta says. "For instance, I learned about the importance of toilets so I built one for my family, but if everyone else is defecating in the bushes disease will still spread even to us who are doing the right thing." 
This is the motivation for many community members: ensuring that not only the families who participate in the program are healthy, but that all children have the best nutrition, health and mental stimulation to grow into confident, active members of society.
"Saving one child will go a long way but I really believe we can save many more as the parents and communities are educated about what to do," Sister Ruth says.