About Justice and Peacebuilding
CRS' justice and peacebuilding programs engage civil society and the public and private sectors to foster inclusion, equity and accountability. They focus on both peacebuilding and post-conflict recovery. Our peacebuilding programs are conflict sensitive, aiming to minimize potential harm and maximize social benefits for all. They are also gender sensitive, helping to reduce inequalities between women, boys and girls at the individual, household, community, national and international levels. 
In 2015, CRS invested $31.4 million in 76 justice and peacebuilding programs in 33 countries.
Our Impact
Since Catholic Relief Services began in 1943, our programs have blossomed in many directions. However, much of our work still occurs in places that are recovering from or are on the edge of violence and war. Over time we learned that the way we do our emergency and development programming helps prevent or transform conflicts. If we ignore conflicts and their underlying causes then our work prolongs the conflict by providing new resources to the warring parties (like food and supplies), or our programs are destroyed in the chaos and violence. If we help our partners address the injustices in their society that cause conflict and facilitate respectful relationships between conflicting parties, then our work together builds sustainable peace.
Before engaging in peacebuilding, we analyze the conflict context with our partners and the community to decide how best to focus our activities. In some areas, we proactively prevent conflict through human rights education, advocacy or support for microfinance activities. These programs help address social injustices before people see violence as their only option for change.
In places where violent conflicts are ongoing, we try to ensure our emergency relief programming does not exacerbate the conflict, but rather utilizes resources for peaceful change. For example, in some countries CRS works on providing peace education for children in refugee camps or improving relations between refugees and local inhabitants.
In areas recovering from violence, we may help people rebuild their homes, reestablish a viable economy that values all members of society, or help create the social space for the long process of recovering from trauma and reconciling relationships.
Our peacebuilding programs seek to prevent, mitigate or resolve conflict. We promote healthy relationships by strengthening state and civil institutions, including the Church.  We advocate for fair and just socieites, we protect the rights of vulnerable children, we work to restore the social fabric of war-torn societies, and we use our work to lead by example, modeling what peace and just societies look like.

In 2015, CRS directly reached 2.7 million beneficiaries with 79 justice and peacebuilding projects in 35 countries.
Capacity at a Glance
Experience: 21 years of peacebuilding
Investing: $36.7 million for peace and justice programs in fiscal year 2016
Impact/By the Numbers: Provided support to more than 2.7 million beneficiaries through 79 projects in 35 countries.
Learn more about how we work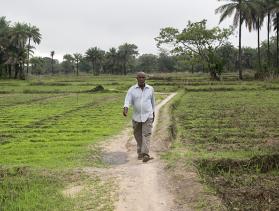 Senegal: Environmental Protection Meets Peacebuilding
Every evening, Toumboul Sané leads a group of volunteers who patrol more than 1,200 acres of forest in Senegal's Casamance region. By standing guard, they...Read more
Tool Kits

Humanitarian Response in Violent Conflict

A Toolbox of Conflict-sensitive Indicators

Learn about effective conflict-sensitive indicators to use in your emergency programming. More

Case Studies

Extractives and Equity

An Introductory Overview and Case Studies from Peru, Angola and Nigeria

Sustainable peace requires a foundation of justice. This publication discusses common economic, governance, environmental and public health implications of poorly managed extractive industries—and how CRS and partners are responding. More
Donation Form
Live your faith
Join Footsteps in Faith to bring lifesaving and lasting change to children and their families. Become a monthly donor and for just 80 cents a day, you can make a difference!