The ASPIRE Program is a unique opportunity for individuals who seek to transform their passion for relief and development work into a career with Catholic Relief Services. Through this structured field-based learning program, ASPIRE participants build skills in key areas of programming and operations while working alongside experienced staff and supporting critical programs. ASPIRE participants benefit from strong supervision, mentoring and regional networking as they prepare for positions of greater responsibility with CRS.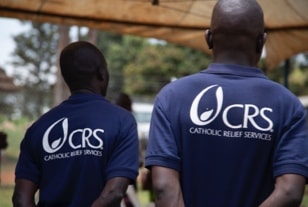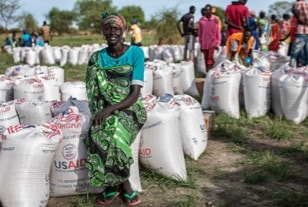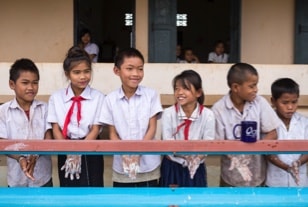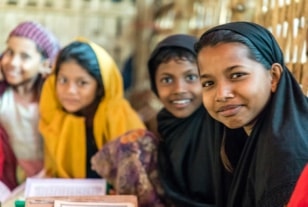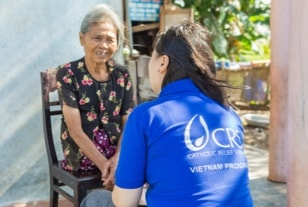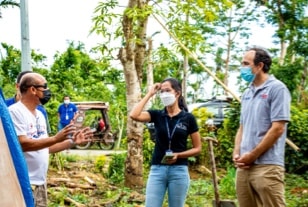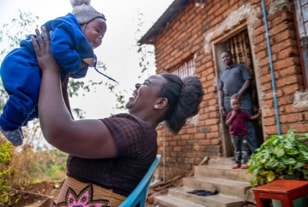 Unique Program Offerings
Learning & Professional Development
Practical training: Through hands-on work and training, participants will gain experience and hone their skills in the following core areas: project management, monitoring, evaluation, accountability and learning, project design and proposal development, partnership and capacity strengthening, communications and operations.

Strong supervision: Each participant will be paired with an experienced supervisor who will coordinate their work activities, provide timely feedback and regular guidance.

Mentorship: Each participant will meet regularly with a mentor who will engage them in meaningful discussions around professional development, provide guidance and career coaching.
Customized professional experience: In addition to the core training, participants will build their skills in a specific area related to their professional development goals, and strategically position themselves for onward positions with CRS.

Regional networking: Participants will be part of the regional community of practice to share successes, challenges, and lessons learned from their work.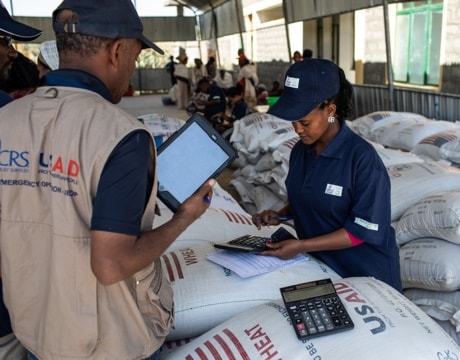 Meaningful Work
Make a Difference
Together with experienced CRS staff and partners, ASPIRE participants will make great strides to end poverty and promote peace and self-reliance in countries around the world. While supporting CRS' critical work in programming and operations, they will contribute to strategic and sustainable development projects in various sectors (such as health, agriculture, education, disaster risk reduction and emergency response, peacebuilding) and gain experience in the core operational areas (such as human resources, supply chain, finance) that make this programming possible.
ASPIRE participants will learn how CRS strengthens local governments' and organizations' ability to address the challenges in their communities and countries. As part of their comprehensive practical training, ASPIRE participants will gain hands-on experience in project design, management and operations. Illustrative activities include:
Participating in project design workshops
Supporting real-time project assessments and data collection
Developing and implementing monitoring and accountability frameworks
Writing reports and project proposals
Preparing communication materials
Organizing learning events
Supporting operations (Human Resources, Finance, Security)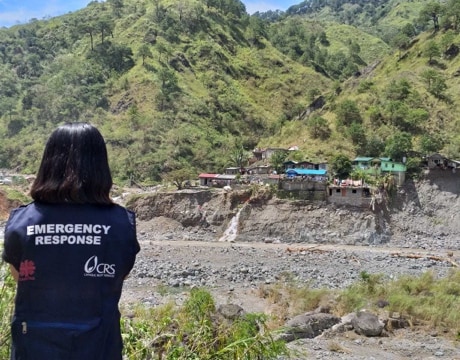 Learn more about our holistic approach and programming areas.
Participating Countries
East Africa and Asia
The ASPIRE Program is currently offered in some of the countries where CRS serves in East Africa and Asia. Follow the links below to learn about CRS' history and current work in each location. For emerging talent in West Africa, CRS offers the Junior Professionals Program.
Sudan
Eligibility Requirements
Candidate Profile
We seek diverse and qualified candidates and welcome people of all faiths and secular traditions who share our values and our commitment to serving those in need.
Required Qualifications:
Bachelor's degree in related field (e.g. International Development, Agriculture, Health, Business, Communications, Public Administration, Finance, Human Resources, Supply Chain)
Graduated within 24 months of program start date (degree conferred between Oct 2021 – Oct 2023)
3 - 24 months of related work experience (internships, volunteering, or paid work)
Strong speaking and writing skills in English
National of a participating country
Willingness to travel (up to 25% of the time)
Willing to be based in field offices during and after program
Excels in collaborative, multicultural environment
Strong analytical, problem-solving and research skills
Agile, proactive, results-oriented
Ethiopia, Somalia –female applicants only
Preferred Qualifications:
Knowledge of local languages (see FAQ for details)
Persons living with disabilities are encouraged to apply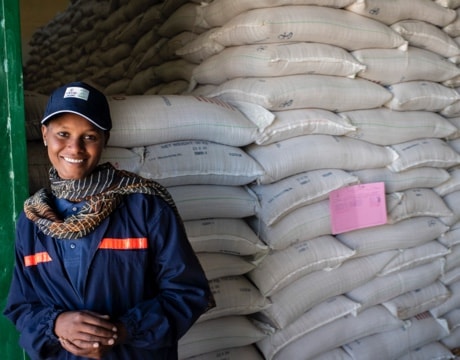 Application & Selection
Application Process
All applicants to the ASPIRE Program must apply online, following the three simple steps outlined below. Before completing the online application, candidates should review the eligibility requirements and prepare a motivation letter that addresses an inspiring leader of their choice. Please visit the FAQs for additional information and instructions.

Prepare your motivation letter

Prepare your CV or resume

Apply online
Apply
We will welcome applications for the next class of ASPIRE Fellows from East Africa in May 2024. Please revisit our webpage at that time to apply.
Selection Process & Timing
We are reviewing applications received for the 2023 program.
Strong candidates will be contacted in August 2023 for an in-person interview. We will extend offers to the finalists in September after conducting background and reference checks. The 2023 ASPIRE Program will begin in November.
Due to the high volume of applications and rolling basis of the review, candidates will only be contacted if and when they advance to the next stage of the selection process.
Meet the Current ASPIRE Fellows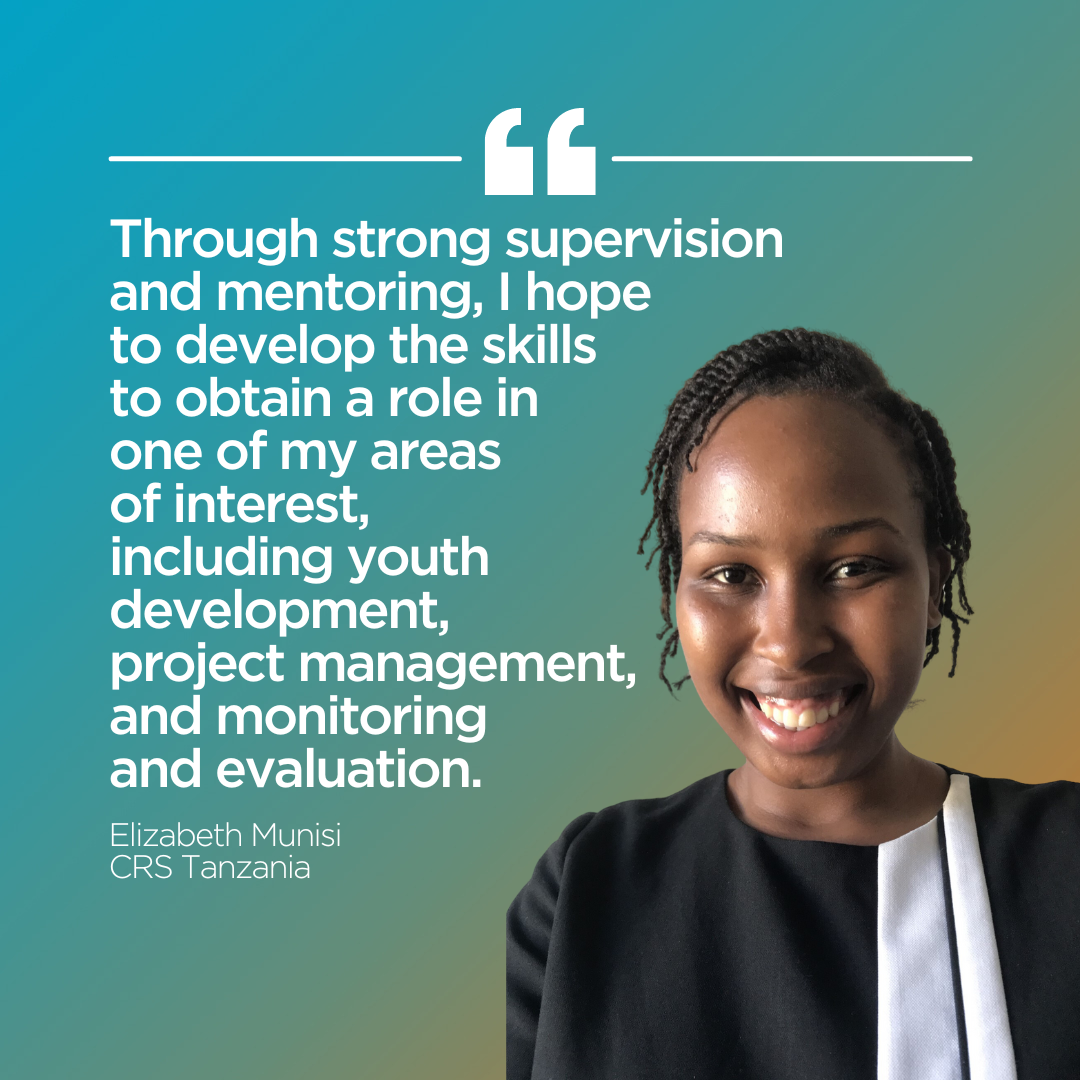 Elizabeth Munisi
Tanzania
Elizabeth is a recent graduate from the University of Dar es Salaam where she pursued a degree in Geography and Environmental studies. She describes herself as passionate and talented and feels a strong sense of responsibility to care for her community, particularly marginalized groups. She has a keen interest in uplifting youth communities by striving to be a kind and supportive role model. Elizabeth hopes to continue working on youth and gender related projects after completing the program.
Glena Mokeira
East Africa Regional Office
Glena Mokeira's interests lie at the cross-section of climate change, sustainability, and community development. She is motivated by her belief that she is a life-long learner and approaches every moment, conversation, and interaction as a learning opportunity. She is eager to absorb as much as she can over the course of this program year in order to build a fulfilling and impactful career in environmental management and sustainable development. Glena hopes to continue with CRS in a programmatic role but remains open to all opportunities that come her way.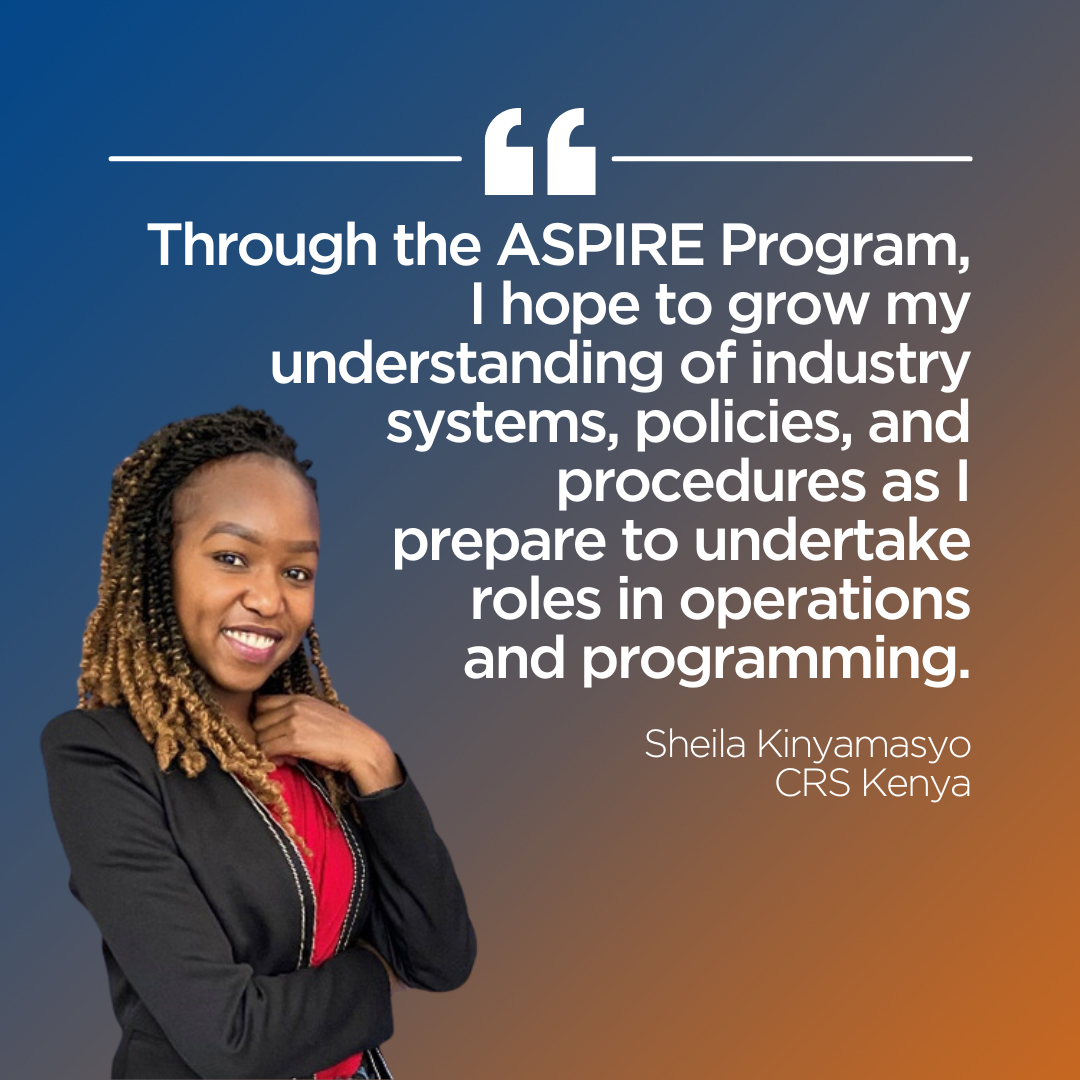 Sheila Kinyamasyo
Kenya
Sheila's intrigue behind the supply of goods and materials to people led her to study procurement and business logistics. However, her drive to pursue relief and development work was born from her conviction that all human life is special and should be treated with dignity. Sheila is confident that strengthening her supply chain and operations management skills through the ASPIRE Program will position her to best support programs that promote the highest human potential in just and peaceful environments.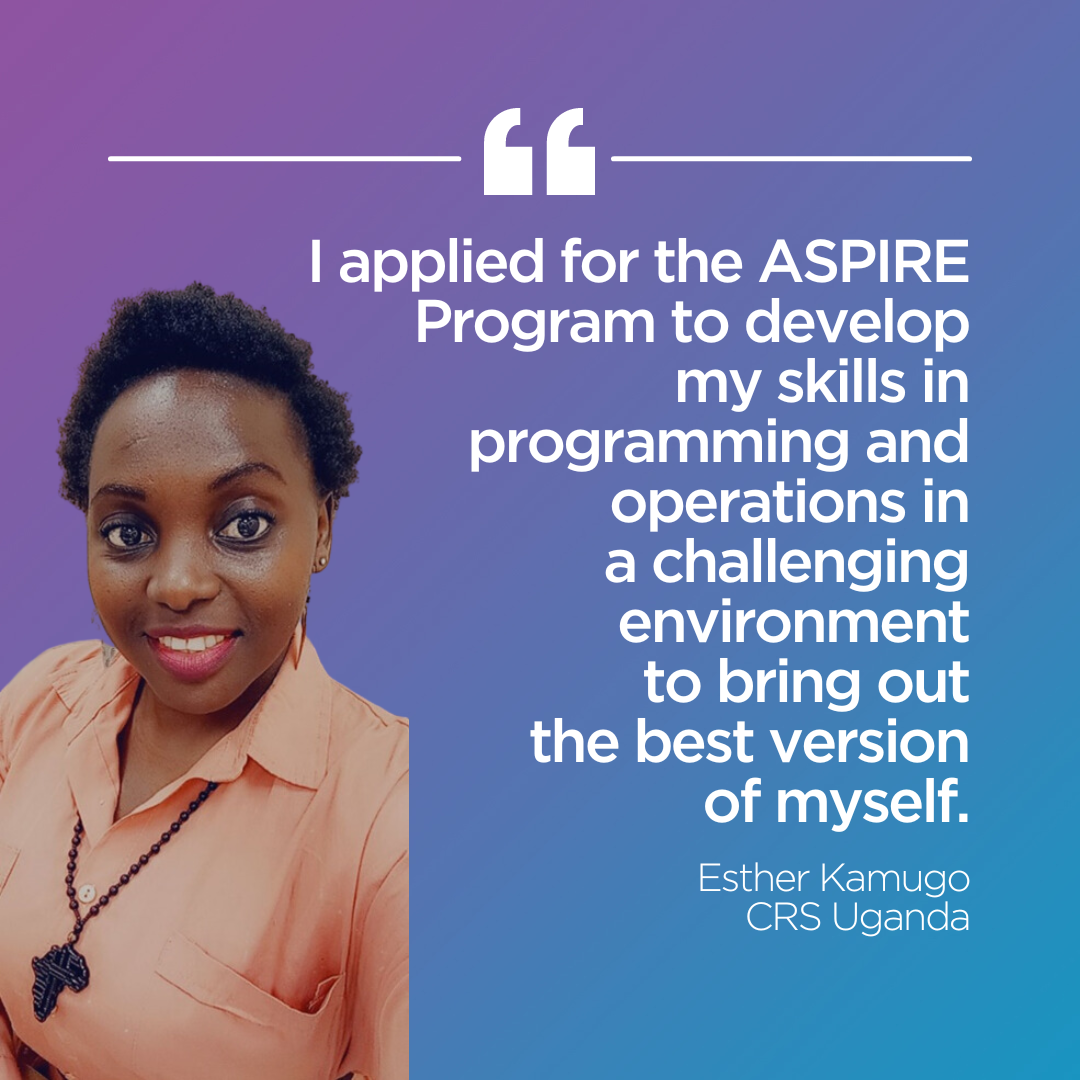 Esther Kamugo
Uganda
Esther is an education enthusiast with an innovative mind. She is trained in Educational Administration and Policy and is committed to serving vulnerable populations by championing educational programs for local communities. A fierce advocate for sustainable development initiatives, Esther looks forward to bringing out the best version of herself both personally and professionally through the ASPIRE Program.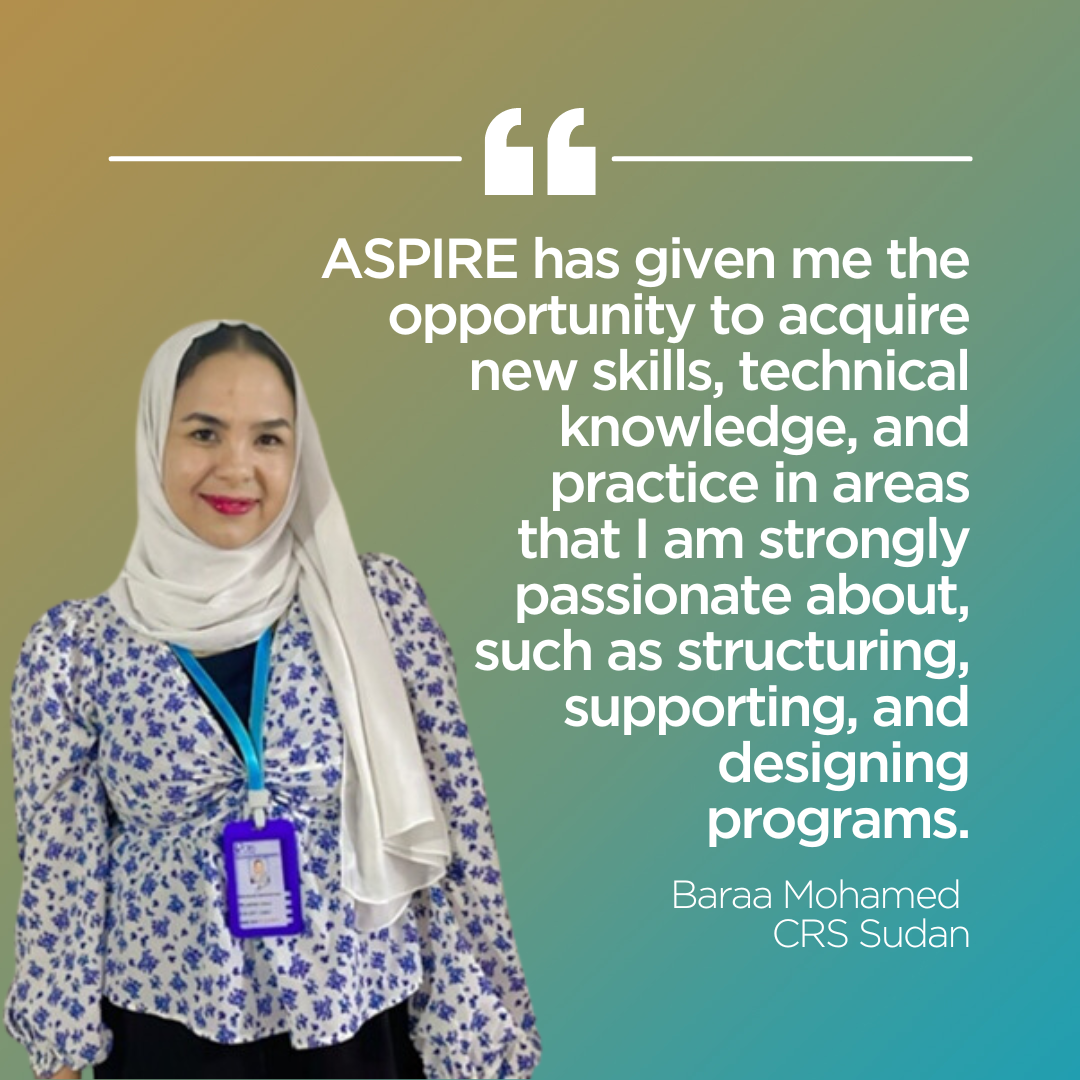 Baraa Mohamed
Sudan
Baraa Mohamed first started her work in the humanitarian and development sector as a volunteer with a local NGO. In line with her interests in challenging herself and acquiring new skills, she later pursued a master's in international law. Baraa was drawn to the ASPIRE Program because she saw an opportunity to develop her technical toolkit through field-based learning. She hopes to continue building her skills in program design and management to further build her career.
Engage With Us
Let's Talk
We encourage you to join us for a webinar on the ASPIRE Program. Our webinars are an opportunity for you to informally exchange with our team—learn more about CRS and the ASPIRE Program, ask your questions, etc. We offer webinars on the dates and times listed below. Choose a session that works for you and join by simply clicking on this link or calling +1 443-290-6516, conference ID: 425725839#
Information Sessions
Thursday, May 25, 2023
3:00pm - 4:00pm EAT
Friday, June 9, 2023
1:00pm - 2:00pm EAT
Wednesday, June 21, 2023
2:00pm - 3:00pm EAT
All times are noted in Eastern Africa Time (UTC +3).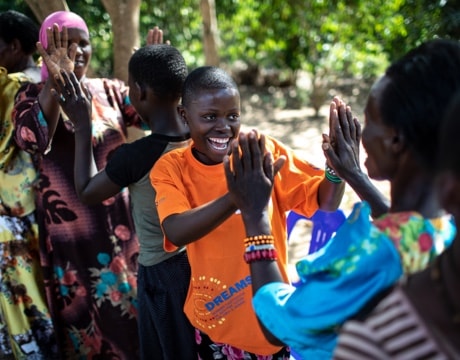 Learn More
Frequently Asked Questions
We are glad you are interested in learning more about the ASPIRE Program. In our FAQs, we strive to answer questions you may have around the application and selection process, career opportunities, and more. For additional information, please join an information session or contact us via email.
ASPIRE in East Africa: [email protected]
ASPIRE in Asia: [email protected]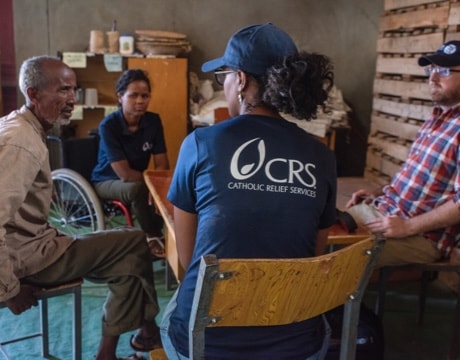 More Opportunities
Equal Opportunity/Affirmative Action Employer
CRS is proud to be an equal opportunity/affirmative action employer. Selection and hiring decisions are made without regard to sex, gender identity, race, age, disability, religion, national origin, color, veteran status or any other protected area.
We are committed to working with and providing reasonable accommodation to individuals with disabilities. If, due to a medical condition or disability, you need a reasonable accommodation for any part of the employment process, please email [email protected].