Junior Professionals Program for West African Women
The Junior Professionals Program is an opportunity for qualified, professional women in West Africa to transform their passion for international relief and development work into a career with Catholic Relief Services. Over a 12-month period, each Junior Professional will build core skills while working alongside experienced staff and supporting critical programs. Junior Professionals will benefit from strong mentoring and regional networking as they prepare for positions of greater responsibility with CRS.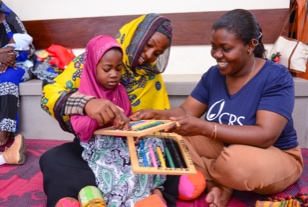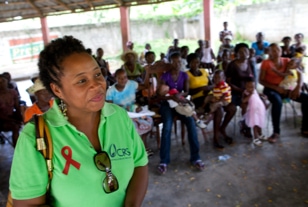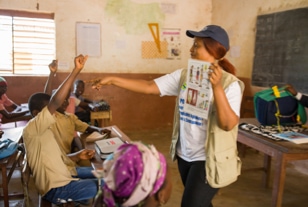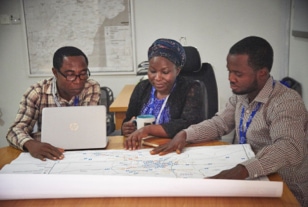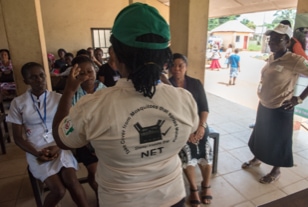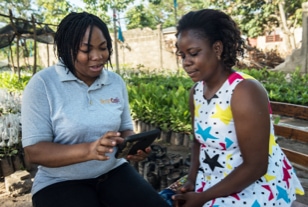 Unique Program Offerings
Learning & Professional Development
Practical training: Through hands-on experience and extensive training, Junior Professionals will grow and develop their skills in project design; program management; monitoring, evaluation, accountability and learning; partnership building; and operations.

Mentorship: Each Junior Professional will be paired with a mentor who will be actively involved in providing guidance, feedback and career coaching.
Customized professional experience: In addition to the core training, Junior Professionals will build their skills in a specific area related to their professional development goals, and strategically position themselves for onward positions with CRS. 

Regional networking: All Junior Professionals will be part of the regional community of practice that will share successes, challenges, and lessons learned from their work.
Meaningful Work
Make a Difference
Working together, CRS and the Junior Professionals will make great strides to end poverty and promote peace and self-reliance in West Africa. Junior Professionals will contribute to strategic and sustainable development projects in sectors like health, agriculture, education, emergency response, and peacebuilding.
Junior Professionals will help strengthen local governments' and organizations' ability to address the challenges in their communities and countries while advancing their learning objectives. This includes:
Participating in project design
Supporting real-time project assessments and data collection
Developing and implementing monitoring and accountability frameworks
Writing reports and proposals
Organizing learning events
Supporting operations (Human Resources, Finance, Supply Chain)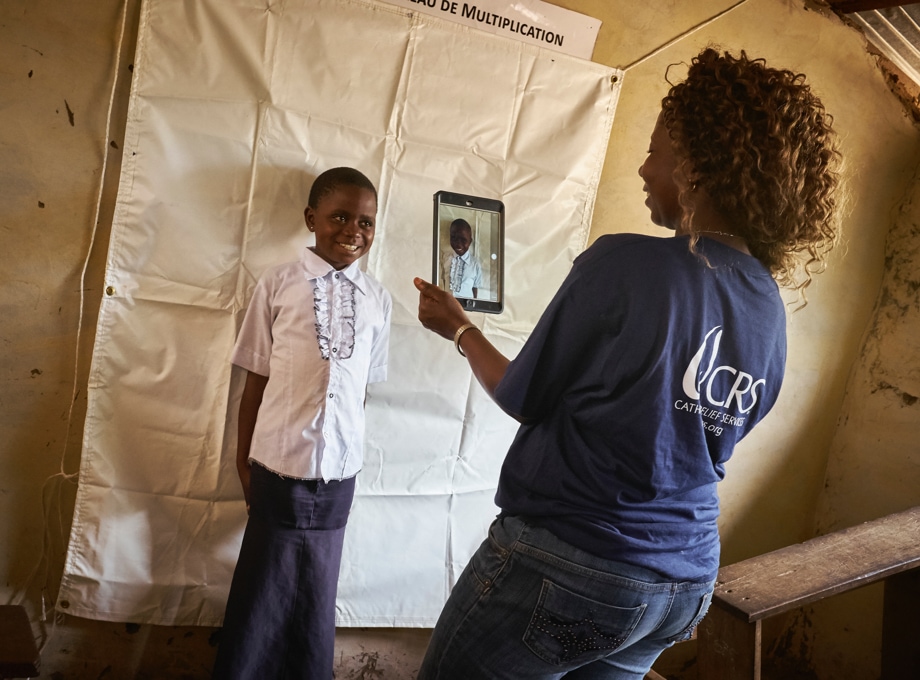 Learn more about our holistic approach and programming areas.
Participating Countries
West Africa
The Junior Professionals Program is currently available in Senegal, Liberia, Gambia, Guinea, Ghana, Burkina Faso, Niger, Mali and Sierra Leone. Follow the links below to learn about CRS' history and current work in each location.
Eligibility Requirements
Candidate Profile
We seek diverse and aligned candidates and welcome people of all faiths and secular traditions who share our values and our commitment to serving those in need.
Required Qualifications:
Master's degree in related field (e.g. Economic Development, Agriculture, Health, Business, Administration, Finance, Human Resources, Supply Chain)
Received Master's degree within 24 months of program start date (Oct. 2023)
At least six months of relevant work experience (e.g. internship, practicum, volunteer or paid work)
Excellent speaking and writing skills in the official business language of the country (French or English)
Citizen of a participating country (see above)
Excels in collaborative multicultural environment
Willingness to travel (up to 25% of the time)
Willingness to be based in field offices outside of the capital city during JPP program year and after program completion
Preferred Qualifications:
Strong analytical, problem-solving and research skills
Agile, proactive, resourceful, and results-oriented
Strong presentation and facilitation skills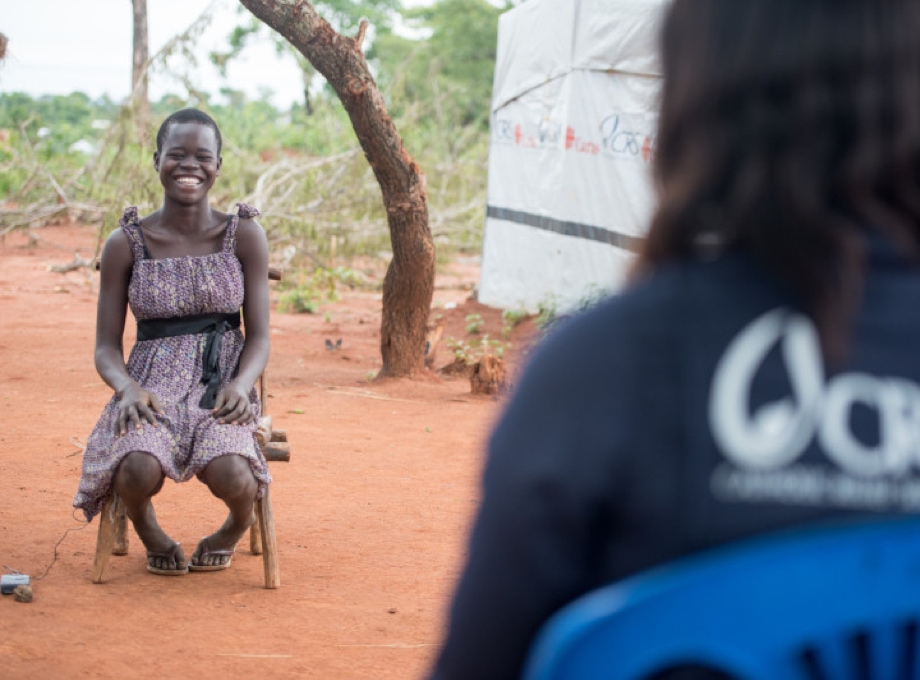 Application & Selection
Application Process
All applicants to the Junior Professionals Program must apply online, following the three simple steps outlined below. Before completing the online application, candidates should review the eligibility requirements and prepare a motivation letter that addresses factors influencing sustainable development in Africa. Please visit the FAQs for additional information and instructions.

Prepare a motivation letter

Prepare CV

Complete the online application
Apply
We will welcome applications for the next class of Junior Professionals in April 2024. Please revisit our webpage at that time to apply.
Timing & Selection Process
We are reviewing applications received for the 2023 program.
Strong candidates will be contacted in August for an in-person interview. We will extend offers to the finalists in September 2023, after conducting background and reference checks. The 2023 Junior Professionals Program will begin in October.
Due to the high volume of applications and rolling basis of the review, candidates will only be contacted if and when they advance to the next stage of the selection process.
Meet the Current Junior Professionals
The Class of 2022
Driven, passionate, and ready to affect positive change in the world. Get to know some of the talented Junior Professionals below.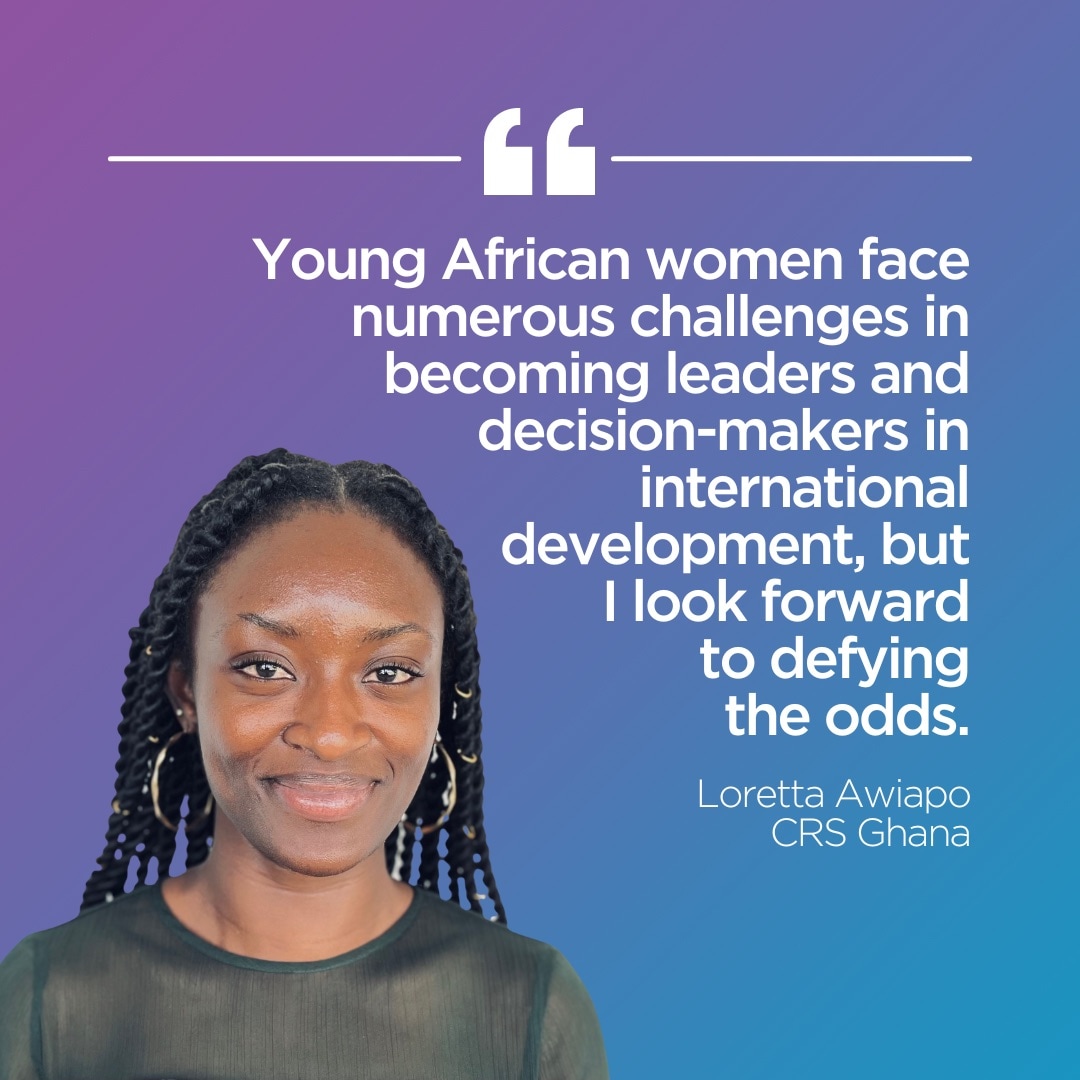 Loretta Awiapo
Ghana
Loretta is passionate about health equity. She believes that quality healthcare services should be accessible to all regardless of socioeconomic status, gender, geographical location, or ethnicity. Fueled by this passion, Loretta earned degrees in physiology and global health and international development to position herself to become a health policy analyst. Loretta is keen on broadening her knowledge and skills in international development through the Junior Professionals Program and leveraging her academic background to support CRS' vision for human development.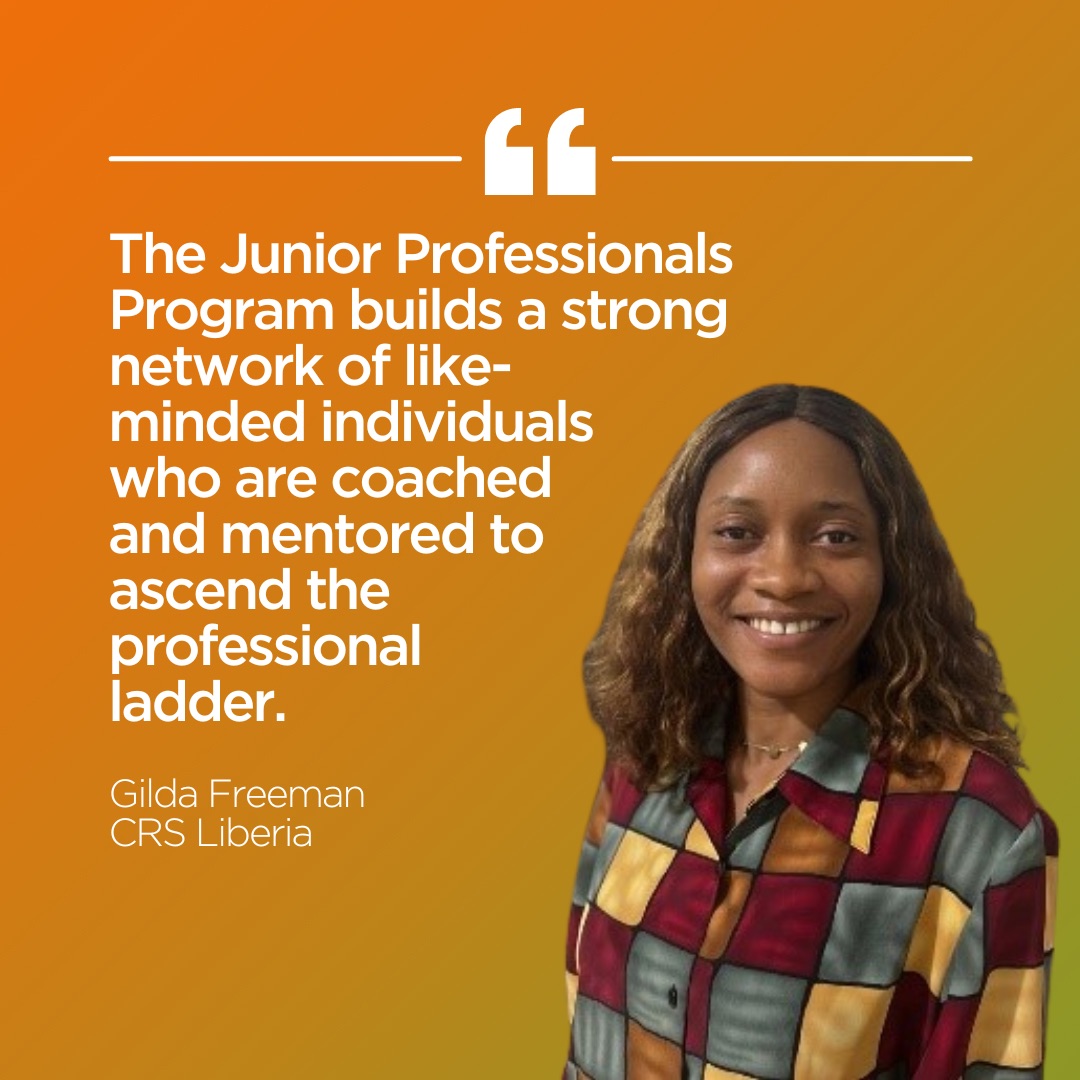 Gilda Freeman
Liberia
Gilda's ambition to excel with direction inspired her to select this program as the next step in her career development. Her zeal for providing humanitarian services to those in need drives her to continue serving disadvantaged communities in Liberia. Post-JPP, Gilda seeks to leverage her public health experience by joining the programming unit as a project officer. She looks forward to developing skills in program management with a focus on program quality.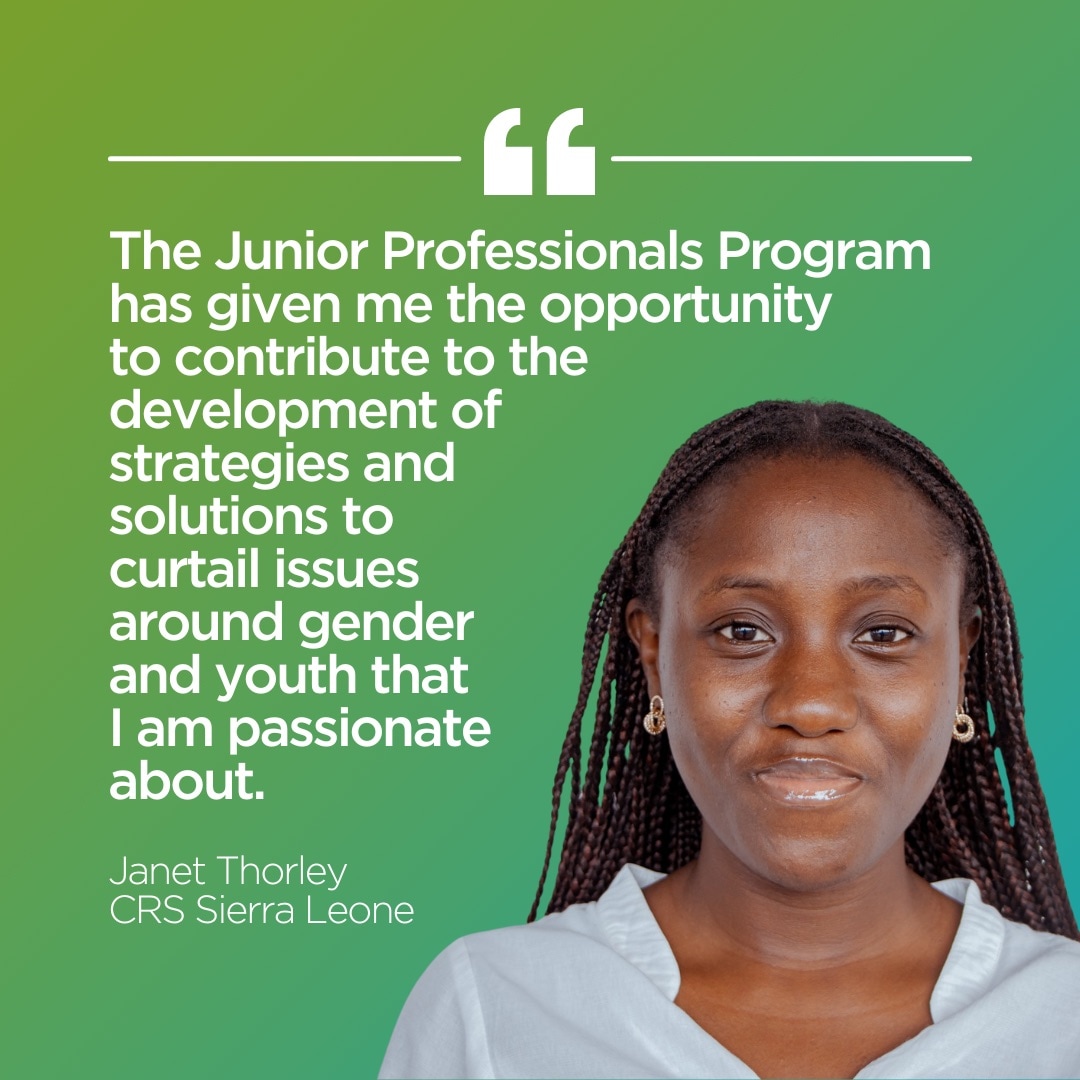 Janet Thorley
Sierra Leone
Janet's focus lies within the nexus between gender equity and public policy. Prior to joining CRS, she worked on research and community development projects with Rainbow Initiative in Sierra Leone. A strong advocate for women's empowerment, Janet hopes to continue with CRS in an advocacy role promoting gender and youth initiatives. In her personal time, Janet enjoys reading, watching movies and cooking.
Charifatou Sama Idrissa Yarou
Niger
Charifatou describes herself as a community leader and humanitarian. She is passionate about volunteering and serving marginalized communities. Charifatou enjoys a challenge and values the learning process behind creating positive change. She looks forward to advancing CRS' mission by contributing to the organization's peacebuilding and youth development sectors.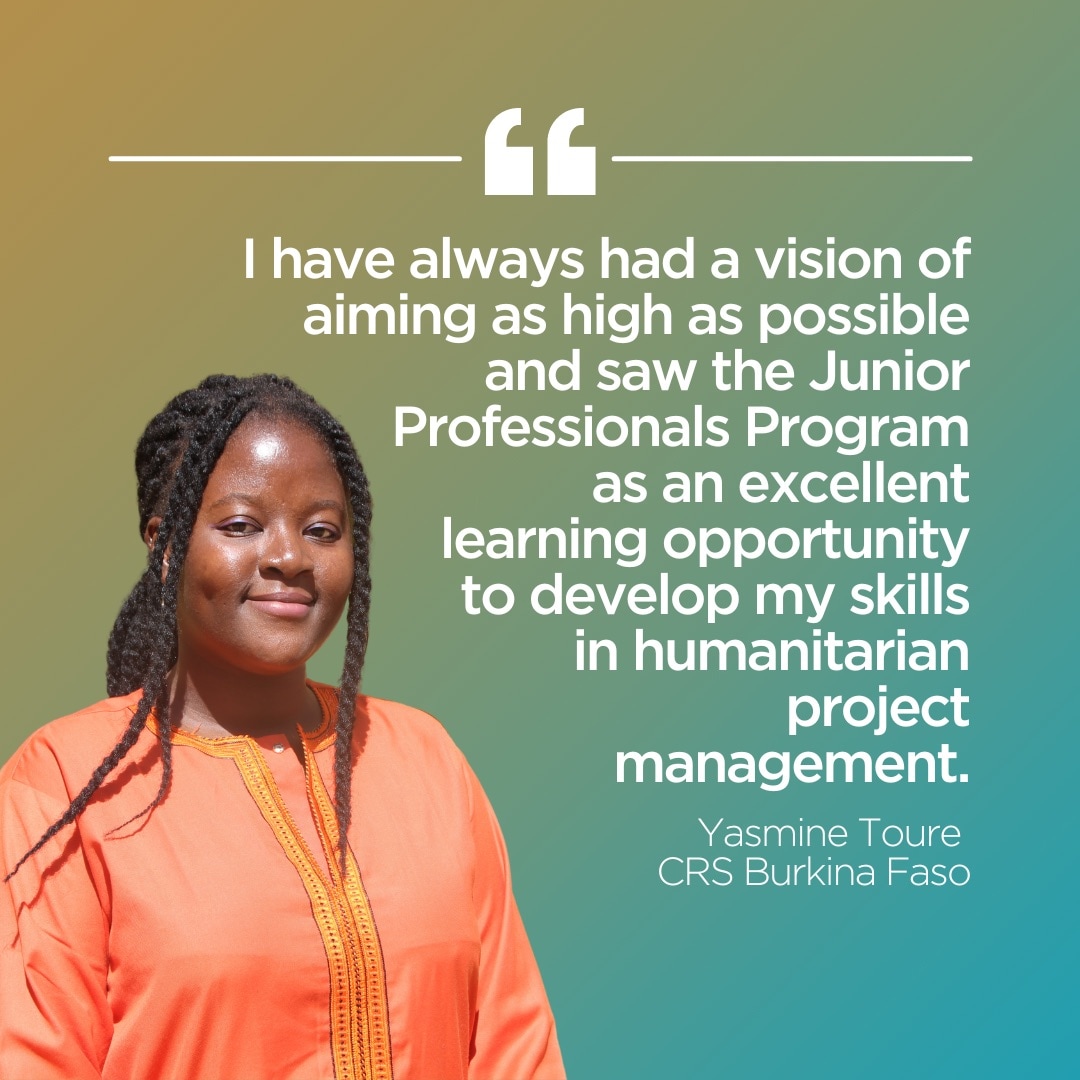 Yasmine Toure
Burkina Faso
Yasmine discovered her passion for humanitarian aid via her love for the environment. She began her career working in water and sanitation and never imagined it would lead her to CRS. Yasmine hopes to leverage her technical experience and acquired project management skills by serving as a Project Officer on water and sanitation related initiatives.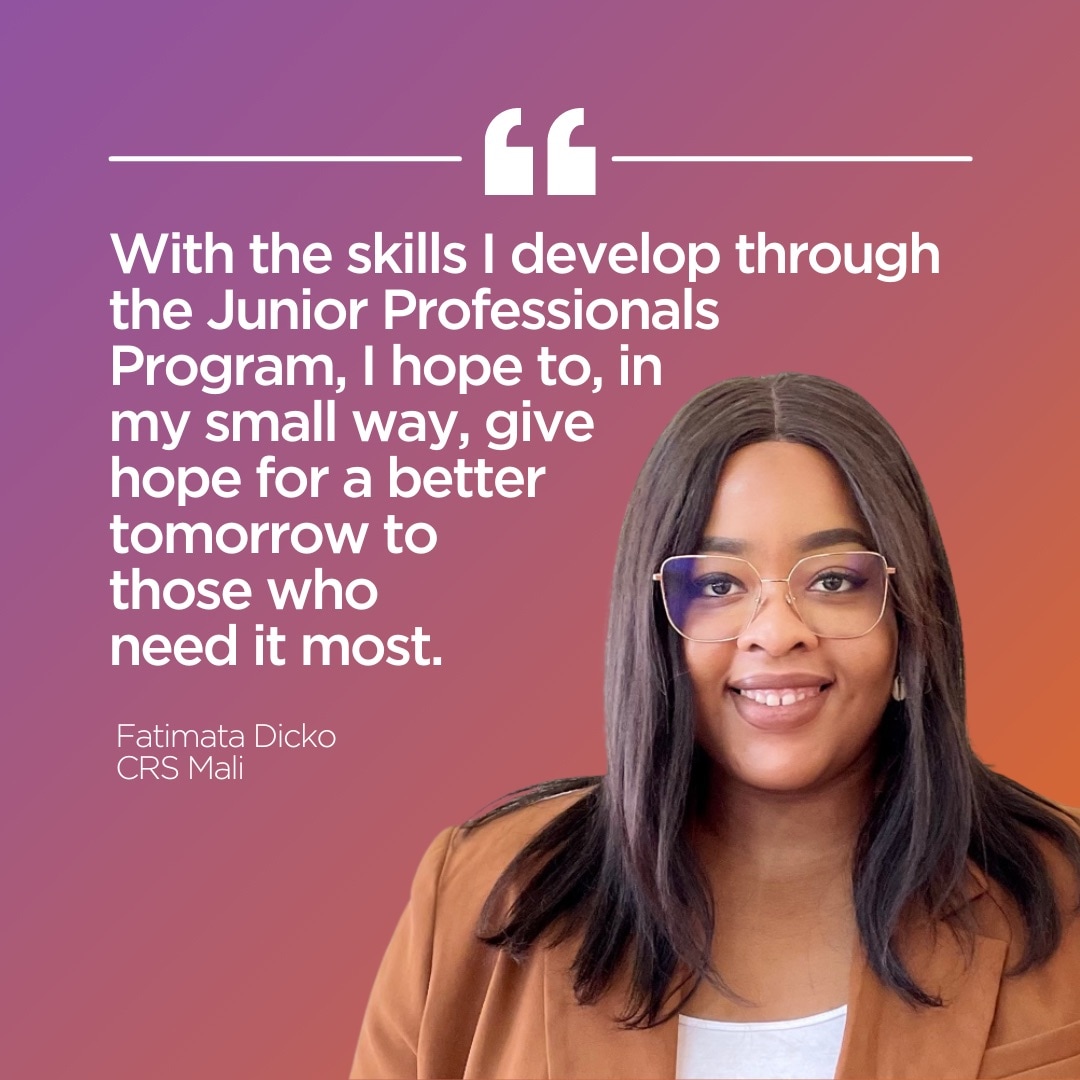 Fatimata Dicko
Mali
Fatimata's desire to serve the most vulnerable in her home country of Mali led her to CRS, where she is using her multidisciplinary training acquired in business school to support the agency's work and strengthen her project management skills. Passionate about access to education and youth employability, particularly among girls, Fatimata looks forward to building a rewarding career with CRS.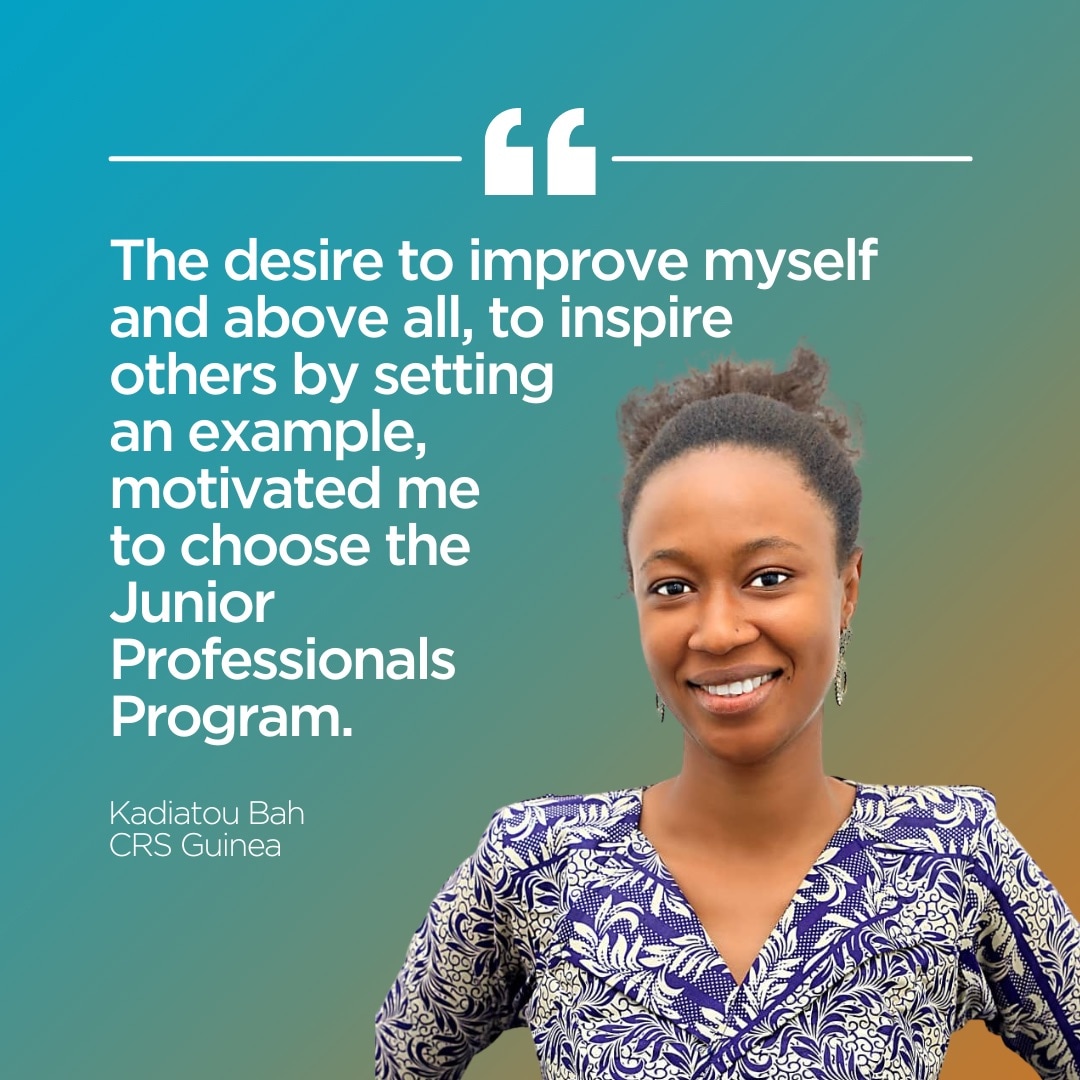 Kadiatou Bah
Guinea
Kadiatou, a medical doctor by trade, is passionate about serving humanity. She believes there is no wealth more precious than the human being and has dedicated her career to investing in her community. Through the JPP, Kadiatou aims to build her skills in MEAL and humanitarian program management and looks forward to pushing her limits to maximize her learning.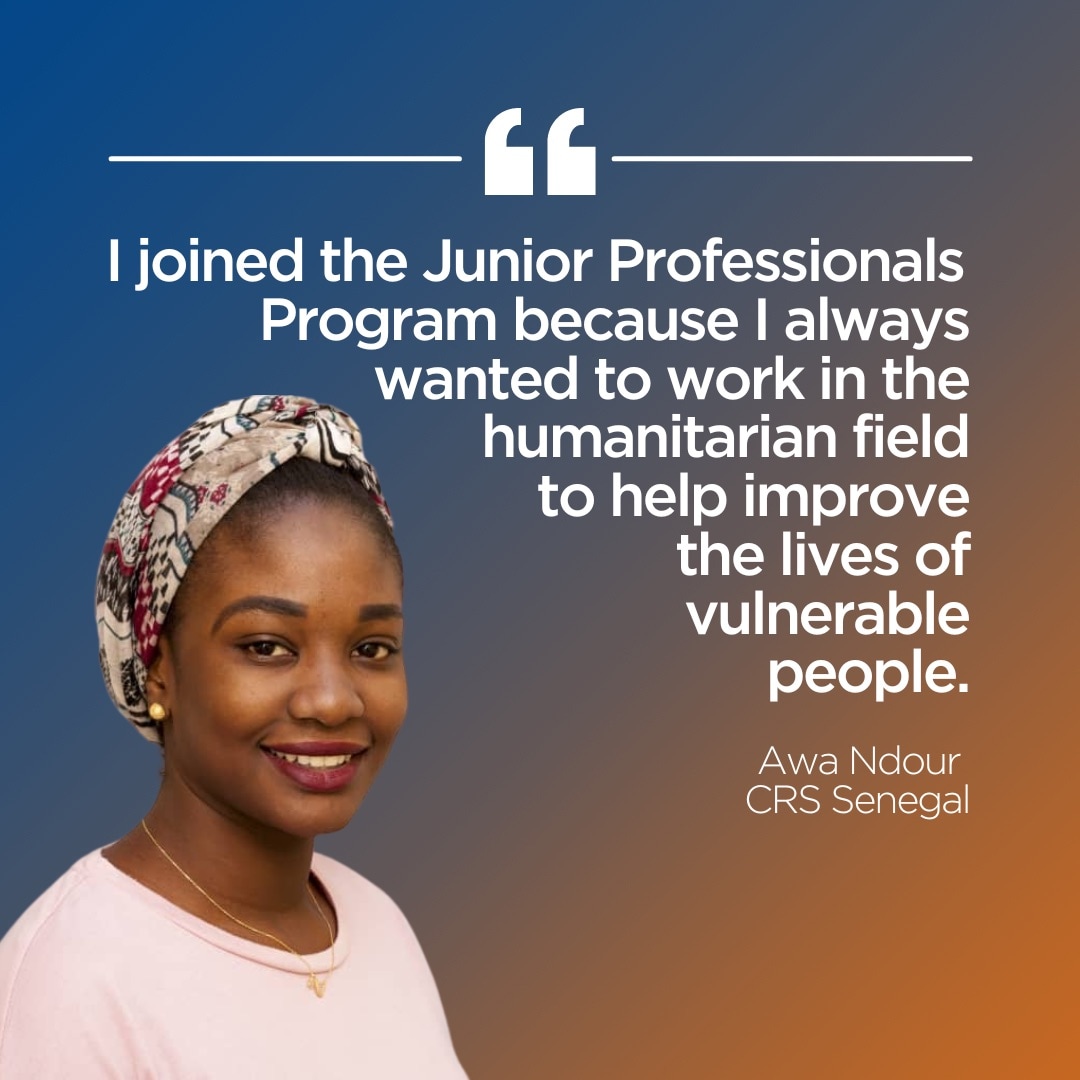 Awa Ndour
Senegal
Awa strongly believes in the power of Agriculture to boost economic development. After pursuing a master's degree in Agrobusiness, Awa worked at a fruit and vegetable exporting company for several years. She is keen to develop her project management skills through the JPP with the goal of supporting her community to live in peace, security and dignity through better health, increased income, and access to quality education.
Follow our Recent Graduates
JPP Alumnae
Former Junior Professionals excel in a variety of positions with CRS upon completion of the practical learning program. Hover over the pictures below to learn more about their experiences and the roles they assumed.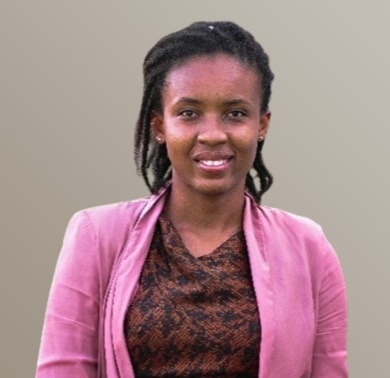 My goal is to develop core competencies in program management and partnership strengthening as well as build stronger networks with CRS staff and partners.
Rhoda Maadakti Akumbomi
Project Officer, Kayeport
Ghana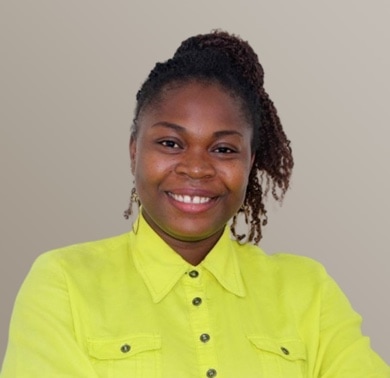 The strength of the Junior Professional Program lies in its vision to train and empower us in all aspects to become competent young professional women.
Ornela Medah
Business Development Officer
Burkina Faso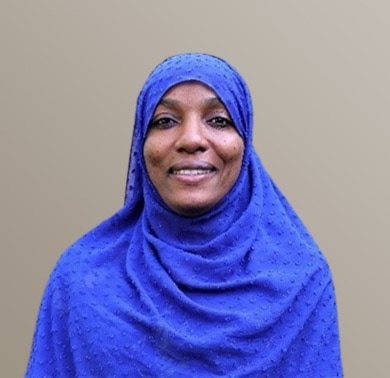 This program is an opportunity for me to bring out the best version of myself. I hope to contribute substantially to food security and youth employability in my community.
Aichatou Maiguero Ranaou
Acting MEAL Officer
Niger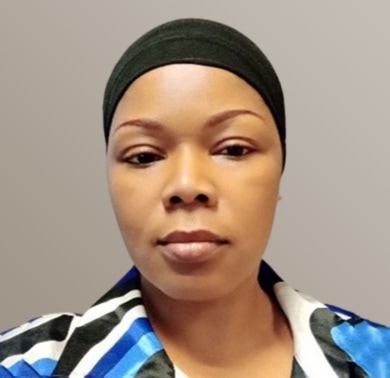 The JPP has provided me an opportunity to find out what excites me, pursue opportunities where my skills are in demand, and nurture both my personal and professional life.
Pamela Camara-Jackson
Project Officer, Global Fund Malaria
The Gambia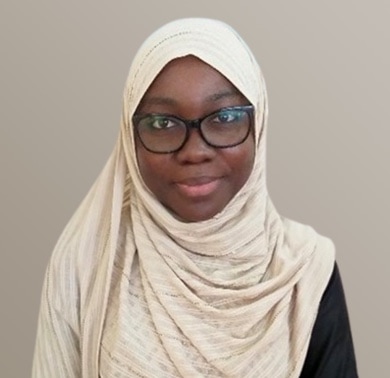 My greatest motivation in humanitarian work is to help bring smiles and hope to those who have lost them.
Aminata Camara
Microfinance Officer
Mali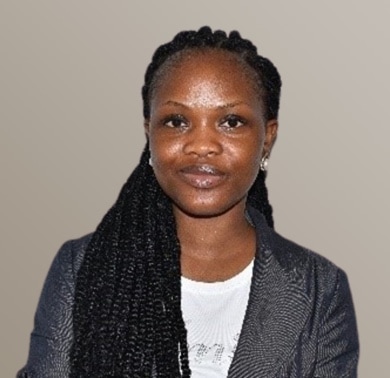 I want to change the narrative that women can't serve in managerial roles. I believe that if it doesn't challenge you, it won't change you. I've accepted the challenge.
Janet Coleman
Procurement Officer
Liberia
Future Opportunities
Advance Your Career
CRS prides itself on growing and supporting female professionals. The Junior Professionals Program, with its emphasis on training, mentorship and hands-on experience, is an extension of that commitment. Participants who successfully complete the program will be equipped to apply for onward positions in program management, program quality, business development, monitoring, evaluation, accountability and learning, or operations. Hover over the pictures below to hear from some of the talented women who advance CRS' mission each day.
I joined CRS to apply my knowledge to the effective management of resources to serve the most vulnerable. I find satisfaction when I see a child's smile after a meal at the school canteen, when CRS receives work in a village or when I see the joy in the face of an elderly man, woman, or child.
Estelle Nikiema
Finance Manager
CRS Burkina Faso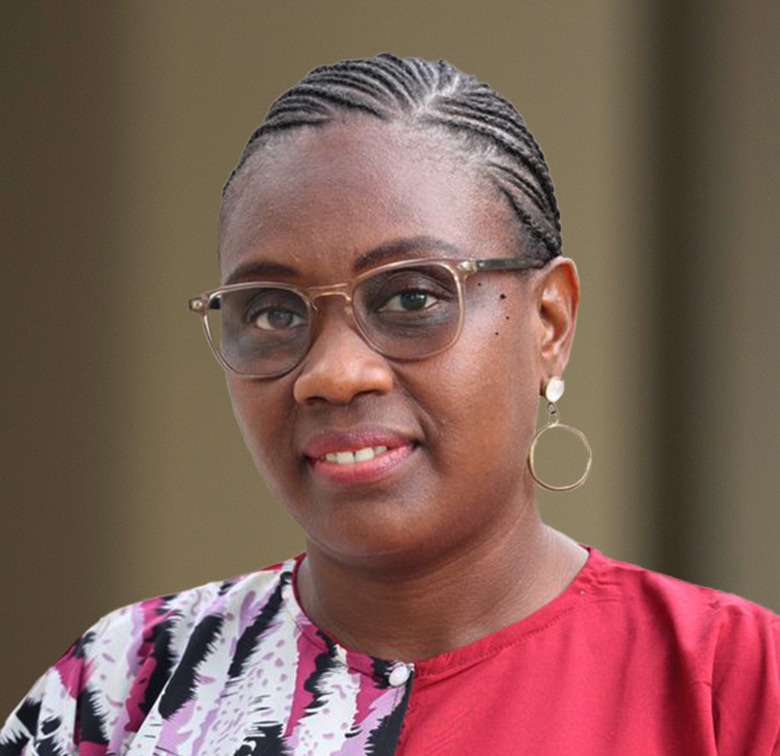 Since my arrival at CRS, I have grown so much professionally. To date, I have served in 3 successive positions under one project. These experiences have allowed me to set an ambitious goal to become a Deputy Chief of Party which I am proud to be occupying in an interim role.
Aissatou Bobo Bah
Deputy Chief of Party, Global Fund Malaria
CRS Guinea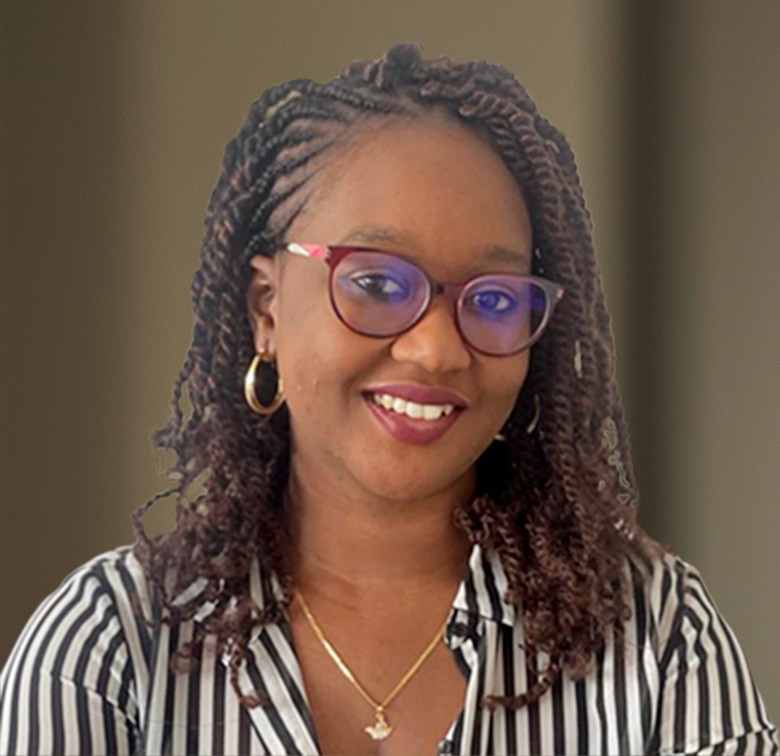 CRS offers excellent career development opportunities for staff by investing in their employees' growth while conveying human values with respect to human dignity. Additionally, managers push you to give the best of yourself while focusing on the wellbeing of the staff. A framework for success for all staff!
Ndeye Thioro Faye
Youth Technical Advisor
CRS Senegal, The Gambia, Guinea Bissau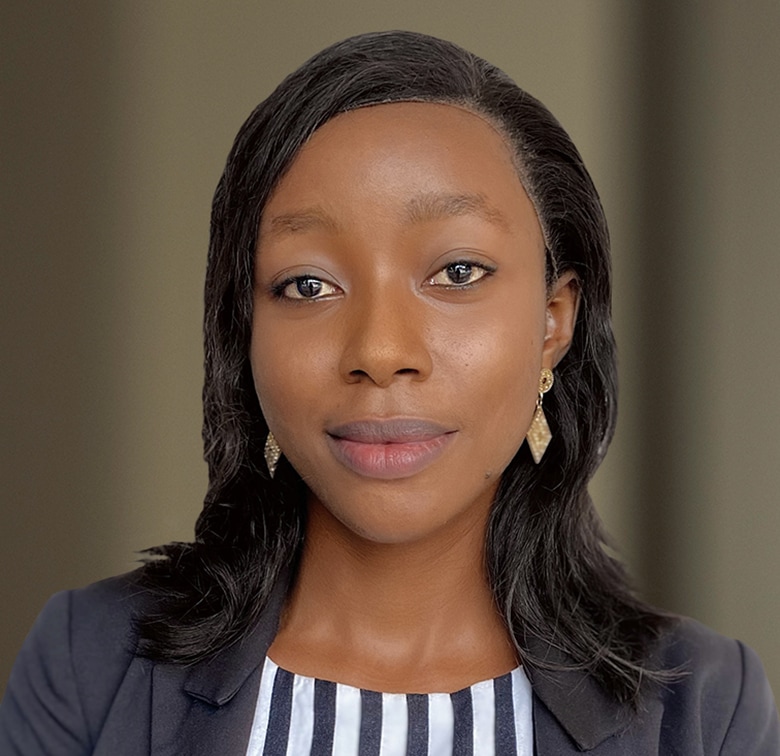 I choose to work at CRS because of the capacity building experience, learning opportunities, flexible work schedule and dedicated team. I started at the agency as an intern with a 6-month contract and now I am currently serving as an Officer. I also have benefited from the education assistance scheme as I am currently pursuing my MSc in Procurement, Logistics and Supply Chain Management.
Daniella Coker
Procurement Officer
CRS Sierra Leone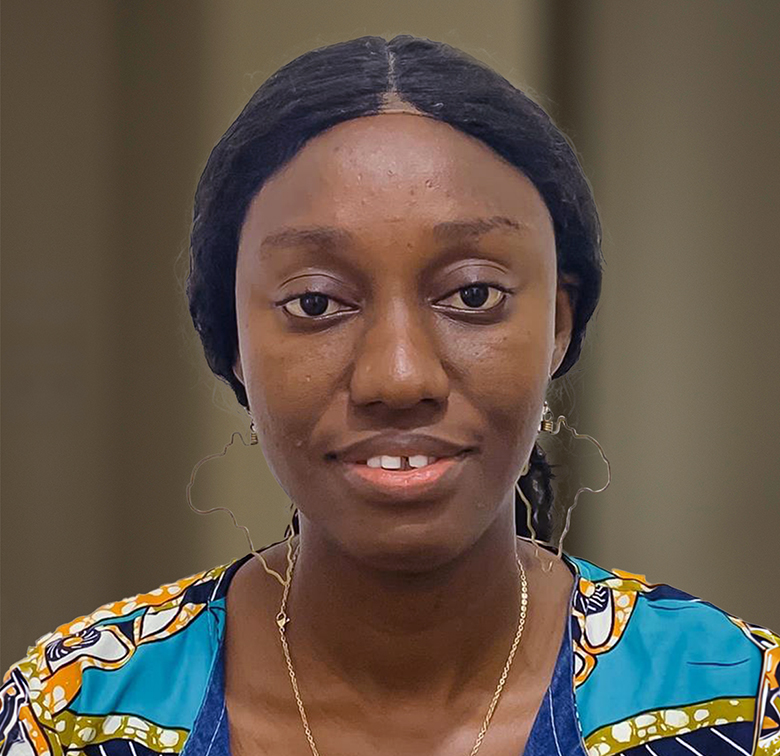 CRS is a great place to work, learn, and grow. The culture here is more than just work. I get to serve humanity, learn lots of new skills while at it, and share a family environment with co-workers. There is a genuine spirit of shared goals and collaboration throughout the agency.
Comfort Sawyer-Baysah
Livelihoods Program Manager
CRS Liberia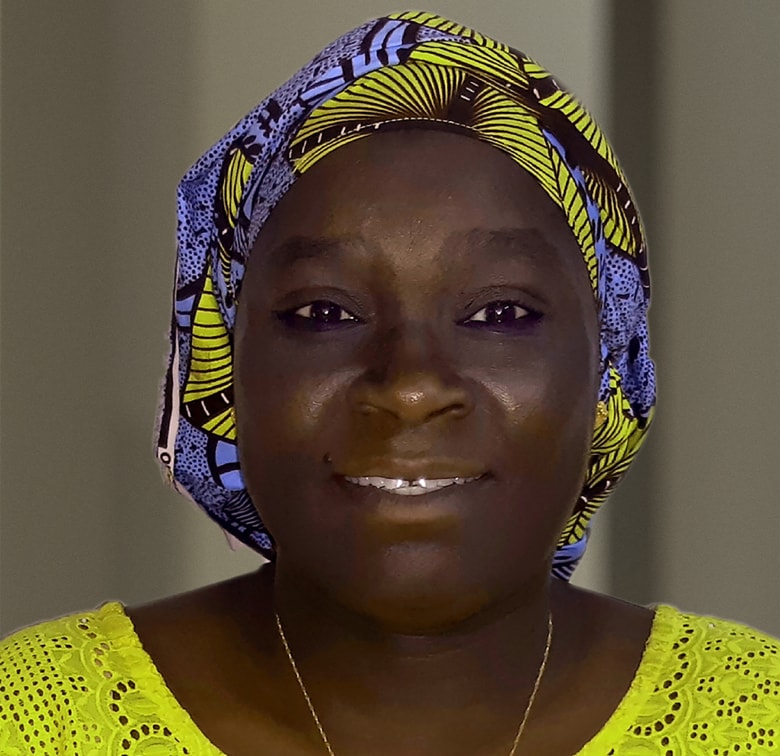 Women in West Africa have a lot to gain from the JPP, and to have their place as a leader, we must seize this opportunity.
Clementine Mayaki
ALLRight Funds Manager
CRS Niger
Engage With Us
Let's Talk
We encourage you to join us for a webinar on the Junior Professionals Program. Our webinars are an opportunity for you to informally exchange with our team—learn more about CRS and the Junior Professionals Program, ask your questions on the application, etc. We offer webinars on the dates and times listed below. Choose a session that works for you and join by simply clicking on this link or calling +1 443-290-6516, conference ID: 660 694 948#
Information Sessions
April 18, 2023
2:00pm–3:00pm GMT
May 9, 2023
1:00pm–2:00pm GMT
June 14, 2023
3:00pm–4:00pm GMT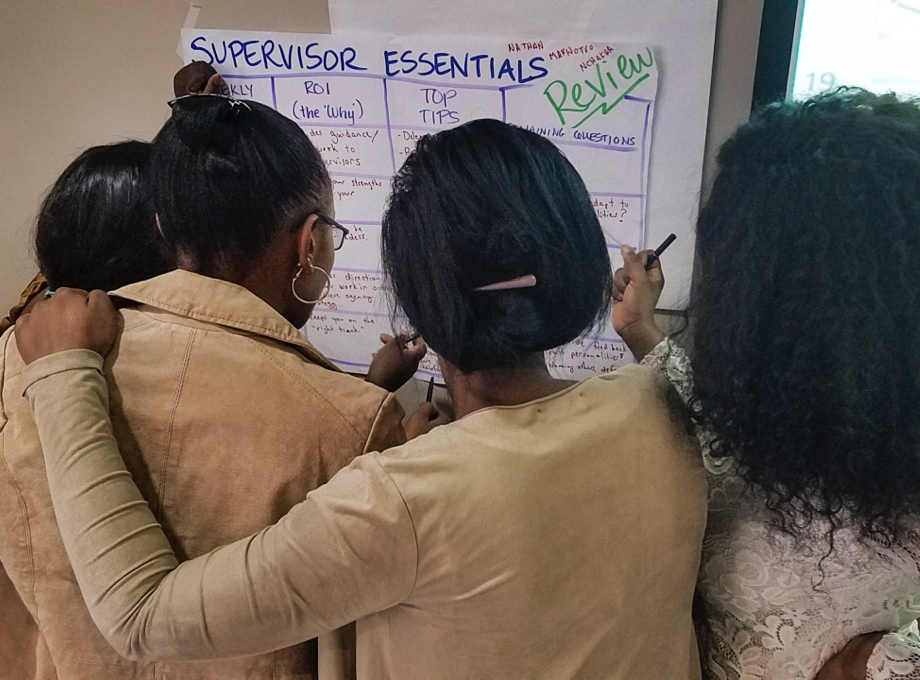 Learn More
Frequently Asked Questions
We are glad you are interested in learning more about the Junior Professionals Program. In our FAQs, we strive to answer questions you may have around the application and selection process, career opportunities, and more. For additional information, please join an information session or email us at [email protected].
More Opportunities
Equal Opportunity/Affirmative Action Employer
CRS is proud to be an equal opportunity/affirmative action employer. Selection and hiring decisions are made without regard to sex, gender identity, race, age, disability, religion, national origin, color, veteran status or any other protected area.
We are committed to working with and providing reasonable accommodation to individuals with disabilities. If, due to a medical condition or disability, you need a reasonable accommodation for any part of the employment process, please email [email protected].