About Partnership and Capacity Strengthening
With a broad network of local and church partners and deep roots in the communities where we work, CRS is uniquely positioned to assist with community capacity building. We strengthen local organizations, support grassroots advocacy, and provide strategic guidance that leads to sustainable change. Our partnership and capacity strengthening tools and programs, such as the Institute for Capacity Strengthening, are a natural outgrowth of longstanding CRS principles:
We believe people should lead their own development. CRS community capacity building efforts invest in local people and strengthens local institutions and networks. We have an active network of church and local partners around the world united by our mission to help the poor and vulnerable.

We are committed to sustainable solutions with long-term impact. CRS increases the impact of joint programming and improves lives in lasting ways by helping individuals, communities and institutions reach their full potential.

We work to promote social justice, peace and human dignity. CRS seeks to foster inclusion, accountability, and fair governance through strong civil society networks.
How We Do It
Over the years, CRS has developed community capacity building programs in collaboration with hundreds of local organizations all over the world. Our partners are often uniquely adept at identifying and implementing appropriate solutions to problems in their communities. Yet they often lack some of the systems, resources, skills, and tools necessary for self-sufficiency.
CRS regards capacity building and institutional strengthening as essential to any organization's health. In our partnership and capacity strengthening efforts, CRS accompanies and supports our partners to:
Assess. Evaluate current organizational assets and resources with respect for the organization's strengths, needs and goals.

Identify gaps in individual skills or organizational systems. Pinpoint needed skills or knowledge, organizational gaps and areas for improvement (e.g., business strategy, human resources, procurement, supply chain, external relations, program services)

Design and implement interventions. Leverage local resources, staff and networks as well as CRS expertise and experience to provide assistance such as:

Coaching & mentoring

Training & peer-to-peer learning

Organizational design & restructuring

Compliance & donor regulations

Gender & diversity audits

Job share & secondment

Program & management

Equipment & software purchases & training quality assurance

Ensure sustainability. Continuously follow individual and organizational progress over time, to ensure that new skills, tools and resources are successfully adapted and become standard operating procedures.
To support strong partnership and effective capacity strengthening, we have developed a range of evidence-based methods and tools for use with organizations around the world. This includes a the Holistic Organizational Capacity Assessment Instrument (HOCAI), which helps our partners to assess and strengthen their own capacity, along with 10-part guide on strengthening institutions, available in five languages.
Our Impact
With technical assistance and quality assurance from CRS, more than 1,100 partners – including faith-based and secular non-governmental organizations, community groups, and host country governments – implement high-impact projects in more than 100 countries. 
Catholic Relief Services helped a local partner in Ethiopia, Hararghe Catholic Secretariat, to reach 1.5 million more beneficiaries and increase its value by $4.1 million through dramatic improvements in program implementation, logistics, human resources and finance.
CRS supported the establishment of the Mindanao Peace Institute (MPI) in the Philippines in 2000. MPI was formally institutionalized in 2009, paving the way for growth and evolution as an independent training institute.
CRS worked with World Vision and CAFA—a Sudanese NGO—to strengthen the capacity of 25 local civil society organizations supported by the Darfur Community Peace and Stability Fund between 2011 and 2013. The project's sustained progress led its donors, the United Nations Develop Programme, to ask CRS to expand the program to more organizations  conflict prevention in Sudan.
With its Middle East-North Africa CSO Training and Organizational Development Response (MENTOR) project in Tunisia and Lebanon, CRS strengthens both leading and nascent civil society organizations (CSOs) and promotes networks and linkages to maximize impact and nurture a vibrant civil society. Still in progress, MENTOR has already seen significant results for its partners. 
in 2017, CRS was able to train 1.4 million persons in 202 Partnership and Capacity Strengthening programs in 57 countries.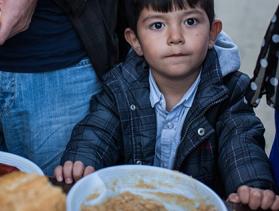 Experience, Expertise and Emergency Response: Help and Hope for People in Crisis
Catholic Relief Services is currently responding to emergencies in more than 18 countries on four continents. Our most recent responses are to...Read more
Donation Form
Join Footsteps in Faith today!
Bring lasting change to children and their famlilies. Become a regular donor and for just 80 cents a day, you can make a difference!