About Emergency Response and Recovery
Catholic Relief Services' vision is to promote social justice, solidarity and compassion through timely emergency and recovery actions that address the needs of the most vulnerable.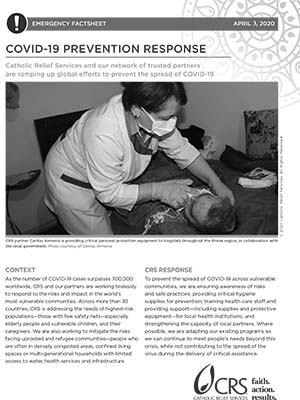 We take a comprehensive approach to international disaster relief. As experienced first responders, we provide lifesaving help to get survivors back on their feet. Then we help people obtain the tools and skills they need to manage their own recovery. Our projects build on local systems to ensure long-term success.
CRS implements a wide array of disaster responses, which we tailor to the needs of each community. We are especially known for our work in market-based responses and shelter.
Our impact
In fiscal year 2016, 45% percent of our programming focused on international disaster relief. Once we meet immediate needs for food, water and shelter, we transition to rebuilding and reconstruction, supporting the survivors of natural disasters and chronic emergencies in reclaiming their lives. Our programs seek to prevent loss of life, minimize suffering, reduce property damage, speed recovery, reduce vulnerability, and otherwise better cope with natural or man-made disasters, while fostering a culture of peace, dignity and respect.
CRS is able to set up operations within days of a disaster. Our access to private funds enhances our capacity to quickly deploy staff, get items to those who need it and adapt to ever-changing circumstances. We give disaster-affected communities greater control over decisions that affect their lives. We focus on the most vulnerable, so that they have a voice in community and household decisions. 
Immediate shelter is paramount in emergencies. Immediately after a crisis, CRS distributes tarpaulins, rope, and other building materials that provide lifesaving short-term protection from the elements. We also offer rapid, affordable, transitional housing that is culturally appropriate, meets international standards, and can be expanded or upgraded to permanent homes. We address issues related to land tenure, urban planning, infrastructure, and reconstruction to help people recover.
In 20 years of shelter programming, CRS has provided or built over 208,000 transitional and permanent shelter units, assisting over 1 million vulnerable people in 29 countries.
Capacity at a glance
Experience: 71 years of emergency programming
Staffing: More than 5,000 employees in 101 countries, including a rapid-deploy team of 25 emergency response experts
Investment: More than $442 million for disaster relief programs in fiscal year 2016
Impact/By the numbers: Provided support to more than 12.4 million beneficiaries through 201 projects in 52 countries 
Learn more about how we work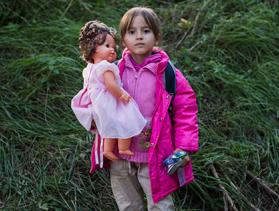 Faces of Families Caught in the Refugee Crisis
Families and children are among the most affected by the current refugee crisis. They take on difficult journeys as a last resort, seeking only survival.Read more
Manuals

Guide to Facilitating Community-Led Disaster Risk Management

This guide builds on previous guides produced by CRS and CAFOD, incorporating new sections on strengthening community leadership and participation mechanisms, and integrating climate change adaptation. More

Learning Briefs

E-vouchers in Conflict Situations

Approaches and lessons learned from northeast Nigeria

Check out this case study about our use of electronic vouchers (or e-vouchers) for the delivery of emergency relief in northeast Nigeria. More
Donation Form
Join Footsteps in Faith today!
Bring lasting change to children and their famlilies. Become a regular donor and for just 80 cents a day, you can make a difference!