About Health
As a leader in international humanitarian aid, CRS often goes where others don't. We carry out a wide array of health-related activities tailored to the needs of the countries and communities we serve. Our international health aid programs are designed to address inequities, support universal access to services and produce long lasting results. Our approach strengthens local partners, develops local solutions and works in remote areas often neglected by existing health and social service systems. CRS' key health programming areas include:
Impact of Health Programs
CRS works at the individual, household and community levels, as well as with public and private health care and social services providers, to improve access to high quality services. Our work also links to other sectors, including agriculture; education; microfinance; water, sanitation and hygiene; and gender to address underlying causes of poor health.
Our programs target vulnerable individuals and households to promote wellbeing among populations living in poverty. We use evidence-based tools, implementation and approaches, research and evaluation to ensure high quality programming, efficiency and a return on investment. 
Working with many countries since their independence in the 1950s and 1960s has allowed us to establish strong relationships with key government ministries as well as individual communities. We implement our health programs in partnership with government agencies, universities, research institutions and the private sector. 
Capacity at a Glance
Experience: 71 years of health programming
Investing: $165 million in fiscal year 2016
Extra: Provided support to more than 93 million beneficiaries through 119 projects in 42 countries.
Learn more about how we work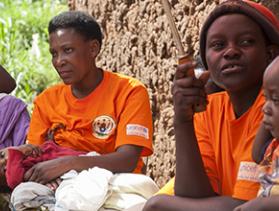 Growing Healthy Children and Futures: The First 1,000 Days
What can you do in 1,000 days? In Rwanda, you can save a child's life. The 1,000 days between a woman's pregnancy and her child's second birthday are...Read more
Donation Form
Join Footsteps in Faith today!
Bring lasting change to children and their famlilies. Become a regular donor and for just 80 cents a day, you can make a difference!