Chapters and Clubs
Photo by Richard Reinhard for CRS
Join a Community of Changemakers
Have you ever wondered, "What can I do to make our world a better place? How can I make a difference?"
Catholic Relief Services Chapters and Clubs are communities of people transforming the world. As part of a movement across the United States, thousands are taking meaningful action through CRS campaigns to eradicate global poverty and injustice. Adults and university and high school students take our campaign work further by engaging their communities in advocacy and community giving to make a difference. The world's problems are big and complex, but when we come together in faith and action our impact knows no bounds.
Current Issues
Global hunger isn't inevitable. Migrants and refugees don't need to live in fear and uncertainty. See what kind of world you can build together with CRS.
Impact
Together, we have the power to transform society. See how you can make a difference in the lives of millions of people around the world by joining a CRS Chapter or Club and taking actions like advocacy and community giving.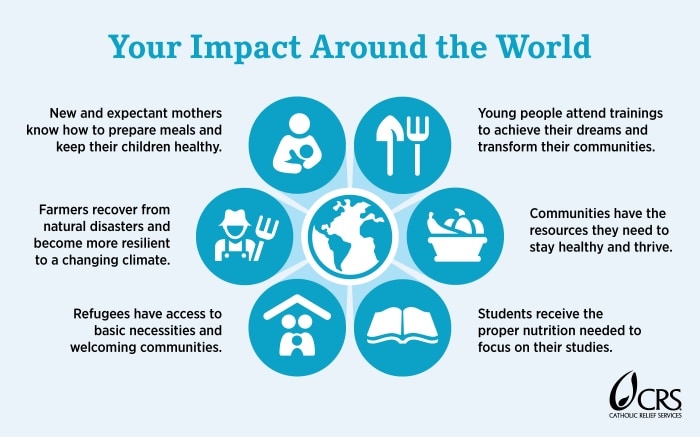 "My CRS Chapter provides the training, the community to feel confident and the knowledge to be politically involved and bring about systemic change."
- Kelsey Harrington, CRS Bellingham Chapter co-leader
"The CRS Club has allowed all of the club members, who are freshmen through seniors, to see the 'Two Feet of Love' in action, and to participate in it through advocacy."
- Alanna Heyl, CRS Club advisor, St. Dominic Savio Catholic High School
"As a student, CRS gave me a world perspective on the Church by helping me understand how we are all connected and invited to work as one body to uplift each of our members."
- Madeleine Woolverton, CRS University Chapter advisor, University of Cincinnati
In The News
Our work is making a difference for millions of people experiencing hunger, violence and other affronts to human dignity. Learn how you can be part of the solution.
Join The Movement