About Education
Education is at the heart of CRS' mission. We support communities, local partners and governments in their efforts to ensure that all children–including the most vulnerable and marginalized—have the right to a quality education. Recognizing that education can be a force for either inclusion and acceptance or exclusion and conflict, CRS engages a wide variety of people to ensure that schools play a positive role in building a culture of peace.
CRS has education programs in 35 countries in Africa, Asia, Latin America and the Caribbean, the Middle East, and Eastern Europe.  In fiscal year 2015, CRS invested more than $62 million to make education a part of every child's life. With this funding, we were able to reach more than 3.5 million children, youth, and adults, thereby improving education in developing countries.
Our education projects encompass a range of activities, including early childhood development, school feeding programs, and primary, secondary, and higher education in both formal and non-formal settings.  CRS is able to have a broad and deep reach through its national and local networks of Catholic organizations and schools, as well as through public and private entities.
Our impact
CRS and its partners promote and support access to quality basic education for all. The agency stands in solidarity with the most marginalized populations and works to make effective individual, structural, and systematic changes. Our programs span the globe and widen the scope of what is thought to be possible.  We improve access and deliver basic literacy and life skills, through both formal and non-formal education systems. We provide opportunity and support to those we serve in order to ensure the best results possible.  
Capacity at a Glance:
Experience: More than 65 years of educational programming
Staffing: 100+ employees**
Investing: $62.5 million for education in fiscal year 2015
Impact/By the Numbers: Provided educational support to more than 5.8 million beneficiaries through 77 projects in 34 countries.
Fun Fact: CRS began supporting school feeding in many countries in West Africa in the 1940s.
Learn more about how we work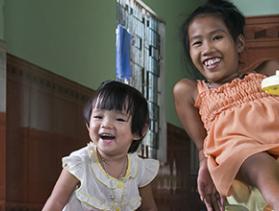 Uncovering Abilities and Expanding Worlds
A CRS-supported program in Vietnam provides home-based education to children with disabilities.Read more
Donation Form
Live your faith
Join Footsteps in Faith to bring lifesaving and lasting change to children and their families. For just 80 cents a day, you can make a difference!