Deferred Pay Gift Annuity
You may already be familiar with charitable gift annuities, which provide you with an immediate tax benefit and lifetime income payments, part of which are tax free.
A deferred gift annuity provides all of these benefits, plus an additional level of flexibility.  Deferred annuities are available to donors age 50 and above; however, payments cannot start until the annuitant reaches age 60.  You are eligible to receive a charitable tax deduction in the year that you open a gift annuity with Catholic Relief Services. 
With a deferred gift annuity, you can make your gift today and select a date—which can be 1 year or more in the future—when you'd like your annuity payments to begin.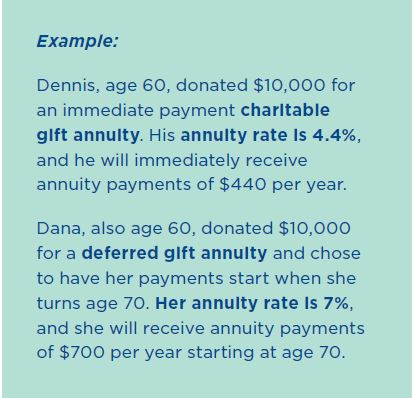 With a deferred gift annuity, the annuity rate is based on the annuitant's age when payments begin.  You can establish a deferred gift annuity for you and a second person, or for another person entirely. Payments will be the same for the duration of the surviving annuitant's life.