Zimbabwe Farmers Adapt to Climate Change
Photo by Dooshima Tsee/CRS
We have been driving for miles. Out of the car window, the landscape is brown and dusty. A few trees have dry leaves, but the branches of most trees are bare. There is very little grass. A majority of farmers in this part of Zimbabwe raise cattle to earn money and feed their families. However, in the past two planting seasons there have been poor rains in parts of Zimbabwe, especially southern Zimbabwe. Rural dwellers who depend on subsistence farming to feed their families and green pasture for their animals to graze have been hit hard by the drought. Desperate animals have eaten everything they can reach, from grass on the ground to the bark on trees. Poor harvests and animal yields affect food supply for farming families but also urban dwellers who depend on farm produce from rural farms. A recent United Nations report estimates that 60% of Zimbabwe's 14 million people are considered food insecure.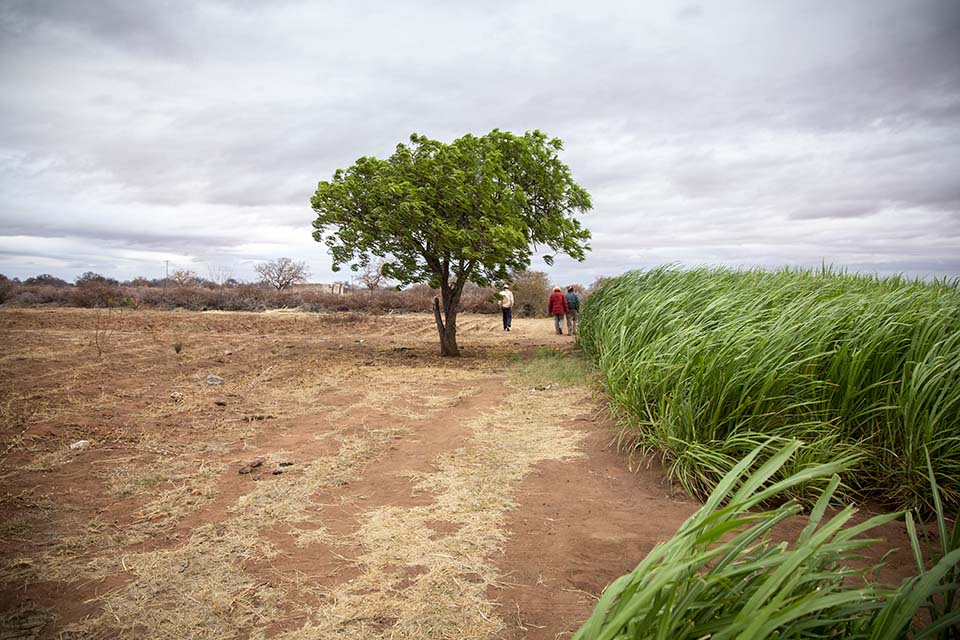 A demonstration site shows the difference between irrigated areas where the fodder grows and non-irrigated areas in Beitbridge district, Zimbabwe. Through such sites, CRS is teaching low-income farmers new agricultural methods that help them plant drought tolerant fodder crops to feed their animals.
Photo by Dooshima Tsee/CRS
Walking into Reuben Ndou's cattle farm in the Beitbridge district of Zimbabwe is almost like arriving at an oasis in the middle of a desert. Neat rows of green plants wave in the wind, with tall Bana grass on one end and lablab bean plants with their small petals at the far edge of the field. There are four varieties of fodder growing on Reuben's farm. It is a startling change from the dry fields all around.
Farmers in Reuben's community are losing their cattle. As many as two cattle a day die from starvation. Yet Reuben has not lost any animals this season.
Expanding knowledge and skills
The current drought is the most recent in a series of increasingly frequent climate events plaguing Zimbabwe and many other countries in Southern Africa. In March of 2019, parts of Zimbabwe experienced flooding following cyclone Idai, which also devastated regions of Malawi and Mozambique. Flooding and drought dramatically reduce food supplies. Women and children are most affected by the current food crisis in Zimbabwe. About 90% of children age 6 months to 2 years in Zimbabwe do not eat enough food.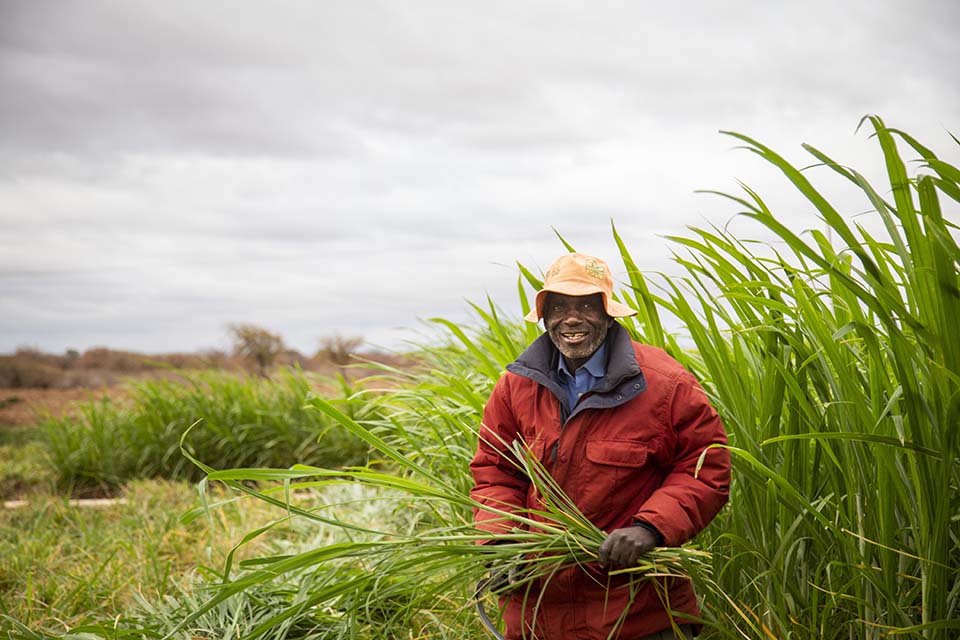 Reuben Ndou harvests grass to feed his animals in Beitbridge, Zimbabwe.
Photo by Dooshima Tsee/CRS
Catholic Relief Services is addressing the food crisis and climate events in Zimbabwe by training smallholder farmers like Rueben to use improved agricultural methods to adapt to the changing climate.
CRS has been working with farmers like Reuben for five years. Reuben uses the training and information he received from CRS to grow drought tolerant, nutritious feed for his animals, with crops like Bana grass, velvet beans and lablab.
We met Reuben for the first time in 2016. He had just started using some of the CRS recommended methods and was seeing a difference. He had a perennial water source close to his fields so he could grow feed on 2.4 acres of land for his animals. During the dry spells over the past two years, even that source of water dried up. Our partner, Caritas Zimbabwe, provided a small grant to Reuben. After selling some cattle and adding in some of his savings, Reuben had enough to sink a borehole for water. 
Reuben now grows three types of animal feed on an additional 2.4 acres of land. Since his production increased, Reuben buys animals from other farmers in his community, pen-fattens the animals and sells them when they get to market weight. This helps the community because farmers who cannot feed their cattle sell to Reuben and do not have to watch their animals die.
The methods Reuben uses to cope with the drought are simple and easy to use. Installing drip irrigation systems, planting cover crops that preserve soil moisture and make the land more fertile, and digging contours are just a few of those methods. These practices help farmers adjust to floods, droughts, pests, and other climate events—and the methods are spreading within communities. Now Reuben's farm is a learning center. Farmers from far and near come to learn and then replicate these practices on their farms. Oscar Singo, the leader of Reuben's community, saw that Reuben was weathering the drought better than other farmers in the area. Oscar came to Reuben to learn the new farming methods and today Oscar is using these methods. He sees the techniques as a solution that farmers in his community can benefit from and has been one of the most vocal advocates for adopting the new methods.
 Helping families stay together
One effect of the recurrent climate events and faltering economy in Zimbabwe is that young people are leaving the region to find jobs in other countries. Youth in rural areas find it difficult to get jobs that pay enough to meet their basic needs. Most families we spoke to have one or more family members living in South Africa, Botswana, or some other country.
For Timothy Ngulvhe, a farmer in Lukange village, Zimbabwe, the thought of his children having to migrate to other countries is a constant source of worry to him. Timothy has five sons and three daughters.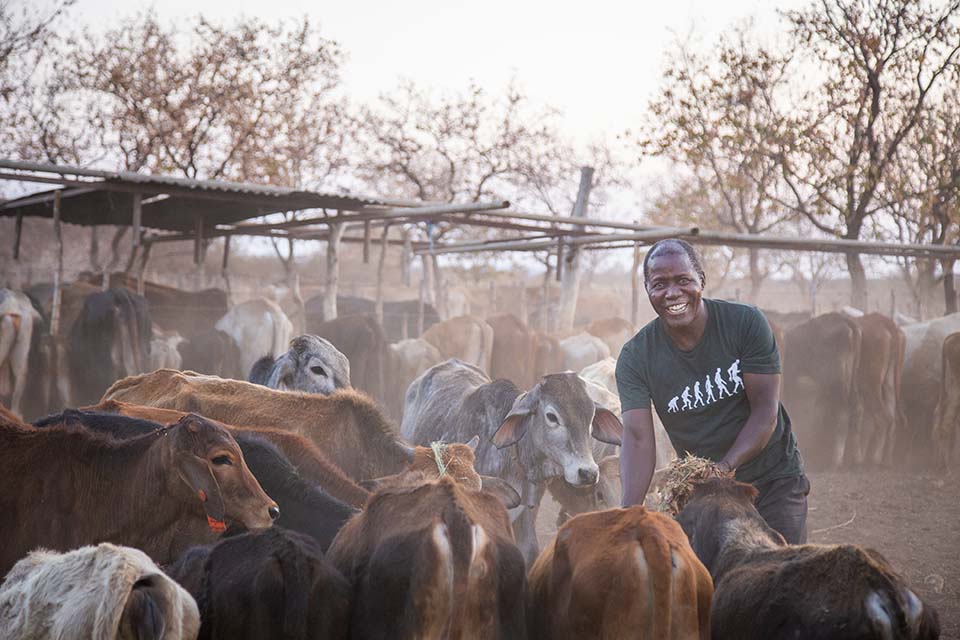 Timothy Ngulvhe, here feeding his cattle, hopes improved farm production encourages his children to stay close and not face the risks of migration.
Photo by Dooshima Tsee/CRS.
"It makes me happy when I see my children around me. If they go to another country, they will be made to work as slaves and treated badly. They might as well stay here and work hard and not be exposed to thieves or have to resort to desperate measures to survive. What I dread most is having my child return in a coffin," Timothy says.
 In 2017, so many of Timothy's animals died of starvation that he lost count. He started planting velvet beans in 2018. Through Caritas Zimbabwe, CRS linked Timothy to commercial seed companies who provide him with velvet bean seed to plant and then buy his seed harvest at the end of the season. In two of the driest seasons in recent history, Timothy has been able to bounce back from his 2017 loss. He increased his herd from 50 cattle to 84. To diversify his earning, he opened a drinks store and a butcher shop that his sons manage.
These days, when Timothy looks to the future, he has hope that his family will stay together.
"My children work the farm with me," he says. "When I work hard in the field, I am thinking of my children. I don't want them to have to cross over to South Africa because they cannot find work here. I want them to stay and work with me."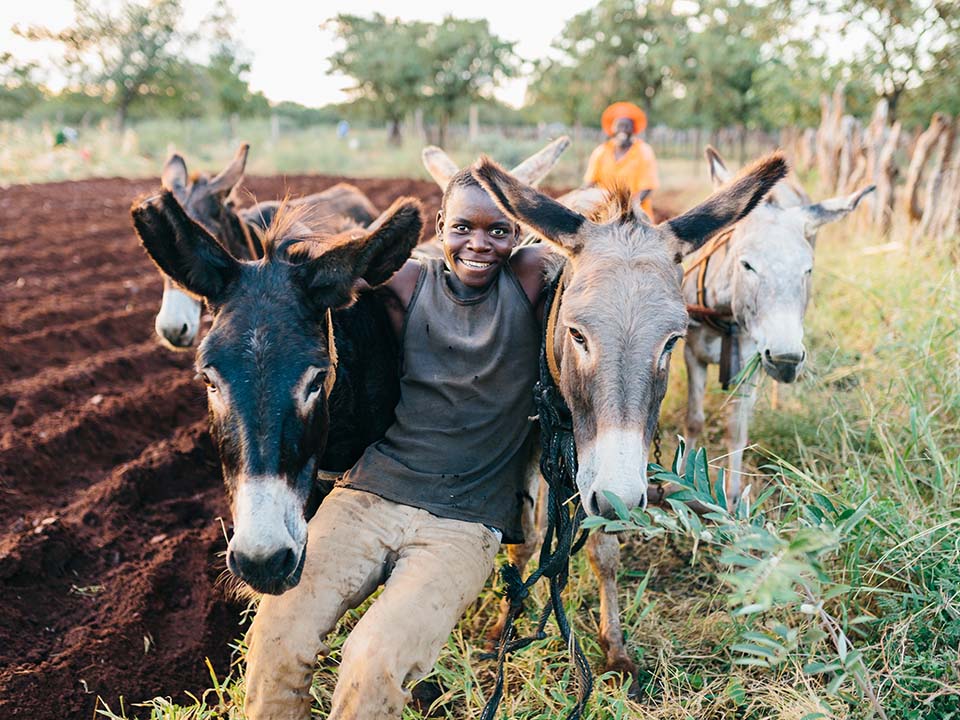 Timothy Ngulvhe and his son till his fields in Lukange, Zimbabwe.
Photo by Bad Rabbit Studios for CRS
Critical access to markets
It is becoming increasingly important for farmers to practice climate-smart farming methods as predictions show that climate events such as droughts, floods, and storms will continue to worsen. Providing farmers with skills is the first step to ensuring that they continue to maximize the resources they have.
As farmers embrace these methods and begin to produce more, another critical step in building farmer and community resilience is to provide a market prepared for increased harvests. Through farmer groups and learning centers, CRS builds connections between poor farmers in rural areas and companies or organizations that buy their produce. In the Lutumba learning center in Beitbridge, for instance, farmers learn new agricultural methods and pool their produce to sell to seed companies. Farmers get a better price if they sell as a collective rather than if they sold alone in the open market.
The new methods help farmers make the best use of water and other dwindling natural resources. In 2016, before the drought began, it took farmers about two hours of mechanized pumping to fill a 10,000-liter tank of water. At the height of the drought this year, farmers spent six to seven hours pumping the same drum full of water. One new strategy CRS is teaching farmers is drip irrigation that uses less water to grow crops on larger areas of land.
"Drip irrigation allows you to use 90,000 gallons of water to irrigate 2.4 acres of land. Before, we used flood irrigation which consumed two million gallons of water for 2.4 acres. The drip irrigation system is expensive to set up, but we save costs by not having to pump water for long hours and can plant larger portions of our fields, so in the long run, it is better," Davidson Matiza, the chairman of the Lutumba learning center says.
Raina Ndlovu, a member of the the Tusunami Goat Private Company, and her grandson with a baby goat in Fula, Zimbabwe.
Photo by Dooshima Tsee/CRS
Another strategy is goat farming. CRS encourages farmers to raise goats because goats do better in scarce water and food conditions, are easier to care for and less prone to diseases.
In Fula village, also in Beitbridge, six members of a learning center started a private livestock company in 2015, to raise and sell goats. They called it the Tusunami Goat Private Company. CRS trained the company members to care for the animals and provided support to help the group set up the company. CRS also connected the Tusunami company with the International Livestock Institute which provided a $3,000 loan so the company could buy an initial stock of 93 goats. The Institute takes samples from the Tusunami herd every 45 days. These samples are part of research to improve goat feed technology that will benefit farmers all over Zimbabwe.
Ngiseni Muleya, one member of the company, says, "I used to think companies were only formed in big cities by important people but they told us even the biggest companies in America started small. They helped us register the company and set up a bank account. When we could not get loans from banks, they helped us apply for a loan from the Institute."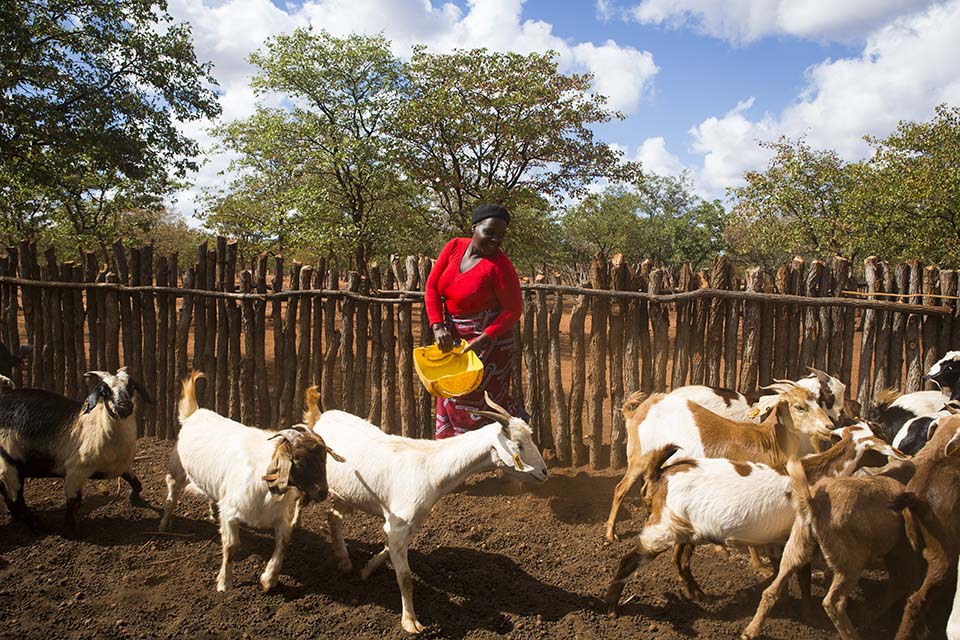 Raina Ndlovu tends her goats made possible in part by a loan from the International Livestock Institute. Photo by Elie Gardner for CRS
The Tusunami Goat Private Company has paid off the loan they took from the institute. In the next few years, they hope to expand company operations and buy a threshing machine. They will use the machine to thresh their animal feed and offer to thresh for other community members for a fee.
"There is so much demand for our goats that we do not even have to do much marketing. Our customers tell other people and the word spreads. Eventually we hope to buy our own vehicle to transport our goats and sink a borehole to make it easier to water our herds. We also hope to contribute to our community by hiring people so they can learn from seeing us do these things. Maybe we can even pay school fees for poor students," Raina Ndlovu, a company member, says.
Adjusting to climate change might seem daunting, but the farmers CRS serves in Zimbabwe are prepared. Their hard work is helping them produce more to feed their families and opening doors to exciting new ways farmers can earn money to pay school fees, offset medical bills, and save to cushion the effects of erratic climate patterns.