Youth in Rural Uganda Receive Vocational Training
Photo by Will Baxter/CRS
Nineteen-year-old Kizito Lokwameri and his 21-year-old brother Emmy Iriama both dropped out of secondary school because they could not afford the fees.
"We were performing very well at school. But our mother could only pay for the first term," Kizito says.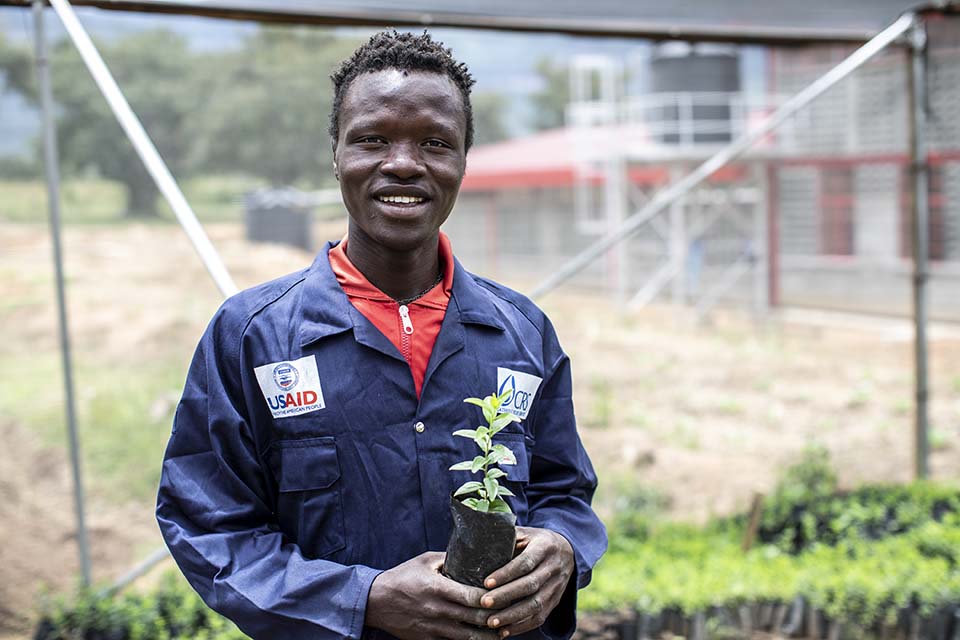 Kizito Lokwameri holds a seedling outside a greenhouse at the Nakapiripirit Technical Institute. He's enrolled in an agroforestry vocational training program through Nuyok.  
Photo by Will Baxter/CRS
Since then, both young men have been largely idle, occasionally doing odd jobs, for which they earn about $0.54 a day.
"During the rainy season we helped people dig in their gardens at the time for planting," says Kizito, who is from a rural village in Nabilatuk District. "The rest of the time we just stayed at home because no one could support us to go further in school."
For several years, the brothers lived this way, finding work when they could. Then, earlier this year, Emmy heard about a vocational training program supported by Nuyok. Funded by the United States Agency for International Development's Office of Food for Peace and led by Catholic Relief Services, Nuyok aims to build resilience to shocks, enhance livelihoods, and improve nutrition and food security.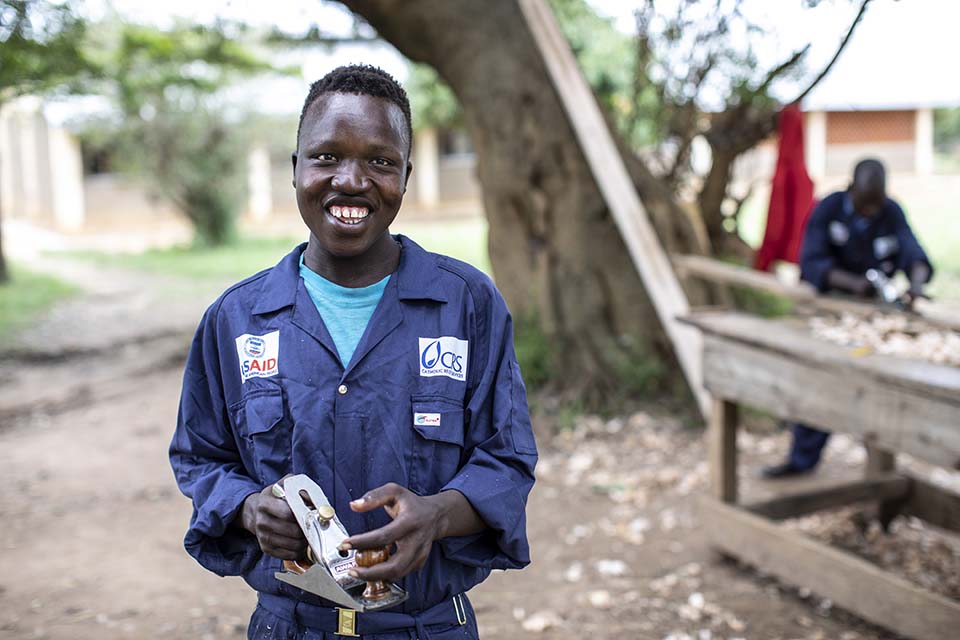 Emmy Iriama stands outside the Nakapiripirit Technical Institute in Uganda. He is taking part in a carpentry vocational training class through Nuyok.
Photo by Will Baxter/CRS
In Uganda, the project focuses in three districts in Karamoja. One component of the project offers youth aged 14 to 30 the opportunity to take part in vocational training courses in agroforestry, baking, carpentry, masonry, mechanics or phone repair at the Nakapiripirit Technical Institute.
"I heard about the training from some former students who graduated from the program. They shared their experiences and what they learned," Emmy says. He told Kizito about the program and they both decided to apply.
Emmy chose to study carpentry because he sees it as potentially lucrative. "Where I come from, no one is making beds or chairs or things like that. It feels like when I finish, I can go and start a small business or I could even get a contract from a school or an NGO to build materials for them," Emmy says.
Even though he has only been at the institute for a few weeks, Emmy has already developed new skills.
Emmy Iriama checks the precision of a board during a carpentry class at the Nakapiripirit Technical Institute in Nakapiripirit, Uganda.
Photo by Will Baxter/CRS
"In a short time, I have learned how to cut timber, plane a board and measure properly. Before I leave this course, I want to learn how to make tables and chairs and beds," Emmy says.
He is also looking forward to some upcoming classes on entrepreneurship, bookkeeping and investing.
"I would be very interested to learn about investing. Because when you earn money you shouldn't just spend it immediately. You should use it for something good," Emmy says.
Meanwhile, Kizito thought it made sense to build on his basic knowledge of agriculture.
"I chose agroforestry because I want to learn about planting different crops and how to lay out a nursery," he says, pointing out that he's interested in growing fruit trees.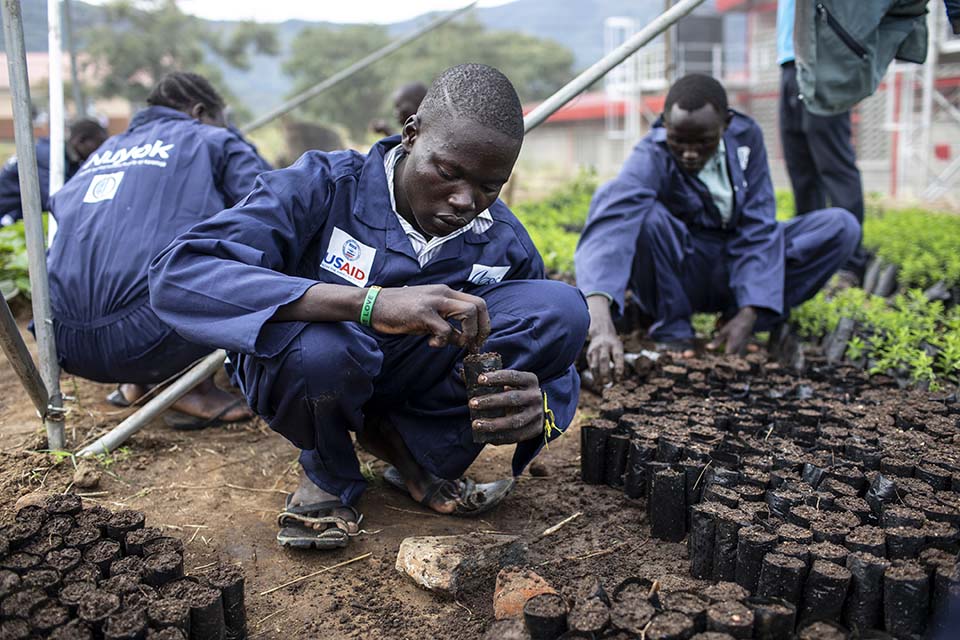 Students prepare plantings as part of an agroforestry program that provides vocational training in an effort to improve livelihoods.
Photo by Will Baxter/CRS
"Before, I didn't know you could plant fruit trees and sell them," he says. "You can transplant the seedlings to your garden. When it bears fruit, you can make money selling the fruit."
Zura Ochom, a mobilizer and counselor at the Nakapiripirit Technical Institute says that dropouts like Emmy and Kizito have very limited employment options if they are not able to develop vocational skills.
"This program is good for the youth in this area because the Karamojans have a negative understanding about education. They think if you take a child to school you are wasting your time," says Zura, adding that the program is helping to combat negative perceptions about education.
So far, 111 youth have graduated from the program and another 93 are currently enrolled in the second session.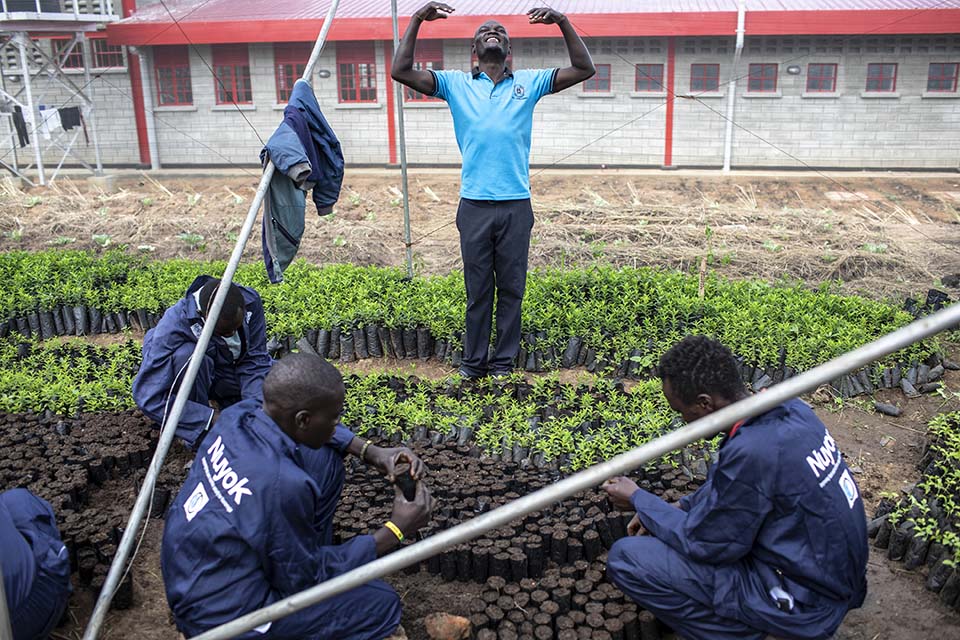 Instructor Francis Olila speaks to students during an agroforestry vocational training class.
Photo by Will Baxter/CRS
"Nuyok gave opportunities even to those who have never gone to school—those who have dropped out of school or those who married early or those who have disabilities," Zura says. "This program has enabled them to be self-employed and to understand that with or without finishing school, they can acquire other employment and business skills."
"Now, many young people are self-employed," she says. "This program has not only helped the youth themselves, but also their families and the communities where they come from."