Youth Program in Nicaragua Offers Alternatives to Migration
Photo by Katlyn Holland/CRS
With waterproof backpacks slung over their shoulders, best friends Josué Zamora and Eddie Montoya López climb into the bed of a pickup truck just before dawn breaks. They crack jokes at one another as the bumpy rural road gives way to the jaw-dropping vista of Somoto Canyon National Park. Their ride ends at the site of a gushing, crystal clear river that carves a wedge between two mountains—Josué and Eddie have arrived for another day at the office.
These two young men live a lifestyle that many dream of. Since launching Somotana Tours, Josué and Eddie spend their days outdoors, guiding tourists and globetrotters through wild adventures on kayaks and canoes. They earn decent salaries, too.
Life for Josué and Eddie wasn't always so ideal. Growing up in rural Somoto, job opportunities were few and far between.
Edwin Montoya López and Josué Marcelino Zamora take a break on one of their tour boats in Somoto Canyon National Park in Nicaragua.
Photo by Katlyn Holland/CRS
"In Nicaragua it is very difficult for the young people," says Eddie. He cites a lack of educational and employment opportunities as reasons why so many rural youth—like himself and Josué—choose to leave. But before the two friends could follow through with their plans, they found the YouthBuild program offered by Catholic Relief Services. Completing the program helped to steer them in a different direction.
Eddie and Josué spent eight months attending training on rural community tourism with an entrepreneurial focus. They learned essential business skills like marketing and accounting, combined with life skills like confidence building and conflict resolution. They also visited rural tourism operations in other communities—a valuable experience that introduced them to other industry professionals.
"YouthBuild unites people, tries to build culture, tries to form positive values in the young people who are the future for the development of our country, our communities and our family," says Josué.
Now, instead of looking at migrating to a larger city or another country, Eddie and Josué are investing in their community. Over time, their business has grown and they have hired other graduates from the YouthBuild program to work with them.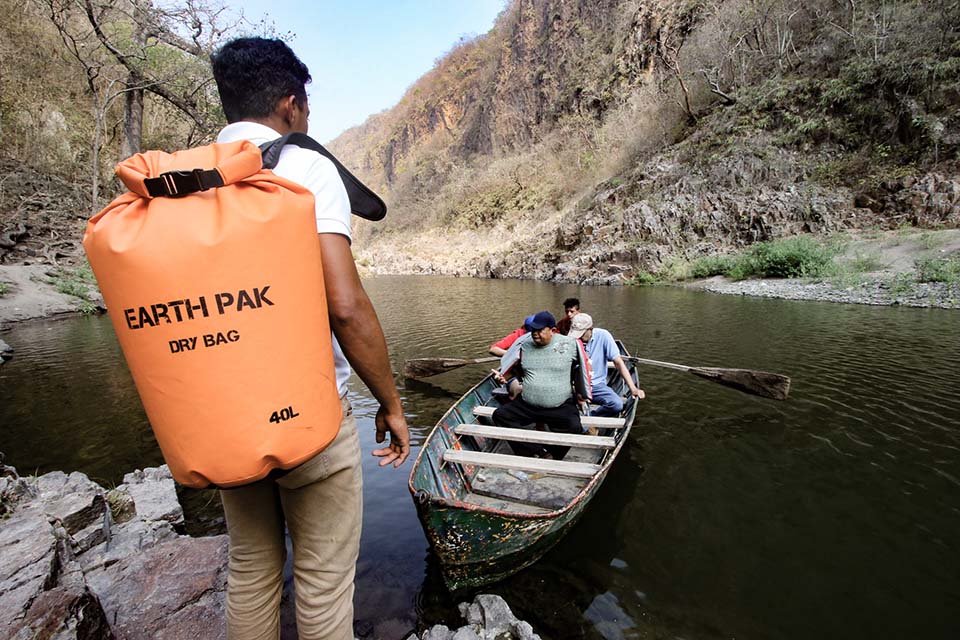 Josué Marcelino Zamora gives a boat tour in Somoto Canyon National Park in Nicaragua. Josué started his own business with a friend after participating in CRS' YouthBuild program.
Photo by Katlyn Holland/CRS
"We have a team, we have the support of family, friends and co-workers. And we feel motivated because we are helping other young people," says Eddie. In addition, they are forming a cooperative with other tourism providers in the region to maximize business and propel their future growth. Eddie and Josué aim to show other youth in their community what is possible in their hometown with hard work and the right guidance.
"We have our micro-enterprise, our small business and, thanks to the project, the support of YouthBuild, I think that travelling or emigrating to another country is no longer an option for us because if we have the potential here, in the courtyard of our homes, there is no need to leave," says Josué.
As they pack a small boat with life jackets in preparation for the day's tour, they credit their experience in the program for their success. YouthBuild showed them how to monetize their most marketable skills. It also allowed them to live their faith by putting them on a path of service to their community.
"You realize where you are capable and what you can do for yourself and others," Eddie says. "Even if there are a thousand problems, there is always at least one opportunity with God's help."