Young Ugandan Mom Goes from Vulnerable to Entrepreneur
Photo by Will Baxter
"The most empowering trainings I received were about financial planning and money management."

 
Josephine Nakayiwa has a big smile and even bigger dreams. But, much like the women who walk through the door of her new beauty salon, not long ago the 22-year-old felt like she needed a transformation.
While she works skillfully weaving a customer's extensions, she describes having been listless, with few opportunities on her horizon.
"I got pregnant. I got married at 19. I didn't know what to do. I had no way to earn money," says Josephine, who only went as far as fourth grade.
Then, because she is a young mother, Josephine was identified for support by the SOCY program—Sustainable Outcomes for Children and Youth.
The project, funded by the United States Agency for International Development (USAID) and the President's Emergency Plan For AIDS Relief (PEPFAR), aims to improve the health, nutrition, education, and psychosocial well-being of orphans and vulnerable children and youth, as well as reduce abuse, exploitation and neglect among this population. In addition, SOCY helps adolescent girls and young women like Josephine learn vocational skills, become more economically independent and remain HIV free.
To gain greater access to vulnerable youth in rural communities, Catholic Relief Services works closely with partners like Send a Cow and The AIDS Support Organization, which have extensive networks of community engagement staff in Central and Western Uganda.
"One of the field assistants came looking for adolescent girls and young women who were just at home and not doing anything. They told me there was a project called SOCY that was going to register me," says Josephine. "They told us to choose a vocational trade that we wanted to learn. I chose hair dressing."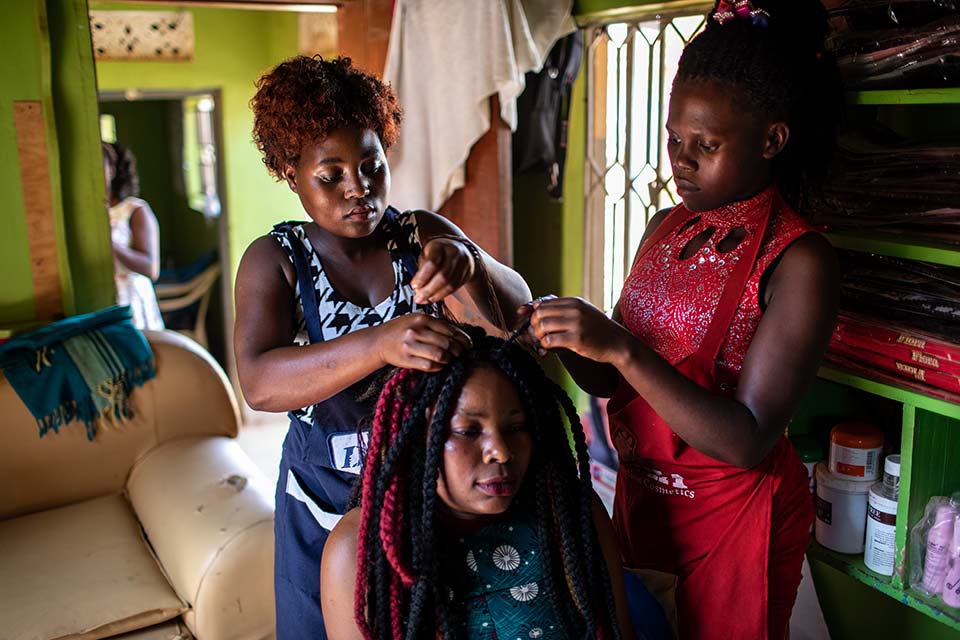 Josephine Nakayiwa, left, gives a customer hair extensions at the beauty salon she started with help from a CRS program.
Photo by Will Baxter/CRS
Vocational training was just one aspect of Josephine's education under SOCY's DREAMS (Determined, Resilient, Empowered, AIDS-free, Mentored and Safe) program, which also refers young people for HIV testing so they can know their HIV status and learn how to remain HIV free.
Goretti Nakabugo, the DREAMS senior program officer in Kampala, says it is important to support young mothers like Josephine who are vulnerable to HIV infection and other risks such as poverty, gender-based violence and lack of education.
"We know that in Uganda, girls are at four times the risk of contracting HIV versus boys of the same age," says Goretti. "That's why we have to do prevention."
"I learned from the DREAMS training how to prevent myself from contracting HIV and AIDS," says Josephine. "I checked my HIV status. I am negative."
By knowing her status, "she's able to make choices that empower her to live her dreams," says Goretti. "That's why it's called DREAMS. It's a dream to keep these girls HIV-free."
"We want this girl who is HIV negative to realize her dreams so that's why we give her life skills as part of the package," says Goretti, adding that the program's comprehensive nature provides participants with vocational training, access to female mentors and other skills related to running a business.
"The most empowering trainings I received were about financial planning and money management," says Josephine. At the salon, she now tracks her earnings, expenses and upcoming payments in a bookkeeping ledger.
DREAMS participants are also encouraged to join CRS microfinance groups—called  Savings and Internal Lending Communities—to help bolster their economic independence. The groups help vulnerable people like Josephine to pool their money, save over time and borrow to invest when there is an opportunity or need.
Josephine saved $67 in her SILC group and, together with another $67 from her business partner, they were able to make a down payment on the beauty salon, which the previous owner sold to them for $540.
Josephine and her partner took over the shop in January and have a goal to pay off the balance within five months. By the beginning of February, they had already paid back $67.
But before joining the SILC group, Josephine didn't see saving as something that was accessible to her. "I thought that saving was very far away from me. I thought that those who saved had to be rich or have big businesses or be well-established. I didn't know that you can save little-by-little," she says.
Josephine Nakayiwa at her beauty salon in Buyamba village, Uganda.
Photo by Will Baxter/CRS
Josephine and her husband rent a house, and he also contributes to their income. "My husband is responsible and hardworking. He is a farmer."
Josephine also learned about farming in the SOCY trainings and has put that knowledge to good use.
"I learned how to do a backyard garden. Right now, I can grow vegetables, so I don't need to buy them. I also learned how to raise animals. We raise pigs and chickens," she says.
As a cash crop, they also grow Irish potatoes to sell at market. Josephine is harvesting now and hopes to earn more than $50 when she sells her produce.
Eventually, when she and her partner have paid off the balance for the salon, she intends to keep saving for the future to make her dreams a reality.
"I want to build a house for myself. I want to buy land so I can grow more food. I want my child to receive an education," she says.
With new skills and a more optimistic outlook, Josephine says that even her personality has been transformed.
"I used to be very shy. I would never talk to a customer. I wouldn't even tell them my name. But now I am confident. I am free. I have changed a lot. The training helped me to change. Now I can market my business and talk to customers," she says. "Now I am my own advertising for the business."