Young Liberians Return After Perilous Migrations
Photo by Lauren Bell/CRS
The numbers are increasing at a consistent rate. Each year, more West Africans are returning home after attempting to make the treacherous journey to Europe in search of opportunities.
Between January and June 2019, nearly 400 Liberians have voluntarily returned to their homeland with assistance from the United Nations. Four out of every five migrants from Liberia found themselves stranded in Niger, and many of their stories are similar—tales of forced labor, hiding from authorities, physical abuse and death.
"My life was at risk. Most of my friends that I met along the way lost their lives. In my presence, I saw them die," Mohammed Keita says, explaining why he finally decided to return home.
Mohammed's story is not unique.
Lack of Opportunities 
In Liberia, with a population of nearly 5 million people, 70% are under the age of 35. With high levels of unemployment and limited economic opportunities, many youth like Mohammed question the investment they are making in their education.
"In the end, I will get a degree but won't be able to secure a job, and it will be just a waste of resources and time. That is why I didn't finish college," he says.
Instead, young Liberians look for other options to live a better life—or just to meet their most basic needs. For Mohammed, Italy looked like a place where his dreams of economic success could come true. In Liberia, he was subsisting by driving a motorized rickshaw, called a keh-keh, and running a small business selling gas. He was led to think that in Italy he would be able to improve his professional skills and secure a well-paid job. This seed of hope was planted in Mohammed after connecting through social media with a childhood friend who had made the journey several years before.
"If my friend can go there, then I can make it too," Mohammed thought. "If I could reach Italy, then I could do things to earn money and help my family down here."
Mohammed sold his business and keh-keh, and left home with his money and little else.
"I didn't take anything with me other than my clothes and shoes, along with my ID card and money," Mohammed says. "I didn't tell anyone that I was leaving, just took my bag and left during the night."
His first destination was Guinea, and then to Mali. This is where he encountered the early challenges of the journey and learned the harsh reality of human trafficking.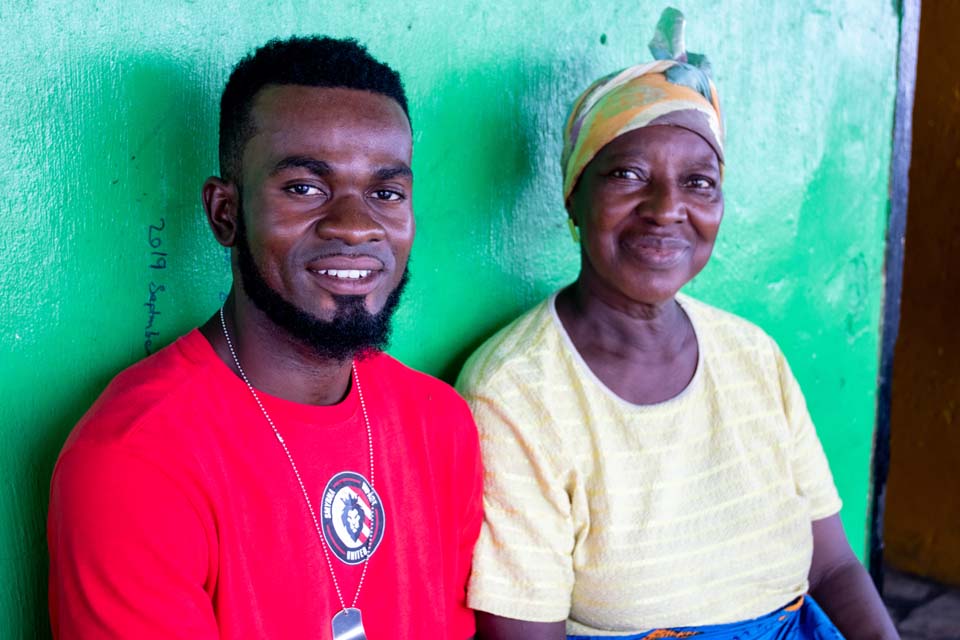 Mohammed Keita with his grandmother in Monrovia, Liberia. With services offered by the APIMA program, returning migrants like Mohammed are improving their well-being, and developing a new direction and hope for the future.
Photo by Lauren Bell/CRS
"They would pretend that they wanted to help me," he says of the traffickers, "but they put me in a bad place, and took all of my things from me."
After being robbed of all of his personal belongings, Mohammed worked in Mali for seven months before he could save enough money to continue. From there, he traveled to Algeria with the intention of reaching Libya to join a boat headed north towards Europe, but this is where his dreams of a better future began to deteriorate. He experienced Algeria's punishing treatment of illegal migrants.
"The Algerian police didn't give us a chance. We couldn't even go into the streets. We were always behind closed doors, would come out only at night to buy food. That was the life we were living for four or five months," he explains.
After five months of living in hiding, Mohammed was apprehended by the police. He was caught outside during the day without the correct paperwork and sent to prison for nearly six months. While incarcerated, he was forced to do hard, manual labor with minimal provisions to survive, until Algeria decided to deport "all the blacks."
"They put us in a truck and dumped us like dirt between the border of Algeria and Niger. Shooting behind us, telling us to leave their country," Mohammed says.
Scared and famished, he and many others walked for over five hours through the desert to a camp in Niger run by the United Nation's International Organization for Migration, or IOM. But not everyone arrived.  
"We didn't have food or water in the desert. Some of our friends lost their way. Not all of us were strong."
Returning Home
After more than two years of uncertainty and danger, Mohammed had the opportunity through the IOM to return home. In the two months that he waited for his departure, he was connected to the CRS Action for the Protection and Integration of Migrants in Africa program, also known as the APIMA, which is active in five countries across West Africa.
Together with the Catholic Church, CRS is protecting those who migrate from exploitation and abuse, while working to create economic opportunities for youth at home before they migrate or when they return. With services offered by the APIMA program, migrants returning home, like Mohammed, are increasing their wellbeing, and developing their personal direction and hope for the future.
For Mohammed, that has been a process of redefining what success means for him.
"I am capable of doing something to help my family and myself. I am also able to help my country develop through my strengths and abilities," he explains. "I want to use my skills to be able to help my government and … my community."