"Faith and hope are really the most important things because they drive us as human beings."
Seventy-five years after he first arrived at Santa Rosa, Mexico, Julek Plowy remains thankful to so many. To Catholic Relief Services, who resettled 1,500 Polish refugees there during World War II. To the Mexican people, who welcomed a war-weary group of strangers. And to the Felician Sisters, who nursed them, taught them and rebuilt their faith in humanity.
Freed from a Siberian gulag in 1942, Julek, his mother and sister traveled first to Iran, and then to Mexico—part of the first project for Catholic Relief Services. They arrived after a harrowing journey by ship—exhausted, traumatized and unsure what to expect.
"[We were welcomed] with music and dancing and an orchestra and flowers," Julek says. "When we got there ... wow. It was a miraculous arrival."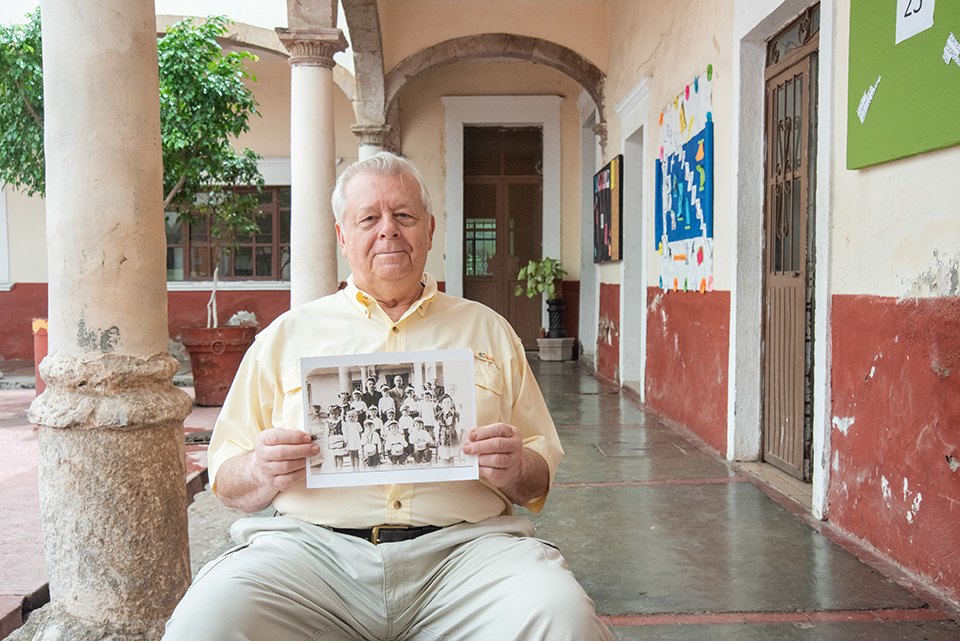 Julek Plowy sits in the same place at Santa Rosa where he was photographed as a small boy in the 1940s.  
Photo by David Snyder/CRS
Their new home was Santa Rosa, a former hacienda loaned by the Mexican government. Desperate for a place of their own, the refugees immediately got to work—patching the cracks and holes, tilling the soil to plant and even digging out the old swimming pool.
On hand to help was a group of Felician Sisters, volunteers from Chicago who traveled to Santa Rosa to serve as teachers, nurses, counselors and administrators for the refugees. They quickly became the core of social and academic life at Santa Rosa. Though he was too young to attend school, Julek recalls the stories his mother and sister told of the impact the sisters had.
"These nuns built back hope into us," Julek says. "Faith and hope are really the most important things because they drive us as human beings. You can't measure that. The only thing you can say is thanks."
The Polish refugees spent nearly 4 years at Santa Rosa. In 1947, they resettled permanently to countries around the world. Julek and his family moved first to New Jersey, and then to New York. In the years that followed, they became United States citizens, settling ultimately in California, where Julek lives today.
In 2018, Julek returned to Santa Rosa as part of Catholic Relief Service's 75th anniversary. Today a Don Bosco center for boys, the site has changed since the 1940s, but many of the original structures remain.
"It's an amazing feeling to relive this and all the memories that I have," Julek says. "To relive the sounds of the Polish people here mixing with the Mexican people … it's a once-in-a-lifetime experience."
Walking the grounds, Julek reflected on the support that he and his family received from Catholic Relief Services, and the help the agency provides to other Central American migrants, seeking refuge in Mexico today.
"Well, I can't express my gratitude properly to CRS," Julek says. "The hope that they provide to those that are in such desperate need—it's amazing."