Women Entrepreneurs Build Local Economies in Indonesia
Photo by Benny Manser/CRS
In Indonesia, cashews are a high-value crop—a prized commodity. For decades, Kristina and Mateus Uto had 200 cashew trees, which were a reliable source of income. But after a cyclone hit their village, they were left with eight.
It takes five years for a cashew tree to mature and bear fruit. Kristina couldn't—didn't—wait. Instead, she got to work and became one of her community's most successful entrepreneurs. After learning how to finance a new business, she pivoted from cashew farming to tending vegetables.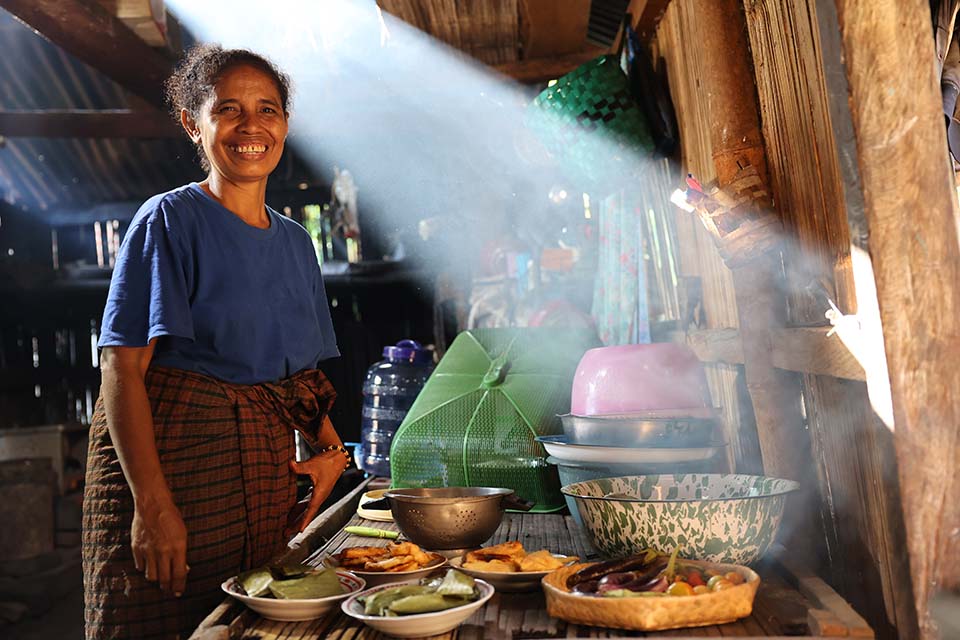 Kristina Uto rises early on Saturday mornings to harvest vegetables from her kitchen garden and sell them at the local market. Profits from Kristina's garden help cover the cost of her children's education.
Photo by Benny Manser/CRS
Kristina and Mateus live in Oyangbarang village on the remote island of Adonara, in southeastern Indonesia. The people here have deep ties to the land and water—families have lived, farmed and fished for generations.
In March 2022, Kristina and three other women opened a village shop called Lestari, which loosely translates as, "sustain eternally." The shop serves 48 households and is jointly managed by all four women, who share profits equally. Between customers, Kristina ensures that her products—which are purchased in bulk for a discount that can be passed on to customers—are well presented. After just a few months in operation, the women have seen a steady profit.
Kristina's earnings help defray education expenses for her two sons and two daughters.
"Two of my children are at university and another is a senior in high school," she says. "The benefit from the shop is that sales help pay for school, books, uniform and dormitory costs."
Community savings and lending groups
In Oyangbarang, Kristina belongs to a Savings and Internal Lending Community, or SILC group, which is also called Lestari. The group meets weekly and has helped families save and borrow money for emergencies, disasters, medical support and business opportunities.
The group started with 15 members in 2021 and has been successful in raising enough funding to offer tremendous financial opportunities like small business loans to women at low interest rates. The group also focuses its efforts on building disaster and financial resilience for the future. By saving and borrowing money from SILC, many women have opened shops that sell goods like rice, coffee, sugar and hygiene products. Additional income helps send children to school, pay for a family's basic needs and expand these small businesses as needed.
"Before the SILC group, we had to borrow money from neighbors or from a cooperative, with a high interest rate. For example, after borrowing $65, we would have to pay back $130," says Kristina.
When they established their shop, Kristina and the other women borrowed from the SILC group and were able to repay the loan within three months.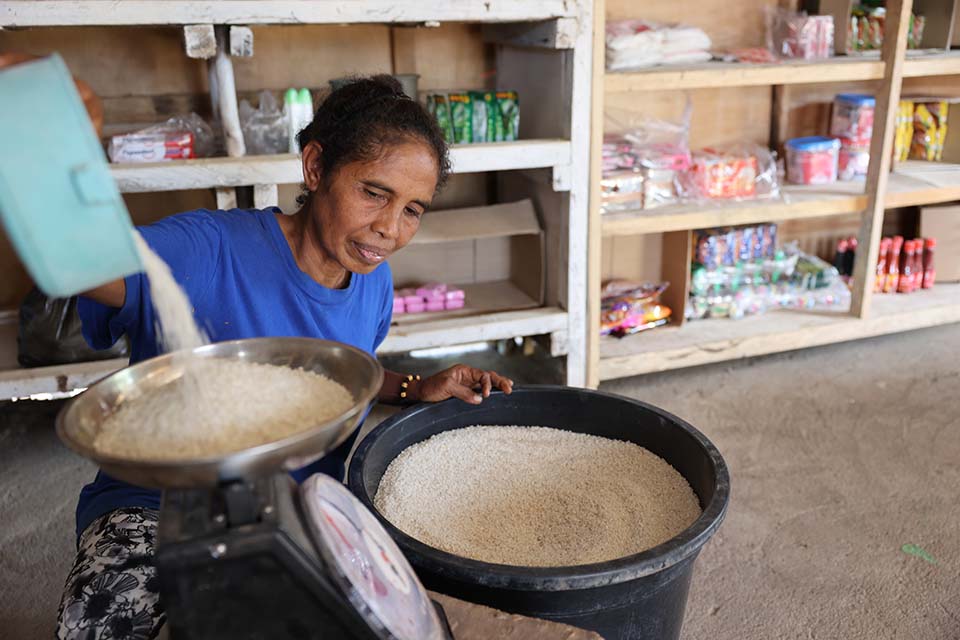 Kristina Uto operates a shop that is jointly managed by four women entrepreneurs who share profits equally. 
Photo by Benny Manser/CRS
"When I borrowed money from the SILC group, it motivated me to work, to get money and pay back the loan. The SILC group teaches us to be more disciplined," Kristina says. "In the SILC group interest is 10%, but I feel this is okay for me. Every weekly meeting the money is repaid and crosschecked to make sure the money is there."
Now, any profits go to the owners or are invested back into the shop.
"We are very proud with the group it's very helpful to fulfill our needs," Kristina says.
During down time at the shop, Katrina's business partner and close friend, Maria Tuto Lubur, can be found weaving products that she sells for extra income.
Social fund helping families
In addition to regular savings and lending, SILC groups also offer a "social fund" to cover unpredictable expenses. Each SILC group agrees on a regular, fixed contribution, with everyone contributing the same amount. The social fund is there to offer financial support during emergencies or other unforeseen expenses.
Requests for loans from the social fund must be made publicly to the group, who approves the request provided that it is used for purposes noted in the group's constitution.
"The SILC group decides how to use the social fund to help members in need, like when members face an emergency or a disaster which destroys housing. We make sure the loan is being used how it's intended—for a serious health problem or funeral," says Kristina.
SILC groups and small businesses are the result of the Flores Disaster Risk Reduction to Enhance Sustainable Livelihoods, or FLODESA project, which is helping 1,855 direct project participants from 10 target villages in and around Flores Island, in southeastern Indonesia. In August 2022, the Lestari SILC group added five new members, for a total of 20 members—18 women and two men. Altogether, 21 SILC groups have been established in 10 villages with a total of 402 members—284 women and 118 men.

Natural disasters affect food security and livelihoods
In April 2021, Tropical Cyclone Seroja brought historic flooding and landslides to southern Indonesia, killing more than 180 people. In Kristina's village, houses were destroyed and severe flooding devastated families' corn fields and rice stores.
"The rain was coming down heavily from morning to night. Then after midnight, a flood came from the river into our kitchen up to my waist. We had to get out from our home," Krinstina's husband Matus says. "I ran, carrying my mother, with my family to higher ground.
 "On the hill there were only four houses and lots of people were packed into these during the night with the rain. We stayed with five other families," Matus says. "Thirty people staying in a small house! We stayed there for one month because we were afraid as it was still raining. The crops we planted would have been enough food for six months but were destroyed."
Catholic Relief Services responded to Cyclone Seroja with support that included hygiene kits and community cash transfers of $40 per household to 120 households in the area. The cash transfers could be used by households to fulfill immediate needs like food.

Kitchen gardens improving food security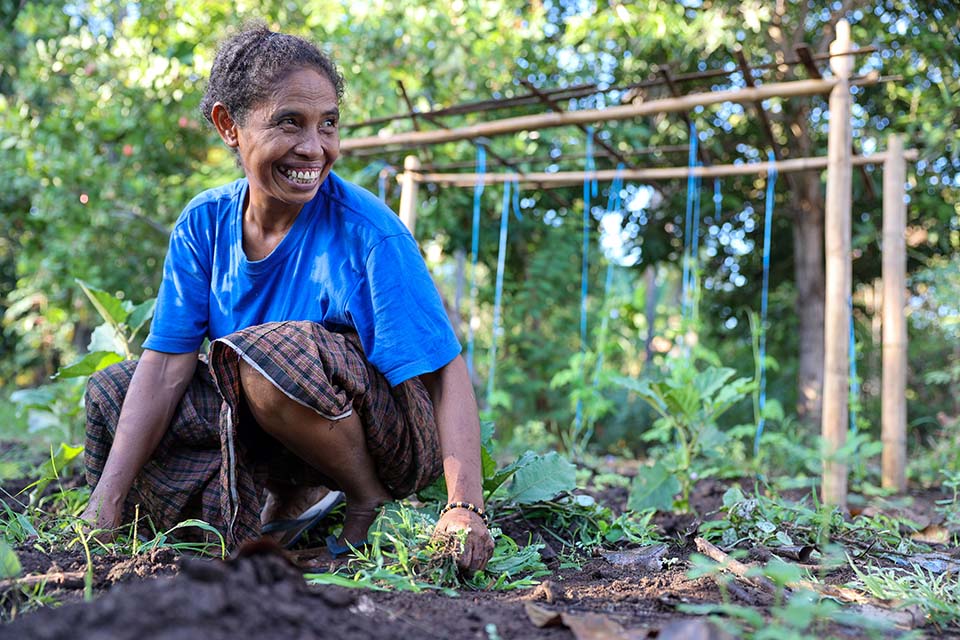 A total of 241 kitchen gardens have been established in 10 villages served by the FLODESA project. The gardens initiative supports the Indonesian government's goal to reduce stunting in infants and young children by meeting their nutritional needs with high-protein vegetables. 
Photo by Benny Manser/CRS
Kitchen gardens—or home gardens—help reduce the negative impacts of natural disasters and severe weather conditions. When larger crops are destroyed after a disaster, kitchen gardens are a reliable source of nutrient-rich food. Families grow vegetables high in iron and protein, like morning glory, eggplant, spinach, mustard, chili and tomatoes. 
Kristina and Mateus care for their garden daily. Though the FLODESA project, they've learned agricultural practices that keep it healthy and thriving.
In Oyangbarang village, 16 women in the SILC group have also built kitchen gardens. They borrow money from their group to buy vegetable seeds, and CRS has also provided a variety of vegetable seeds to the community.
In the 10 villages served by the FLODESA project, 241 kitchen gardens now flourish. In addition to being a reliable source of food and income for families, the gardens support the Indonesian government's goal to reduce stunting in infants and young children through nutrient-rich diets.
"Every Saturday is the local market day. I wake up at 3 a.m. to harvest vegetables from my kitchen garden and sell them at the market," Kristina says. "I also buy vegetables that aren't here from others at the market and sell them in my village. I'm proud because with the kitchen garden we are supporting our children's future education."