It isn't 5 a.m. yet, but Raúl is already on his feet. Raúl studied accounting in high school, but his commute won't take him to an office building. Instead, he'll walk 20 minutes from the main street to his farm, beginning a long day of tilling soil, harvesting and delivering produce, supervising workers and meeting with customers.
Raúl Chanchavac lives in the countryside in Totonicapán, located in Guatemala's western highlands. His parents were farmers, and his passion for the land inspired him to follow in his parents' footsteps. Raúl and his wife, Lilian, have been farming together for nearly a decade now.
Lilian and Raúl work in their fields.
Overcoming Obstacles with Food for Peace 
Farming in Guatemala is hard work. Raúl and Lilian have dealt with plant disease, water shortages and the increasingly devastating impact of climate change. 
"I had a lot of losses, and it wasn't profitable. Plants were dying, and sometimes I didn't even understand why," Raúl says. "But a brother told me, 'You have to persevere, to fight a little more and not lose faith.'" 
Despite so many challenges, the Chanchavacs dreamed of expanding their farm to be a more profitable agriculture business so they could provide a better future for their young sons, Dylan and Marcos. And as a new farmer, Raúl was eager to learn. 
"I was very inquisitive. If there is something I don't know, I ask, and I asked a lot." 
Raúl joined a CRS program authorized by the Farm Bill through Food for Peace which provides technical training and other support to farmers. He and Lilian built a greenhouse to expand their vegetable production. Already growing tomatoes, they added onions, chili peppers and oranges to their crops and focused on quality.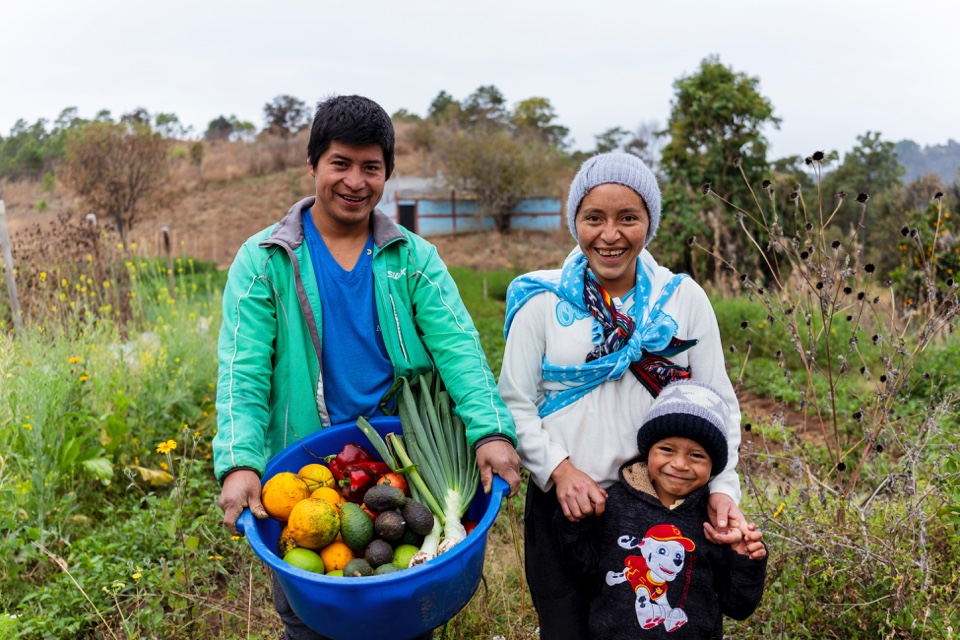 Raúl, Lilian and their five-year-old son Dylan carry produce from their farm. Photo by Erick Josue Hernández for CRS
Lift Your Voice to Help Farmers like Raúl
Raúl and Lilian's harvests were abundant, but they faced new challenges: where could they sell their produce reliably and receive a fair price? 
Entering the Market with McGovern-Dole Food for Education 
Raúl and Lilian participated in another CRS program called Nuestra Cosecha, authorized by the Farm Bill through the McGovern-Dole Food for Education program. Through the program, local farmers sell their produce to schools to be used in free, daily school meals for students. The meals—also provided through McGovern-Dole—help students overcome malnutrition and thrive in school. 
Raúl and Lilian improved their vegetable packaging and delivery systems, finetuned their business practices and developed relationships with school buyers. They contracted with six schools through Nuestra Cosecha and have signed contracts to deliver produce to 10 additional schools outside the project.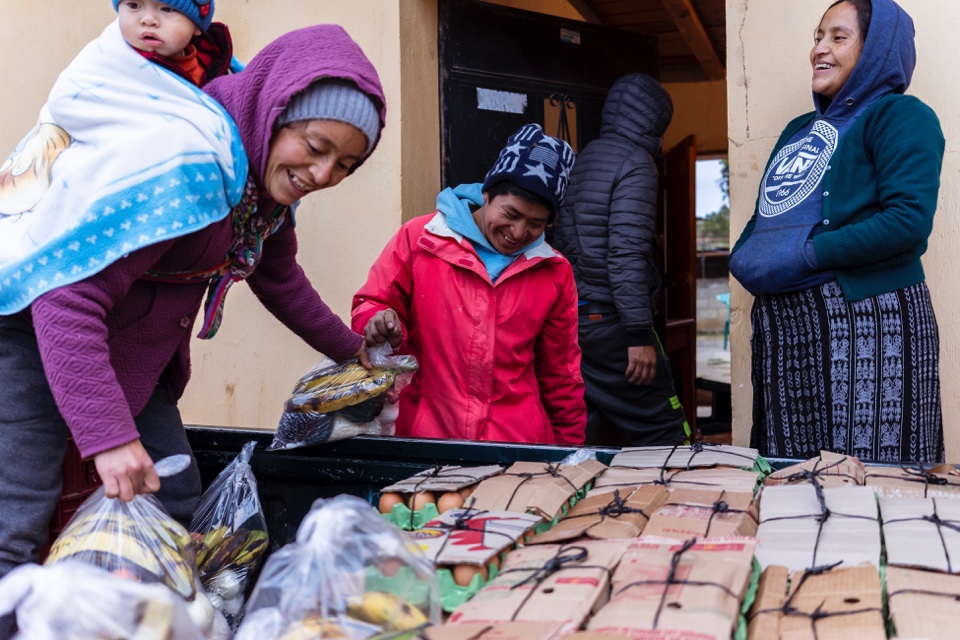 Raúl, center, and Lilian, left, carrying her 16-month-old son Marcos, load their delivery truck with packaged produce for local schools. Photo by Erick Josue Hernández for CRS
"Before, when we were selling in informal markets, we didn't know how much we were going to earn. Now that we sell in the schools, our profit is a little higher," Lilian shares. "Our customers are satisfied when we deliver because they tell us that our product is fresh. Our desire is that it helps the children to be stronger and to be able to learn better when they study."
With their growing business, the Chanchavacs employ 17 people. They also share their knowledge with other farmers to improve their harvests, lifting up the entire community with their success.
"My vision is always to help people. I want to help my family. I want to help my neighbors. I want to help the farmers. Now that I have a business, I like to give the chivo to other farmers—the secret formula! I would like other people to stand out. Prosperity at the communal level has become a priority for me," Raúl says.
The Farm Bill authorizes programs—including Food for Peace, Food for Progress, McGovern-Dole Food for Education and Farmer-to-Farmer—that provide millions of people worldwide with lifesaving food assistance. These programs also fund long-term development projects that help communities become more resilient.
The Farm Bill is set to expire on Sept. 30, 2023. Urge your members of Congress to prioritize international food assistance programs in the 2023 Farm Bill so more farming communities like Raúl's can thrive.