What is COP28 and Why Does It Matter?
Photo by Dooshima Tsee/CRS
As the world gears up for the 28th session of the Conference of the Parties (COP28) to the United Nations (UN) in Dubai, there's a palpable mix of urgency, hope, and a quest for actionable solutions to the climate crisis. UN climate summits are held every year for governments to agree to actions to limit global temperature rise and to advance climate adaptation initiatives. Countries like the United States send official delegations to the COP, and global aid organizations like Catholic Relief Services are invited to join as observers. With the Earth nearing a dangerous global emissions tipping point, this year's international gathering is not just another high-level diplomatic meet-up; it's a crucial moment in the world's collective effort to change paths.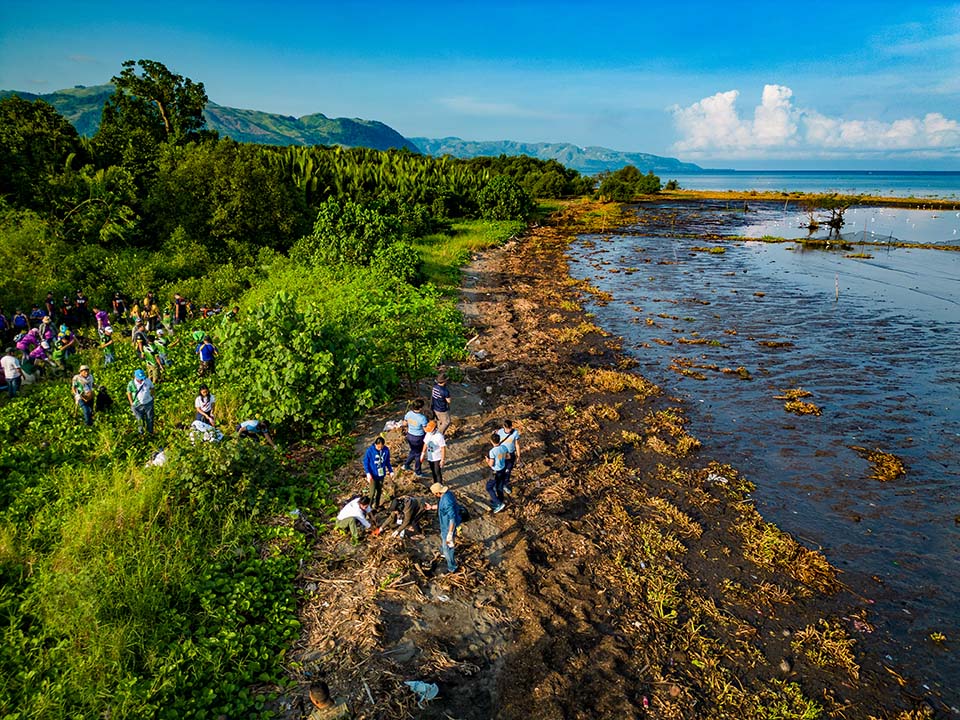 On Earth Day commemorated every 22nd April, local climate actors of Cotabato city in the Philippines conducted a coastal clean-up and mangrove planting in Barangay* Kalanganan II mangrove area established by USAID and CRS Philippines' Climate Resilient Cities (CRC) Project.
Photo by Benny Manser/CRS
To be sure, COP28 is more than just a summit; it's a reflection of our times and the crossroads at which we find ourselves. The decisions made and the actions taken at COP28 will dictate how effectively we can unify global efforts to mitigate climate change, adapt to its unavoidable impacts, and address the critical issues of equity and justice that are intertwined with the environmental challenges ahead.
As the world's eyes turn to COP28, here are three things you need to know.
1. Time is Running Out to Act on the Climate Crisis
A woman hand pollinates a vanilla flower on her farm near Ifanadiana, Madagascar, while carrying her 1-year-old daughter.
Photo by Tofy Rabenandrasana/CRS
The Intergovernmental Panel on Climate Change (IPCC) has made it clear that we are rapidly approaching—or have already crossed—several planetary thresholds. The window of opportunity to prevent the most catastrophic impacts of climate change is closing fast. COP28 is not just another opportunity for dialogue but a crucial moment for countries to commit to more ambitious targets and concrete actions. The summit is expected to be a litmus test for the world's resolve to limit global warming to 1.5 degrees Celsius above pre-industrial levels. It's a time for bold pledges to be translated into even bolder actions.
2. Pope Francis and The Inaugural Faith Pavilion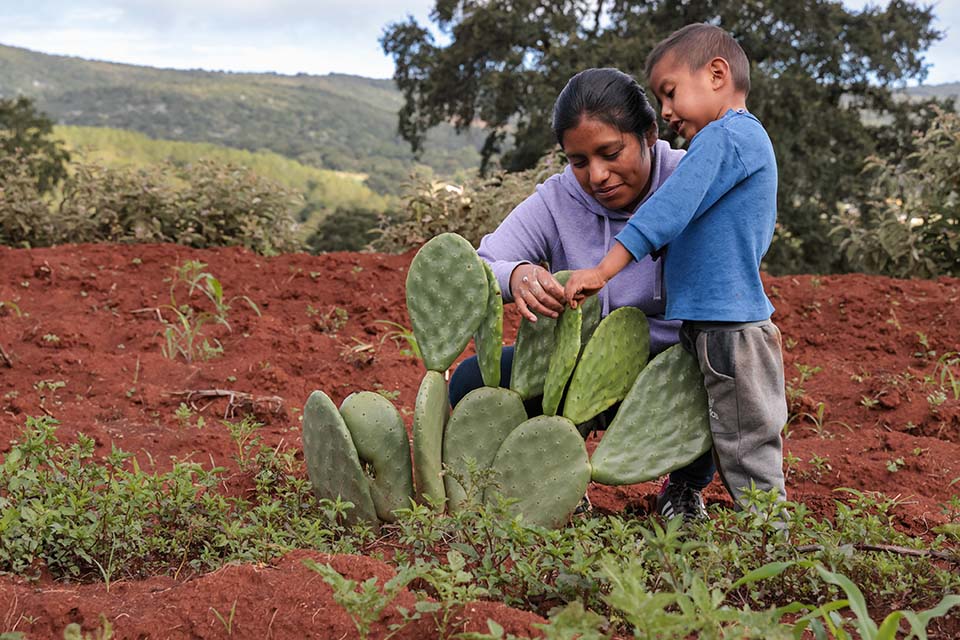 A woman and her some plant near a prickly pear in the diversified family plot in Oaxaca, Mexico. Prickly pears are drought-resistant crop and can serve as an alternative crop in adapting to climate change.
Photo by Oscar Leiva/Silverlight for CRS 
As a leader of the global Catholic Church, Pope Francis has been a staunch environmental advocate, even making caring for the environment a core tenant of his papacy. As he wrote in his environmental encyclical, Laudato Si, "Our relationship with the environment can never be isolated from our relationship with others and with God." As part of his advocacy on the climate crisis, the pope plans to attend COP28.
Relatedly, for the first time in its history, COP28 will host a faith pavilion. This groundbreaking initiative recognizes the profound influence that faith and spirituality have worldwide. The pavilion will serve as a melting pot where religious leaders, faith-based communities, and policymakers will come together to discuss the moral imperatives of climate action. It's a testament to the fact that the climate crisis isn't just a scientific or economic issue—it's a deeply moral one that resonates with values of stewardship, justice, and care for the earth that are common across religions. The faith pavilion is expected to be a space for dialogue, inspiration, and perhaps most importantly, a call to action that transcends cultural and religious boundaries.
3. The Loss and Damage Debate is at a Crucial Decision Point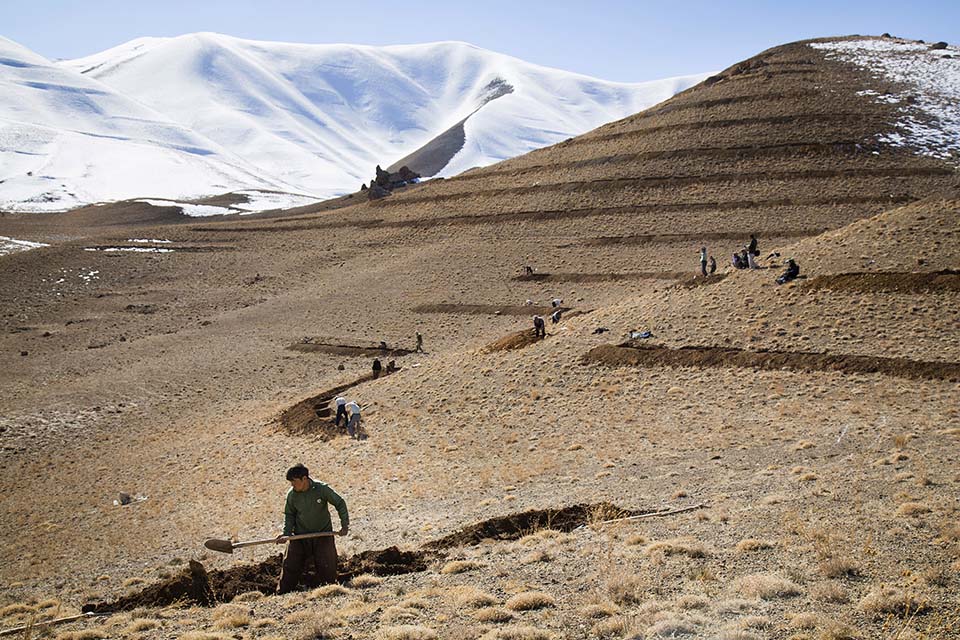 Day laborers dig trenches along a hillside in Afghanistan's Central Highlands. The digging of hillside trenches is meant to catch excess water and snowmelt, and in turn, protect the area's canal, and the farmers that rely on it, from ruin.
Photo by Elie Gardner for CRS
Lastly, the issue of loss and damage is set to be one of the major points of negotiation at COP28. Broadly speaking, loss and damage refers to the fact that climate change is already causing irreversible impacts to communities. Some of this harm is quick and devastating –such as harm to communities caused by extreme weather events like hurricanes, heat waves, and floods. And some of the harm is caused by what experts call "slow onset" events - harm arising gradually over time such as sea-level rise, increasing temperatures, salinization, land and forest degradation, and desertification.
Developing countries, many of which are the least responsible for the emissions that have caused climate change, are the most vulnerable to losses and damages and need financial assistance to deal with the devastation. In a major step forward at last year's summit, world leaders agreed to establish a fund that would compensate these communities. They then tasked a transitional committee to work out the fund's details. However, key sticking points have been whether the fund should be independent or hosted by the World Bank, as well as which countries should contribute to the fund. At COP28, world leaders will need to decide on the transitional committee's fund recommendations. Organizations like CRS are calling for an independent fund that is fully accountable with human rights principles and stakeholder inclusion at its core. In addition, CRS believes that developed countries should lead in terms of contributions to the fund.  
To read more about CRS' recommendations for the losses and damages fund, click here.
Be part of CRS' COP28 mission to support those vulnerable to climate change! Send a message to U.S. leaders - including President Biden and Climate Envoy John Kerry - urging them to address the impacts of climate change.

Click here to add your voice & stand in solidarity with our sisters and brothers around the world.