Wellness for Vulnerable Children in Kenya
Photo by Will Baxter/CRS
Five months after their mother died from an AIDS-related illness in 2018, James* took over the responsibility of looking after his younger brother and sister, who both have HIV.
"I took in my siblings because they were left under the custody of my grandma who was not able to give adequate care to them," says James, who has a wife and two children of his own. "The moment I took them in I recognized the burden in terms of the needs they had and how vulnerable they had become … They were frequently sick. They were in and out of the hospital. They couldn't even attend school regularly because of sickness," James says.
Both children had a high viral load, with his brother's viral load at more than 10,000 and his sister's at around 54,600.
Before she died, James says, their mother had been the person responsible for ensuring that the children took their medication on time and attended regular clinic appointments. "When they came to live with me, I took over the responsibility of taking them to the hospital, monitoring them and supporting them on adherence to improve their health."
In February 2020, James and the children were identified for support through a Catholic Relief Services-led project called Making Well-informed Efforts to Nurture Disadvantaged Orphans, or MWENDO, funded by the U.S. Agency for International Development and the President's Emergency Plan for AIDS Relief. Over the past five years MWENDO has helped parents and caregivers provide support to children affected by HIV and AIDS. The project does so by improving access to health services, helping families set up and run small businesses, linking them to community savings groups and strengthening the ability of local government and institutions to respond to child welfare and protection needs.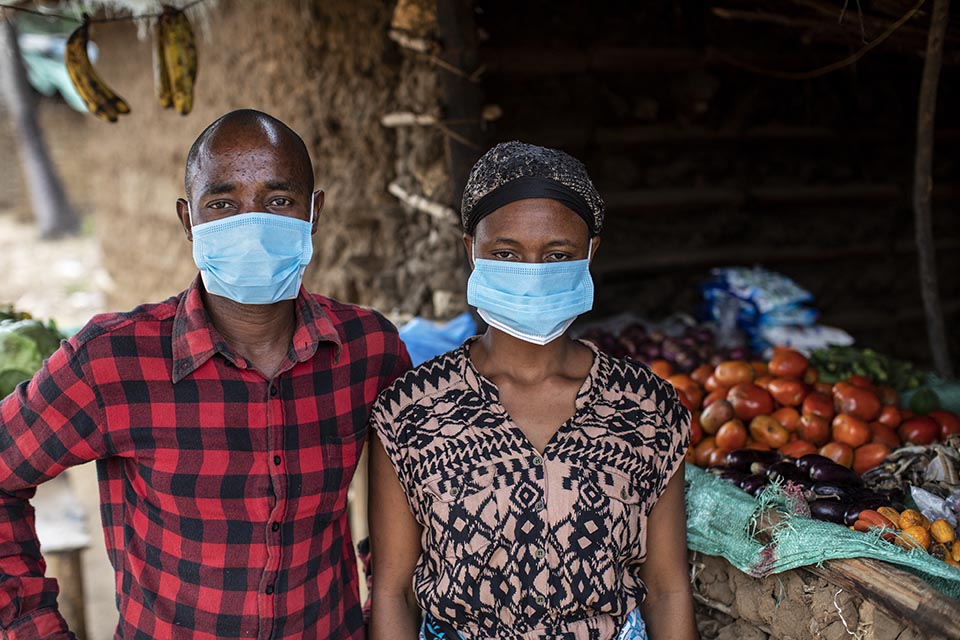 James and his wife stand outside the vegetable stand they own in Kilifi County, Kenya. James is the caregiver for his younger brother and sister, who are both HIV positive.
Photo by Will Baxter/CRS
James initially received about $36.50 through MWENDO's Emergency Fund.
"I decided to come up with a business that would allow me to be closer to home so I could monitor these children," James says. With that in mind, James and his wife built a small grocery stand in front of their home where they sell fresh vegetables, fish and other essentials like salt, sugar and laundry detergent.
"With the little I am getting from this business I am able to make sure the children can eat and have a safe place to sleep. I am also able to physically be here to look after them," James says. James and his wife wake up at 5 a.m. every day to buy new stock at the market—and their hard work has paid off.
"Our business has grown so fast that we've been able to expand from this small kiosk to another stall in the market. So as I handle one, my wife is able to handle the other to increase our income." They now turn a profit of about $4.55 per day from the two stalls.
Savings Groups
James' wife has been part of a village savings and loans association since 2018. Now, with some financial management advice from CRS and our local partners, they have begun saving about $2.30 per week. 
"Now we are able to analyze our expenditures, what goes into our business, how much we are spending, and we can figure out how we can save more," James says. By December 2020, they had accumulated enough savings to receive about $137 during a share-out from the association.
They also took out a loan of $45.50, which they used to increase their stores' stock and to pay school fees for their 5-year-old son. More recently, they took a loan to purchase a motorbike. Each week they pay back about $20 on the loan.
"Previously we would use a motorbike taxi to bring us our stock. But now we have been able to buy our own motorbike and so the money we would otherwise spend on transport, we no longer spend," James says.
Disclosure and Adherence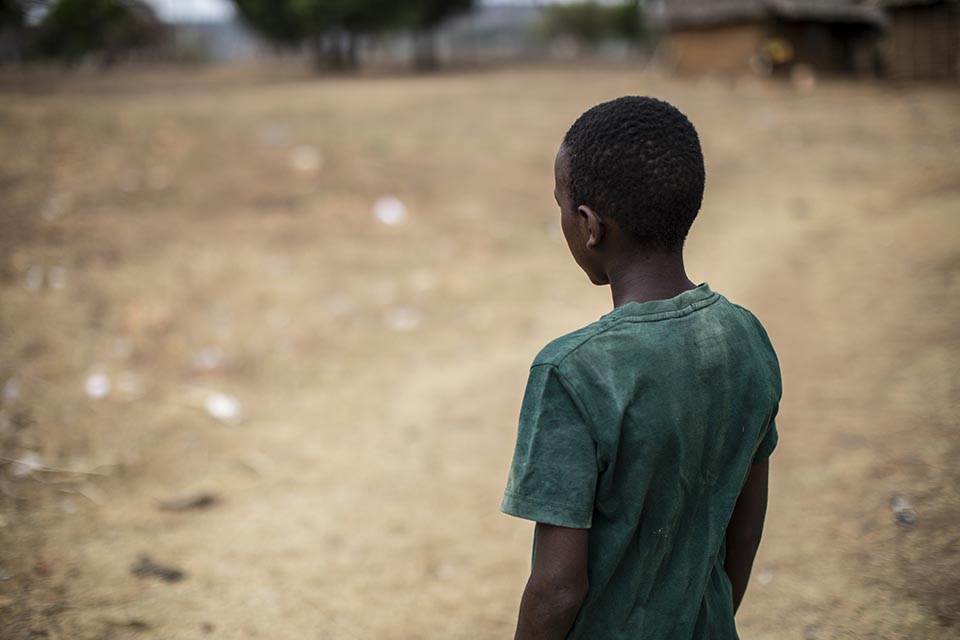 Peter and his 14-year-old sister both have HIV and live with their older brother who is their caretaker following the death of their mother.
Photo by Will Baxter/CRS
Telling the children about their diagnosis was a difficult process. At first, James says, he was not equipped to handle it.
"My sister was so inquisitive about why she was taking medicine because she had seen her cousins get sick with illnesses like the flu, be given medication, and then complete their dosage," James says. His sister wanted to know why she had to take pills every day.  
"Before my mother died, she seems to have hinted to her about why she was taking medication. So it was like she was trying to seek confirmation," James says.
James was enrolled in a Care for Caregivers course at a nearby dispensary.
"We were informed about the importance of disclosure and learned how to package the information for the children."
Afterward, he sat down with his sister to explain why she was on antiretroviral medication.
"I told her she was HIV-positive and that she needs to take medication because HIV is not like a flu that will just go away after some time. It means you have to take medication for the rest of your life to keep the virus at bay."
Prior to telling them their diagnosis, both children had struggled to get the children to take their medication.
"My brother was so stubborn when it came to taking the medication. He would rebel. He would say, 'Today I'm not taking those pills!'" James says. Although his brother was just 10 years old at the time, James realized the need to be straightforward and disclose the truth about his HIV status.
"I sat down with him and told him there is a need for him to continue taking his medication because he has a virus in his blood, and this virus can only be kept in check when he is adhering to his medication. After that, he was able to understand that he has a virus and needs to continue taking medication if he wants to be alive and healthy."
To reinforce the need for proper adherence, a community health volunteer observes a person to ensure the medication is taken as prescribed and to monitor their response to the treatment. The children were also provided with watches that have alarms, so they can remember to take their medication on schedule.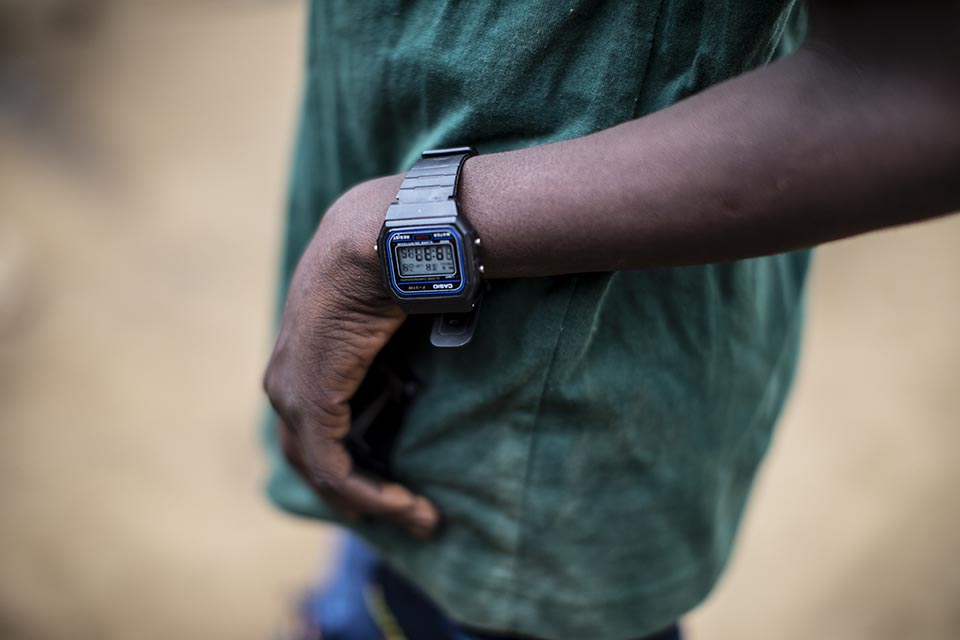 Peter shows the watch with a timer he uses to remind him to take his HIV medication. Adherence to his medication schedule helps suppress the virus.
Photo by Will Baxter/CRS
The children were also linked to an Operation Triple Zero peer support group that meets monthly at a local dispensary. These groups offer a safe space where adolescents with HIV can share their experiences, receive support from peers, learn how to take charge of their health and make better-informed decisions. They also learn about the treatment goal of achieving the Three Zeroes: zero missed appointments, zero missed medications and a zero viral load.
James has also worked hard to ensure that his siblings no longer face stigma among relatives on their homestead.
"There were places they could not go because they would not be received well," says James. He  used what he learned in the Care for Caregivers trainings to speak with his relatives about the realities of HIV and stigma reduction.
"Now the status of the children is known, and the children are aware that their status is known. Now they are no longer being discriminated against by anyone and they are accepted."
Boosting Nutrition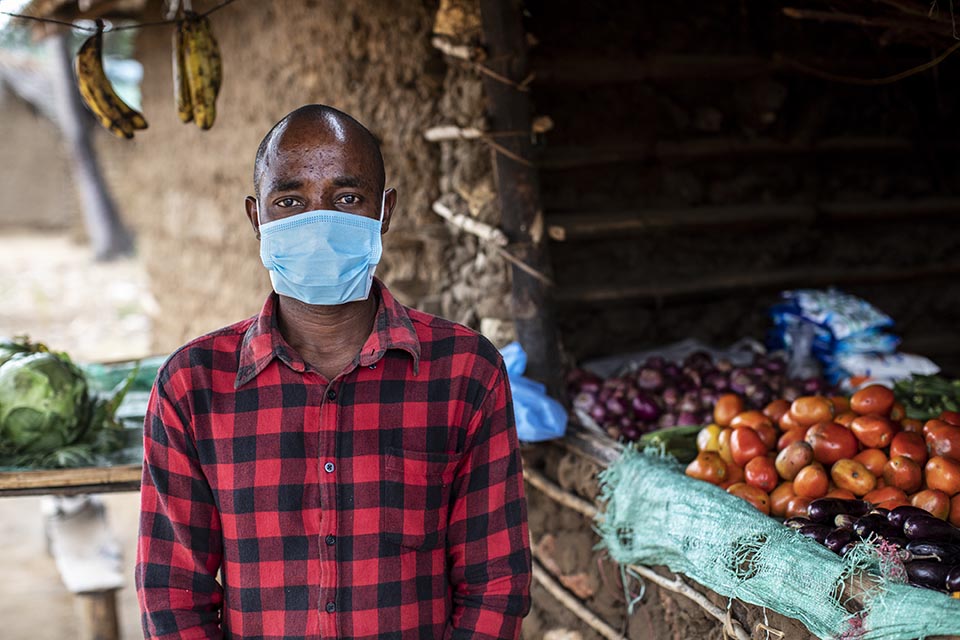 James stands at the vegetable stand he runs with his wife in Kilifi County, Kenya. He is the caregiver for his younger brother and sister, who are both living with HIV.
Photo by Will Baxter/CRS
In the Care for Caregivers training, James also learned about the importance of a balanced diet.
"Through this training, we were taught the importance of providing quality and adequate nutrition for the children, focusing on fruits and vegetables because in our culture we tend to eat more carbohydrates," James says. Now he makes sure the children can have kale, spinach, bananas and oranges when they are in season.
As of December 2020, both children have achieved viral load suppression. The HIV in their bodies has been reduced to a level that can no longer be detected by a standard blood test.
"The children are doing so well now. Their health has improved," James says. "Now a person could not tell by looking at them that they are HIV-positive because there are no symptoms."
Bringing Teachers into the Circle
Most of the children's clinic appointments fall on weekdays, which means they have to miss school once a month to pick up their medication and attend their peer group.
"We were getting so many questions about why they were missing school. The teachers would be so harsh on the children, and the children didn't know what to tell their teachers," James says.
"So I had to go to the school and disclose the status of the children to their teachers so the teachers could provide support and understand that there are specific days they need to go and pick up their medicine."
Now that the teachers understand the situation fully, they are far more supportive.
"The teachers have become more caring and more accommodating to the children. They are even providing some psychosocial support for the children.
"All the absences that came with their ill health had had a negative impact on their performance," James says. "But now that they are able to attend the school regularly, they have really improved their performance."
*Names have been changed.