Water, Sanitation and Hygiene for Nigerian Camp
Photo by Nonyelum Umeasiegbu/CRS
Mariam Ali fled her hometown of Bulabulin in Bama local government of Borno state in 2015 with her children and grandchildren. Just days before she left, her husband and three sons were killed by Boko Haram, which also took two of her grandchildren.  
When Mariam and her family arrived at the internally displaced persons camp in Maiduguri, she lived in a small makeshift shelter with 20 other people. It was at this camp that Catholic Relief Services reached Mariam and her family with lifesaving supplies and eventually built a prefabricated home of their own.
Camps in northeast Nigeria are overcrowded, poorly planned, lack hygiene infrastructure and can become havens for disease and infection.  Mariam Ali, 69, experienced the impact of this when she fell ill with cholera for nearly two weeks almost a year after arriving at the camp. She says she was so sick she didn't think she would survive.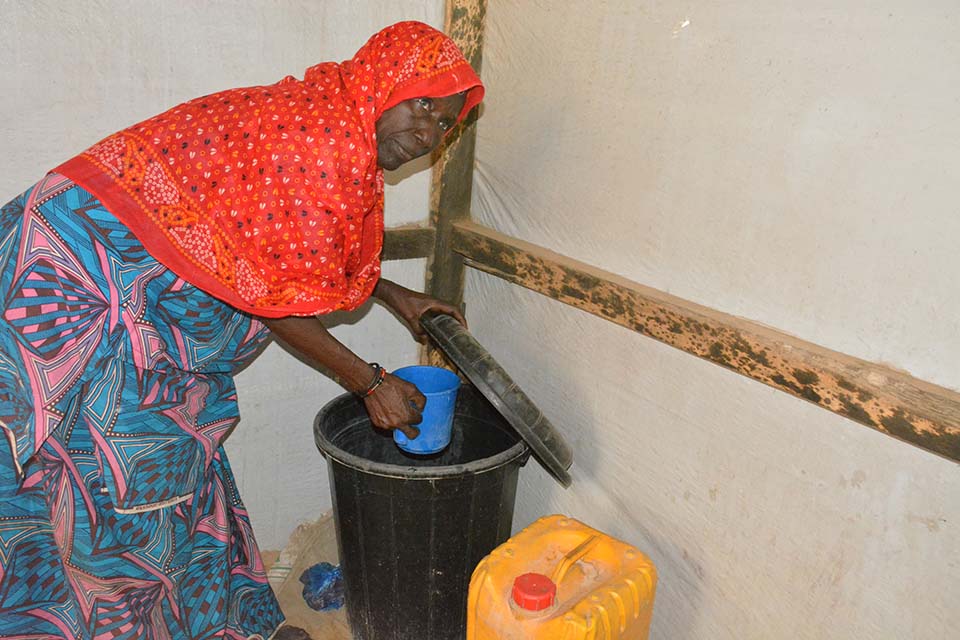 Mariam Ali draws water from a storage container provided by CRS for her home at El Miskin Camp in Maiduguri, Borno state, Nigeria.
Photo by Nonyelum Umeasiegbu/CRS
Camps have been prone to annual cholera outbreaks. During an outbreak in 2017, in Maiduguri city alone, 61 deaths were recorded over a few weeks. Today, 2.9 million individuals continue to need critical water, hygiene and sanitation support in Nigeria's northeast region according to the U.N. Office for the Coordination of Humanitarian Affairs.
Training and equipping
To alleviate disease and suffering for women like Mariam, CRS provides water and hygiene services to people affected by conflict in Borno state with funding from donors such as the U.S. Government's Office of Foreign Disaster Assistance. 
Services include rehabilitation of wells to provide potable water for domestic use, hygiene education to encourage positive behavioral changes and construction of sanitation facilities to improve safe disposal of human waste. Water, sanitation and hygiene services reduce the risk of camp residents like Mariam contracting diseases resulting from poor hygiene practices.
CRS works with vendors in local markets so that Mariam and others can use an electronic voucher issued to them by CRS to purchase essential household items and hygiene items such as buckets and soap.
CRS also works with trained and equipped community mobilizers to deliver hygiene messaging to camp communities and to conduct disease surveillance for cholera.
Mariam says she has learned about personal hygiene, environmental sanitation, the impact of open defecation, cleaning drinking water cans, and the causes of diseases like cholera and diarrhea. With the recent outbreak of COVID-19 in Nigeria, CRS has trained community mobilizers on COVID-19 awareness and prevention.
Safety and privacy concerns
Mariam says before CRS built shower stalls and latrines, and rehabilitated water pumps, people in the camp community walked for miles to fetch water, showered on the floor inside their makeshift shelters and practiced open defecation in the camp.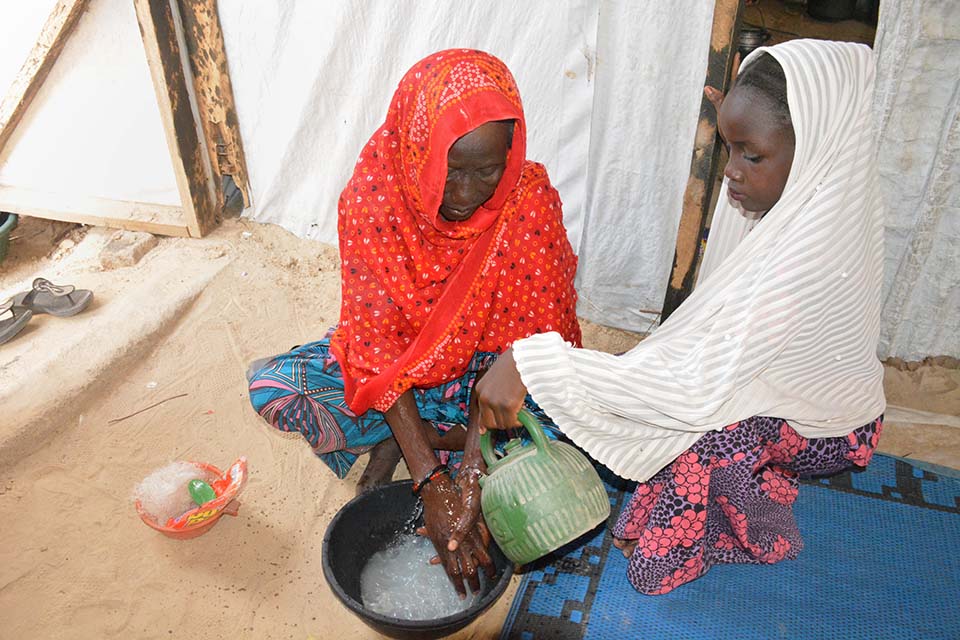 Mariam Ali demonstrates hand-washing with her granddaughter's help.
Photo by Nonyelum Umeasiegbu/CRS
"We used to bathe with only a kettle of water because we did not have buckets for fetching water and the boreholes were far. Now I use a bucket of water. I feel like I'm living again," Mariam says.
Though Mariam had not been concerned about the health implications of open defecation prior to receiving hygiene training—she did not know there were any—she had been very concerned about the safety and privacy of her female family members. Daily crime reports they received reinforced that fear. By providing water, latrines and shower stalls near their homes, CRS is reducing the exposure of girls and women to gender-based violence.
Mariam now understands the health implication of their old practices, and is vocal and hands-on about ensuring that camp residents use the facilities to properly dispose of human waste and keep the environment clean. She is vice chairman of the camp's latrine cleaning committee and manages and tracks cleaning supplies for periodic refills by CRS.
Mariam says that before the latrines were constructed, visitors would not have been comfortable in her home. She had houseflies buzzing around because of human waste littered around the camp. Houseflies are known to transmit infections such as dysentery, diarrhea, typhoid and cholera.
Change agent
"I am a changed person. My hygiene was zero before, but now I am educated," says Mariam. "I wash my hands with soap before eating, after using the latrine, before cooking and before holding a newborn baby. Even with the water that we drink, we clean our jerry cans and separate our drinking water from bathing water."
"Practicing good hygiene is good for my faith, my health, my body, the environment and protects me from diseases. Before, 99% of our camp community members were practicing open defecation, even before they came to the camp. Now with the amenities put in place by CRS our lives have changed," she says.
Mariam hopes to go back to her hometown someday, where she says she will continue to practice all she has learned and share the knowledge to her community members.
"I see myself as a change agent," she says.