Water and Sanitation for Nigeria Migrant Camp
Photo by Samuel Phelps/CRS
To assist displaced civilians in North East Nigeria to access urgently needed clean drinking water and hygienic sanitation, Catholic Relief Services with the support of United States Office of Foreign Disaster Assistance is renovating existing water sources, installing latrines, undertaking hygiene promotion sessions and providing households with female hygiene kits, particularly important for adolescent girls.
Support of water, sanitation and hygiene, saves lives by lowering instances of diarrhea and other sicknesses and diseases.  The severity and impact of malnutrition is also reduced.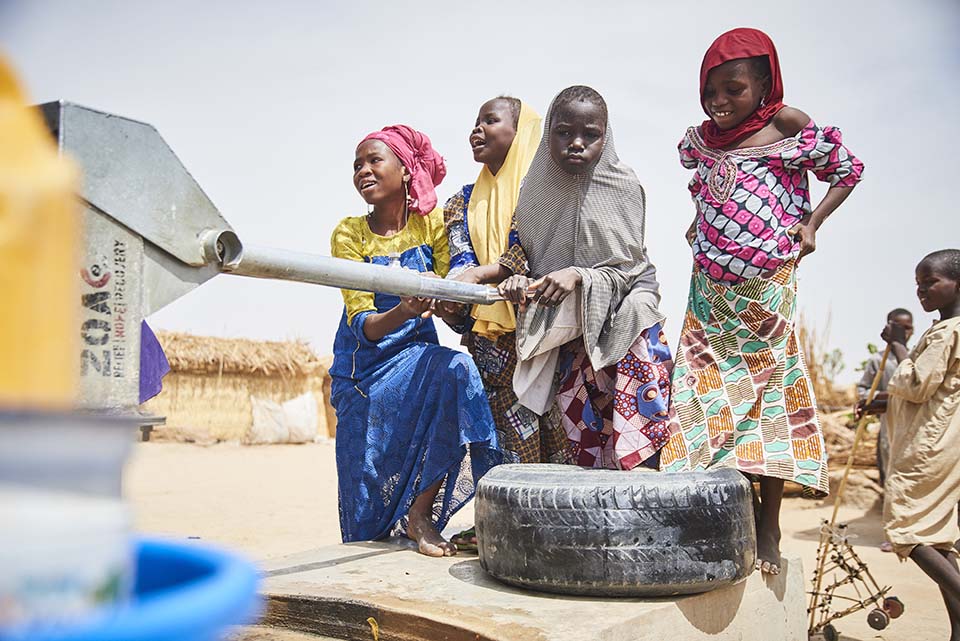 Women and children collect water in El Miskin Extension Camp, Nigeria. CRS reinforced water sources in the village to supply clean drinking water and avoid sickness and disease.
Photo by Samuel Phelps/CRS
In El Miskin Extension Camp in the city of Maiduguri, CRS hygiene promotion and social mobilization officer, Hajja Bintu Kono, sits cross legged on a colorful mats, surrounded by dozens of children who have gathered to participate in a hygiene promotion session. Hajja demonstrates hand washing and then asks a girl and boy, Aisha Goni Ali, 9 years old and Algoni Ahmed, 6 years old to come up and repeat the demonstration.
"We tell the children 50% of contamination from germs can be reduced by handwashing," says Hajja. Since 2016, over 118,000 people have been reached through hygiene promotions such as this one.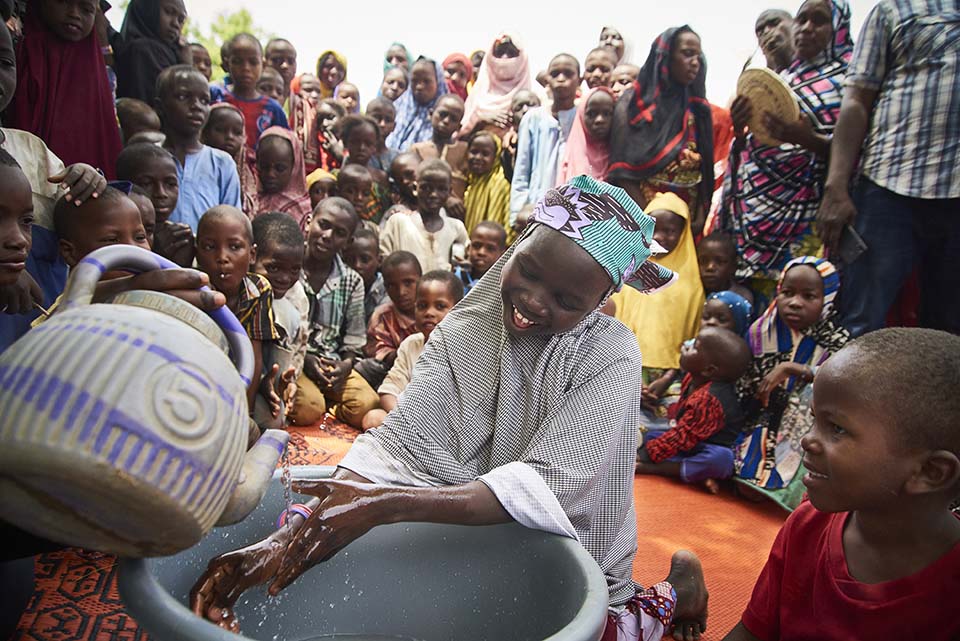 Aisha Goni, 9 years old, washes her hands as part of a demonstration during a hygiene promotion session in El Miskin Extension Camp. CRS is providing hygiene promotions, including hand washing for displaced communities to avoid sickness and disease in displaced people camps.
Photo by Samuel Phelps/CRS
Hygiene promotion also helped us in the community in terms of sanitation and the latrines", says camp resident Fanne Ismail, 24 years old.
Along with these efforts, over 1000 pit latrines, 864 bathing spaces, and over 7,000 female hygiene kits have been provided within camps.  By boosting safety and promoting dignity, particularly amongst women and girls. Displaced civilians can attempt to rebuild their lives with the goal of one day returning home.