Voucher Program Aids Vendors and Clients in Cameroon
Photo by Brendan Fonyuy/CRS
During times of conflict, businesses may face tremendous challenges that threaten their survival. Travel restrictions and roadblocks can deter the movment of goods, resulting in a scarcity of staple foods. Prices can skyrocket, leaving families unable to afford to purchase essential items. The impact is felt throughout the community—as shopkeepers struggle to maintain their businesses and customers struggle to provide for their families.
For Sylvain Tchinda, a vendor at the Nkwen Market in Bamenda, Cameroon, ongoing insecurity due to conflict between government and separatist groups was a daily reality for years. Sylvain worked overtime to keep his business afloat while grappling with disrupted supply chains, lockdowns, insecurity, and, most recently, COVID-19 restrictions.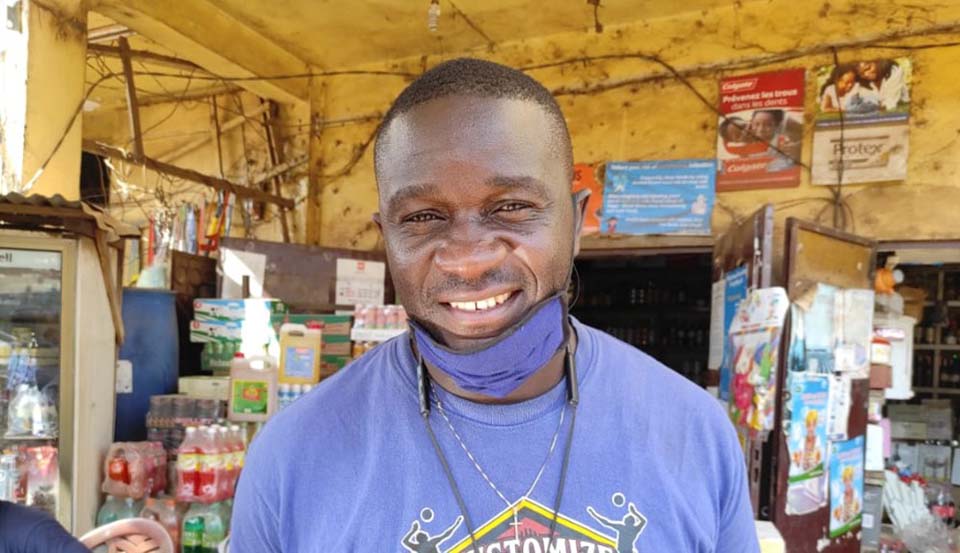 Sylvain Nchinda was able to keep his store open and supplied thanks to a CRS-supported electronic voucher program.  Photo by Collette Mbunwe/Caritas for CRS
But in March 2020, the Anglophone Crisis Emergency Response project, or ACER, brought new opportunities for Sylvain to strengthen and even grow his business. Funded by the U.S. Agency for International Development's Bureau for Humanitarian Assistance and implemented by Catholic Relief Services and the Archdiocese of Bamenda, ACER provides emergency food and non-food assistance to vulnerable families through the use of electronic vouchers in collaboration with local vendors.
At first, Sylvain was skeptical of the project, but ultimately decided to register as a participating vendor. He received training on the ACER project's objectives and accountability mechanisms, the supplier code of conduct, and the point-of-sale devices that he would use for customers to redeem credit for food and household items.
After the first disbursement of vouchers, Sylvain saw his revenue grow. With the increased revenue, Sylvain was able to diversify his stock, which kept his customers coming back for more. Now, Sylvain has built a base of loyal shoppers who have continued shopping with him even after the ACER project ended in March 2021. Sylvain's increased revenue also helped him qualify for a loan from his local bank, which will only further his ability to diversify his stock.
ACER participants also benefit from an improved shopping experience. Onsite monitoring surveys conducted by ACER during shopping periods showed that 95% of respondents reported satisfaction with the quality of food provided at shops, and 73% of respondents reported that they prefer vouchers as a form of assistance compared to cash. The ACER team continues regular vendor sensitization, monitoring, and follow-up to ensure support and further improvement in the vendor and participant experience.
Throughout the course of the project, CRS conducts monthly price monitoring by collecting retail data for five staple food items in Bamenda and other comparison markets. This analysis allows the ACER team to monitor price fluctations and identify adjustments to ensure participants' needs are covered. Monitoring price trends of staple food items within conflict zones is crucial to understanding the pressures local communities face and the response that humanitarian actors must implement.  
By the end of the project, ACER participants had redeemed over $1.5 million in credit at almost 70 vendor shops across the Mezam Division of the Northwest Region of Cameroon. The project provided this assistance to 27,762 individuals—in 3,917 families—through six rounds of monthly food credit and a one-time non-food item top-up of credit.