Volunteers Help Nigeria Counter Malaria
Photo by Nonyelum Umeasiegbu
At the peak of the northeastern crisis in which Boko Haram invaded his home town, Mallam Gali and his family of 11 left everything behind and fled for their lives.  A cheerful 49-year-old civil servant originally from Damboa in Borno state, Mallam arrived to Gombe state in 2016 and struggled to settle in with his family. Mallam is one of over 2 million people currently displaced in northeastern Nigeria.
Among many other shocks, displacement increases families' vulnerability to diseases. Without their usual defenses, Mallam's family was hit hard by bouts of malaria.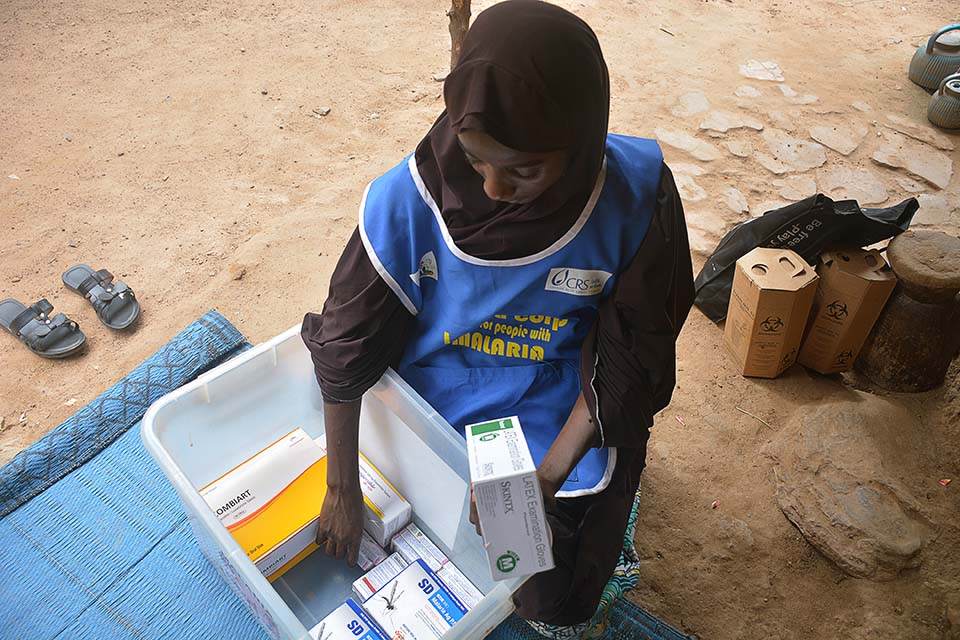 A volunteer looks through her malaria testing and treatment kit. CRS is an implementing partner of the Global Fund Malaria Program.
Photo by Nonyelum Umeasiegbu/CRS
"We lost our home and properties, my brothers lost their children," says Mallam. "I was working for the government so luckily I was still getting my salary. When we came here we rented a house but we did not have everything like back home. We used mosquito nets in Damboa, but when we came here we did not have any, my children were always sick. I could have 4 children down with malaria within a week."
Malaria is a health hazard for anyone living Nigeria, but when you are displaced, like Mallam Gali, you are at even higher risk of contracting and dying from the disease. Accessing treatment centers can be difficult in parts of northeastern Nigeria where primary health care centers are often widely dispersed and far from many communities. And some of the centers were destroyed by insurgents.
Displaced persons often lose income sources and cannot afford transportation costs to distant health care facilities or pay for services closer to home. Mallam says that he was paying out of pocket to treat his children and this happened for several months, money that could have gone into enrolling his children back into school.
"Being a volunteer is of great importance to me, I learn more from people and they learn from me."
That was two years ago. Since then Mallam has been trained and equipped by Catholic Relief Services to provide malaria testing and treatment to displaced persons and others in his host community. With support from The Global Fund, CRS in Nigeria is implementing one of the largest malaria eradication programs in the world.
One component of this multi-faceted program is a community-based malaria support through displaced persons who are called Community Oriented Resource Persons (CORPs). CRS partners with local governments to identify volunteers for training, and with primary health centers to supervise the CORPs and manage disbursement of rapid testing and treatment supplies.  
"I attended the workshop in October 2018", says Mallam Gali. "First I learned what malaria is, the source of malaria, its treatment, control and prevention. We were given drugs, ACTs (artemisinin-based combination therapy), gloves, RDTs (rapid diagnostic tests), safety box, bag and uniform".
Mallam was also given ledgers for recording patient testing and treatment information for accountability purposes.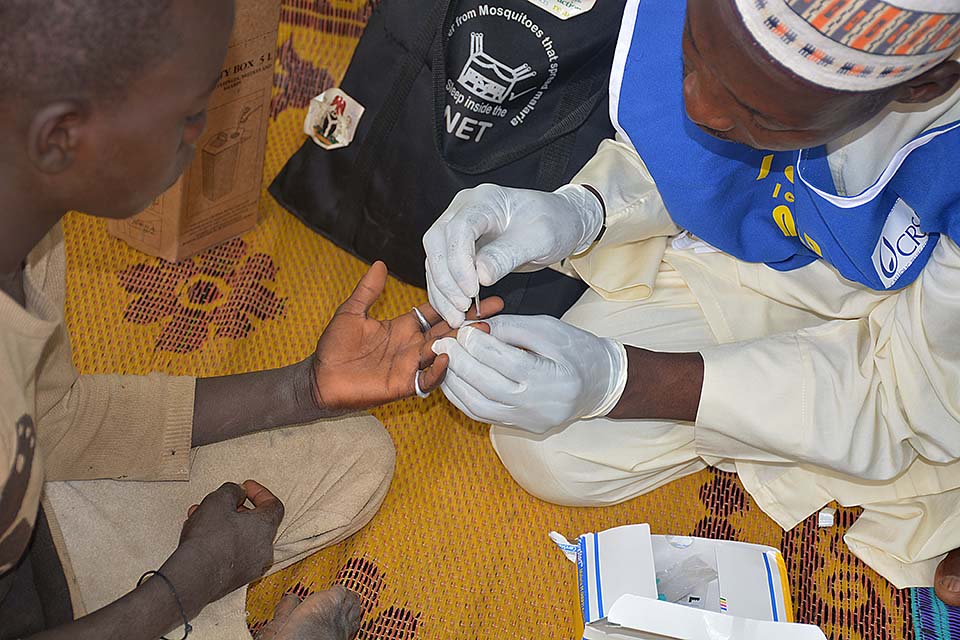 Mallam Gali carries out rapid malaria testing on a child in his community and registers vital information in his ledger.
Photo by Nonyelum Umeasiegbu/CRS
Mallam says he has tested over a 100 people since he started working as a volunteer eight months ago. He tests anyone who exhibits malaria symptoms and gives them ACTs and paracetamol if they test positive. He refers those with symptoms but who test negative to a hospital for further medical attention.
Mallam estimates that more than 80% of the people he has tested were positive. He has sick community members coming to his home for support even at odd hours. He said that a few days before we visited his community, 2 sick children were brought to him at night. He tested and gave them ACTs, when he saw them days later, they were active and feeling well.
For Mallam, this sort of impact is what he finds the most fulfilling. Additionally, his says that his unique position as a volunteer has allowed him to integrate better into his host community.
"This activity has made us to make connections with people we didn't know before," Mallam says. "We are making more friends. Being a volunteer is of great importance to me, I learn more from people and they learn from me. I assist people and they assist me too. I interact with many people and not just displaced persons. I am deeper into the community and know more people. I have been upgraded".
Mallam estimates that 70% of his patients comprise displaced persons and 30% are people from the host community.
Mallam has seen some positive impact for his family too. He says he has learned how to eliminate breeding spaces for mosquitoes around his home and his family now sleeps under nets (he received 3 long-lasting insecticidal nets from CRS during a routine distribution and purchased one from the open market), so their frequency of sickness is drastically reduced. He also no longer needs to spend money when they have malaria as he immediately tests and treats them. Mallam is also working with community leaders to eliminate breeding spaces around their community.