Vocational Training Improves Ugandan Youth Opportunities
Photo by Will Baxter/CRS
Loyce Lokuso is the self-proclaimed master chef of her baking class. Since August 2019, she's been studying at the Nakapiripirit Technical Institute through Nuyok, a food security initiative with built-in vocational training being led by Catholic Relief Services.
The aim of the vocational training program, which is funded by the U.S. Agency for International Development's Office of Food for Peace, is to improve livelihood opportunities for young people ages 14 to 30 in three rural districts of the Karamoja region of Uganda. Courses are offered in baking, agroforestry, carpentry, masonry, mechanics and phone repair.
Loyce is at the top of her class, but almost everything she's learned has been totally new to her. Today, she's focusing on mastering the art of making chapatis and mandazi, a sweet Ugandan fried bread.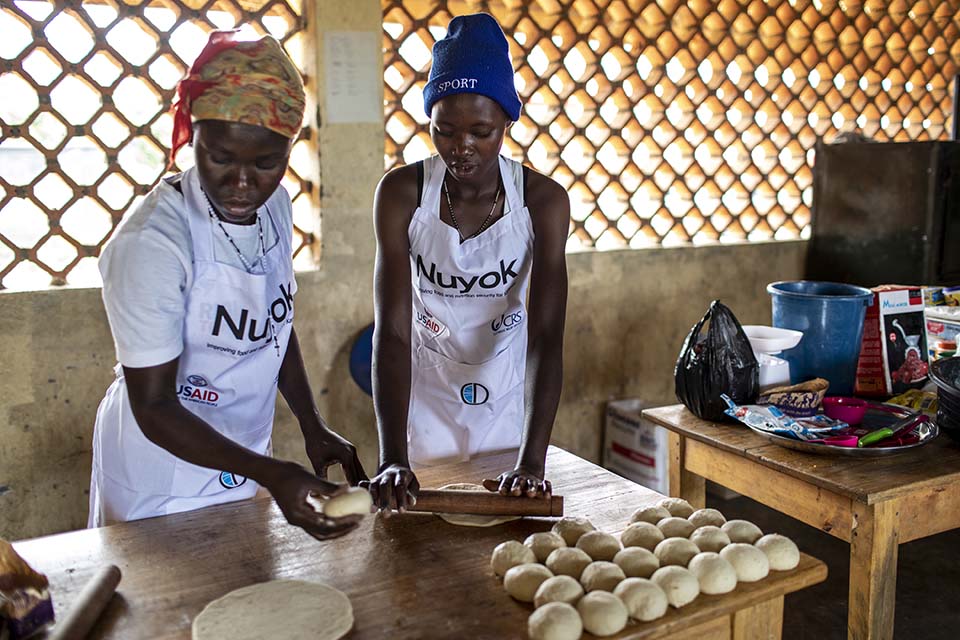 Emmanuela Achai, right, a 24-year-old mother of two, rolls out dough during a baking class while Loyce Lokuso assists. The pair are taking part of a youth vocational training initiative supported by the Nuyok project.
Photo by Will Baxter/CRS
"I was not making things like chapatis before, I was just cooking normal foods like greens and beans. I have learned that to make a product like this you have to properly measure out all the ingredients like sugar, flour etc. This process of how we put oil in the pan is something new I am learning," Loyce says, referring to a technique in which she learned to add small amounts of oil to the edge of the pan as the chapati cooks.
Knowing the recipe for success, the training is paying off already. "People like the chapatis because we have put in great ingredients. They are better than the chapatis people can normally buy. Today we sold all our chapatis and we had to come back and make more because someone placed an order," Loyce says.
"People say the mandazi also tastes great. The normal ones have too much oil and not enough sugar, and they are hollow inside," she explains. The mandazi recipe she learned calls for cinnamon, flour, cooking oil, margarine, baking powder, eggs and milk.
Building confidence
During the course, the students will learn a total of 12 kinds of breads and pastries including samosas, buns, donuts, bread rolls and egg rolls. 
Instructor Fabian Olupot says that, like Loyce, the majority of his students are starting almost from scratch. 
"Most of these students actually know some basics. They know some of the ingredients. But they don't know how to mix and how to measure. So we have to build them up from the ground," he says.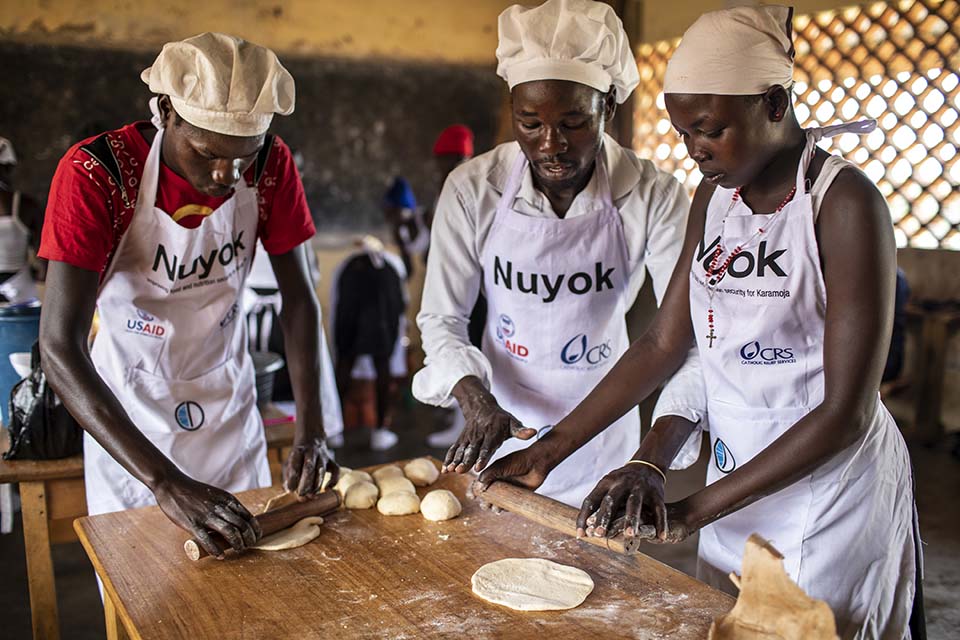 Instructor Fabian Olupot, center, shows students how to make dough for chapatis during a baking class as part of a youth vocational training initiative supported by the Nuyok project at the Nakapiripirit Technical Institute in Uganda.
Photo by Will Baxter/CRS
Boosting their confidence is almost as important as teaching them how to bake, he says.
"Most of the students are from the villages. When they come here, they tend to be shy, to be fearful. But we build them up. We motivate them. We help them. We encourage them until they have that excitement and that happiness of learning."
"As you keep explaining to them, what the process is all about and how it can help them in the future, they get more confident. I encourage them, even if they make a mistake, to keep trying," Fabian adds.
The need for vocational training in Karamoja is particularly acute, according to Zura Ochom, a mobilizer and counselor for the Nakapiripirit Technical Institute with CRS partner Cooperation and Development.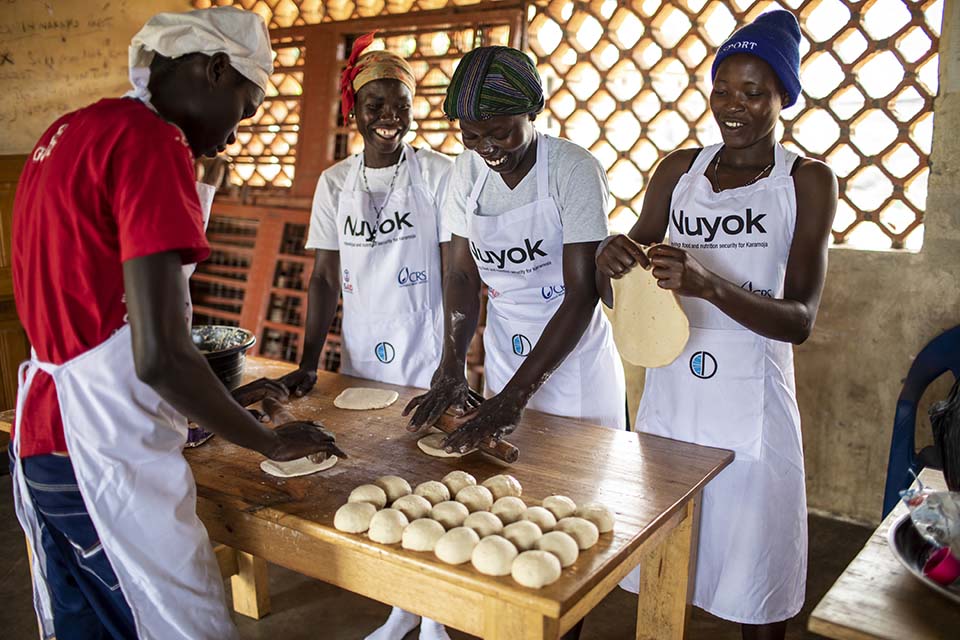 Young adults take part in a baking class as part of a youth vocational training initiative supported by the Nuyok project.
Photo by Will Baxter/CRS
"This program is good for the youth in this area because the Karamojans have a negative understanding about education. They think if you take a child to school you are wasting your time, especially a girl child," says Zura. She also points out that because of high poverty rates families in the area often cannot afford to send their children to school.
"They prefer taking a child for early marriage because with early marriage a family can earn a living," she says. "They receive animals from the husband's side [as a dowry] so they [prioritize] wealth vs. educating a person."
Helping families and communities
Gradually, the program is beginning to change these attitudes because now people can see tangible benefits.
"Many of the [students] have never been to school. But this program gave opportunities even to those who have never gone to school, those who have dropped out of school or married early or those who have disabilities," Zura says.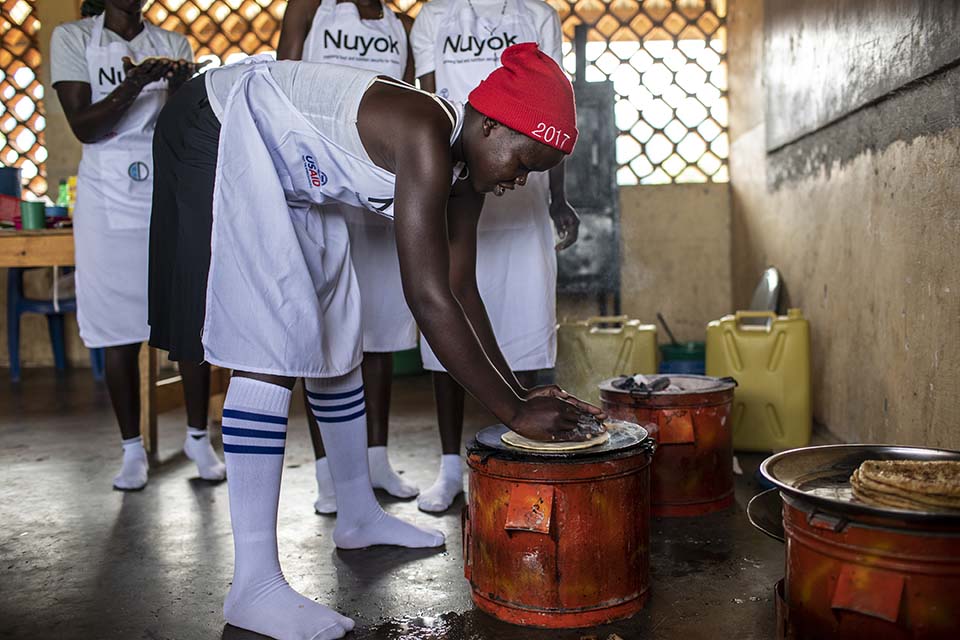 Josephine Teko cooks chapatis during a baking class that is part of a youth vocational training initiative supported by the Nuyok project in Nakapiripirit, Uganda.
Photo by Will Baxter/CRS
"Now many young people are self-employed, many have been attached to other programs, and some have even gone for further education. This program has not only helped the youth themselves, but also their families and the communities where they come from," she says.
For Loyce, graduation is not far off.
"After six months, I will have acquired enough new skills. You don't want to sleep with your skills, so I plan to apply what I have learned," she says.
"I will go with my certificate, and I will use it to apply to work at bigger bakeries. I want to learn how to make nice cakes for weddings and birthdays."