Venezuelan health system collapses, forcing migration
Photo by Nicolo Filippo Rosso for CRS
Miguel* waited patiently for surgery at a public hospital in Cucuta, Colombia, for nearly three weeks. Malnourished and weak, he came to Colombia for lifesaving medical attention that was unavailable to him back home in Venezuela. His body and face reflect his pain, but also his relief in being somewhere safe.
Miguel is one of millions who've fled Venezuela, which has been in economic and social crisis since 2015. A drastic fall in the price of oil, its main export, led to a progressive decline in local production capacity, resulting in food shortages, hyperinflation, the collapse of the health system and social unrest.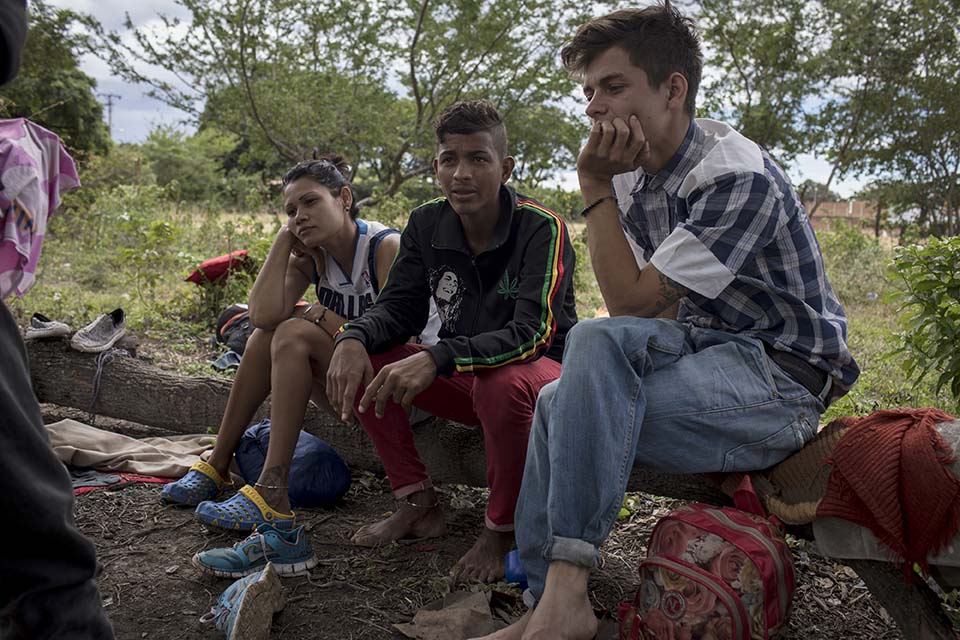 Young Venezuelans, who do not have access to migrant shelters, camp in the streets and green areas of the border city of Cucuta in Colombia.
Photo by Nicolo Filippo Rosso for CRS
Six years ago, Miguel was severely burned in an accident. Ever since, he has struggled to find proper medical care. The first time he was hospitalized, he contracted bacterial infections because of substandard conditions in the facility.  
"In Venezuela, there was no infectious disease specialist. They didn't even know what he had," explains his brother Oscar, who has accompanied Miguel throughout his journey. "When we took him to places so that they could assist him, they told us that they had to amputate his arms in order to save his life."
Miguel tried recovering at his mother's home and regained just enough energy to begin working again. He had a job repairing cell phones, but the injuries to his hands made that a challenge—so he learned to use his feet instead.
Gradually, though, another infection developed, as did anemia from malnutrition. The average Venezuelan has lost 24 pounds since 2017, and as much as 87% of the country's population has been pushed below the poverty line. Severely malnourished, Miguel was unable to get out of bed. That's when his family made the decision to leave for Colombia.
Like many Venezuelan families, Miguel's was forced to migrate in search of lifesaving healthcare. The World Health Organization reports that Venezuela's health system has been reduced by 85%, and infectious diseases such as measles, diphtheria and malaria are on the rise. In fact, the collapse of health services is a main factor driving Venezuelan migration today.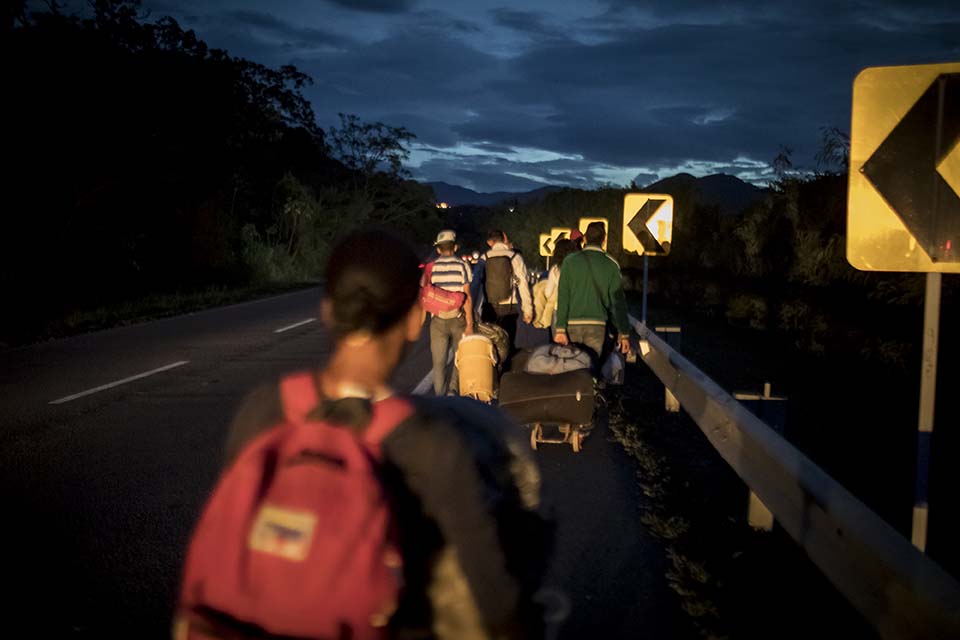 Migrants walking their long journey from Venezuela to Colombia. From there, many will continue on foot to Peru, Chile and Brazil in search of a new life.
Photo by Nicolo Filippo Rosso for CRS
"We took a long time to get him out, because the situation he was in was difficult. Back in Venezuela, they sold us the blood that got his hemoglobin to an acceptable level so that he could get out of bed," says Oscar.
A close friend helped transport Miguel and his family to a city near the Colombian border. They traveled the rest of the way on foot. By the time they reached the border, Miguel could barely cross the Simon Bolivar Bridge to Colombia without his mother and brother's help. Upon seeing Miguel's critical condition, Colombian immigration agents had him transported by ambulance to the nearest hospital.
Volunteer doctors at Casa de Paso Divina Providencia—a shelter run by the Catholic Diocese of Cucuta—say that most migrants are suffering from malnutrition. Untreated chronic diseases like high blood pressure, diabetes and hypothyroidism are also common among them.
During his time in Colombia, Miguel has managed to overcome the infection and is receiving the food and care he needs. Doctors predict that with several surgeries he will also recover the mobility of his hands.
"We believed in God, and here they told my mother that they can save her son's hands. He has no problem now. They will not be amputated," says Oscar.
Across 14 dioceses in 10 states, and in the capital of Caracas, Catholic Relief Services and Caritas Venezuela are supporting the health of people in need. In May, CRS and Caritas Venezuela piloted the use of e-vouchers as a means of accessing food for vulnerable families in Caracas. We are now expanding to multiple areas, with an estimated 1,700 families participating in Caritas Venezuela's nutrition rehabilitation program. Over the next 12 months, CRS and Caritas Venezuela plan to scale the program to benefit 12,000 families as well as the participating business and shop owners.
With our partners throughout the region, CRS is responding to the needs of families in Venezuela as well as those who have fled to Colombia, Brazil, Peru, Ecuador, and Trinidad and Tobago. Throughout Latin America, CRS supports local partners, including the Scalabrinian Mission and Living Water Community, to provide health care, food, shelter, protection, water and sanitation services, and cash to more than 43,000 Venezuelans affected by the humanitarian crisis.
*Names have been changed to protect privacy.