Uganda Widows Learn Improved Coffee Production
Photo by Will Baxter/CRS
"Where we are now, we can see our future."
Beatrice Nakimbugwe and her neighbor Rose Nakanjanko each own small, adjacent coffee farms that until recently they had no idea how to manage.
Beatrice, 45, has 6 children, ages 12 to 32, and Rose, 53, has 4 children, ages 14 to 35. But even with their combined efforts, until recently the women struggled to tend their crops, cover the cost of basic needs, and keep the children in school. Poor hygiene, sanitation and nutrition were also concerns.
Vulnerable households like Beatrice and Rose's are supported through the Catholic Relief Services network of 3,517 para-social workers across 24 districts in Central and Western Uganda. Families are provided services to teach them to become more economically independent, improve their health and sanitation, invest in their children's education, and are linked to clinical services such as HIV testing when appropriate.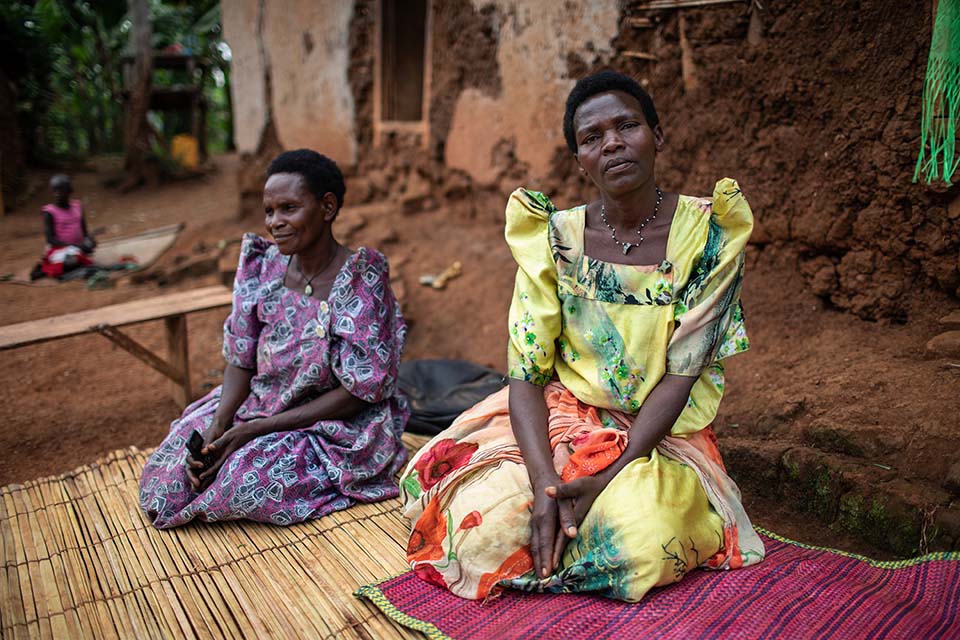 Rose Nakanjanko, left, and Beatrice Nakimbugwe sit outside of Beatrice's home in Kaleere village, Uganda. Both are learning how to improve hygiene and sanitation in their homes.
Photo by Will Baxter/CRS
"I was here in my home when Mr. Ngobya, the para-social worker, came," says Beatrice. "They found me in a very terrible state. My children were always sick. They were always having diarrhea, typhoid, malaria." Beatrice and Rose each had lost children due to their inability to afford medical care.
Ronald Ngobya explained to the widows how they could benefit from the Sustainable Outcomes for Children and Youth, or SOCY program, and enrolled them in a series of training sessions. To increase resilience and make families less susceptible to shocks, the PEPFAR/USAID-funded SOCY program provides multiple levels of household economic support, depending on each family's level of vulnerability. Beatrice and Rose's households were selected due to their status as widows living with children in households impacted by HIV and AIDS.
The most immediate changes to Beatrice and Rose's families came in the areas of hygiene and sanitation. "They taught me that I have to have a toilet, and I have to cover the pit so that flies don't leave the toilet and come to the dishes to bring sickness," says Beatrice. "I needed a shelf where I put the dishes after washing them, so now we have a place to dry our plates and sauce pans."
They also dug rubbish pits for disposable waste and a separate pit for plastics. "They taught us that polythene bags destroy the environment and the soil," says Beatrice.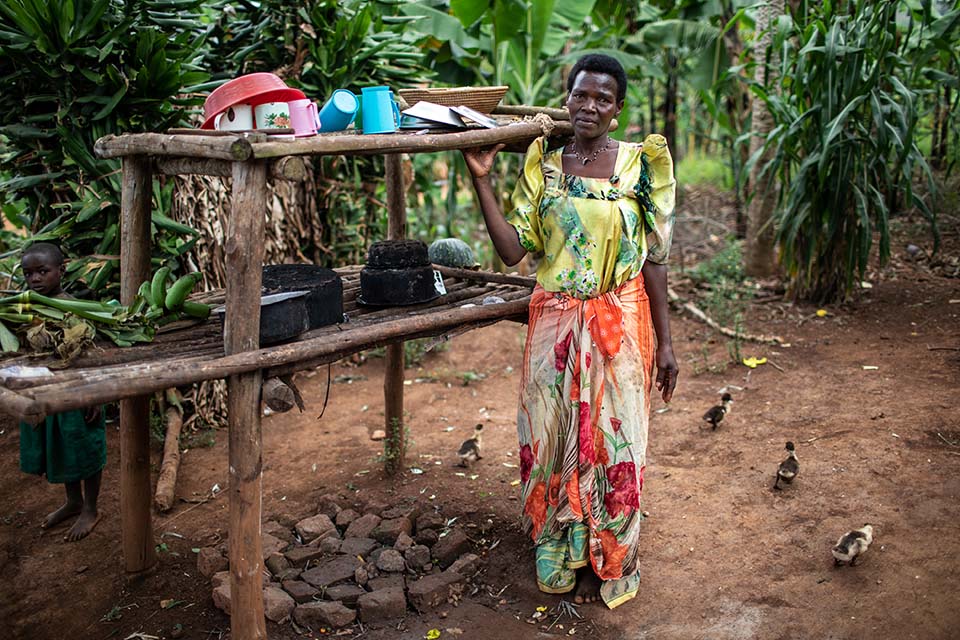 Beatrice Nakimbugwe learned to use a drying rack for plates and cookware for better hygiene at her home in Kaleere village, Uganda.
Photo by Will Baxter/CRS
"Their household situation has really changed from the first time I met them," says Ronald, who follows up with the widows monthly. "Now we have become like friends. Sometimes before a month elapses they call me and ask me questions."
Ronald also referred the women and their families for HIV testing.
"They told me that I have to go and check and find out my HIV status," says Beatrice. "I went with my children and they checked us so now we know our statuses." Rose also took her family for testing. In both households, the women and children were all found to be HIV negative.
The women also needed further training to improve their capacity to manage their coffee farms. With private funding, SOCY supports coffee farming families in Rakai and Mityana districts to learn how to produce higher quality coffee, increase yields, sell through collectives and ultimately earn more income.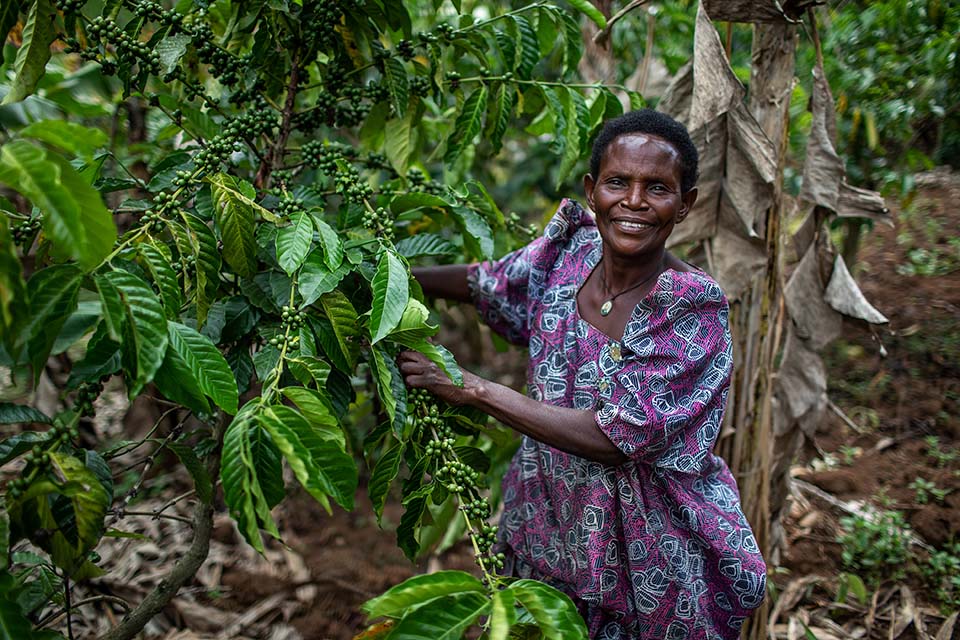 Rose Nakanjanko received training on coffee production and sells through a cooperative that helps her earn better profits.
Photo by Will Baxter/CRS
"We did not understand coffee so we would get very little money," says Rose. "We used to 'eat' the money in advance. We would sell to a middleman when the coffee was still in the field. He would give us 300,000 shillings, and then he would own the garden for the entire season."
Under that arrangement, the women earned just 8 cents per 2.2 pounds for their coffee when they could have been earning $1.08 per 2.2 pounds for harvested, dried coffee. 
Since enrolling in SOCY, they have learned to cut out the middlemen. 
"In the training, they told us not to sell green coffee. They taught us how to harvest coffee when it is ready, and how to dry it on tarpaulins," says Rose. Now the women sell their coffee through a cooperative in their village, which also helps them to acquire a better price. Rose even serves on the cooperative's committee.
At first, cash flow remained an issue, but this was solved by encouraging the women to join the CRS community microfinance groups—called Savings and Internal Lending Communities—that help low-income members pool their savings and distribute loans as needed.  
With 7 children in school, covering the cost of school fees is the widows' biggest challenge. It's also the reason they were always forced to sell their coffee before it had a chance to ripen.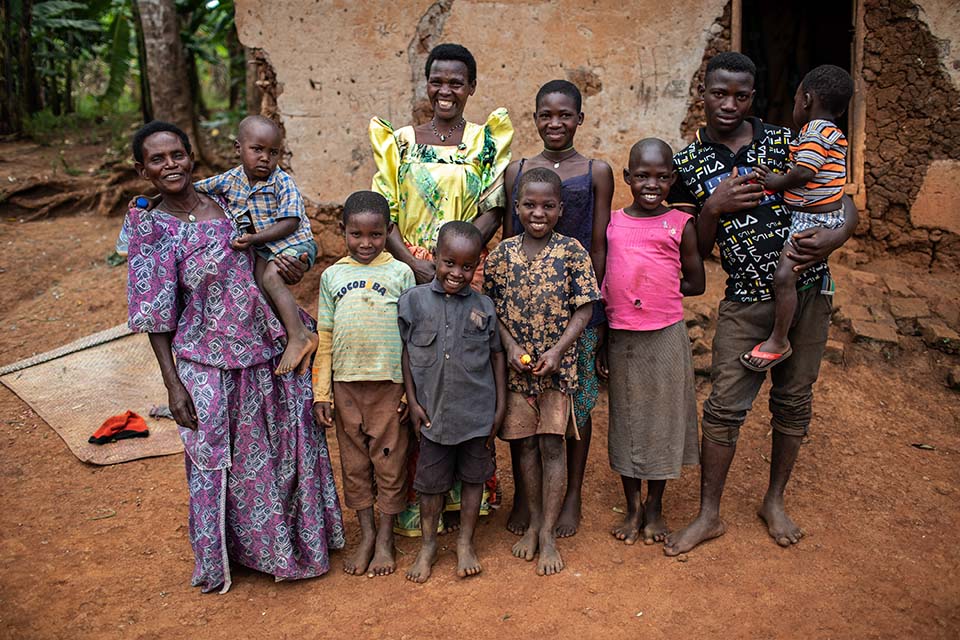 Rose Nakanjanko and Beatrice Nakimbugwe, in yellow dress, with their children in Kaleere village, Uganda. CRS helped the women improve their coffee production and earn more by selling through collectives.
Photo by Will Baxter/CRS
"The teachers used to chase our children from school because of school fees," says Beatrice. "In those years, they used to miss school a lot. There was no money for school fees, no money for scholastic materials. During exams they would be absent from school, and by the time they went back the exams would have finished."
Beatrice and Rose's elder children eventually dropped out. Now the women are determined to keep their younger children in school.
"They taught us how to save. Now we have alternatives. I go to the SILC group, I borrow money, then I help my children to pay their school fees."
Beatrice notes that they also borrow to pay for seeds, clothes, livestock, medicine, food and other household necessities. "We are grateful that we have a place where we can get money," she adds.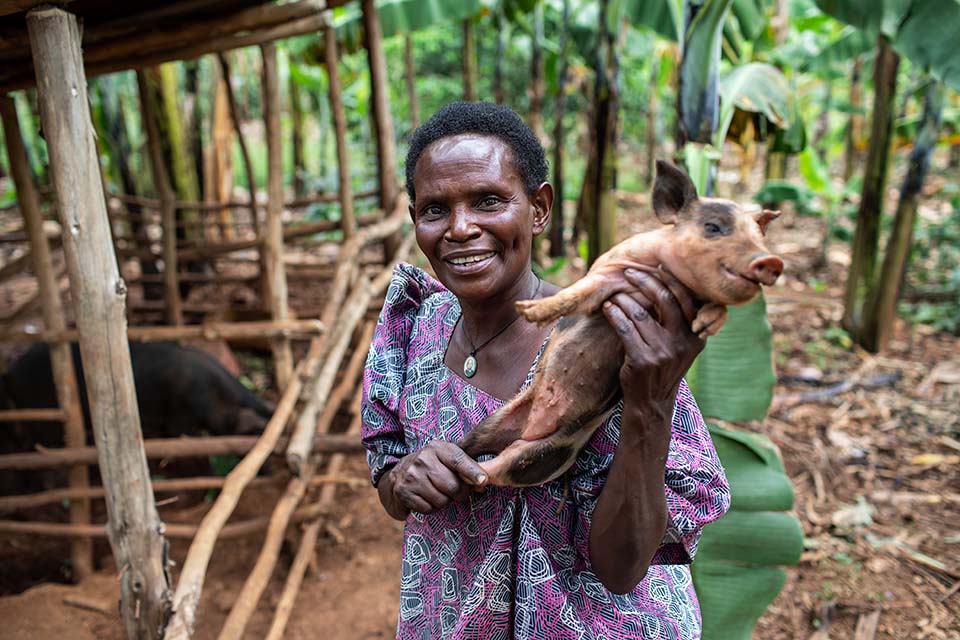 Rose Nakanjanko at her farm in Kaleere village, Uganda. Rose and her friend Beatrice have improved their coffee yields and joined a savings-led microfinance group and can now afford to send their children to school. 
Photo by Will Baxter/CRS
In total, Beatrice has borrowed $54 and Rose has borrowed $149.
"The latest loan I took was to support purchasing scholastic materials for the children. I hope to pay it back when I harvest my coffee," Beatrice explains. The next harvest will be in June and July.
"You know, we have never picked coffee cherries before. We have always sold the coffee in the garden," says Beatrice.
Rose adds: "We are not going to sell green coffee again. If we need cash, we will wait to borrow money from the SILC group, take care of our needs, and sell the coffee at the right time for the right price."
Equipped with the right skills and the right knowledge, Beatrice and Rose have transformed their entire outlook.
"Where we are now, we can see our future," says Rose. "We thank SOCY, which has done so much to train us. We pray for more training to become better and better."