Uganda Floods: Responding With Food and Health
Photo by Flavia Lanyero/CRS
Ruth Ameri, a mother of nine, lost her entire crop of cassava, sweet potatoes, beans and other vegetables when floods inundated much of Eastern Uganda in December 2019. In the aftermath, it became a daunting task to secure a meal for her children—the youngest just 18 months old—and she watched with a heavy heart as her older children roamed the village in search of food.
"We used to eat only one meal in the evening after I have worked in people's gardens. If I did not make any money, we would sleep hungry," recalls Ruth, who lives in Katakwi district.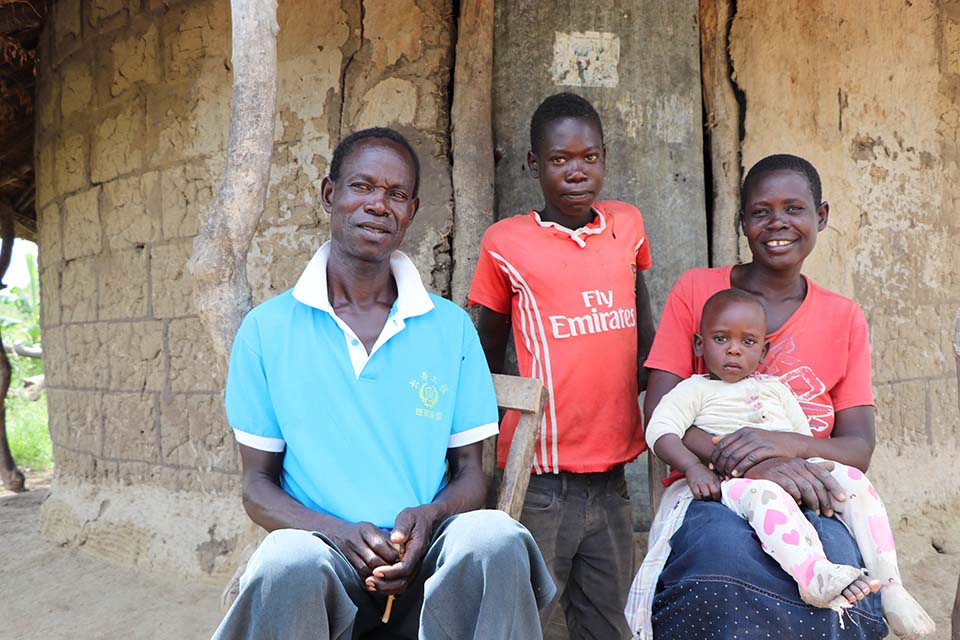 Ruth Ameri with her family. They struggled with hunger following devastating floods that ruined crops, leaving many families like theirs hungry and facing post-flood health risks. Photo by Flavia Lanyero/CRS
"I even did not have breast milk for my baby because I had nothing to eat. The baby cried until she kept quiet on her own," she says. "When my children heard that food was being cooked elsewhere, they would run there, it was embarrassing."
This is the reality for more than 300,000 people affected by floods in Uganda, many of whom live in Eastern Uganda. Families have been displaced, lost property, lost crops and suffered from waterborne diseases and malnutrition.
In December 2019, the government of Uganda called for support from the United Nations Office for the Coordination of Humanitarian Affairs and the international community to address the needs of the affected families. In response, the United States Agency for International Development awarded CRS Uganda and our partner Soroti Catholic Diocese Integrated Development Organization $2 million to respond to the crisis.
CRS and our partner provided five months of emergency food assistance, supported existing health systems to address acute malnutrition, mitigated other immediate health risks, and provided agricultural assistance for an estimated 34,300 individuals—as many as 4,900 households—in Katakwi and Kapelebyong districts in Eastern Uganda's Teso Valley.
Addressing major issues
As of October 20, 2020, Ruth and 23,429 other project participants have received electronic vouchers to buy nutritious food and soap. The food items available at the mobile market fairs include corn flour, beans, cooking oil, silver fish and iodized salt.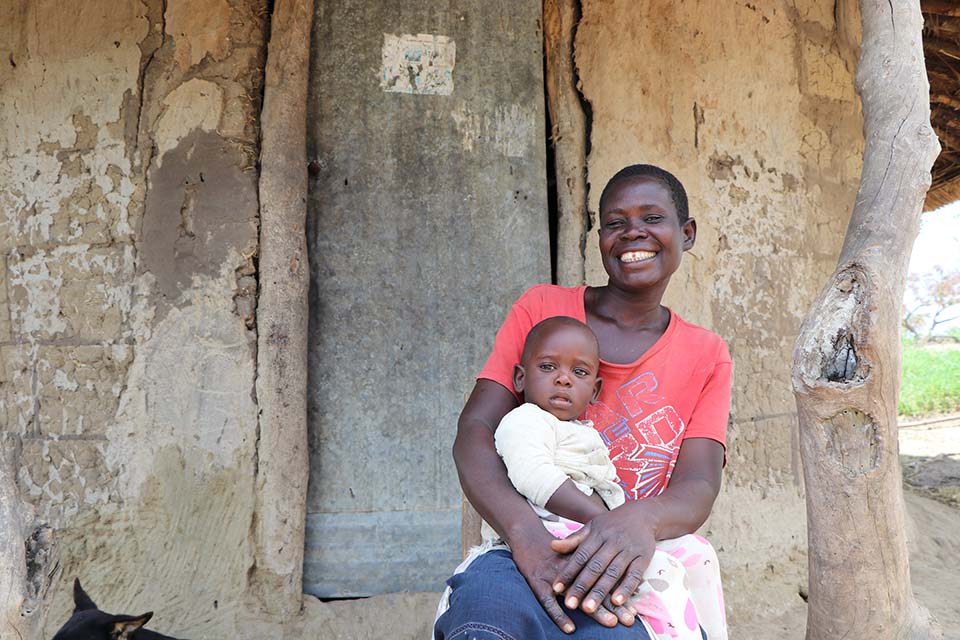 With funding from USAID, Ruth Ameri received electronic vouchers to buy nutritious foods and soap. The food items included corn flour, beans, cooking oil, silver fish and iodized salt. Photo by Flavia Lanyero/CRS
CRS also provided refresher training to village health teams, focusing on nutrition, hygiene and identifying cases of malnutrition. Health teams will help families understand key messages about nutrition, carry out food preparation demonstrations and identify cases of malnutrition that will then be referred to local hospitals.
"The project is important for this region because it addresses major issues in Teso region like malnutrition and food security, which have been made worse by the recent floods. Many families could not afford to feed their children after floods destroyed their crops in the garden. It was common to find children and families going hungry for an entire day, mothers walking far distances to look for casual labor," says Felly Lamwaka of CRS Uganda.
Today, Ruth is happily taking care of her family and feeding her children three meals a day. They are all healthy and her relationship with her husband has even improved as previously they had misunderstandings on resources to feed the children.
"We are now ok. The children are happy and very healthy. I even spend more time with them, unlike before when I used to go out to work on people's gardens for money to buy food," Ruth says.