Uganda Apprenticeship Builds Skills, Confidence
Photo by Will Baxter/CRS
"They taught us some life skills, entrepreneurship, how to start a business and bookkeeping. I learned to set goals."
For the last few months, 20-year-old Godwin Kandwanaho has been preoccupied with the idea of saving—saving to start his own business, saving to pay his brother's school fees and saving broken electronics from a premature trip to the scrap heap.
Godwin trained for 8 months in an apprenticeship program learning to repair electronic devices at Moses' Electronic Center, a small shop in Uganda's rural Gomba district. Before the apprenticeship was even completed, he was hired by the shop's owner Moses Tumwebaze.
Godwin was selected for support through the SOCY project— short for Sustainable Outcomes for Children and Youth—in Central and Western Uganda. The project, funded by the United States Agency for International Development (USAID) and the President's Emergency Plan For AIDS Relief (PEPFAR), aims to improve the health, nutrition, education, and psychosocial well-being of orphans and vulnerable children and youth, as well as reduce abuse, exploitation and neglect among this population. The program also places vulnerable youth like Godwin in apprenticeships with mentors from their community so they can learn a vocational trade, secure jobs and develop entrepreneurial skills.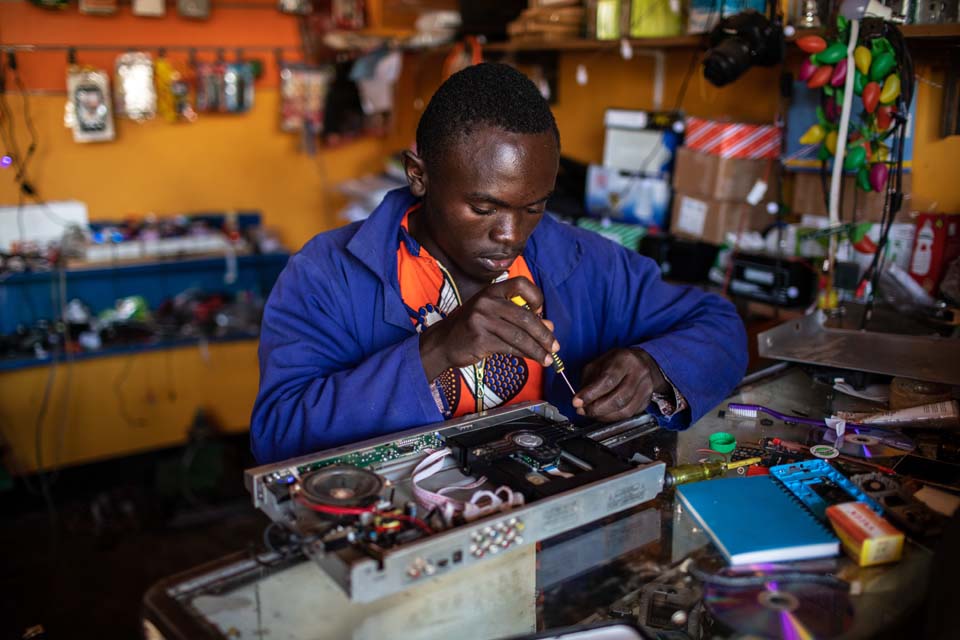 Godwin Kandwanaho at work at Moses' Electronic Center in Nsozibiri village, Uganda.
Photo by Will Baxter/CRS
While Godwin does not have a fixed salary, on average he earns about $32 per month and is paid for repairs per device. At the shop, Godwin is also responsible for bookkeeping.
"I learned to repair electronics, to wire solar panels. I do mostly repairs of electronics like phones, DVD players, radios and so on because there is more demand for these," says Godwin.
Godwin says the SOCY youth intervention program covered a wide range of personal development training.
"They taught us some life skills, entrepreneurship, how to start a business and bookkeeping," he says. "I learned to set goals."
The trainings also opened his eyes to greater possibilities.
"Through those trainings I learned to believe in myself, that I can do something with my life. Before those trainings I only used to aim small—to go for small jobs. I didn't believe I could do something bigger. So, I learned how to dream big," he says.
Plans for a business of his own
Because of the trainings, Godwin decided to join a community savings group so that he can save to invest in a business opportunity.
"Currently I am saving to start a side business. I will buy chickens at wholesale and sell them at retail prices," he says. "It is a low-risk business. I have done it before. At the time I could not continue because I had very low capital."
Godwin estimates that he can save about $1.62 a day, Monday to Friday. To jump start the business at the scale he envisions, Godwin needs to save about $324.
"I am starting to save seriously now for the chicken business. I have saved [$32] so far. Some of this will be used to pay my brother's school fees," he explains. Godwin comes from a household of 7 children. With a father who is often absent and a mother unable to support the family, it's up to Godwin to keep his youngest brother in school. The boy is in primary school, and his school fees cost $19 per term.
His youngest brother is Godwin's last chance to see a member of his family complete their studies. "The other siblings are not in school. All of them are younger than me. They just do simple jobs like farming or riding a boda boda," Godwin says, using the local term for a motorbike taxi.
Moses, Godwin's mentor, says that Godwin had been enthusiastic about learning to work in his shop.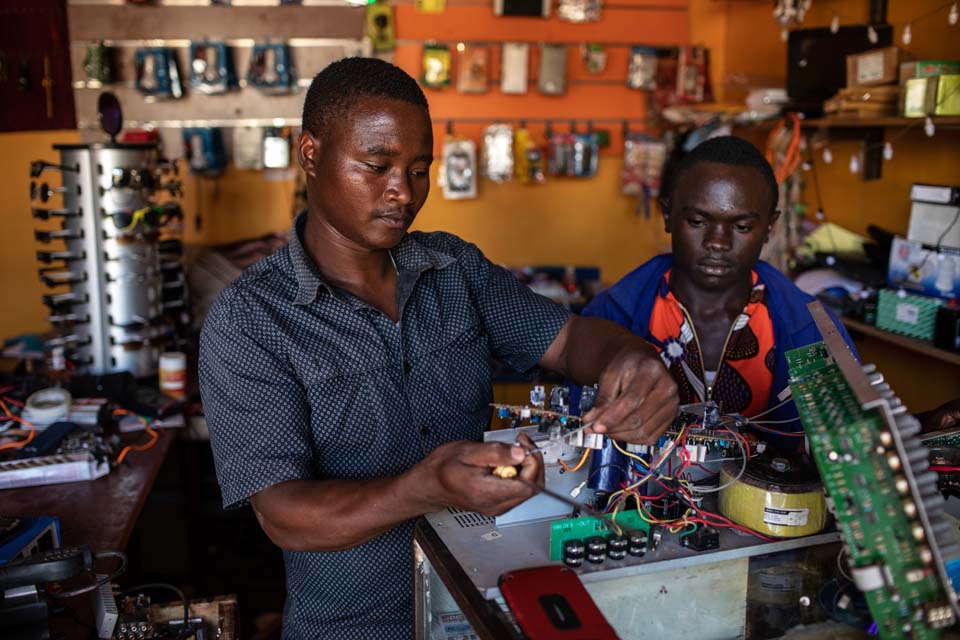 Godwin Kandwanaho, right, and Moses Tumwebaze, who is training Godwin in electronics repair, look over a device at Moses' Electronic Center.
Photo by Will Baxter/CRS
"Godwin was already coming around here and was already interested in what I was doing," says Moses. "Godwin told them I could offer him training. They came around and assessed my ability as a trainer." Not long after, the apprenticeship began in earnest.
At first, Godwin watched while Moses did the actual repairs and explained the basics. Then Godwin was tasked with making repairs on his own.
"When he would make mistakes, I would correct them and then he would do it again. Then we moved on to more complex parts like screens. He learned to diagnose problems with my tools and devices. We later moved from phones to woofers to amplifiers, so we moved to more complicated gadgets," says Moses. "He is very smart. He learned very fast."
Eventually, Godwin wants to own his own repair shop.
"My top goal is to have an electronics repair business like this one. The poultry endeavor is just a means to an end so I can get the money to start an electronics repair shop," he says.