Through the Lens of Our Photographers 2017
Photo by Karen Kasmauski for CRS
Welcome to year two of "Through the Lens of Our Photographers," a series of our best photos of the year accompanied by impressions by the photographers themselves. We are giving you a deeper, behind-the-scenes insight into the photojournalistic process. This year, in addition to collecting impressions by our field photographers, the CRS photo department has decided to offer our own impressions of the work. Photo Librarian Lauren Carroll and I are thrilled to offer you photos that have a lasting impact and transcend their parts to represent something bigger, something that talks to a larger human truth, something universal.
Thank you for supporting our work and CRS.
Phil Laubner – CRS Photo Editor
Ismail Ferdous
Lebanon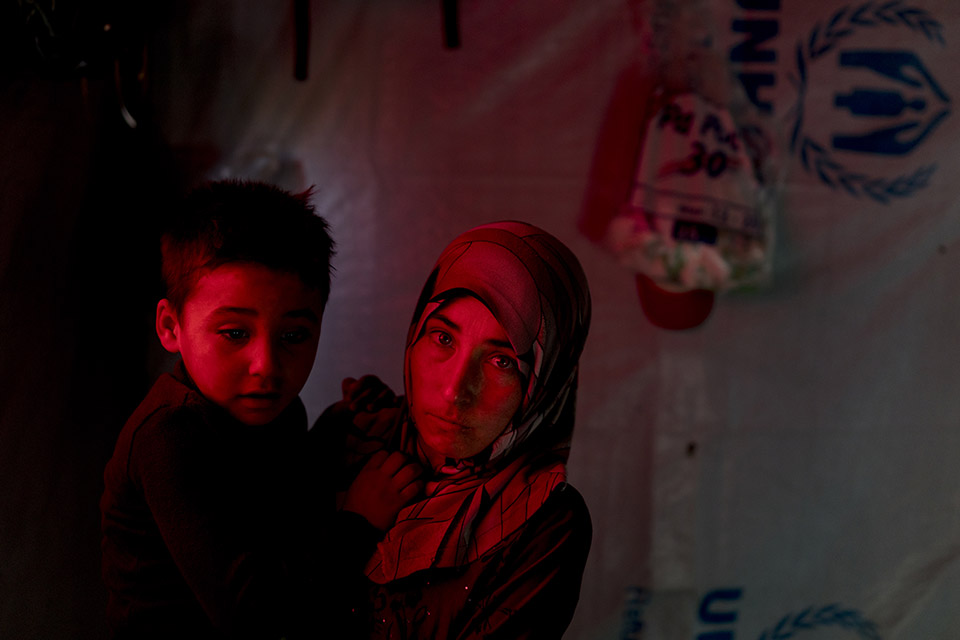 Ismail: "It was my first visit to a Syrian refugee camp on this trip. After an hour, I came across a 22-year-old widow. Her intense innocent look and red garment really caught my attention. I pointed my camera toward her without hesitation and her reaction to the camera was natural. It was a silent agreement between us which allowed me to click the shutter.
She invited us to tea. I spent almost an hour with her parents and her son. When she was making the tea, I walked up to the kitchen with her and came upon a beautiful red light reflecting from the plastic cover of the tent. As her son took to her lap, I immediately took the picture. I felt she has a lot of responsibility for her age."
Lauren Carroll: "It's so striking with the red light. The mother's expression and the way the little boy is clutching her scarf is telling; it's almost like a plea for help."
Phil Laubner: "It's mysterious. Red is anger and life blood at the same time. It's also warning. It instantly says danger and vulnerability. The mother and child are isolated in a cocoon. It's a photo that goes beyond the story of these particular people. It speaks to the situation of all refugees and migrants. It's reminiscent of Dorothea Lange's famous migrant mother photo and how that picture came to symbolize victims of the Dust Bowl in the U.S. I think that's why it was chosen to be the first page of our new migration campaign."
View Ismail's work.
Follow Ismail on Instagram.
Keith Dannemiller
Mexico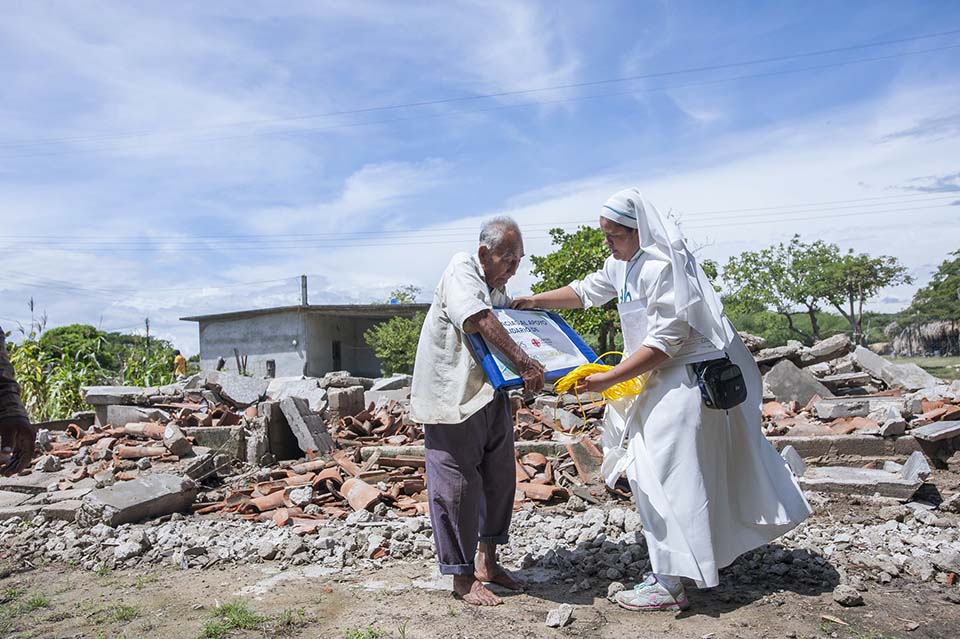 Editor's Note: Freelance photographer Keith Dannemiller's own family suffered the loss of their home in Mexico City in the first of two earthquakes to hit Mexico this year. The earthquake that affected him was less than two weeks before the one we asked him to document in Oaxaca, Mexico. I told him I was sorry that he had to work while trying to put the pieces of his life back together. He told me that the work—using his skills to help others in need—was a welcome respite from the drudgery of dealing with insurance companies and the search for new accommodations. We're grateful for his help.
Keith: "Damnificado. This Spanish word for the victim of a natural disaster, such as an earthquake, has an ominous, quasi-Biblical sound to it. But the expression of the word is nothing compared to the concrete reality of its meaning and even less to the cruel truth of being an actual victim.
I, like many others in Mexico City, became a 'damnificado' at exactly 1:14 p.m. It occurred while I was riding the subway home after a trip to the Centro (downtown) for some photo supplies. I was literally shaken to the bone, but was lucky and survived. Some friends and acquaintances weren't and didn't. Given that our apartment is now uninhabitable, my wife and I will look for a new home and carry on with the aid of friends and relatives."
Lauren: "This photo reveals so much. You can clearly see the untouched aftermath of the earthquake behind them, and it's obviously something that happened very recently. The man doesn't even have his shoes on as he walks amongst rubble. I like that the subjects don't seem aware of the camera. This is just a genuine moment of a nun giving this man—who probably lost everything—some relief."
Phil: "It looks like a painting the way it's balanced. There's nothing wasted in this picture. Everything tells a story: the destruction, he's receiving a tarp. A house is gone behind him and now he's being given a temporary shelter. The photo honors the beneficiary, but it also speaks to victims and aid workers in emergencies everywhere. I like that it's a picture of an elderly person receiving help as the elderly and the babies are disproportionately affected by emergencies of this kind. The picture also shows the reliance of the kind of people that respond to emergencies. The nun has running shoes on, she has a supply bag on her belt and a clipboard to account for it all."
View Keith's work.
Follow Keith on Instagram.
Nancy McNally
Kenya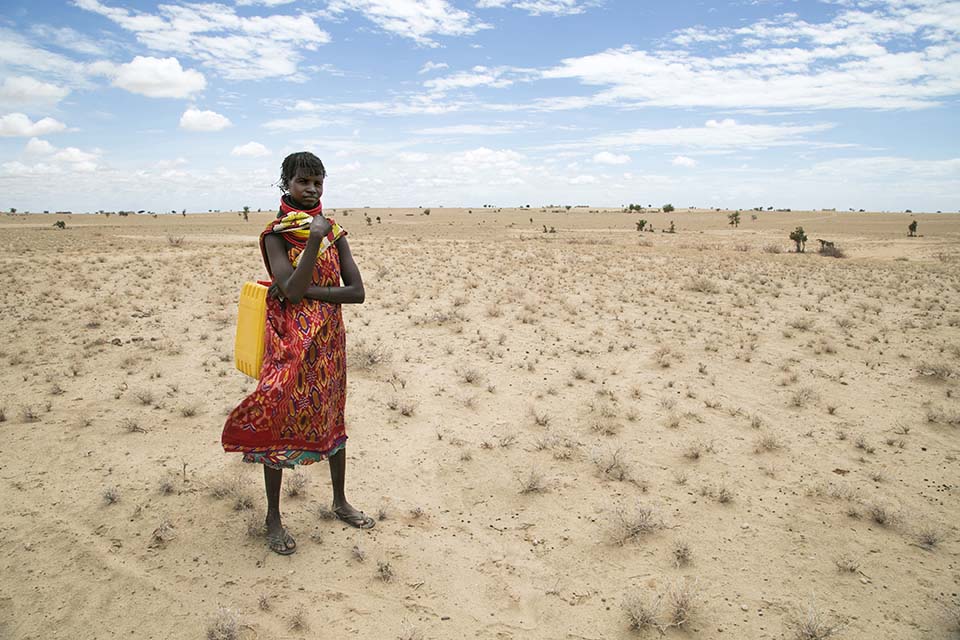 Nancy: "This was the first week of May, and I was traveling throughout East Africa, focusing my attention on the massive drought that was and still is affecting upwards of 20 million people.
As soon as we hit the road and were just barely out of town, the terrain opened up to this expanse of white dunes as far as the eye can see. It's not what you think of when you think of Kenya: it's not some flat savannah where elephants roam. Instead, it was just a white wasteland, with nothing roaming, except for this lone figure I spotted off in the distance.
In the blistering heat, I asked the driver to stop so I could try to speak with her. She fixed her gaze on me from afar as I ran across the silty plains, waving at her. Amazingly, Akai Akiru had no problem speaking with me, and she spoke to me at length.
She explained she was walking somewhere far beyond the horizon on her daily trek for water. She said it takes three hours. 'Three hours there and back?' 'No,' she said. 'Three hours there, and three hours back.' She had her empty water jug strapped to her back, as we'd carry a backpack.
'Oh my God,' I said. Any number of questions floated about, but I asked her the one that was blaring in my mind: 'I mean, that's practically the entire day. What else do you do all day? What do you do when you get home?' I asked.
'Nothing,' Akai said. She said she was too exhausted to do anything else once she got home. A mother of four, every day, her children and her husband would be waiting for the day's supply of water at home. They'd had a herd of sheep and goats, but every single animal had died.
She said the family ate doum palm fruit to stay alive whenever they could find it. I had to look up 'doum palm' when I got back to Nairobi, as I'd never heard of it before. I think I even called it 'dune palm,' given I was surrounded by sand dunes. But, I discovered, the doum palm is the last 'survival food' of the Turkana people when climate disaster strikes, as it does so often and so severely now."
Lauren: "The way Nancy placed the woman so small in this frame really gives you context of how vast this arid, dying landscape really is. Yet she looks strong and confident despite her surroundings, which feels hopeful. It's interesting—and I don't know that it was intentional—but the horizon line cuts off at the head."
Phil: "There's two ways to look at it. The horizon cuts her head off, which is kind of grim, but also, you could see it in another way: that her body is consumed by the landscape, but her mind and her head are free. The reality is her body has to deal with being in this situation, but it seems she has the presence of mind to overcome it. She seems strong and playful."
Laura Elizabeth Pohl
Nigeria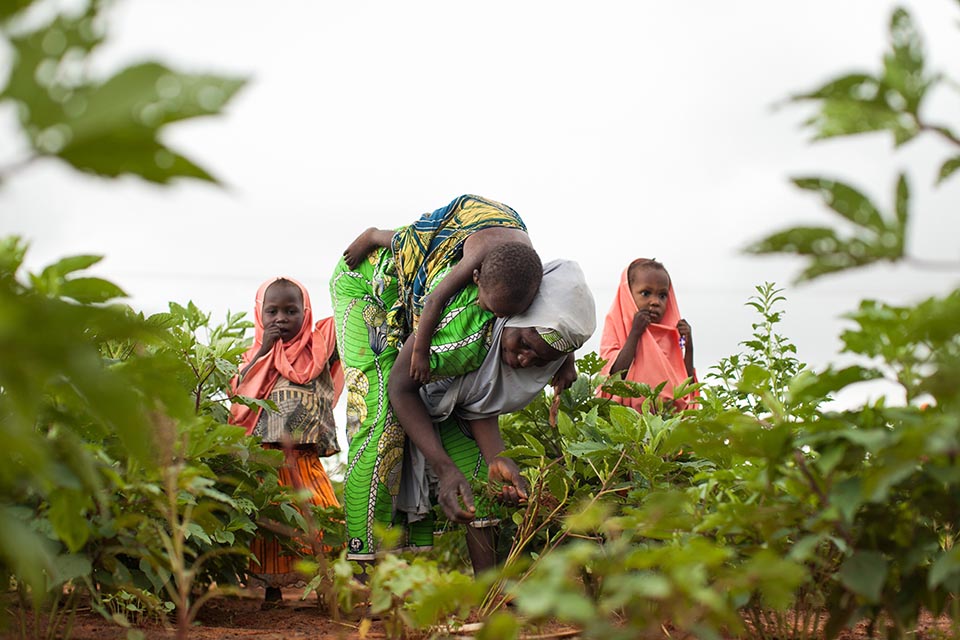 Laura: "Women clear the plots, plant the seeds, weed the farms, and harvest the produce—and they often do it with their children in tow. Women like Habiba Manu, flanked by identically-dressed daughters, her son is wrapped onto her back, just hangin' on as mom picks vegetables. It's all totally normal for them, but it made me smile when I saw it happening. I've seen similar scenes hundreds of times, just never with so much symmetry and color. Of course, the boy was never in any real danger of face-planting."
Phil: "It definitely describes what I see around the world with women in developing countries, the poise that they have and the dedication and the amount of work that they do. She had the presence of mind to dress the two girls on either side in the same outfits. The outfits are gorgeous, and the attention is in the details. The head scarves are the same color."
Lauren: "The scarves really pop against that green and just add to the symmetry, even down to the way the shot is framed."
Phil: "The way it's framed with that blur in the front reminds of a video still; it looks like a moment in a movie. She's carrying her son on her back as she works. It's mom doing it. Moms always do it, and overseas they do it times two."
View Laura's work.
Follow Laura on Instagram.
Follow Laura on Twitter.
Oscar Leiva
Nicaragua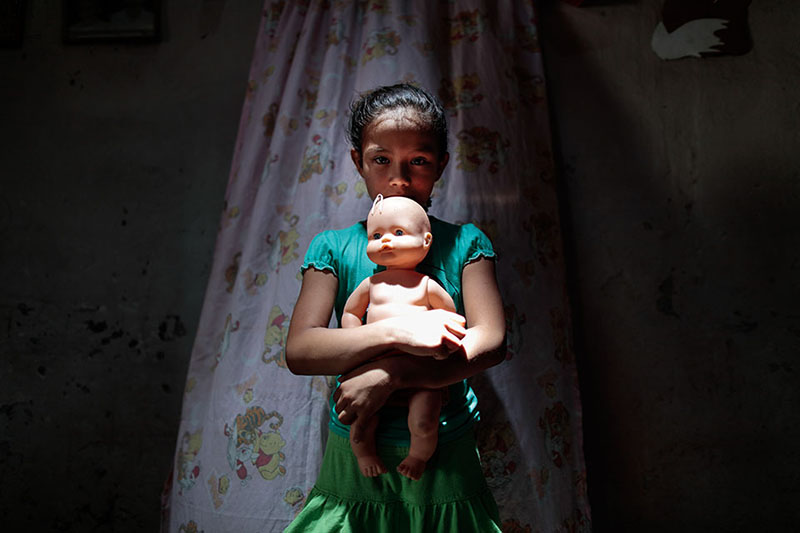 Oscar: "There was this hole in the roof where a strong ray of light illuminated a small spot in the family's living room. So I ask little Esther for a portrait. We had been sharing two days with her family and finally we could break the ice and do more intimate photos in the family house. 
My thoughts were about how many young girls are taught how to be mothers and homemakers at a very young age. It's no wonder Latin America has one of the highest rates of adolescent pregnancy in the world. In rural parts of Guatemala, El Salvador, Nicaragua and Honduras, girls start having babies at 15 and sometimes even younger. Esther has a new kind of role model in her sister Cesia and Loyda who are not thinking about marriage, but instead consolidating their entrepreneurship projects. It might help change the pattern of girls' dreams in this rural town of Nicaragua.  
I was happy with the shadows or chiaroscuro in the photo, but I only had a moment as the wind blew the curtain in the back. Fortunately I captured a decisive moment."
Phil: "What I love about the best photographers we use is their ability to transform things so quickly while they're on-site. Our beneficiaries are not actors; they're real people. Famous photographer Richard Avedon said, 'All pictures are accurate, none of them is the truth.'  What I think he meant by that is that the photographer chooses a moment that may not represent the person's entire life. Yes, the photo is of the actual girl, but the photographer's presence of mind to see that light and choose that moment has now created an image that's about that girl and something else. The photo now represents something larger: possibly all children who are given responsibility—too much responsibility—too early."
View Oscar's work.
Follow Oscar on Instagram.
Mahmud Rahman
Bangladesh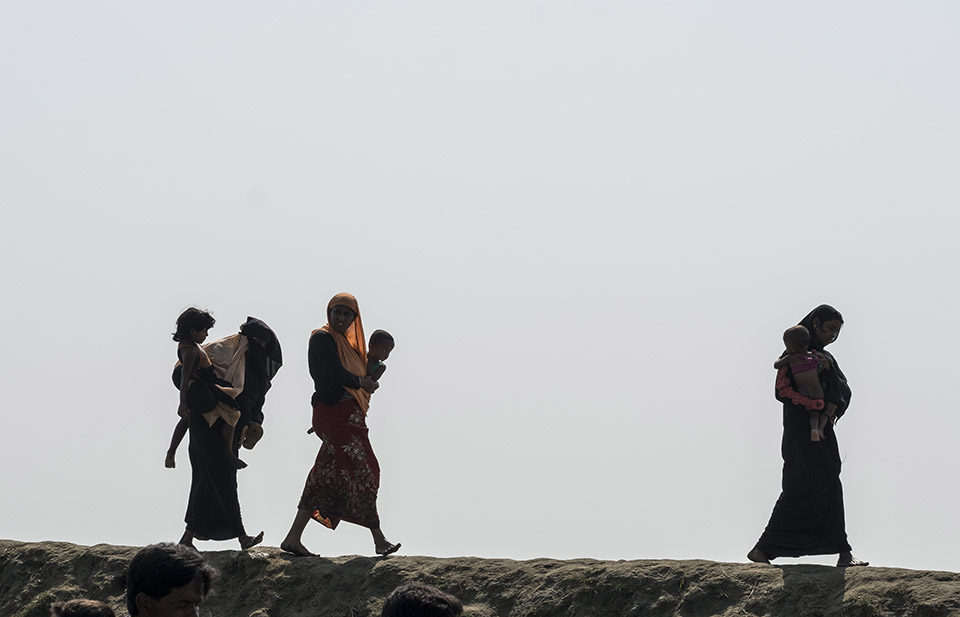 Mahmud: "This is the entry point while Rohingyas cross over the sea channel dividing Bangladesh and Myanmar. Many families told me they walked for days and reached the edge of the water only to encounter the boatmen charging them an atrocious amount of money. They say they 'had little choice.'
I have been to the same point four times in the last two months. It reminded me of my own family's exodus in 1967 from India after a threat to my father as an 'outsider' in Assam, India. My parents had to cross the mighty Brahmaputra on a boat to reach then East Pakistan.
While I was watching the mothers dragging themselves with many children (my mother had 5 at that time), I thought of our journey a few decades back. I am just lucky that we all survived and found a home in Dhaka, the capital city of Bangladesh."
Phil: "I love the negative space, the starkness of the figures against the sky. It speaks to their situation."
Lauren: "At first it seems totally in silhouette, but when you look closer you can see the mothers' expressions and sense the weight of what they're going through."
Daniel Etter
Tanzania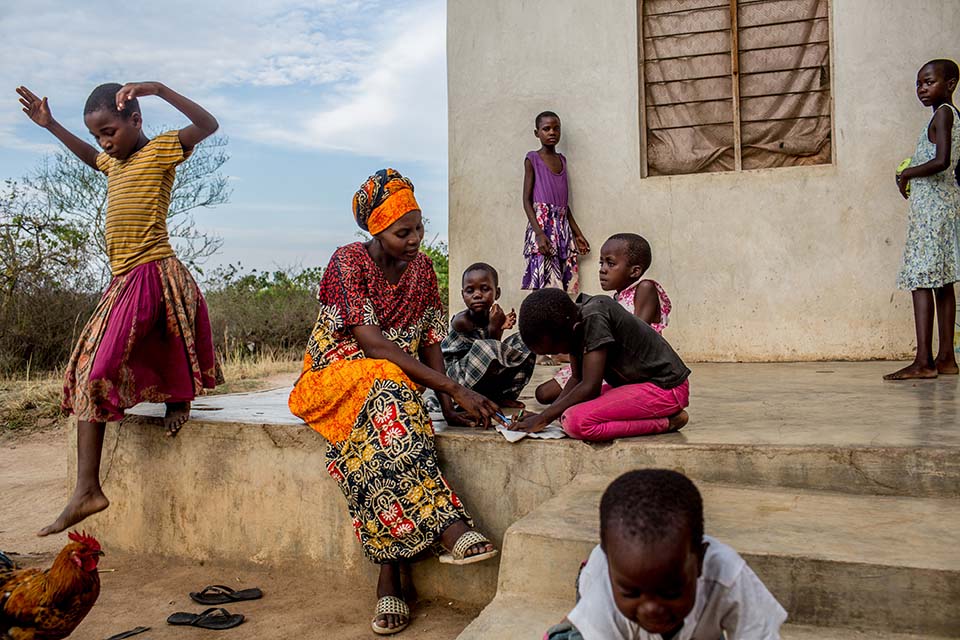 Daniel: "I have rarely seen a couple as loving as Kezia Lucas and her husband Yohana Mathias, who was still at work when I took this photo. When he returned home at night, the first thing he did was to touch his wife's belly and feel how his soon-to-be-born baby was doing. When the girl started kicking, his wife told him that she missed his father. It was really touching to see how they acted toward each other." 
Phil: "I love the mother's poise amidst chaos. Three of the four edges are touched by activity, but she's still completely focused on the child's activity. I also love that there are different, distinct scenes within the image. Almost like…" 
Lauren: "…Yes, like vignettes. I love that the mother is so focused on that one child, even though there are six other children surrounding her, vying for her attention." 
View Daniel's work.
Follow Daniel on Instagram.
Jen Hardy
Myanmar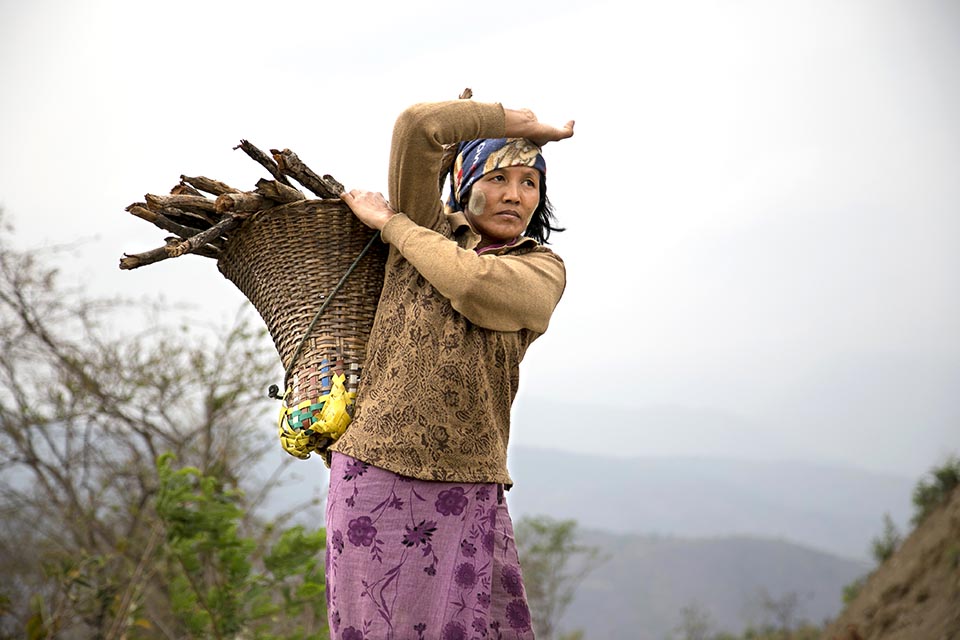 Jen: "I found out I was having a daughter three days before I took this photo, so I was thinking through all the things that she would have to face growing up female, and I find it heartening to see so many strong women persevering through difficult things.
I captured this image around 6 a.m., when I was still bleary-eyed and wishing I had put a packet of instant coffee in my pocket. Tian Kim had already been awake and working for two hours. In addition to Tian's physical strength carrying heavy baskets of firewood weighted on her head and neck, her no-nonsense attitude of getting work done throughout the day matched or exceeded that of working women I've met in diverse jobs all around the world."
Phil: "I love the graphic design in this image. The low angle, the arms over the head, isolate a moment that's like an illustration, a form in Tai Chi or a posture in a dance."
Lauren: "The low angle also presents her as being strong, both physically and mentally. As a viewer, you don't pity her; you admire her."
Follow Jen on Instagram.
Follow Jen on Twitter.
Michael Stulman
Liberia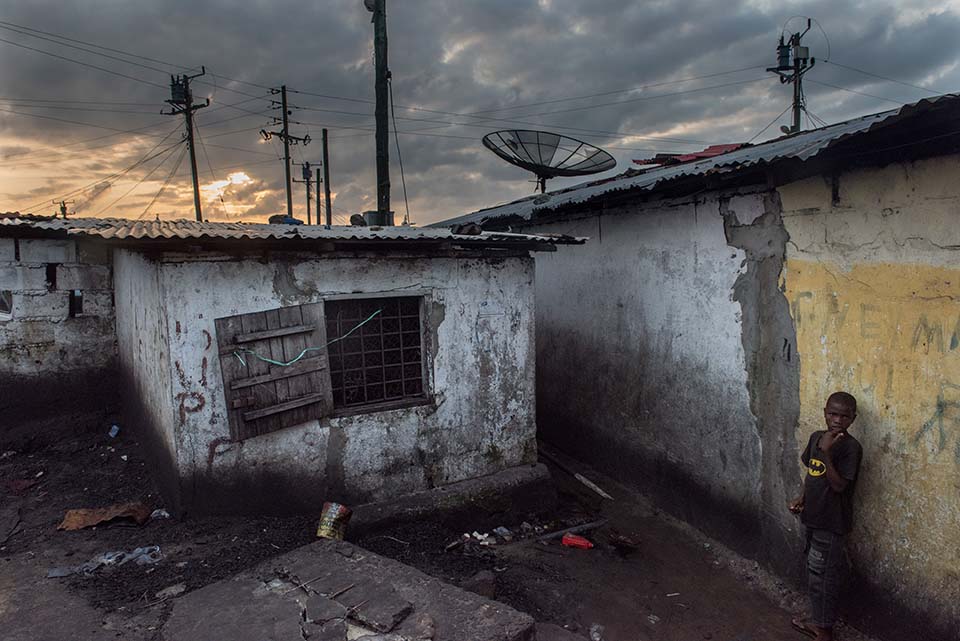 Michael: "When I saw the boy in this picture, I smiled and thought of my 3-year-old son, who loves Batman.     
I imagine he was thinking, 'Why on earth would a photographer be here?' In the photo, you don't see the giant slab of cement–maybe 30 feet long and 3 feet tall. Inside was the excrement from nearby latrines–not exactly a photographer's dream come true.  
The boy's curiosity didn't last long enough for me to introduce myself and tell him how much my son loves Batman. He just continued on his way through the narrow paths between homes."
Phil: "This is another picture that's like a painting. The presence of mind of a photographer to be able to observe something that's happening in the moment and then balance it as if he had planned it, is what fascinates me. I love the light on the roof that has a bit of the yellow. It's very stark."
Lauren: "Yes, it almost looks like it could be a black and white image, but then you see the pops of yellow throughout. It's almost like a colorized black and white photo which I think helps give it that painterly feeling. Again, another very mysterious image. It's dark. You don't know where this boy is, or why he's alone. It raises a lot of questions."
Phil: "The famous Swiss photographer Robert Frank once suggested that it was important to leave something to the viewer's imagination, a mystery, and leave them wanting more."
Follow Michael on Instagram.
Follow Michael on Twitter.
Sara A. Fajardo
Malawi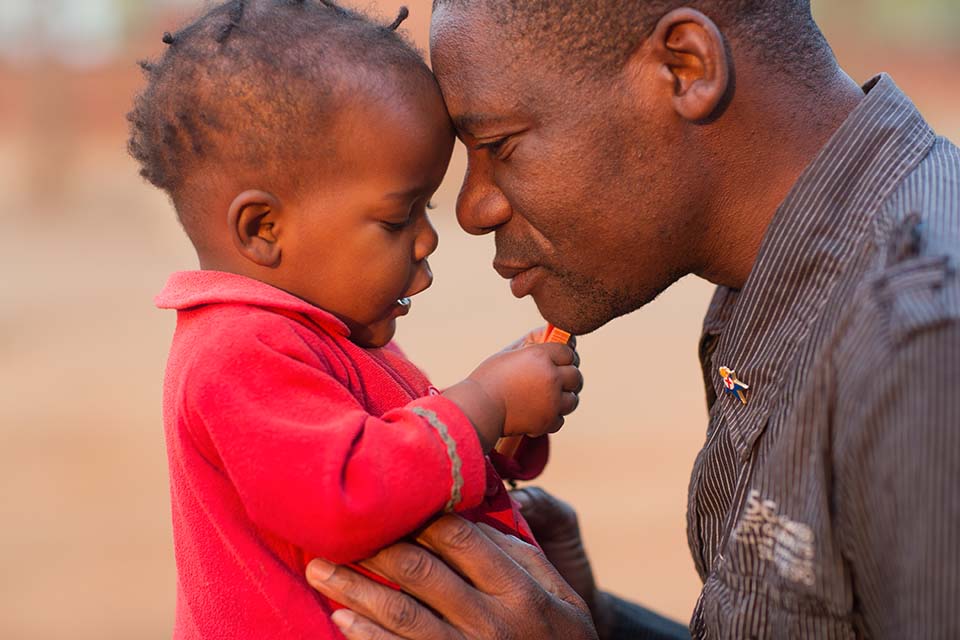 Sara: "Joseph Bistoni made a father's love the simplest image in the world to capture. Each day he's up at 3 a.m. to tend to his fields so he's home in time for when baby Desire wakes up. Whether he's feeding their goats or washing the laundry he's tenderly chatting to Desire who is never more than two steps away. 
The neighbors often peek over at him and snicker over a man doting over a child, but he brushes it aside. Joseph once thought like them. It wasn't until he learned about the importance of a father's involvement in a child's development that he suddenly felt free to enjoy spending time with his daughter.
As I watched Joseph whisper Desire to sleep, teach her to sweep, or give her tender kisses while she cooed, 'Dada, dada,' it struck me how often we don't do things because of what others might think. Joseph was probably always a very tender-hearted and loving man; he just needed someone to tell him it was okay to let it show. 
It's not easy for a man in Malawi to stand up to ridicule, but Joseph does it because he knows that there is nothing more important than being a good father to his daughter. Desire will thrive under his loving attention, and his wife Thokozani gets the help and rest she needs to be a better mom. And the men in the village all get a role model who lets them know it's okay to show a father's love."
Lauren: "It's such a sweet, intimate moment on several levels. They're close physically and Sara is very close to them, so you can tell that she was able to gain trust with them. The sincerity and love in the father's face is so genuine. You don't get that close with many people unless you trust them."
Phil: "Yes, I agree. There's a lot of points that create that intimacy: the head, the chin, the hands. I love how babies test their world—touch a parent's nose, their lips, their chin. It's a testament to the trust you spoke of—she feels safe enough with the photographer to just be herself with her father."
View Sara's work.
Follow Sara on Twitter.
Karen Kasmauski
Kenya
Karen: "At dawn I'm seeking good light on the shore of Homa Bay in Kenya. Here, days start early and end late. That's especially true for women, who live in a constant whirlwind of getting children to school, making tea, and washing clothes. The good light that I need for photography is fleeting. In moments, the gentle light of morning becomes a blinding white glare, and darkness quickly overcomes the soft light of evening.
Upbeat and caring, Jennifer radiates energy. She tells me she copes with her responsibilities by living positively. Her presence brings brightness into the lives of the people she serves. In the end Jennifer becomes the light I was seeking."
Lauren: "This one is so beautiful, there's no denying that. It has a very hopeful feel, they look strong and empowered."
Phil: "It is very painterly. And it's another one that transcends the people involved. It's a symbol of people walking toward a new day, bringing the future literally in her arms. She's walking toward the sun, walking toward the light."
View Karen's work.