Teen Pregnancy and Family Parenting in Kenya
Photo by Karen Kasmauski for CRS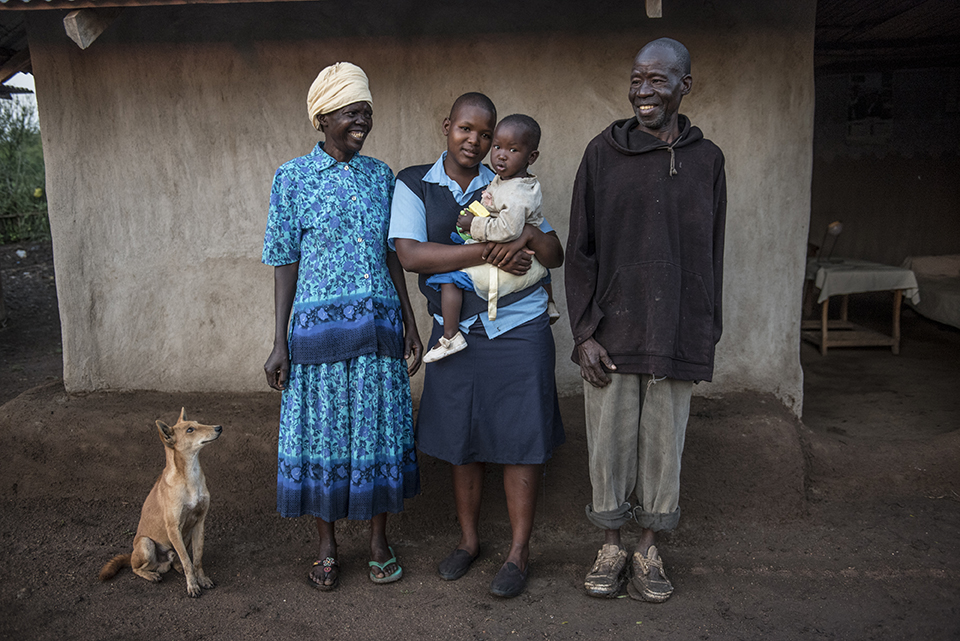 Nancy Achieng, 15, center,  receives help raising her daughter, Passy, from her grandparents Mary and George. Photo by Karen Kasmauski for CRS
Orphaned but not abandoned in Western Kenya
In Western countries, teen pregnancy is viewed as a serious misstep in a girl's life.
It's hard enough to manage a teen pregnancy in a traditional family with means. But imagine a family headed by aging grandparents in sub-Saharan Africa, where many parents died from HIV in the late 1990s through the 2000s.
On the eastern shores of Lake Victoria around Homa Bay, families struggle in a way that's hard to imagine: young boys and men will try their luck at fishing on the lake for meager catches. Others compete for passengers as boda-boda drivers. A motorcycle taxi driver averages $3 a day. And girls often end up married, with hopes that they will be cared for, as their own families receive a little extra income from a dowry.
Nancy Achieng's grandparents had pinned their hopes on her after her parents died. At 12, she was sharp and a good student. She would excel in high school and then study at a university, they thought. Investing in Nancy meant investing in the family's future.
Nancy focuses on homework while her grandmother Mary minds Passy. Photo by Karen Kasmauski for CRS
At 13, already a mom
Then, at 13, Nancy had a baby girl. Passy, now 2, was born right before Nancy's exams for entering high school were to start.
"She hid the fact that she was pregnant so well that we had no idea," said Nancy's grandfather, George Okuta Goga. "One day, I came home, and Nancy had a baby," he says, laughing now, but it was a shock at the time.
His wife recalled with sadness how they had reacted to the news. "We shouted at her, asking her how could she do this, and we gave her a really hard time," says Mary Odero, Nancy's grandmother. "In the end, we were afraid that Nancy would run away, or that she would hurt herself and the baby, or run off and get married, so we changed. We realized we had to support her," Mary says.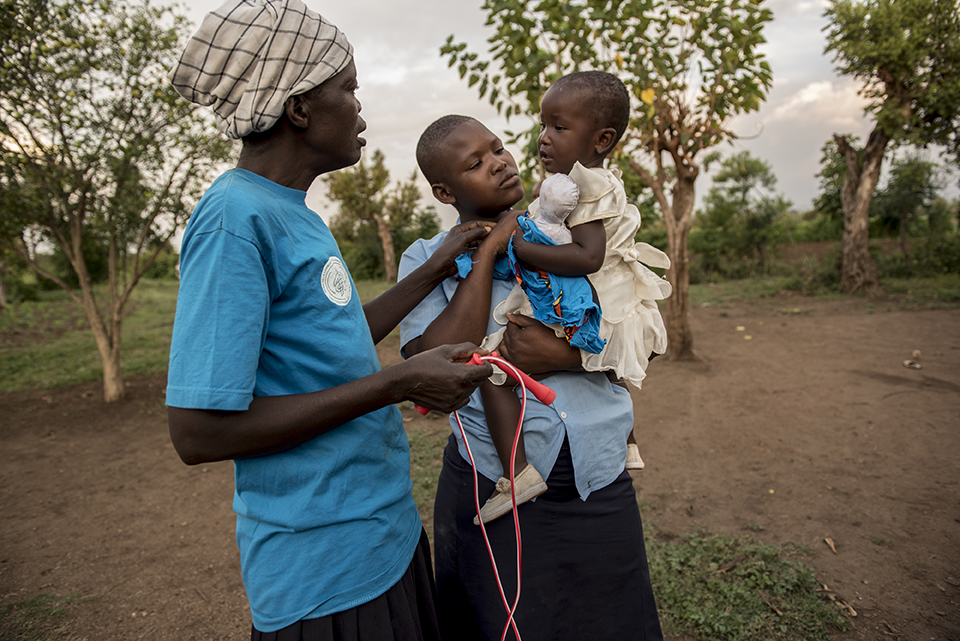 Mary teaches her granddaughter Nancy games to play with Passy, which she learned through the CRS THRIVE II program supported by the Conrad N. Hilton Foundation. Photo by Karen Kasmauski for CRS
Involving the whole family
Nancy was among a group of girls and women who enrolled in a course for mothers and babies through THRIVE II, supported by the Conrad N. Hilton Foundation. But when she realized after only one session that she would have to choose between the course and high school, she chose school.
"I want to become a nurse," says Nancy, dressed in her school uniform, as she looks at the ground.
So Mary, who cares for Passy while Nancy attends school, decided to take Nancy's place in the THRIVE II course.
When Mary is busy working—she also cleans homes and does farm labor—George or Nancy's sister Tracy pitch in. Taking care of Passy is a family affair.
George says he is learning a lot about child development from Mary, who shares what she learns in the THRIVE II program.
"We used to whip children to make them behave," George says, but "I've become more of a counselor now, rather than an authoritarian.
"And my wife and I are like equal partners. If Mary isn't here or cannot do something, we switch roles. We help each other out. I feel rejuvenated taking care of Passy," he adds.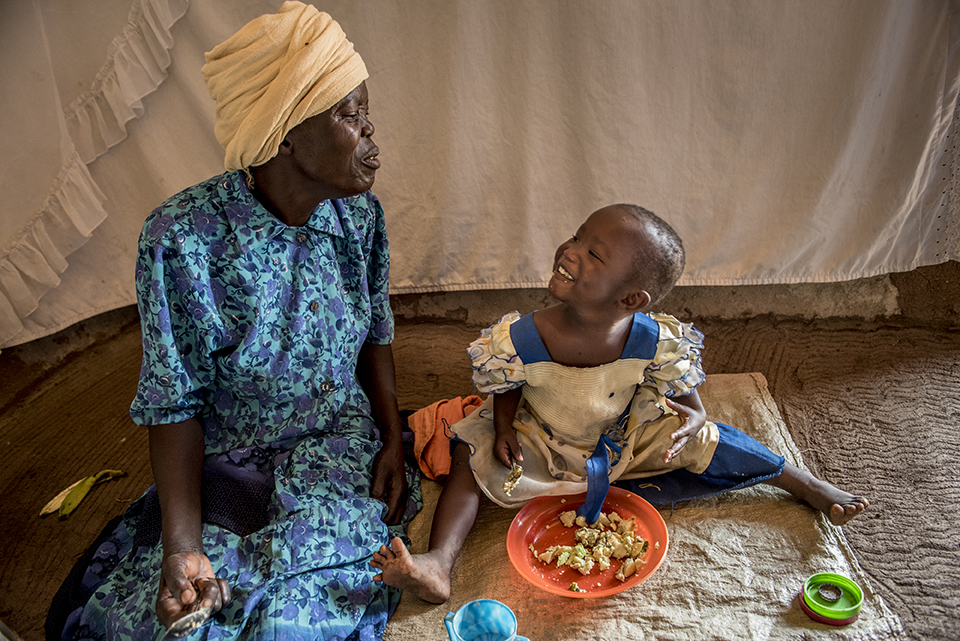 Through the THRIVE II course for mothers and babies, Mary has learned how to provide Passy with more nutritious meals. Photo by Karen Kasmauski for CRS
Supporting parenthood
Mary has learned about hygiene and nutrition—and the importance of play in Passy's development. She shows off a doll made from common household items.
"Just because you don't have money and you cannot buy toys in the supermarket doesn't mean you can't have toys," says Susan Akinyi Okuku, a nurse working at a health clinic supported by THRIVE II. The toys stimulate babies' minds and bodies, she says. If children don't respond to play, it may be because of a developmental delay that can be addressed by caregivers and health workers, she says.
Mary says she has learned to deal with stress through a neighborhood support group and from a volunteer, Jennifer Atieno, who has five children ages 1 to 21.
"We learn the importance of sharing in a group … and I know how to manage my stress when I'm annoyed. I can manage myself," Mary says. And she talks about these strategies with other women in her village.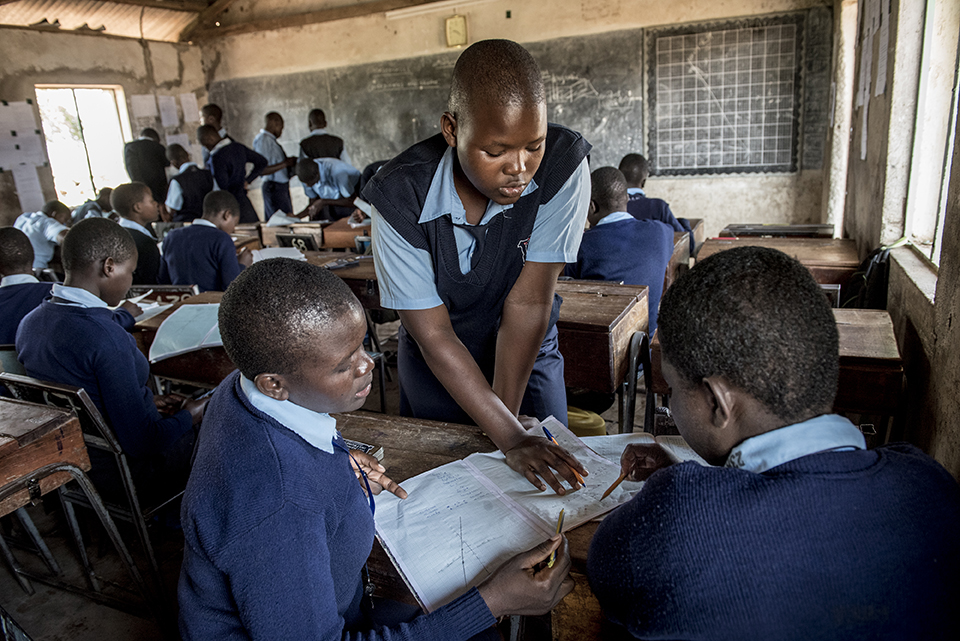 Nancy works with her classmates. With the support of her grandparents, she has been able to stay in school even though she's a teen mom. Photo by Karen Kasmauski for CRS
School fees a challenge
Next year, the family will struggle to pay Nancy's school fees. She contributes to the family's income by doing farm labor when she's not in school. So George prays for a good harvest of beans and maize, which the school accepts in lieu of cash.
George also sells firewood and does odd jobs, but the family still barely makes ends meet. Last year, at the peak of the El Nino drought, he sold his last bull for about $150.
"I don't know how I'll do it," he says, but he is determined to help Nancy finish school and realize her dream.
"Nancy made a mistake," he says. "But she has learned from her mistake, and she is compensating for that.
"She has been given a second chance. Everyone respects her for that, and I want to give her support."