Tanzania Coffee Fuels Youth Employment Project
Photo by Will Baxter/CRS
In Tanzania, women play a vital role in the coffee industry and contribute as much as 75% of the manual labor. Yet men have traditionally been solely responsible for selling the coffee and deciding how to spend the profits.
That's why Catholic Relief Services and Hanns R. Neumann Stiftung, a non-profit that works with rural small-scale coffee farmers to improve their livelihoods, are working to promote gender equality and joint decision making among couples taking part in our Kahawa ya Kesho—or "Coffee of Tomorrow"—program. The privately funded, five-year initiative aims to increase livelihood opportunities for 450 rural youth from the ages of 18 to 35 in coffee producing communities in the Southern Highlands of Tanzania.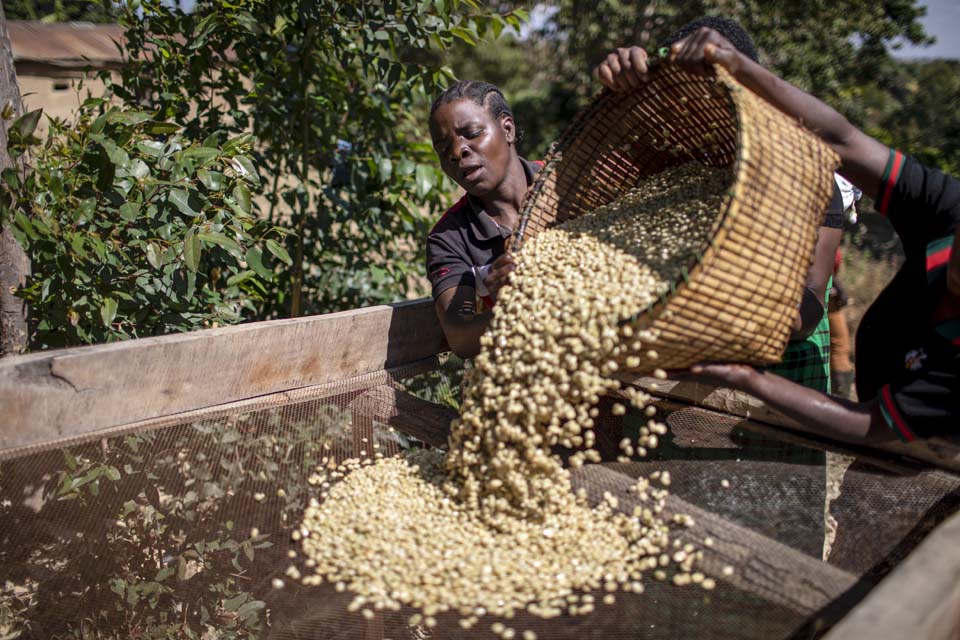 Members of the Nkuyu Coffee Group dry coffee on raised racks as part of the Kahawa ya Kesho project in Tanzania.
Photo by Will Baxter/CRS
"Before, we had specific activities for men and women, but after being trained on gender, now men and women in the community can both participate in all activities in coffee production," says 24-year-old Volina Halfjeck Kalonga, secretary of the Nkuyu youth coffee producer group in Mbeya district's Shongo village.
Volina and her husband have now started collaborating to plan their household budget and decide how to use their income. "I want to buy roofing for the house, and expand my farm where we are growing both coffee and vegetables," she explains, adding that she and her husband have decided to save in order to buy another plot of land. 
Encouragement and mentoring
It is important for women like Volina to take leadership roles in youth coffee producer groups, says Ezekiel Kapange, a gender and youth officer for Hanns R. Neumann Stiftung Africa.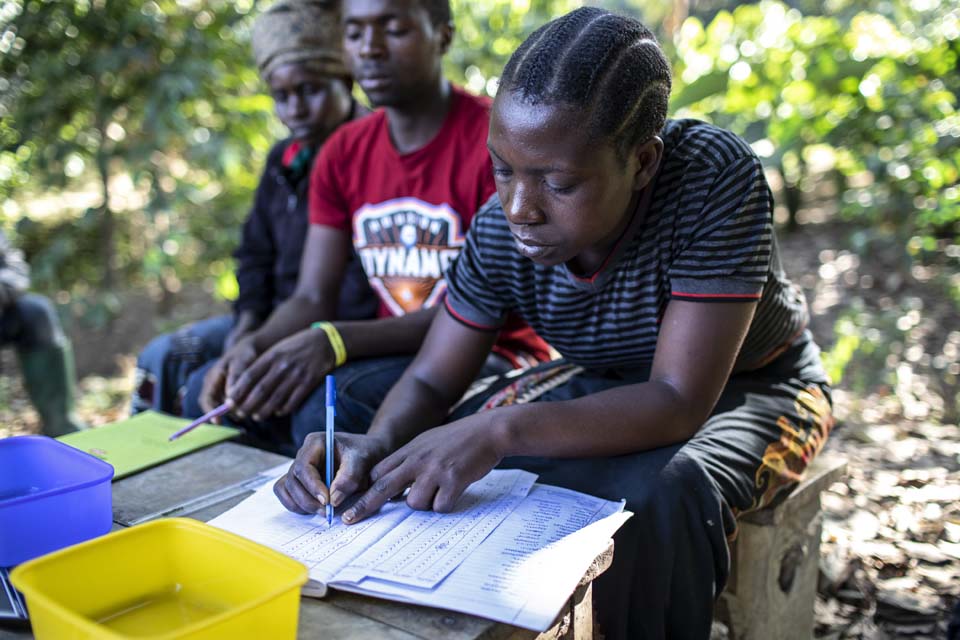 Volina Halfjeck Kalonga, secretary of the Nkuyu Coffee Group, documents the proceedings during a savings group meeting. 
Photo by Will Baxter/CRS
"We want to encourage more women to access extension services, to attend trainings and encourage more women to take leadership positions ... so that they can be part of the decision-making process in the groups they belong to, and also in their households and the community," he says.
Juhudi Mwajunga, the chairperson of Volina's group, says that the mentoring he received has helped change his perceptions about gender roles.
"Before this project, I was the one in the family who used to make all the decisions at the family level about what to do with income. But through this project, I learned that I should also involve my wife. Now my wife and I are both engaged in coffee farming and decision making," Juhudi says. "We create our budget together."
Shared decision making
In addition to the mentoring participants receive from CRS and Hanns R. Neumann Stiftung, in each youth coffee producer group there are designated change agents. They counsel other couples on why it is important for husbands and wives to share responsibilities, make decisions together that affect them as a couple and share in the profits from coffee farming.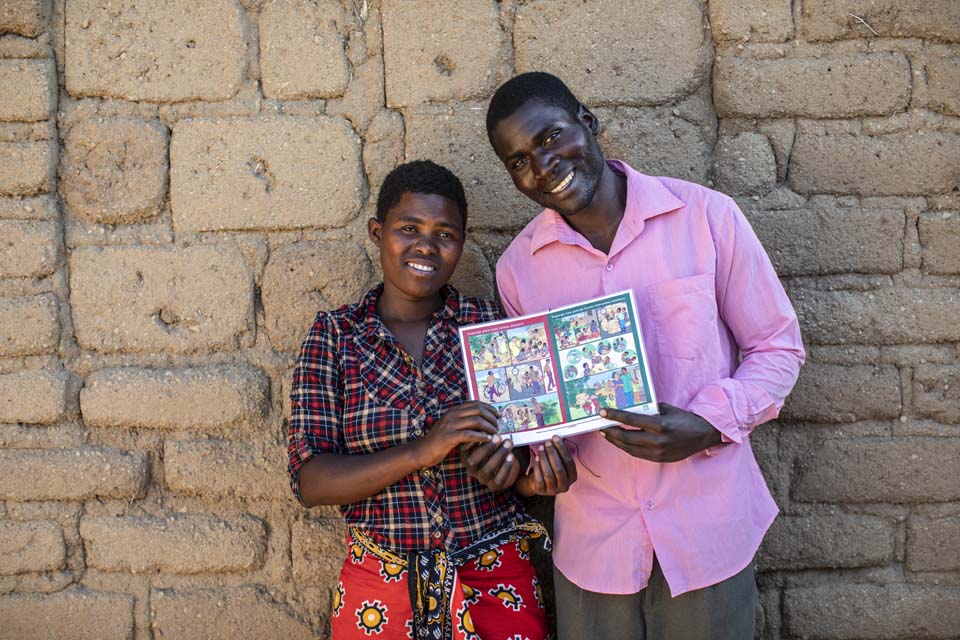 Siaba Admini Kamene, left, and her husband Frank Mwalwange, are both members of the Nkuyu Coffee Group in Igale village, Tanzania. They are taking part in a five-year initiative to increase livelihood opportunities and strengthen the economic empowerment of rural youth from the ages of 18 to 35 in Tanzania's Southern Highlands.
Photo by Will Baxter/CRS
"Due to cultural reasons, women in this area are not typically involved in some activities," says Frank Mwalwange who with his wife, Siaba Kamene, are the change agents in the Nkuyu youth coffee producer group. Specifically, women are excluded from the decision-making process when it comes to the household budget.
"We help our fellow group members to create a joint vision and budget plan," Frank says. "At first people resist, but eventually they come to understand the benefits of a husband and wife cooperating."
For example, Siaba recently came to Frank with a proposal for a major purchase.
"One of the ideas I initiated was buying a cow," Siaba says. "The reason for that idea is that with a cow we can get milk to drink and also manure for fertilizer."
When Siaba raised the idea with Frank, he agreed almost immediately. "When my wife proposed the idea of buying a cow, for me, I thought it was a good idea. Before we used to have to buy milk every day," Frank says.
Fostering entrepreneurship and savings habits
Small-scale coffee farmers in Tanzania face an array of formidable challenges including chronic poverty, food insecurity, weak agriculture organizations, and limited access to financial institutions, market information, inputs and technical assistance. Even though 90% of Tanzanian coffee originates from small-scale farmers, few of these coffee producers can rely exclusively on coffee for their livelihoods. As there is only one coffee harvest in Tanzania per year, families often find themselves with little to no income for two to six months of the year.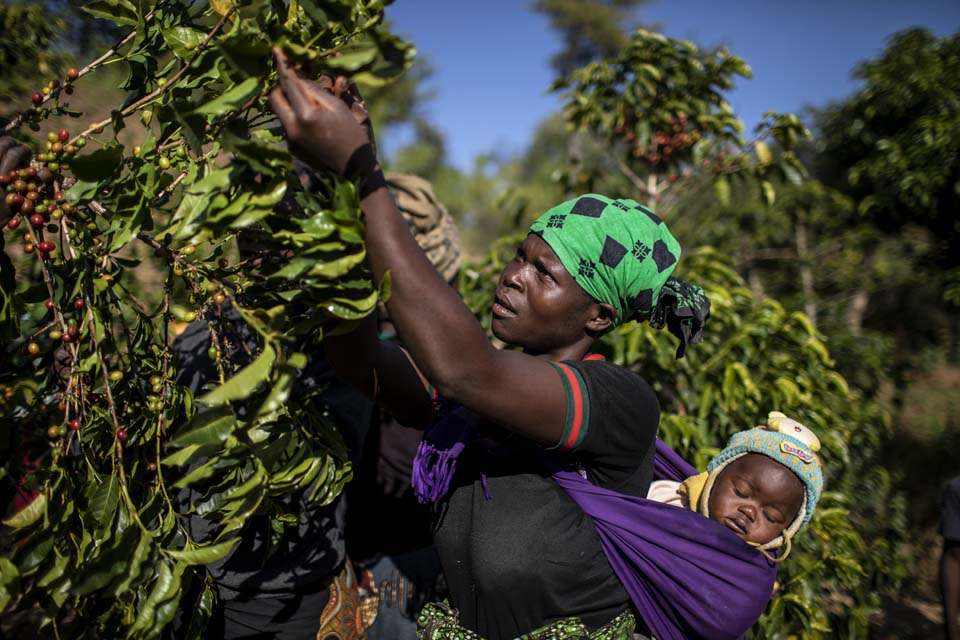 Jenipher Halfjeck Kalonga, a member of the Nkuyu Coffee Group, picks coffee as part of a project to sustainably increase coffee production, engage youth, develop business skills, and diversify livelihoods for rural youth and their households.
Photo by Will Baxter/CRS
For this reason, couples taking part in the Kahawa ya Kesho project to learn about saving and borrowing, and learn how to start and manage a small side business. By taking part in savings and internal lending communities, group members are able to pool their money, save over time and borrow to invest in business opportunities, or cover costs when urgent household needs arise.
"Before, we did not have any financial education so we spent our money badly," says Juhudi. "We have changed our behavior. Now we have savings habits."
The entrepreneurial component of the training teaches participants to identify business opportunities, assess what resources are available to them, and keep records of their profits and expenditures.
Jenipher Halfjeck Kalonga jumpstarted a business selling chickens with a $26 loan she received from her savings group.
"Before we did not have a place to take out loans. Now we can take loans with just 5% interest," she says.
Jenipher buys chickens for $2.60 each from local farmers and resells them for a $1.75 profit at the market. She also buys and sells peas, purchasing just over 2 pounds of peas for $4.35 and reselling if for $6.53.
Focus on farming as business
Volina, meanwhile, has really appreciated learning about bookkeeping. "Because I keep a record now, I am able to know my profits and expenses," she says. That, in turn, helps to inform future decisions about how much she can spend on household needs or reinvest.
Another key outcome of the project, she says, is that the Nkuyu Coffee Group has been linked to financial institutions and government lenders.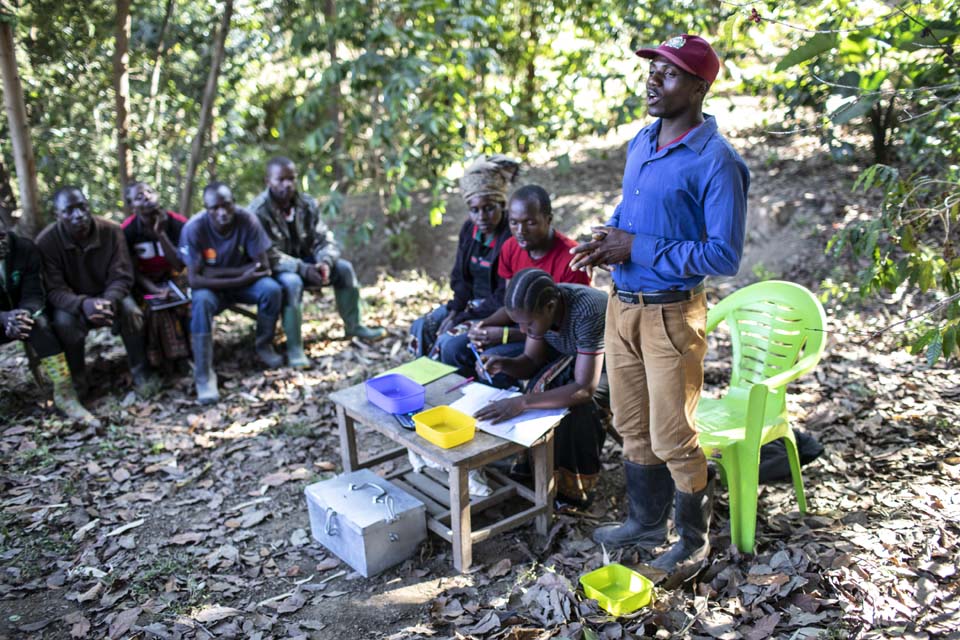 Juhudi Edward Mwajunga, right, is chairperson of the Nkuyu Coffee Group. Here he speaks to youth who are taking part in the Kahawa ya Kesho project.
Photo by Will Baxter/CRS
"As a group we decided to open a bank account at National Microfinance Bank," Volina says, adding that the reason is twofold. During the time of share outs in the group, there is a significant amount of money in their lockbox. "For the safety of the group we want to deposit that money in the bank," Volina says.
The second reason is that last year the Tanzanian government introduced new regulations that require all coffee farmers to sell their coffee through registered cooperatives at auctions run by the Tanzania Coffee Board. A stipulation of this new measure is that payments from the auction must be deposited directly into a bank account.
Juhudi credits the business training and group dynamic for empowering them to improve their livelihoods.
"Before, when we were working as individuals, it was not easy for us. The entrepreneurship training gave us insight on how to identify opportunities," Juhudi says. "Now because of the group, we can save as a group."
"Now we focus on farming as a business."