Sustained Food Aid in Ethiopia
Photo by Will Baxter/CRS
Birhan T/medhin* has persevered through the droughts that have plagued Ethiopia in recent years, but after her harvest was wiped out by flooding she considered uprooting her family to migrate in search of day labor.
"The food I grow is used solely for household consumption. Even in normal conditions it is not enough," she explains. When her crops were destroyed, she began mulling over the idea of abandoning their home.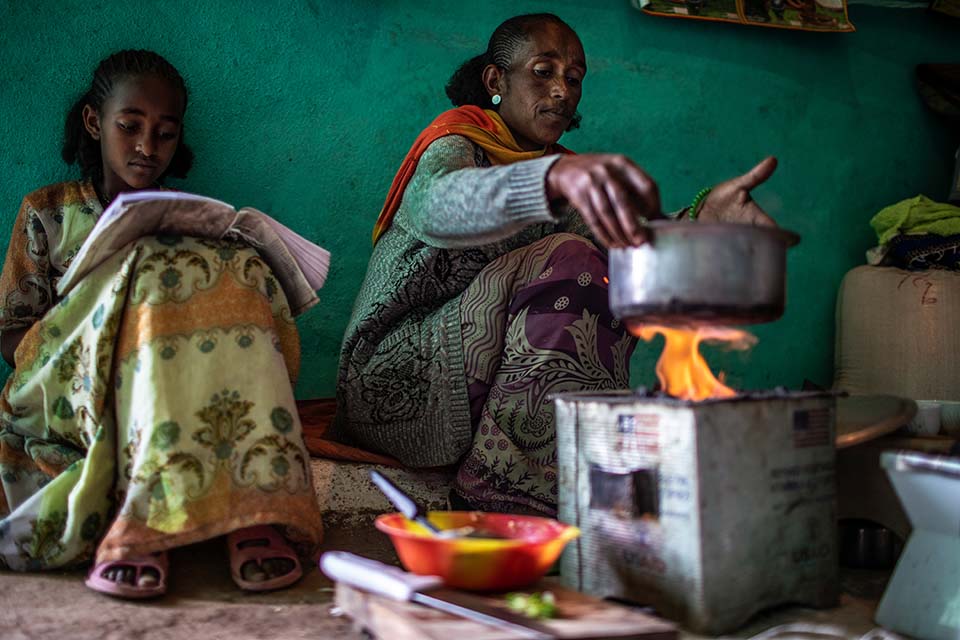 Birhan T/medhin, right, cooks a split pea dish using rations she received from the Joint Emergency Operation Program, at their home in Mezutey, Ethiopia, while her daughter Tsige reviews her homework.
Photo by Will Baxter/CRS
"I would have sold everything. My husband would have migrated separately," says Birhan, who lives in the Tigray region of northern Ethiopia. "We would have migrated where there are big projects such as road construction."
In rural Ethiopia, the vicious cycle of droughts, unpredictable flooding and crop failures can leave families with little or nothing to eat—forcing them to sell their possessions, pull their children out of school or even migrate in search of work.
Food distributed through JEOP—or the Joint Emergency Operation Program—is funded by the U.S. Agency for International Development's Office of Food for Peace and serves as a valuable lifeline for more than 1.6 million people in these times of need.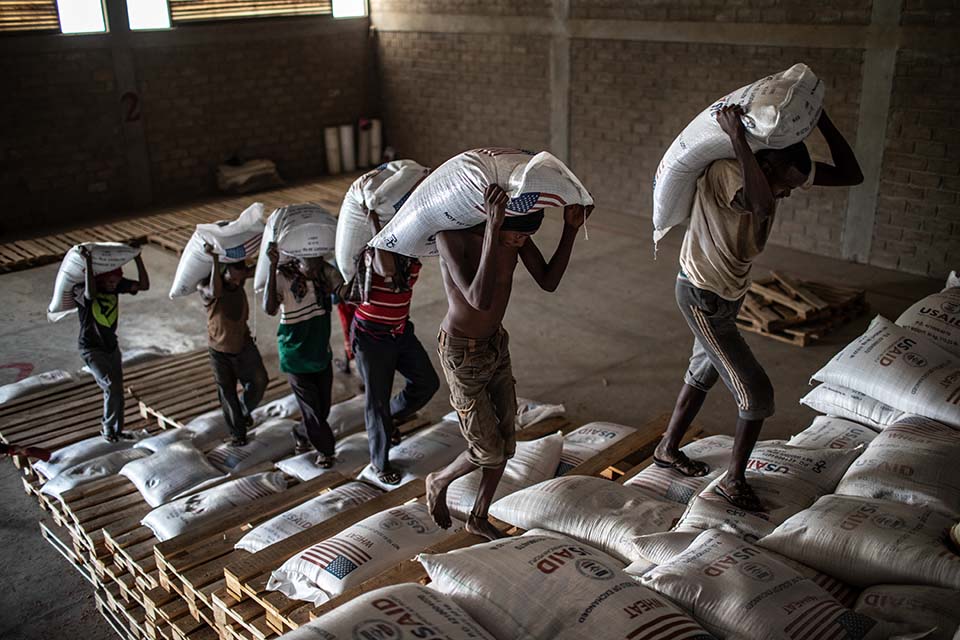 Laborers carry bags of wheat on to roof-high stacks at a warehouse operated by Ethiopia's National Disaster Risk Management Commission in Shinile, Ethiopia. The warehouse is used to store commodities distributed through the Joint Emergency Operation Program.
Photo by Will Baxter/CRS
Led by Catholic Relief Services, a consortium of non-government organizations works hand-in-hand with the government of Ethiopia and community leaders to distribute wheat, yellow split peas and cooking oil in as much as 33% of drought- and emergency-affected areas of the country each year.
During each distribution, which takes place every 30-45 days during lean months, families supported by the program receive rations of 33 pounds of wheat, 3.3 pounds of split peas and a pound of vegetable oil per person in the home. Between January and August 2019 alone, CRS and its partners distributed 96,320 metric tons of food to people in drought- and emergency-affected areas of the country.  
Since 2016, when CRS started using new technology to track food aid in Ethiopia, 99.99% of food distributed through JEOP has been accounted for and delivered to the families for which it is intended.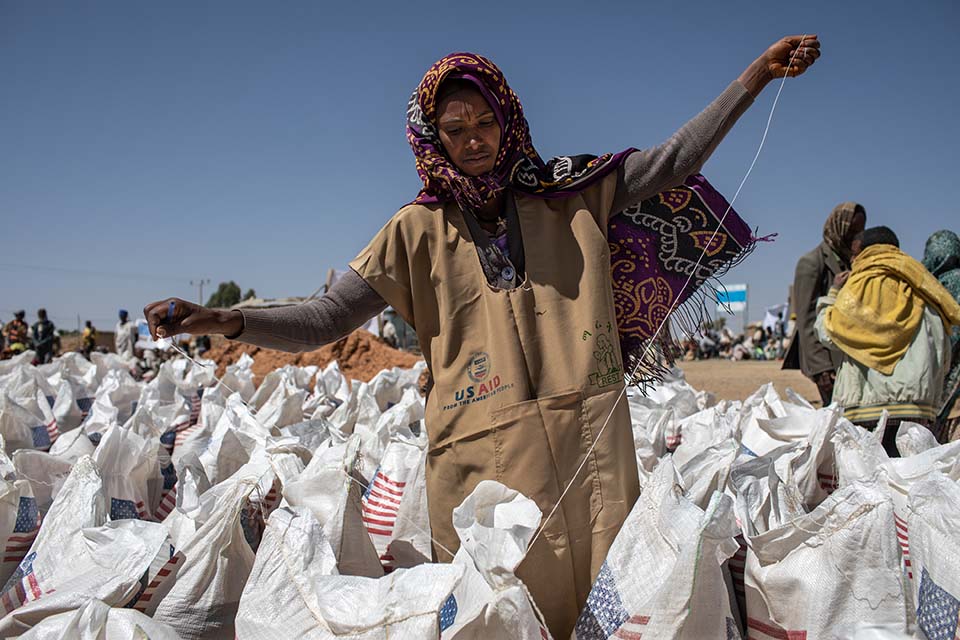 A scooper opens bags of wheat at a food distribution point in Hawzen district, Ethiopia.
Photo by Will Baxter/CRS
"If people didn't receive this aid they would have to migrate. It is safer for them to stay near their homes. If they leave, they will face additional hardships," says Birtukan Gedefaw, a storekeeper with CRS partner Food for the Hungry.
Women and children are particularly vulnerable during times of food scarcity, and without adequate nutrition their health can deteriorate. Before Birhan was identified for support through the program, her four children struggled to stay healthy and frequently missed school.
"Now we are feeding our children three times a day. We are sending them to school. There is a real difference," says Birhan.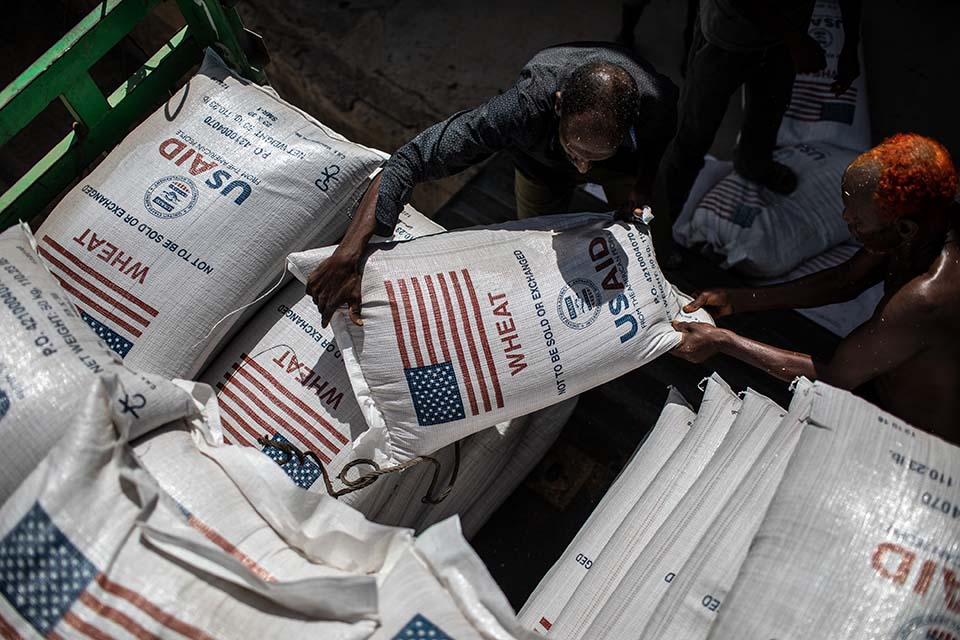 Laborers offload bags of wheat that have been transported by truck from the Port of Djibouti to a warehouse operated by Ethiopia's National Disaster Risk Management Commission in Shinile, Ethiopia.
Photo by Will Baxter/CRS
CRS also helps people to hold onto their hard-earned possessions. Birhan has a cow and a calf, but initially worried she would have to sell both.
"I would automatically sell the cows because I would not be able to feed them," she says. Worse still, if she sold them at loss, she might find herself in debt. "I bought these cows with a loan from the local credit institution, so I would not even be able to pay back the loan."
Like Birhan, Febedu Mehari has been able to keep her livestock because a significant portion of her family's food needs are met by program rations.
"Before, we were selling our hens, milk, and goats. Now, because JEOP is supporting us, I don't need to sell animals or our other assets to buy food," says Febedu, who also lives in the Tigray region. "We can survive because we can produce hens, sell eggs, have cows and get milk. So there is no need to migrate to another place."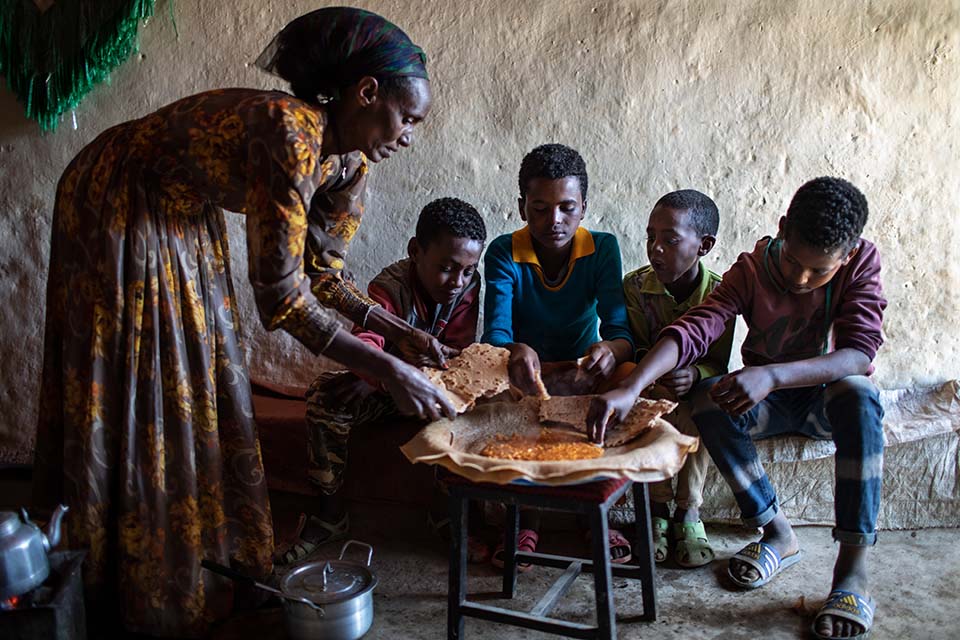 Febedu Mehari serves a meal of injera and a yellow split pea dish to her children in Hadush Emba, Ethiopia.
Photo by Will Baxter/CRS
Orchestrating a massive, timely response during an emergency food shortage requires expertise in areas such as logistics, coordination and monitoring, as well as strong relationships.
Girma Kebede, emergency and program manager for CRS partner Hararghe Catholic Secretariat, says that the success of the program lies in its transparency and cooperation among stakeholders.
"JEOP stands for true partnership," Girma says. "To work as a JEOP manager, it makes me very proud. For the drought-affected population, the food we provide is a lifeline. It can hold families together."
*Traditional spelling