Sustainable Care for Kenyan Children Affected by HIV
Photo by Will Baxter/CRS
"Now that I am back in school, I feel like life is back to normal. I feel like I have a family again."
Francis lost both his parents to HIV when he was just 3 years old. His grandmother took him in, but it was not long until she also passed away and he was left with no one to take care of him.
That marked the beginning of a worsening nightmare for Francis. He stopped going to school regularly, meals were hard to come by, and his uncle kicked him out of his grandmother's house and told everyone in the family not to help the boy.
For a long time after that, Francis was forced to fend for himself. To raise money to pay for school fees, he would make and sell charcoal.
"I started burning charcoal to raise money for my school fees. Sometimes my uncle would take the money I raised, claiming that I had stolen from him and all my hard work would be in vain," Francis says.
Strengthening institutions
Despite missing half a term, he still performed well in school.
"The teachers were so understanding. They would let me sit for my exams even when I had not fully paid my fees. They did so because they understood my situation. I felt lost, lonely and unloved," Francis explains.
Fortunately for Francis, he was identified for support through MWENDO, a Catholic Relief Services-led project funded by the U.S. Agency for International Development and the President's Emergency Plan for AIDS Relief, known as PEPFAR. Mwendo helps caregivers and communities provide support to children affected by HIV and AIDS. The project improves access to health services, helps families set up and run small businesses, and strengthens the ability of local institutions to respond to child welfare and protection needs. Since its inception, the project has reached more than 250,000 children across 13 counties in Kenya.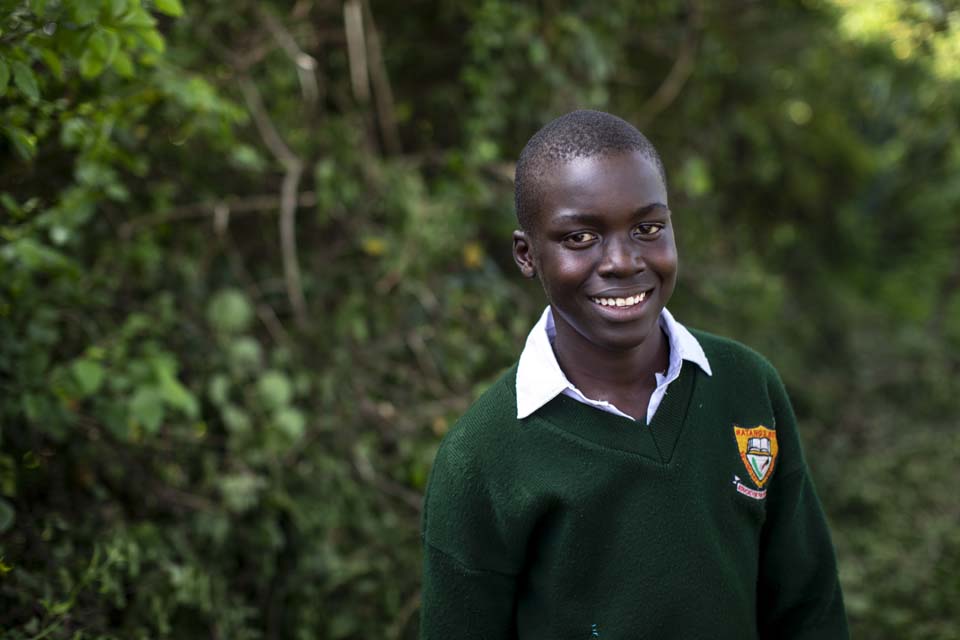 Francis Onyango Otienoo stands outside his aunt's house in Homa Bay County, Kenya. Francis' parents died of complications related to AIDS, He now lives with an aunt who is provided with livelihood support through  project MWENDO that also helps Francis so that he can attend school.
Photo by Will Baxter/CRS
Helen Wagaluka is a community health volunteer attached to The Women's Initiative in Education, one of CRS' local implementing partners in Kenya. When she found Francis in June 2018, the 14-year-old was living alone in a dilapidated shelter, malnourished and traumatized.
Enrolled in high school
"I remember that day. It was a sad sight. I am glad he is now in school and under the care of his aunt," Helen says. "His uncle threatened the members of the extended family not to take him in, and because they were afraid of him, all they could do was sneak in food for him."
Helen says that to place him under the care of his aunt, they met with local leaders and Francis' extended family to come up with a solution best suited for the well-being of the child. 
One of Francis' aunts, who has HIV, was enrolled as a recipient of the emergency fund through MWENDO to enable her to support her household and Francis so that the household can follow through with their agreed upon care plan.
An emergency fund was established to help families who are unable to meet their immediate needs like food, school fees, clothes, and other essentials. Funds are disbursed in Kenyan shillings, with amounts ranging between $78 and $146, based on the family's needs. The fund is designed to help sustain families while they work toward stabilizing their economic security. In the case of Francis' aunt, she is being supported to set-up a small business to boost her household income.
Back to normal
"I received 8,000 shillings over a period of four months. The first disbursement was 4,000 shillings, which I used to buy text books for Francis, and as pocket money. Some of that money also went into supporting the family with food," says Francis' aunt. "I am happy that I can now freely take care of Francis," she adds.
Francis enrolled in high school in February 2019. Now he is doing well both academically and psychologically. Because of the trauma he went through, he receives psychosocial support to help him recover and Helen checks in regularly with him to ensure his needs are met.
"Now that I am back in school, I feel like life is back to normal. I feel like I have a family again," Francis says, gratefully.
He is now hopeful enough to look ahead to his future. "I want to become a lawyer one day so that I can advocate for children's rights," Francis says.
Give Education to Children in Need