Supporting Health and Livelihoods in Kenya
Photo by Will Baxter/CRS
In 2007, Zawadi Kahindi Charo and her husband Samuel Fondo learned that they had HIV.
"It took quite some time to convince my husband that we should be tested. We were sick on and off. He only agreed after he had suffered a series of illnesses," says Zawadi.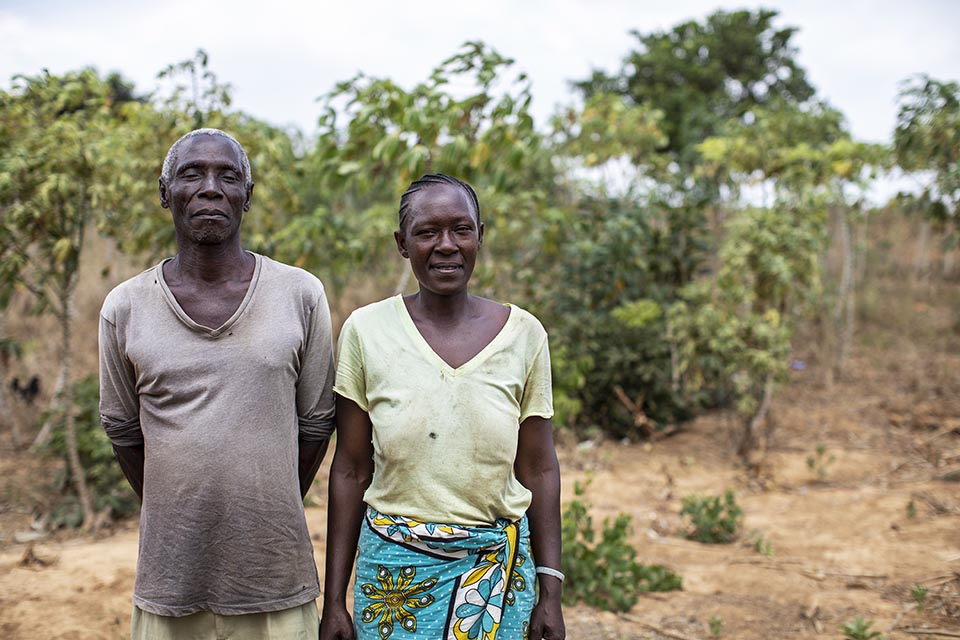 Zawadi Kahindi Charo and her husband Samuel Fondo both have HIV and care for a child with HIV. A CRS project serves them by improving access to health services, helping families set up and run small businesses, and linking them to community savings groups, among other services.
Photo by Will Baxter/CRS
Initially, Samuel was placed on antiretroviral medication, while Zawadi began taking other medications before being put on an antiretroviral regimen as well.
At the time, Zawadi was breastfeeding her youngest child, Emmanuel, who was only three months old. On the advice of doctors at Ganze Sub-county Hospital, she stopped breastfeeding.  Emmanuel tested negative for HIV, but when the rest of the children were tested, one of their daughters, Tatu, tested positive.
When Tatu was ten years old, she began attending peer counseling sessions that are part of an initiative called Operation Triple Zero. These sessions are held monthly and offer a safe space where adolescents living with HIV can share their experiences, receive support from peers, learn how to take charge of their health and make better-informed decisions. They also learn about the treatment goal of achieving the three zeroes: zero missed appointments, zero missed medications and a zero viral load.
"Being in the peer group has helped Tatuto understand HIV better and come to accept her HIV status. The group provides a safe space where she can meet with her peers and discuss issues that affect adolescents like her. Because of this Tatu has been doing well in terms of HIV management," says Zawadi. More recently, Tatu, who is now 16, has begun to mentor other children in her peer group, providing advice and support. 
Tatu also receives a regular supply of sanitary towels at group sessions and has been provided with a watch that helps her remember to take her medication on time.  A Catholic Relief Services-led project called Making Well-informed Efforts to Nurture Disadvantaged Orphans and Vulnerable Children, or MWENDO, is paying Tatu's school fees for the current school year.
Communicating the diagnosis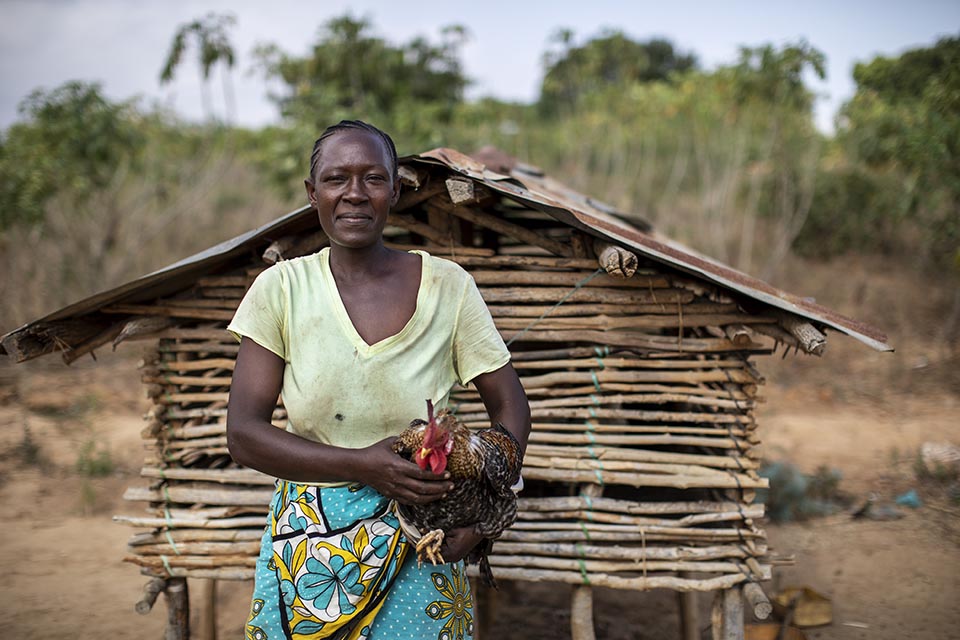 Zawadi Kahindi Charo holds a chicken in front of a coop at her home in Kilifi County, Kenya. As the caregiver of a child with HIV, she and her family receive support through a CRS-led project.
Photo by Will Baxter/CRS
Zawadi and Samuel began talking to Tatu about HIV when she was young, which has helped her to accept her status and adhere to her medication.
"Tatu is a young and empowered girl," Zawadi says. "She has been doing well as a result of the good relationship we have with each other, the openness we have, and because we began initiating the HIV conversation at an early age."
Samuel says, "We have never faced any challenges such as a rebellious child because disclosure [of her HIV diagnosis] is something we began doing at an early age."
Samuel feels it is important to lead by example.
"Seeing is believing. You cannot be teaching your child how to take their medicine if you yourself are not free enough to take that medicine on time in front of the child," he says. "Rather than just telling your child to take their medicine on time, your child will see you taking your medicine on time and will eventually want to emulate you."
Tatu, it would seem, has also adopted this kind of openness. Even as early as primary school, she began disclosing her HIV status to school friends.
"This makes her life easier at school because she has friends who she can talk to about her status. She does not feel stigmatized or isolated because she has people who are supporting her in school. So, she is in a very supportive environment," says Zawadi.
"The best thing that parents can do for their children is allow their children to be free, and make sure the children to get information from their parents first before they are told anything negative from others," says Zawadi.
Economic Empowerment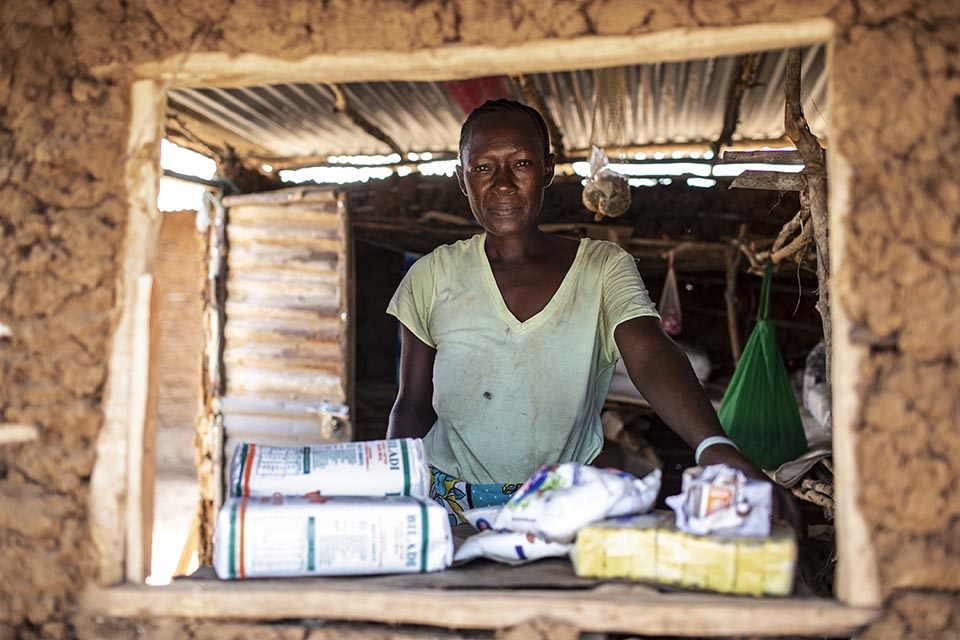 Zawadi Kahindi Charo attends her small foodstuffs shop in Kilifi County, Kenya.
Photo by Will Baxter/CRS
In the past two years, Zawadi's family has begun receiving support through MWENDO, a Catholic Relief Services-led project funded by the U.S. Agency for International Development and the U.S. President's Emergency Plan for AIDS Relief. MWENDO helps parents and other caregivers provide support to children living with HIV and AIDS in Kenya. The project focuses on improving access to health services, helping families set up and run small businesses, linking them to community savings groups, and strengthening the ability of local government and institutions to respond to child welfare and protection needs.
Zawadi received a business grant of about $45.50 from MWENDO. She already had a small kiosk next to her house, so she used the majority of the grant to purchase stock for her shop including 6 and a half pounds of flour, a pound and a half of salt, fresh fish, dried fish and a case of soap. She restocks every two weeks and earns an average profit of $17 per month from this endeavor.
"It is really supporting me to help with our daily needs," she says.
Zawadi also raised chickens prior to receiving support from MWENDO. With the rest of her business grant, she purchased six chicks—one for each family member to look after.
Depending on the size, she can sell one chicken for about $4.50 to $9.
"During the school year, my chicken sales go straight to school needs for all the children. When school is not in session, I sell the chickens mainly to buy food for our meals and other needs at home."
While the profits from her shop and chickens are not enough to live on alone, the money still helps improve her financial stability.
"I joined a savings group where I go every Saturday. I try to make sure I save something every week," she says. Most importantly, being part of a village savings and loan association has provided her with access to loans.
"Through my savings I am able to get loans. With the loans I am able to pay school fees for my children or get money for other things I may need that I would not be able to afford just with my profits," she says. For example, Zawadi took out a loan of $28 in January to help pay school fees for her children.