Supporting Children's Health and Education in Cameroon
Before her parents passed away from HIV-related illnesses, 9-year-old Erica learned that she too had HIV. Erica first moved in with her aunt, but as her health continued to deteriorate, her aunt no longer felt equipped to properly care for her. So Erica's aunt brought her to Rebecca's house—Erica's paternal grandmother—thinking the young girl would also soon die.
Erica, right, her grandmother, Rebecca, center, and Erica's friend, Merci, left, pictured at Rebecca's home in Bafoussam, Cameroon, where they share how the KIDSS project improved Erica's health.
Photo by Louis Blaise Djilo for CRS
At the time, Erica faced several health challenges. She had lesions along her head and legs, and she struggled to walk. She had lost a lot of weight and needed medical support. As Erica became progressively sicker, she eventually needed to drop out of school to focus on her health. At one point, she was in the hospital.
While at the hospital, a caseworker from Catholi Relief Service's Key Interventions to Develop Systems and Services project, or KIDDS, reached out to Erica and her grandmother to tell them about the KIDSS project and how it might improve Erica's life. After the conversation, the caseworker enrolled Erica and Rebecca into the program.
As part of the KIDSS program, which supports over 60,000 children and their caregivers with access to HIV and AIDS care and other services, Rebecca received a grant to launch a small business. She bought chickens to raise and sell. For a while, the added income gave the family enough money to eat an extra meal every day.
However, this added comfort was short-lived, as Rebecca developed pain along her back and legs and could no longer tend to the chickens. She needed to use any extra money for her own medical expenses.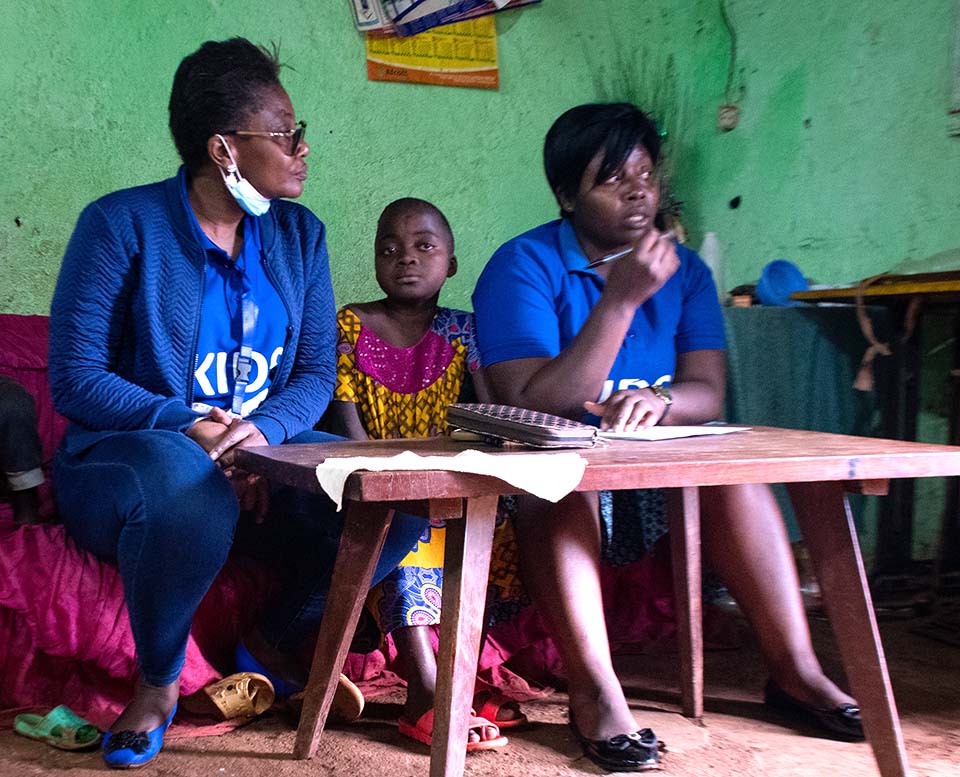 Erica, center, sits with the KIDSS project coordinator, left, and her caseworker, right, who works for Horizons Femmes, one of CRS' local partners in Cameroon. 
Photo by Louis Blaise Djilo for CRS
Despite this setback, Erica's life has changed significantly since she was enrolled in KIDSS two years ago. The program paid for Erica's medical bills and HIV-related testing, which her grandmother could not otherwise afford. KIDSS even assisted Erica and Rebecca with transportation to Erica's medical appointments and to pick up her antiretroviral treatment and other medications. Without this transportation, Erica may have gone without consistent medical care and vital medication. KIDSS also covered Erica's physical therapy costs since she had lost the ability to walk.
Erica received HIV testing three times after her enrollment, to see whether the treatment was effective and if the virus was suppressed. On the third test, it was found to be suppressed. This is a huge milestone in Erica's recovery.
In addition to medical care, KIDSS also supported Erica's education, providing resources such as schoolbooks, uniforms and financial support. With her health improving, Erica was able to return to school.
"I love school," Erica says, as she presents her notebook filled with the new words she is learning to spell.
"We are so grateful to God for the KIDSS project and wish you all great health," Rebecca says.
The Key Interventions to Develop Systems and Services for Orphans and Vulnerable Children project was launched in 2014 by Catholic Relieve Services and is funded by the President's Emergency Plan for AIDS Relief and the United States Agency for International Development. KIDSS contributes to HIV epidemic control and supports over 60,000 project participants to become resilient through provision of targeted interventions in over 60 health districts in all 10 regions of Cameroon.