Struggling Congolese Ease Stress Through Faithful House
Photo by Samuel Phelps/CRS
Even in the best circumstances, household finances can create stress in any couple's relationship. But for Yvonne and Gode Kazadi, raising two children in the Kasai region of the Democratic Republic of the Congo, where many people subsist on seasonal crops and the uncertain rewards of diamond mines, caused financial stress on a daily basis.
Catholic Relief Services, through the Faithful House approach and with support from the U.S. Agency for International Development, is helping couples like Gode and Yvonne manage this stress by developing skills in joint decision making and financial planning. The Faithful House program helps couples meet with facilitators who promote discussions regarding the distribution of household tasks, parenting and natural family planning. The goal is that with improved communication between husband and wife, mutual consultation on financial management will lead to better decisions on spending for food, healthcare and other necessities.
Gode says, "As husbands, we didn't see how we could help our wives in the household domestic chores. I didn't want to pick up my children. I saw it as the work of their mother."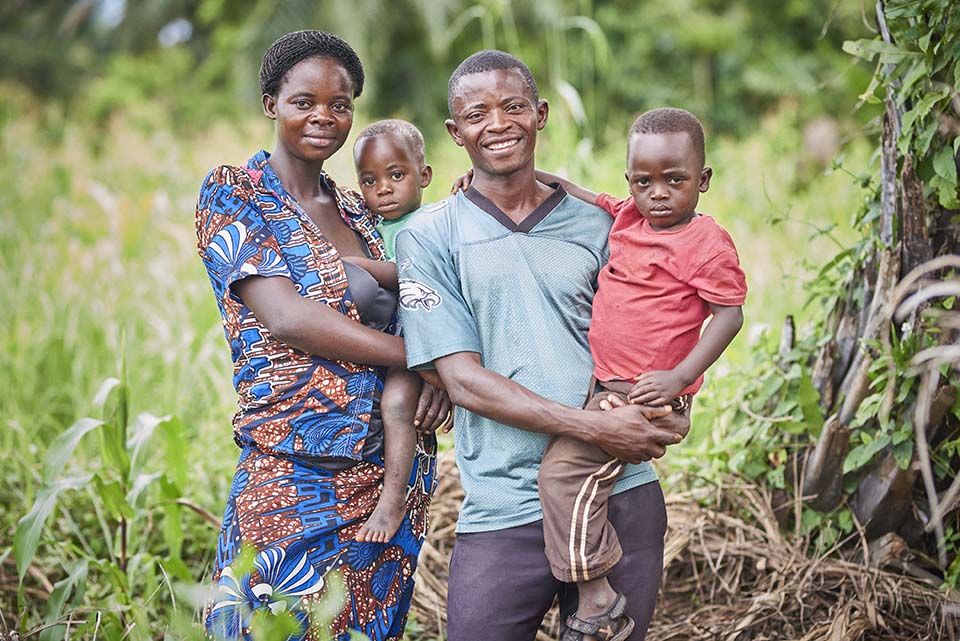 Gode Kazadi and his wife Yvonne Mbuye with their two children Sylvain, 4, and Jancy, 2, stand in front of their garden.
Photo by Samuel Phelps/CRS
Participating in Faithful House meetings once a week with other members of the village and a trained facilitator, Yvonne and Gode learned how they could improve their relationship, share parental responsibilities and face domestic challenges together.
"This is a region where the man of the household traditionally is the sole economic decision maker," says Raymond Mukengere, gender and youth advisor for CRS. "To bring about transformational change that will result in the economic well-being of vulnerable households, we need to reach both the husband and wife. By challenging existing gender norms, promoting couples' communication, joint decision making and positive parenting, we hope for long-term change that will result in healthier children and happier families," he says.
"Before, I saw myself as the chief of the household. But I've changed how I see my wife. Today I respect her as the mother of my children," Gode says. "I learned that it's good to hug my children. They began to express more affection toward me. Now, I play with them every morning and I look forward to seeing them at the end of the day. It's important to show them that we love them and that they are living in security."
Since taking part in the program, Yvonne has also had many realizations. "We didn't get along so well before. We had many disputes. Through Faithful House, we learned how husband and wife can both contribute to the household and plan the future together. Our relationship has really improved," she says.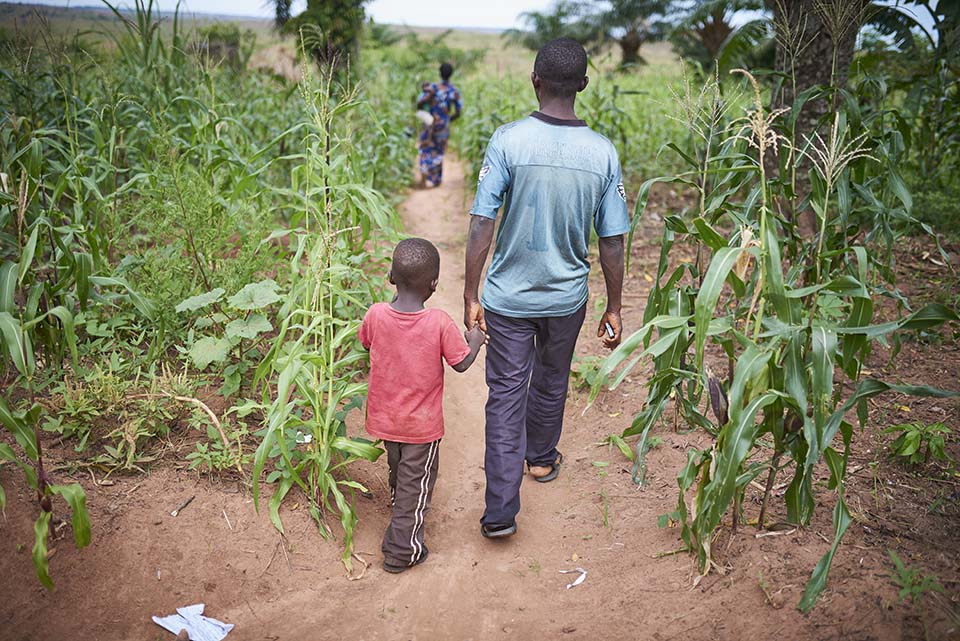 Gode Kazadi walks with his 4-year-old son Sylvain through their fields of corn in the village of Bena Mukendi, in the Democratic Republic of the Congo.
Photo by Samuel Phelps/CRS
Almost 5,000 couples have benefited from the Faithful House program in the Kasai region. In total, the initiative has reached more than 25,000 beneficiaries through community meetings that focus on topics like birth registration, breastfeeding, nutrition and joint decision making about income earned from harvests.
The Faithful House program is part of Budikadidi, a 5-year project in the Democratic Republic of the Congo designed to improve the nutrition and the economic wellbeing of families through initiatives in agriculture, health, governance, water, sanitation and hygiene.
Through Faithful House, Gode and Yvonne have begun to plan for a better future as a family. "Now that we have learned to save money together, how can we make sure our children advance in life?" Gode asks, though he already knows the answer. "By saving, we can invest in their education."