Stronger Marriages Build a Stronger Malawi
Photo by Dooshima Tsee/CRS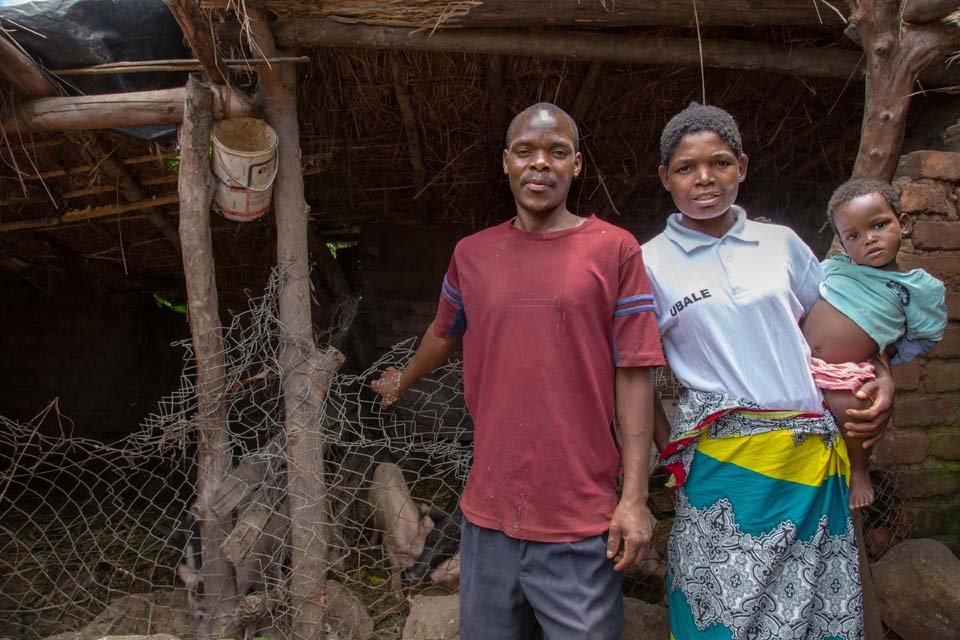 Alex Suleiman, his wife Tokozani stand outside their home with their youngest daughter Grace.
Photo by Dooshima Tsee/CRS
In rural southern Malawi, Tokozani and Alex Suleiman lead by example. Married for 13 years, they volunteer at their local church where they counsel other couples on how to communicate and work together to make life a little easier.
In the village where Tokozani and Alex live, recurrent flooding and droughts cause poor harvests. Life can be very stressful—especially for vulnerable families who must meet their basic needs with dwindling resources. Working together on things like household chores, raising their three daughters, and earning income, has helped alleviate the stress that Tokozani and Alex felt so acutely just three years ago.
When two agree, two improve family income
Tokozani Suleiman, her daughter Grace and the gender champion, Petro Millias, talk in front of Tokozani's home in Nzigala, Malawi.
Photo by Dooshima Tsee/CRS
In 2016, Tokozani began attending gender dialogue sessions in her community. These sessions were part of the UBALE program—a $60 million project implemented by Catholic Relief Services and funded by USAID's Food for Peace program. UBALE means "partnership" in Chichewa, the predominant language in Malawi. The UBALE program takes a holistic approach to alleviating poverty by focusing on all aspects of community life, including health, agriculture, business development, gender equality and local governance.
Before joining these sessions, cultural expectations surrounding the roles of men and women prevented Tokozani from speaking freely with Alex about her ideas for family growth. She was often tired and short-tempered from doing all the household chores and looking after the children. She didn't feel she could share any of her concerns with her husband. Alex couldn't understand why Tokozani sometimes acted tense and upset. They often disagreed and quarreled frequently.
"We both had very traditional ideas about what each person should do. We didn't know how to communicate with each other," Tokozani says.
Alex Suleiman with one of the pigs he is rearing behind their home in Nzigala, Malawi. Photo by Dooshima Tsee/CRS
After attending a few sessions, Tokozani persuaded Alex to try a new way of working to strengthen their marriage. This was when they truly learned how to communicate effectively. The dialogue sessions provided the skills they needed to work together, divide labor in the home, and accomplish family objectives. A gender champion also came to her home once a month to talk to the couple about ways to work together.
Providing opportunities for couples, families and villages to communicate helps them agree on—and achieve—collective goals to improve the community. The gender dialogue sessions helped Tokozani and Alex build a stronger marriage. By working together as a team, Tokozani and Alex started a business raising pigs. They are now able to put money aside for education for their three daughters.
Catholic Relief Services trained 1,098 community leaders like Alex and Tokozani in 264 villages. Community leaders work with families to plan and carry out development projects for the community.
"I was surprised by how much we were able to achieve when we started working together. We would never have been able to do that before," Tokozani says.