Strengthening Liberia's Disaster Preparedness
Photo by Lauren Bell/CRS
On a busy street leading to Duala market in Monrovia, vendors with goods in tow pass by Jartu Varney as she sets up her market space to sell roasted corn. She describes the neighborhood—where she's lived for the past nine years—as lively and "the perfect place for people who want to pursue business opportunities."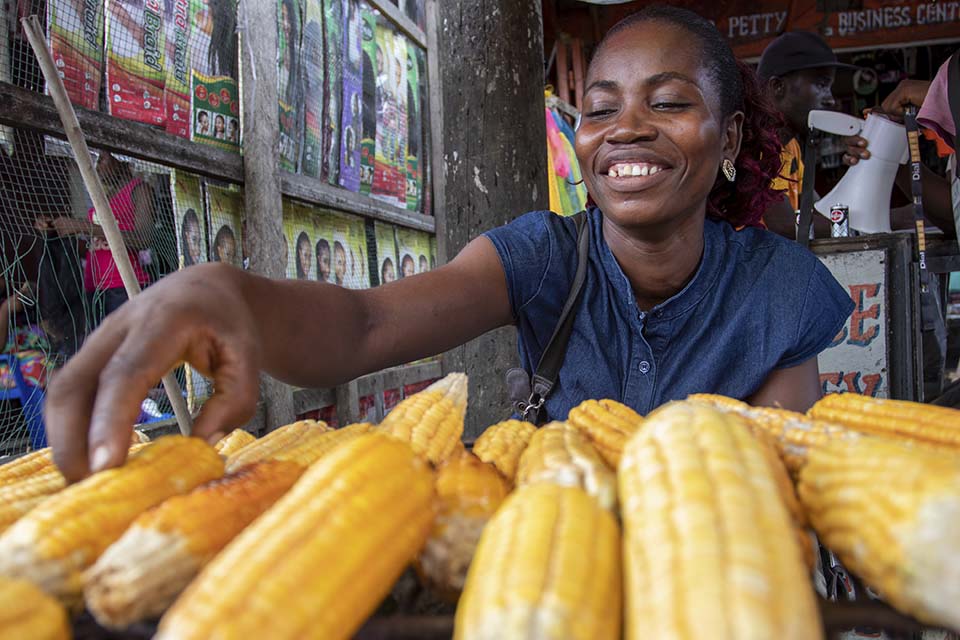 Jartu sells roasted corn at the Duala market.
Photo by Lauren Bell/CRS
Today, Jartu is grateful to be working the market—she's been rebuilding her life since a devastating fire leveled her home in February 2019.
"That evening I went home, I got through selling, things were fine. I did what I could do at home, and I went to bed," says Jartu. "Around 11 p.m. people were shouting, and my daughter came knocking. 'Mom! Mom! Mom! Fire! Fire! Fire!' When I woke up, I saw my entire roof on fire. I had no option but to run outside."
Jartu, her mother, fiancé and three children watched as the swiftly moving fire consumed everything in its path. There was nothing she or anyone else could do to stop the spread of the flames and recover their possessions. Everything was lost.
No one knows the cause of the fire that evening, but it is suspected that an illegal electrical connection was the culprit.
In the Kissi Camp community where Jartu and her family live, fire disasters are not uncommon. With the high cost of rent and expanding city centers, urban families living in poverty are faced with limited housing options. Because of this, families are forced to move into informal settlements where homes are congested and built from combustible materials.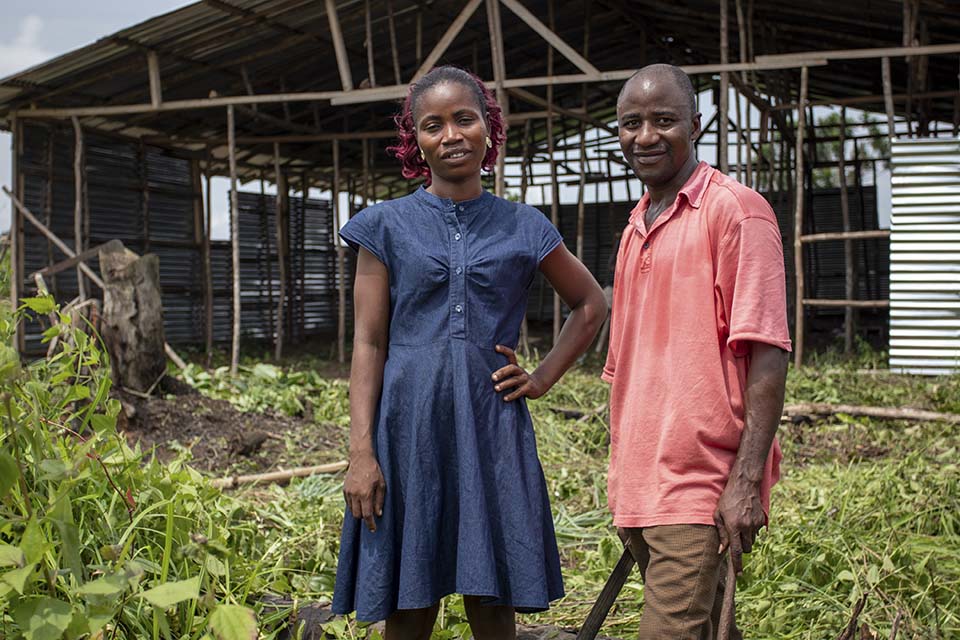 Jartu and her fiancé in front of the home that they are building since losing their house. Jartu uses the money from her corn roasting business to invest in the construction of their new home.
Photo by Lauren Bell/CRS
The fire destroyed a total of 13 houses—homes to over 160 people.
The next day, the reality of the situation set in for Jartu.
"I felt bad. I cried. I wept a lot because I had no one to help me. I asked God, 'Where do I go? What am I going to do now?' I had no hope," she says.
To help Jartu and other victims of the fire rebuild their lives and restore dignity, Catholic Relief Services and Caritas Monrovia provided 39 households with necessities like food, mattresses and clothing to address their most immediate needs. Cash was given to pay for rent and reconstruction costs.
Since the fire, Jartu has put her family first. Everyone stays together under one roof and her children remain in school. She also used some of the cash to invest in her corn roasting business—she yielded enough profit to begin construction of a new home.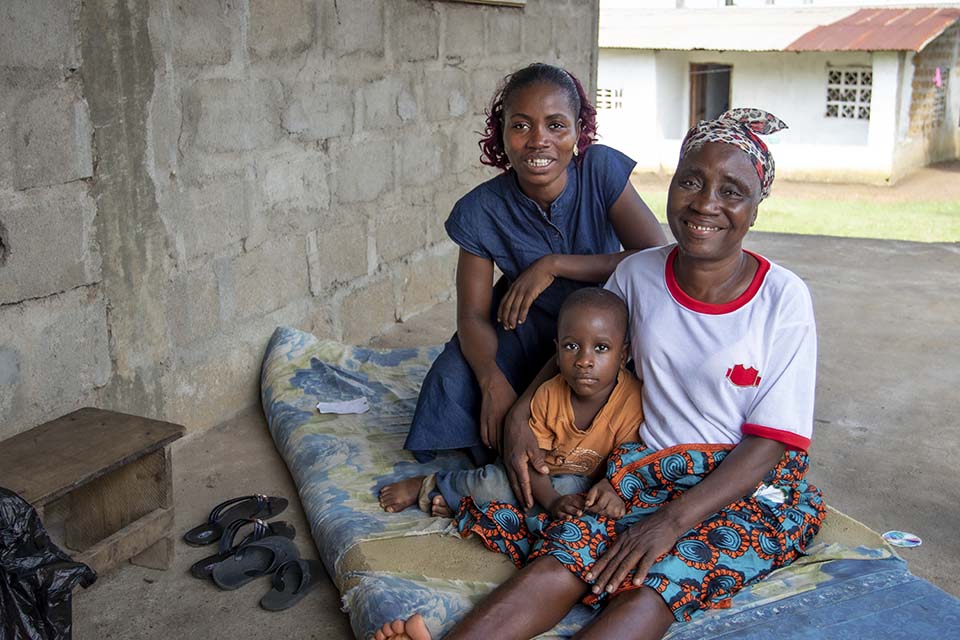 Jartu with her mother and son, James, in the house that she rents with money provided through a cash transfer from CRS. They were one of 39 families that received assistance after a fire destroyed 13 structures in the Kissi Camp of New Kru Town, Liberia.
Photo by Lauren Bell/CRS
"I have forgotten about those things that I have lost because CRS came in and restored to me what I lost," she says.
With the government of Liberia's limited capacity to handle disaster and emergency response, CRS Liberia is now exploring opportunities to build disaster preparedness and resilience at the community level. CRS works with partners to educate community residents on preventive measures—with the goal that communities will be more prepared to respond effectively to disasters if and when they occur.