Strengthening Institutions for Peace in the Central African Republic
Photo by Samuel Phelps/CRS
If someone loses a house, you build a shelter. If they need water, you dig a well. If their crops fail, you bring all sorts of farming practices to restore their fields.
But how do you replace lost trust?
In the Central African Republic, or CAR, homes, fields, jobs and lives have been lost to violence triggered by a government overthrow in 2013, followed by spiraling chaos. Neighbors were forced to take sides that divided along religious identity. And now almost everyone, even children, lives with stories of atrocities they witnessed first-hand.
Having returned to their lands, almost everyone finds they are living close to those that attacked them. And not all their fears and bad feelings have suddenly disappeared.
Repairing a sense of community and rebuilding social cohesion are among the most difficult challenges in any society. The difficulty is magnified in communities fractured by violence.
To those environments, Catholic Relief Services brings long experience in peacebuilding. Like all our programs and projects, it is done in close association with affected communities and often led by the most trusted members of those communities.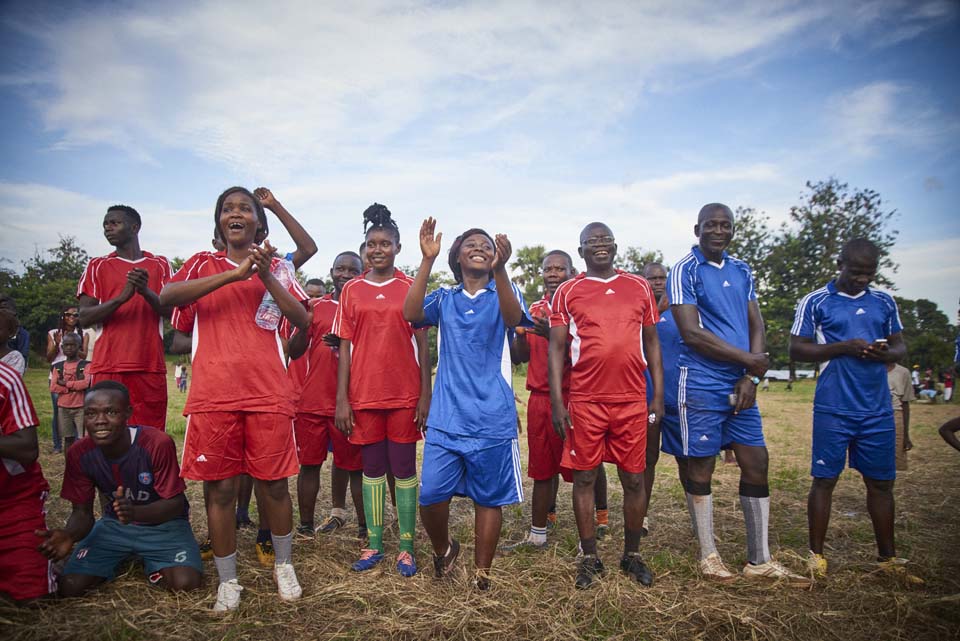 Players finish a soccer match organized as part of a social cohesion event for the CRS 'Ita na Ita' or People to People project in Mbaiki, Central African Republic.
Photo by Samuel Phelps/CRS
One of the impacts of internal conflict on a country is that it powerfully—and sometimes violently—polarizes communities. People become socially and even geographically divided as the conflict separates them along identity lines. The social divisions eliminate ways for people to come together or simply interact in shared community spaces, entrenching and prolonging the conflict. As a result, people suffer because the economy deteriorates, and they can no longer work, earn money and feed their families.
In the CAR, millions of civilians lived through these hardships when the country was struck by turmoil in late 2013. The country became divided along religious lines as Muslims and Christians, manipulated by various armed groups, began attacking each other.
Horrific violence between the two communities seemed unimaginable just months before. But what looked like a conflict without resolution gradually took a turn for the better. Though the differences of their faiths had been used to divide Central Africans, the shared values of their faiths is what ultimately reunited them.
As the security situation deteriorated in late 2013, religious leaders from the Muslim and Christian faiths came together to urgently formulate a plan to save their country. The National Interfaith Peace Platform had been operating for years to promote social cohesion among communities of different faiths, and they immediately understood the crucial role they had in bringing people back together. They also recognized the importance of strengthening their capacity to transform into a sustainable institution positioned to respond to future crises in the country.
"The platform is an association of believers who work toward peace," says Isaac Jean-Michel Service, permanent secretary of the platform. "Since the beginning of the crisis, the three leaders of the platform—the pastor, cardinal and imam—came together to ask Central Africans to disarm their hearts."
As part of the peace process, the U. S. Agency for International Development supported the creation of the Central African Interfaith Peacebuilding Partnership, or CIPP. Working together, the partnership promotes social cohesion, trauma healing, peace education and economic recovery as a foundation for peace in the CAR. Activities include saving groups, training and financial support to local institutions, and youth vocational training. A key element of the project also focuses on strengthening local institutions such as the interfaith platform.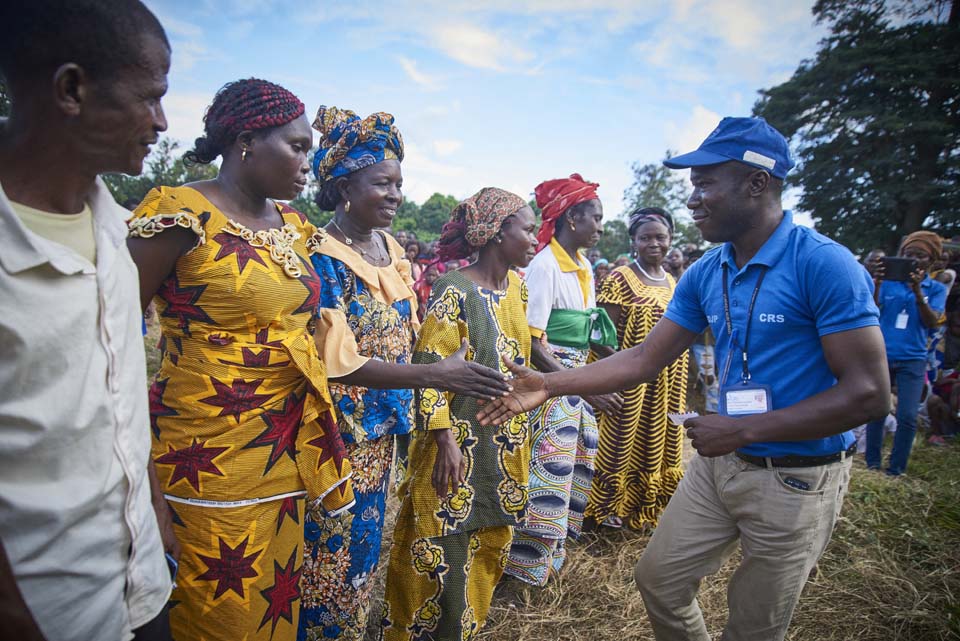 The CRS 'Ita na Ita' or People to People project in Mbaiki, Central African Republic brings together diverse members from different faith groups in Mbaiki in an attempt to reunify the community after the inter-religious violence that destabilized the country from 2014.
Photo by Samuel Phelps/CRS
"With local organizations, they have ownership. It's easier for them to reach more people," says Joseph Muyango Nsengayire, partnership project director. "They can continue providing support at the community level for the long term. We can also better understand the context by working with them." 
CIPP has provided institutional strengthening to the platform through technical trainings and long-term accompaniment. Exercises include reflection on results from the platform's Holistic Organizational Capacity Assessment Instrument, a CRS tool for measuring an organization's capacity in areas such as organizational governance, financial management, human resources and program quality.
The platform is serving as a model to other Central African peacebuilders and peace building organizations.
"At the beginning, people would not accept us. The Christians were suspicious of Muslims and vice versa," says Hadja Rashida Mamba, head of external relations of the CAR National Muslim Women's Association that is supported by the platform. "At the moment of crisis, we came together. When we supported the position of the religious leaders and the different associations stayed together, the community changed their mindset."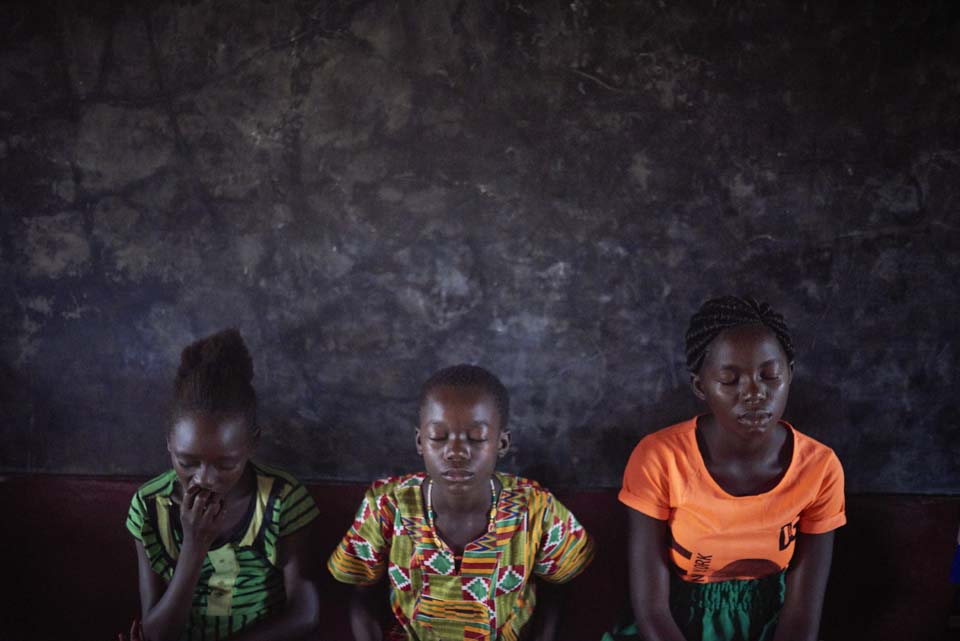 Children close their eyes during a trauma healing workshop "Singing to the Lions" as part of the Ita na Ita peacebuilding project.
Photo by Samuel Phelps/CRS
The interfaith platform has continued to expand its reach, with antenna offices spread in different parts of the country, often in isolated communities that depend on accurate information to come from the outside. Information on important events taking place in the country help safeguard against crises that could result in loss of life. Members of the platform network also play an important role in creating spaces for people to come together across identity lines, promoting social cohesion and conflict resolution within the communities that can be vulnerable to violent flare-ups.
"Since 2017, the interfaith platform has developed strategically and is working in areas including mediation, social cohesion and trauma healing," says Isaac Jean-Michel. "The crisis has to help us reconsider certain things in our society such as people who had been cast aside and abandoned infrastructure. We have to ask the question: 'Why did this happen in the first place?'"