South Sudanese Improve Food Security
Photo by Will Baxter/CRS
"This project is helping us a lot with the development of our village and creating assets which can be used in the future."
James Jongkuch Nyang's cattle have a terrible sense of direction, so he spends far too much time tracking them down when they wander off in search of water.
Ruar Leek village, where James lives, suffers from harsh drought during South Sudan's dry season, leaving the earth parched and the local watering holes empty. When that happens, herders can be forced to drive their cattle for miles to access water and green pasture.
But now, through a Catholic Relief Services-led initiative, James' community is working together to find a solution that will provide enough water to sustain their village through the dry months.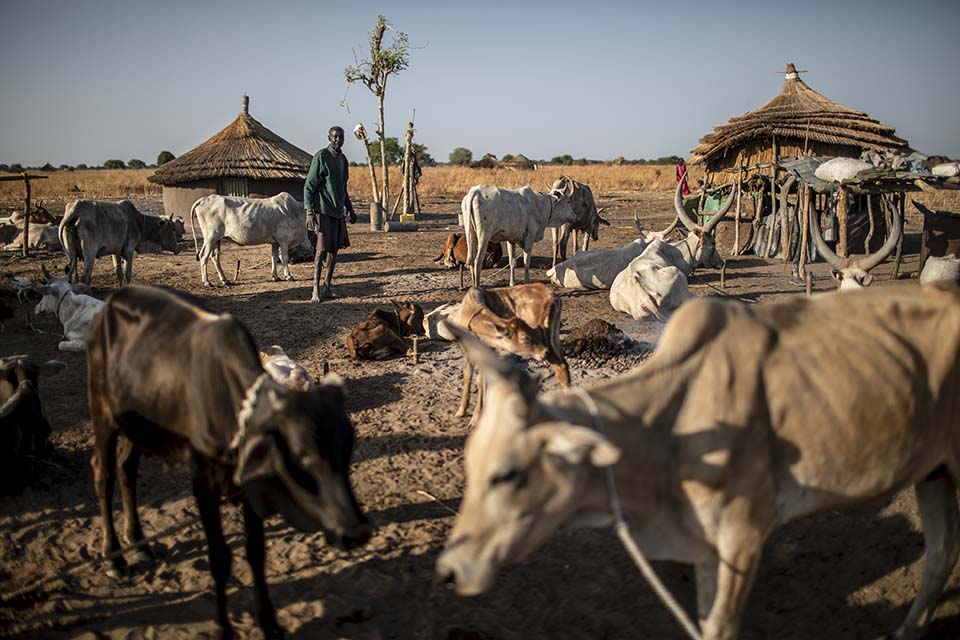 James Jongkuch Nyang watches over his cattle in Jonglei State, South Sudan. He's part of a CRS food security program that includes rehabilitating a pond to keep his community's cattle healthy and safe.
Photo by Will Baxter/CRS
"We're digging out a pond so that our cattle can get water nearby. Then the cattle will not get lost and I will not have to go around looking for them all the time," James says with a laugh.
James and his community are taking part in a food-for-assets program initiated through the Resilience and Food Security Program funded by the U. S. Agency for International Development's Office of Food for Peace. The program, which covers six counties in Greater Jonglei, aims at improving food security and helping conflict-affected communities build up resilience to shocks such as drought, flooding and conflict-driven crises.
The food-for-assets component of the program provides local residents with food when they work together to build or refurbish assets that benefit the community. Assets can include ponds, flood dykes, river navigation channels, feeder roads and primary school classrooms. Since 2017, the program has emboldened communities to rehabilitate more than 4,570 miles of access roads, improve more than 195 classrooms and 40 health facilities, and create 287 water harvesting points with a combined capacity of more than 146 million gallons of water.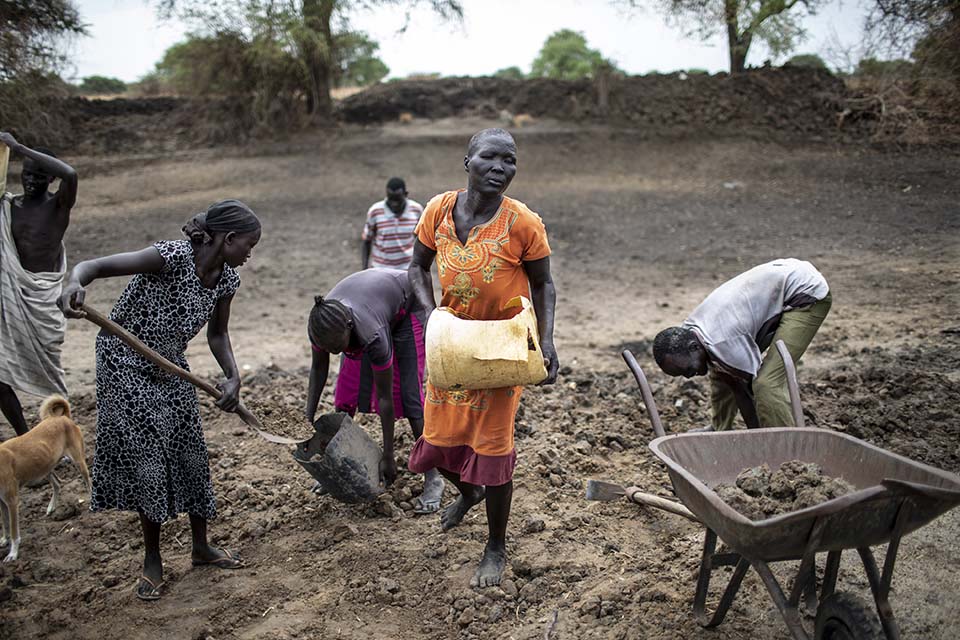 Anyieth Garang, in orange, works with her neighbors to rehabilitate a dry season pond. Their efforts are part of a CRS-led program to improve food security and help conflict-affected communities build up resilience to shocks, including drought, flooding and conflict-driven crises.
Photo by Will Baxter/CRS
By involving the community, the program has also helped to alter the mindset of local residents, reducing their expectation of, and dependence on, relief assistance by promoting community and household self-reliance.
In Ruar Leek, 316 members of the community are digging a pond that is 147 feet in diameter and about 6 feet at its deepest point. In return for completing the project, which is estimated to require 80 hours of labor over 20 days per worker, each person registered for the food-for-assets program receives 110 pounds of sorghum, 11 pounds of yellow split peas, and 6 1/2 pounds of vegetable oil.
The pond, James says, will be a huge benefit for the community when it is completed, not only providing water for livestock but also for dry season cultivation.
"This water will help me a lot. We've experienced a lot of problems, especially last year when most of the cattle died due to lack of water," James says. He is hesitant to even discuss how many cattle he has left following last year's water shortages. "There are only seven, or maybe there are seventy. We don't like counting cattle," he says cryptically, explaining that herders are superstitious that if you start counting your cattle, one of them may end up dying.
A local water source will also help herders avoid risks like bandits and diseases.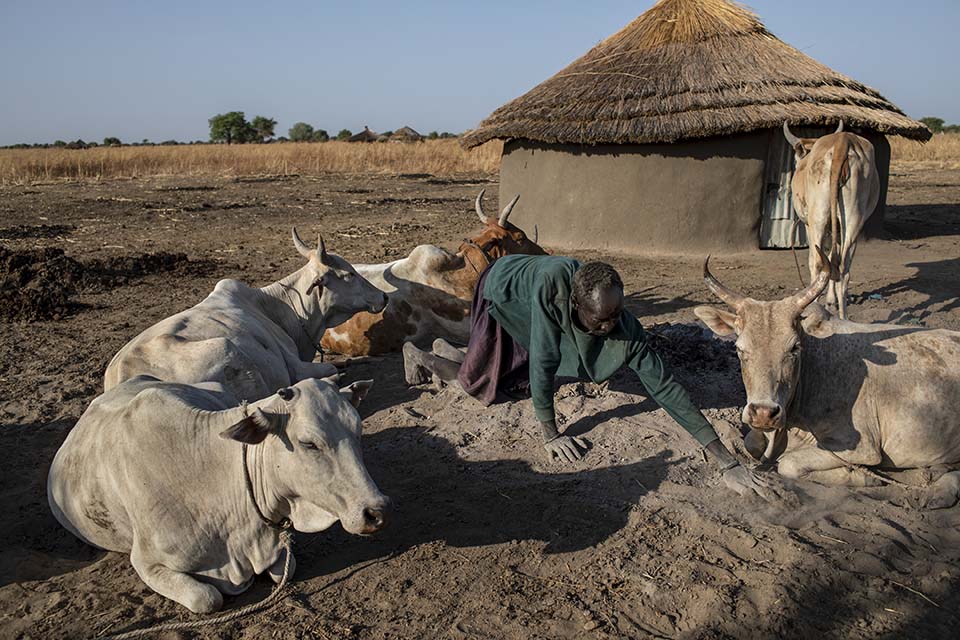 James Jongkuch Nyang gathers cow manure to dry for fuel. Having water nearby allows villagers to keep their cattle close, thus avoiding the risk of having to take them to remote pastures for grazing, which increases the risk of being attacked by cattle raiders.
Photo by Will Baxter/CRS
"It is dangerous to move with the cattle from here to the riverside," says Simon Anyang Koryom, Ruar Leek village chief. "It is a long distance, and along the way you can be ambushed and killed, or your cattle can be taken. In the grazing grounds, there are also a lot of thieves."
For James, parasitic diseases such as theileriosis, or East Coast fever, are an even greater threat.
"There are a lot of cattle diseases in the riverside. I don't want to expose my cattle to these diseases," James says. "I don't have the money to buy medication for my cattle if they get sick."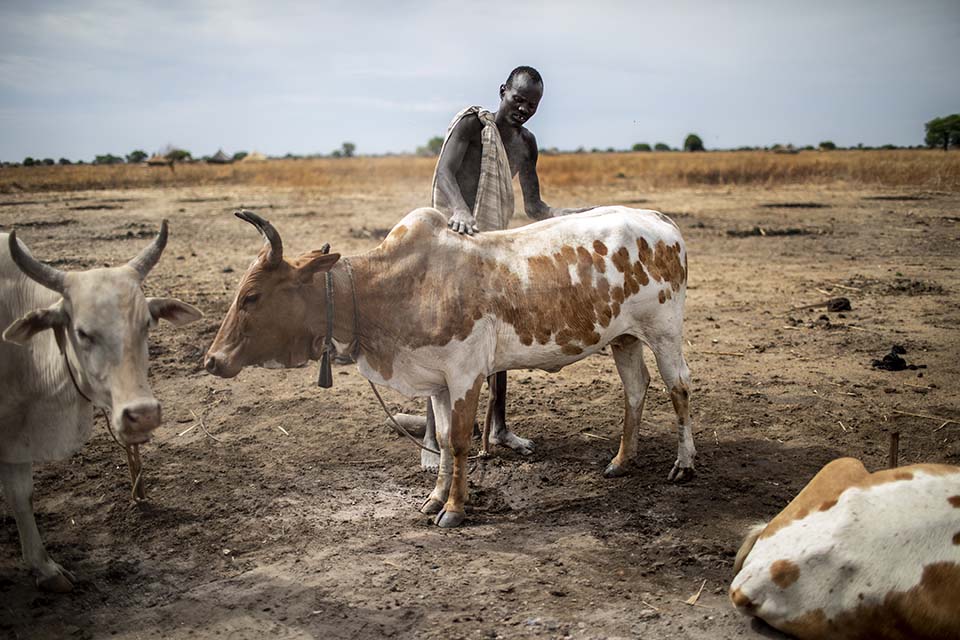 A man rubs ash on his family's cattle in Ruar Leek village, South Sudan. His community is rehabilitating a dry season pond to improve food security.
Photo by Will Baxter/CRS
Anyieth Garang, who lost her husband when the village was attacked during the 2013 conflict, said the pond would greatly reduce the burden on households headed by women such as herself.
Four of her children are away at school in Juba. Those at home with her have their hands full preparing for the next rainy season.
"The real challenge now is that there is no one to take my cattle to the Toch," says Anyieth, referring to the grassy swamps along the banks of the Nile River. "My sons are busy building and repairing the houses, so there is no one to look after the cattle."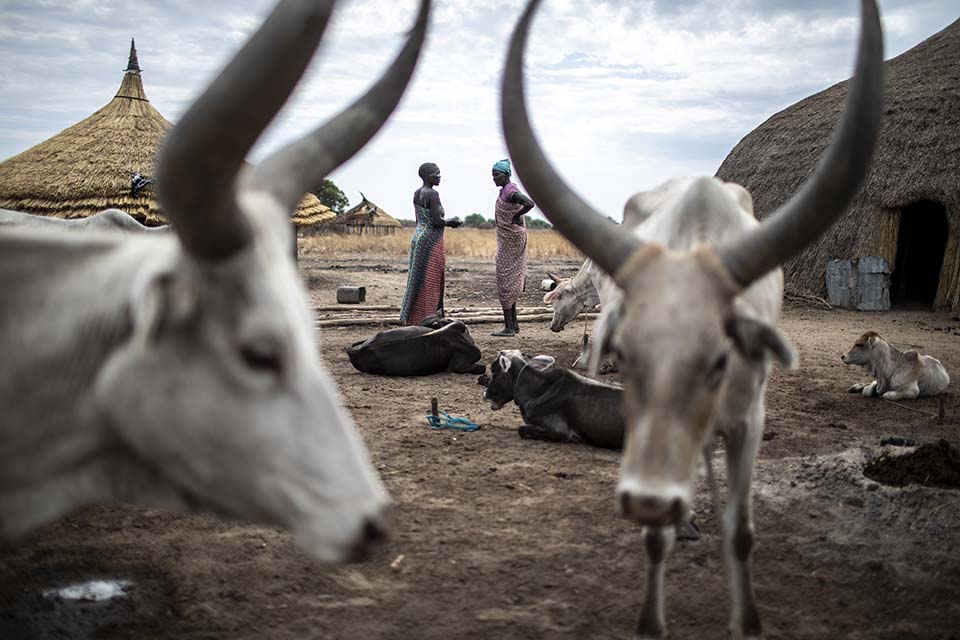 Anyieth Garang (left) speaks to another woman on the compound where she keeps her family's cattle. Anyeith and her community are helping rehabilitate productive assets such as feeder roads, flood dykes, water ponds, river navigation channels and primary school classrooms.
Photo by Will Baxter/CRS
"The pond will help me because it will bring water closer to my homestead, and the cattle and goats will be able to have water nearby in the dry season. We can also use the water for domestic activities," Anyieth says.
Simon says the pond will also help with irrigation and drainage.
"When there is excessive rain, most of it will go into the water pond. So it will help with drainage. Also the water can be used for growing vegetables in the dry season." Members of the community grow sorghum, beans, maize, cassava, okra, kale, cabbage, onions and sesame, among other things.
"This project is helping us a lot with the development of our village and creating assets which can be used in the future," he added.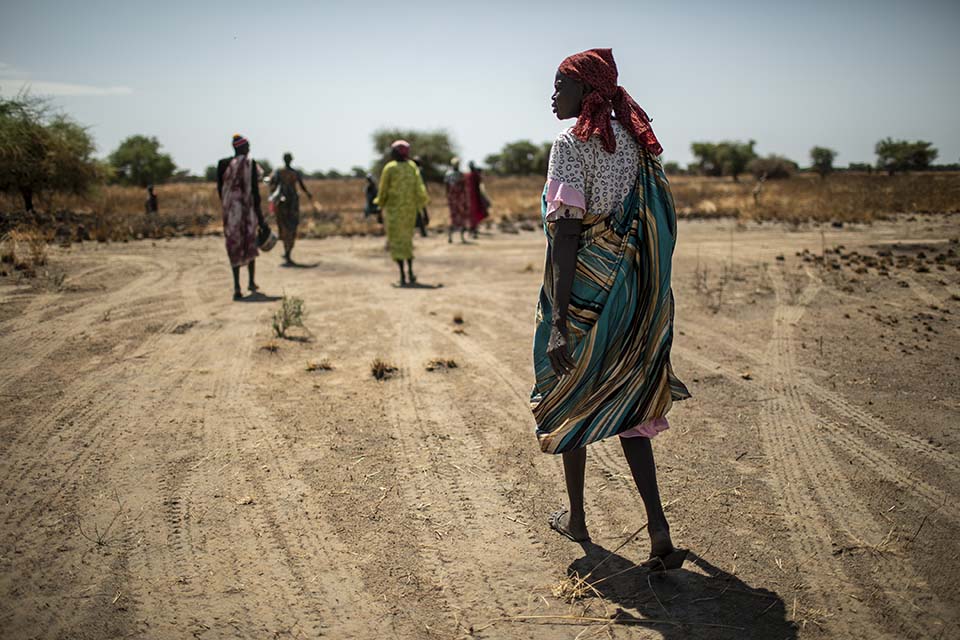 Women walk through the parched landscape of Ruar Leek village, in South Sudan. Each person who volunteers for the food-for-assets program receives more than 100 pounds of sorghum, peas and cooking oil for 20 days of work.
Photo by Will Baxter/CRS
James agreed, pointing out that such an asset would have numerous other benefits.
"The biggest benefit of this water pond is that my cattle are going to increase in number. With the availability of water, most of my cattle will not be lost, they will reproduce well, and then I will have more cattle in the long run," James says. "Because it will minimize my need to move with the cattle, I will also have more time to do other things."