South Sudanese Communities Build a Road and Peace
Photo by Will Baxter/CRS
Until March of this year, if Nuer villagers from Panyok in South Sudan's Uror county wanted to travel to the nearest town, Pajut, they had to walk for hours on a narrow footpath through the bush, which left them vulnerable to bandits.
Now, through a European Union-funded cash-for-work initiative, they have joined together with nearby Dinka communities to build a 10-mile road connecting Panyok to Pajut.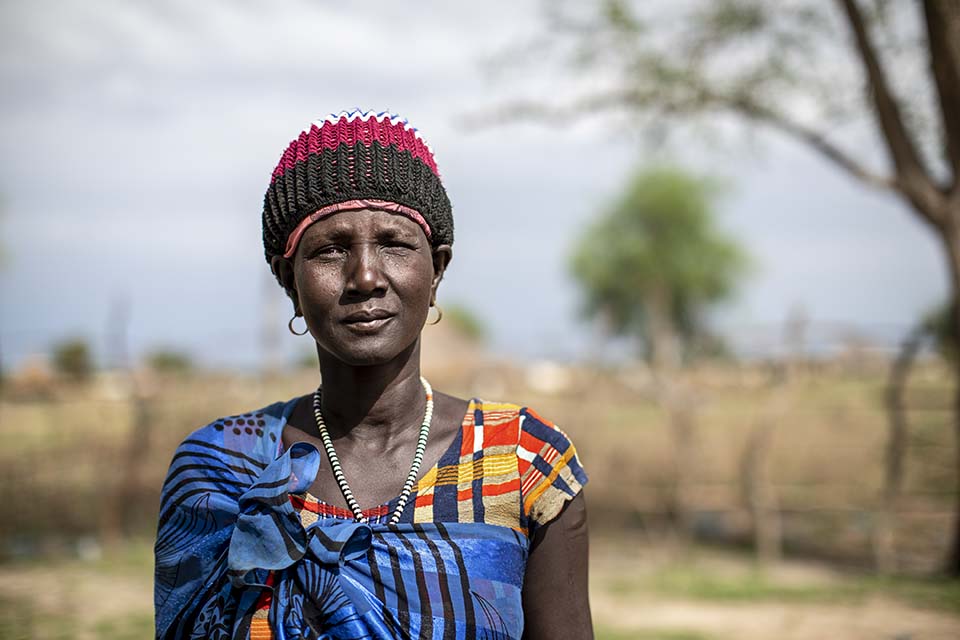 Rebecca Nyathiai Wan's community took part in a project to build a 10-mile road that connects Panyok to Pajut, the nearest town with a health facility.
Photo by Will Baxter/CRS
"The road will help us travel safely," says Rebecca Nyathiai Wan. "Now it is wider so people can more easily see ahead and to the sides. We will not have to fear ambushes by criminals."
Other key benefits of the road are improved access to health care services and transported goods.
Building a Culture of Social Cohesion and Peace
Perhaps more importantly, working side-by-side with members of the Dinka community has helped improve relations, Rebecca says. The Nuer and Dinka are traditionally cattle herding peoples, and they use that cattle to pay dowries for their brides. In the past, cattle raids and the abduction of women and girls, often followed by reprisals, have been common occurrences between the two ethnic groups.
"It was interesting to see their faces, these Dinka from the other communities. The Dinka and Nuer were working together, cooperating, exchanging peace messages, and not insulting one another," Rebecca says. This was in stark contrast to the anonymous, often violent relationship they had in the past. "This [cooperation] is why we completed the road. Otherwise, the road could not be built," she says.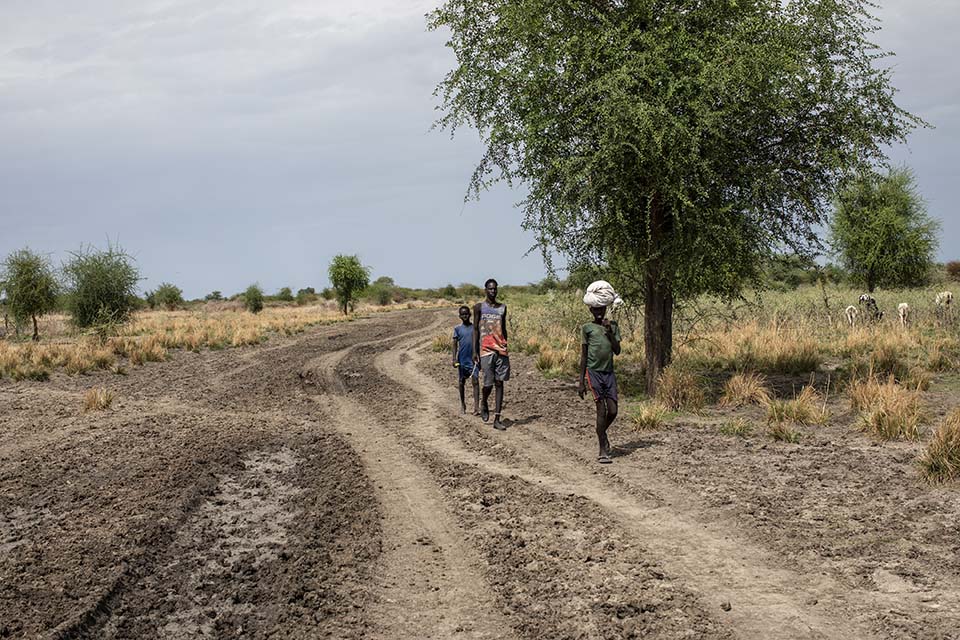 Boys walk along a road on the outskirts of Panyok, South Sudan. Their community took part in building a road that connects Panyok to Pajut, the nearest town with a health facility.
Photo by Will Baxter/CRS
The Panyok-Pajut road is part of the Building a Culture of Social Cohesion and Peace project funded by the European Union and implemented by Catholic Relief Services in Greater Jonglei. The aim of the project is for communities to adopt peacebuilding practices that help them to develop and sustain resilience against recurrent conflict. The project uses a community-managed disaster risk reduction approach to help identify and prioritize activities that enhance connections between and among communities. Participants work together to build water ponds, feeder roads, flood dikes, schools or health facilities. For their contribution, each participant receives $5 per day for 20 four-hour workdays, or the equivalent of $100 in South Sudanese pounds at the official exchange rate.
Signs of peace
At times, Rebecca explains, they discussed past incidents.
"We were pleased sitting together, telling past stories of what had happened and what had prevented us from meeting. Some of the Dinka shared negative stories about the past and said they need to forget what happened so that people can live in peace.
"Because people have worked on [the road] from this community and from the Dinka community, we have shared ideas and agreed that things like criminal activities should not take place on this road," she explains. "This was interesting because these discussions had not happened before."
Thomas Thok Nyang, also a Nuer whose wife is Dinka, says that both sides are working together to convince communities along the road not to engage in banditry, cattle raids or abductions.
Thomas Thok Nyang helped build the road as part of a conflict mitigation effort to develop and sustain resilience against recurrent conflict.
Photo by Will Baxter/CRS
"We ourselves will be the ones preaching those peace messages. Our community members, plus their leaders, are accepting peace among ourselves and transferring it to the rest of the people," he says.
Already, they are seeing positive developments. "We have begun having some exchanges. We have gone for some business activities and to collect some sorghum from Pajut and bring it here," says Thomas. "Things will be ok now, people will be moving between the communities, greeting one another, and there will be no robberies in between."
Thomas and his wife also recently arranged to meet her family in a nearby Dinka village for the first time since they were married.
"There had been no exchanges or visits in the past, but now I have visited my in-laws," he says.
New way of solving problems
Leaders are also working to reconcile recent grievances.
"One of the peace messages is about forgiveness, to allow those who offended to be forgiven," Thomas says. For example, last year a member of a neighboring community was killed in a reprisal attack following a raid. In cases such as this, Thomas explains, community leaders will seek to find common ground on reconciliation and compensation. "For the families of people who were killed, we would pay reparations, and this will bring peace among us," he says.
Gatluak Ker, 21, says it is up to the younger generation to continue building trust between their Dinka counterparts.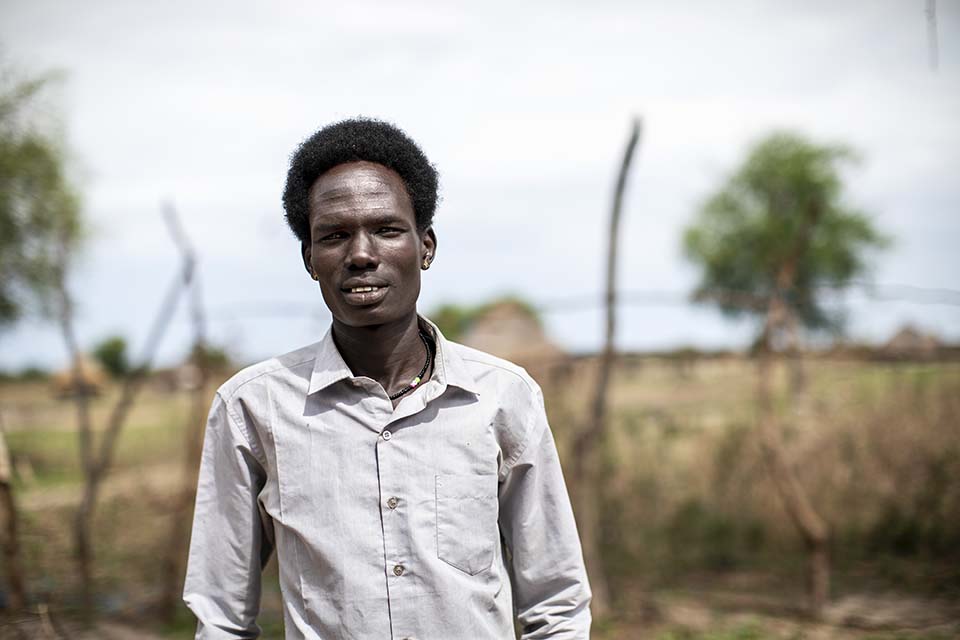 Gatluak Ker participated in a road project that helped strengthen connections among communities that have experienced conflict in the past.
Photo by Will Baxter/CRS
"With this long-term conflict, people were not knowing one another because they were separated. But with the little peace that we have now we have begun to work together and interact, and now we know each other," Gatluak says.
"If something occurs now like a raid, we can call someone on the Dinka side to tell them that our cattle have been taken and we suspect their youth, and some of us could also move by foot to their village for a peaceful interaction," Gatluak says.
"We don't have to do things like last year when some people were killed. We can make it a peaceful interaction," Gatluak says.