South Sudan Road Work Fosters Resilience and Peace
Photo by Will Baxter/CRS
When seasonal rains and flooding reach east central South Sudan, the roads leading to Pajut town become impassable—even their tiny airstrip is unable to operate. With transportation at a halt, the price of goods in Pajut's small market can increase to a point where already vulnerable cannot afford food.
In 2015, a committee of ten men and five women was formed to help identify projects that could improve infrastructure and reduce the risk of flooding. This activity took place as part of a resilience and food security program funded by the U.S. Agency for International Development and implemented by Catholic Relief Services.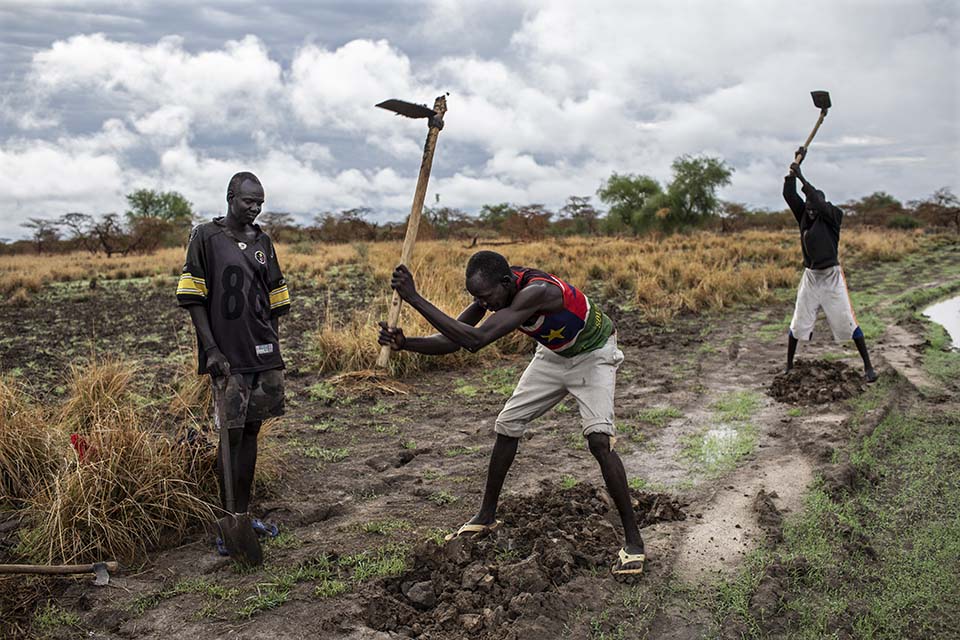 Community members work together to level a road that was deeply rutted after rains in Pajut, Jonglei State, South Sudan.
Photo by Will Baxter/CRS
"The community is always ready for any work," says Puok Jok, who leads the committee. In return for the hours they work—roughly 80 in total—participants each receive a stock of sorghum, yellow split peas and cooking oil.
When the committee was first formed it conducted an assessment and mapped out the resources and risks in the areas around Pajut.
"We identified things like flooding, insecurity, and lack of watering ponds for animals," Puok says. "We worked very hard to ensure that we would not be affected by the flooding last year. We have built some dikes around the airstrip. A second dike was built to protect homes in the community."
Initially, the committee constructed feeder roads and dug new wells and ponds to improve access to water both for people and livestock. Now, there are fifteen new or improved ponds and less of a need for herders to travel long distances to graze and water cattle.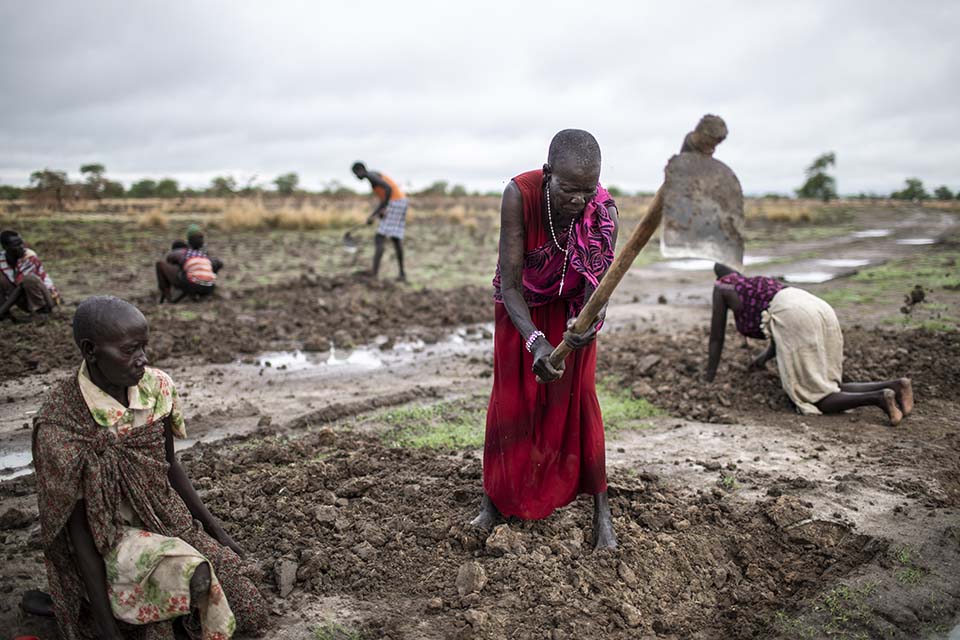 Conflict-affected community members work together on a road to help improve food security and build resilience to shocks such as floods and drought.
Photo by Will Baxter/CRS
"Since we worked on the water ponds, there have been fewer cases of raids at cattle camps or ambushes because we have water here," Puok explains.
Between February and March 2020, 940 community members—all of whom received stocks of food for their families—worked on clearing a 6-mile stretch of road that connects Pajut to the city of Bor and then onto Juba, the nation's capital. Individuals who are disabled or unable to perform strenuous physical labor can send a representative to work in their place.
Head chief Isaac Gatluak says the road has greatly improved access.
"When the roads are connected, it is easier for food and goods to reach us. CRS, other relief organizations and traders can use this road. Now there are commodities in the market. Now things are cheap compared to when goods had to be transported by air," he says.
Abuk Lam, a member of the committee, says it is important for such activities to be inclusive and that women should play a key role.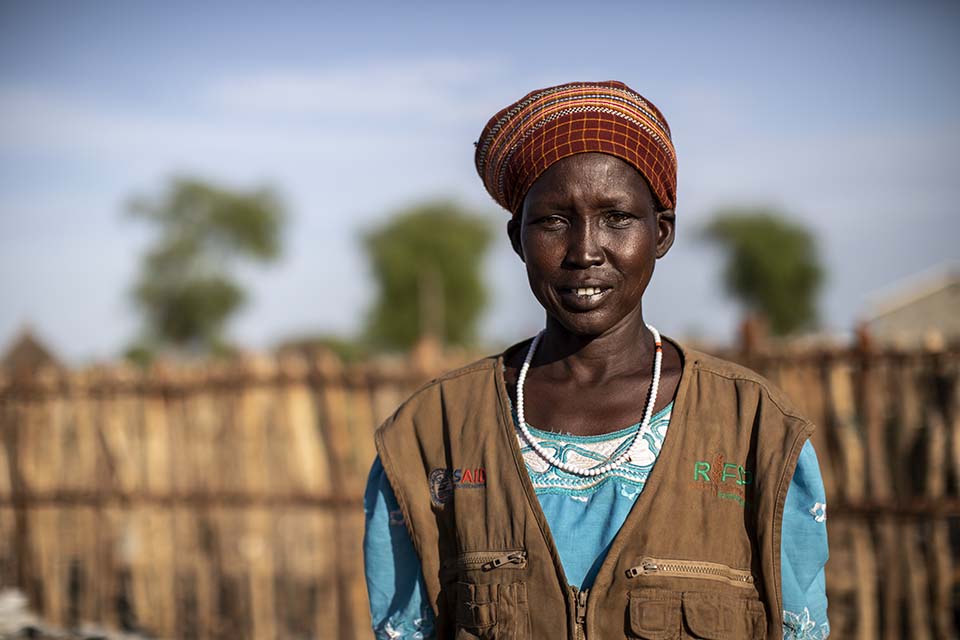 Abuk Lam, a member of her local disaster risk reduction committee, took part in a project to build and fix community infrastructure like roads, flood dikes, schools, health clinics and water ponds.
Photo by Will Baxter/CRS
"There is nothing that men can do that we cannot do as women, so it is very important for women to be involved," Abuk says, pointing out that female members of the committee make sure that food entitlements are distributed fairly.
"To ensure that these food rations reach women and children, we have to be involved. When we go and tell other women, 'These are the rations you are entitled to,' then it is very easy for the women to understand and get what is due to them," Abuk says.
In Tindiir village, a 45-minute drive from Pajut, the community has also taken part in a road building project. In May, they received their rations, which included 110 pounds of sorghum, 3 quarts of vegetable oil and 11 pounds of yellow split peas per worker.
"Now that I have received this food, I will be able to put something on the table for my family and also it will help me reach harvesting time," says Nyanchar Wie, whose crops were destroyed last year during the floods.
"I didn't have any food in my house, but now I have this food from CRS. I will be able to provide something for my family, and my children will have something to eat when they come home from school," says Yany Biel, another resident of Tindiir.
Wuor Buot Lok, who is also a member of the Pajut committee, said that connector road projects help improve relationships between communities that might otherwise remain in conflict with one another.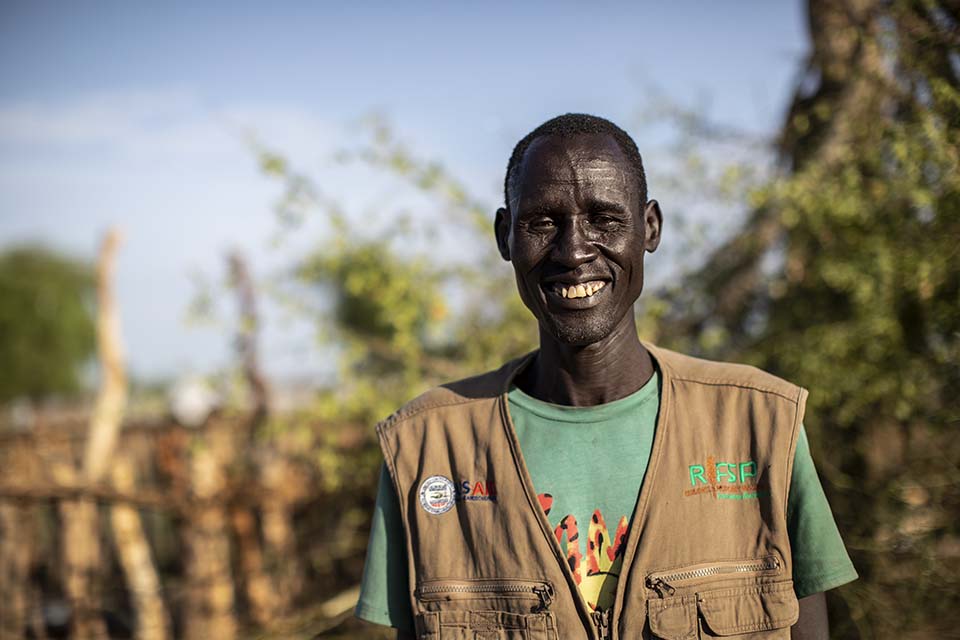 Wuor Buot Lok, a member of his local disaster risk reduction committee, helped build infrastructure that improves resilience, fosters peace and brings other benefits to his community.
Photo by Will Baxter/CRS
"Feeder roads connect us to the other communities. Through that connection, peace comes," Wuor says. Pajut is a Dinka community, and the feeder road has connected the town to larger roads that pass through Murle villages.  
"In the dry season, traders from here have used the roads to pass through Murle lands to reach here, and there was no problem. This is the first time something like that has happened, where members of this community came through Murle territory safely, so this is something very important that this feeder road has done for us in terms of peace," Wuor says.
Meanwhile, Abuk says there is still much work to be done.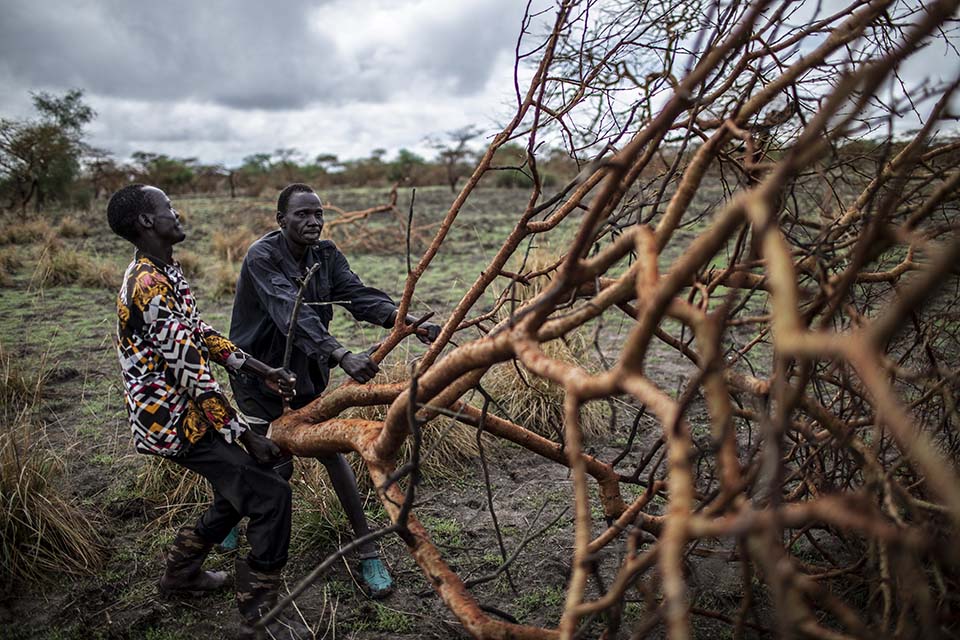 Two men remove a tree from a road in Pajut, South Sudan.
Photo by Will Baxter/CRS
"We are planning to have more water ponds around, to create more feeder roads, more dikes and also more healthcare facilities," she says.
Better and more widely distributed healthcare facilities are needed in particular to provide maternal and child health care.
It is very risky when there are no doctors to provide needed services," Abuk explains. "Women often give birth at home, and there are a lot of problems when there is no midwife. When there are no medicines available or no medical attention the mother can die, or the baby can die."