South Sudan's Farming Groups Grow Prosperity
Photo by Will Baxter/CRS
The past two years have been hard for Rebecca Ngathiliwo and her community. Intercommunal violence and successive floods wiped out many of their homes, livestock and other possessions.
"During the violence, I lost my property. Some of my animals were taken in the raids. The few that remained died during the flooding. I had nowhere to get food for the animals, so they died of starvation," Rebecca says. In total, her family lost 14 goats and around 20 cattle, as well as most of their other property.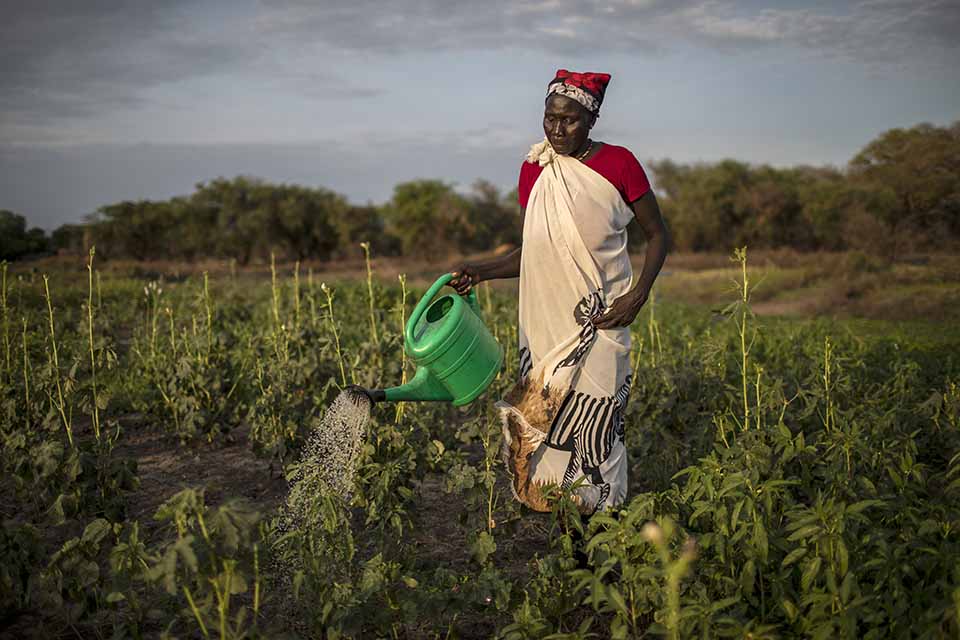 Rebecca Ngathiliwo, a member of a vegetable producer group, waters vegetables on her group's farm in Jonglei state, South Sudan.
Photo by Will Baxter/CRS
Rebecca credits her participation in a vegetable producer group for helping her to persevere and feed her family. "The vegetable garden has helped me to survive. Without it I could not even get food to eat," says Rebecca, whose husband is elderly and unable to work. "We don't need to buy other vegetables from the market. We just come to our garden, pick the vegetables and cook them."
The group, which consists of about 20 people, plants a variety of crops including black-eyed peas, okra, tomatoes, spinach, kale and onions. The fenced-off garden is situated on fertile land near a creek and is divided into small parcels where different crops have been planted. While the food they grow is primarily for home consumption, there is a surplus on occasion.
"Sometimes I use the profits to buy clothes like these I am wearing now. I bought these using money I earned from the vegetable group," Rebecca says, adding that when they returned home after months of displacement she was able to use some profits to buy new cooking utensils, saucepans and plates.
Ngacho Gain fetches water on her collective's farmland in Jonglei state, South Sudan. Her farming group is supported by the CRS-led Resilience and Food Security Program that improves food security and helps communities 
Photo by Will Baxter/CRS
Ngacho Gain, a mother of eight children, regularly sells extra produce to generate income. "Since I have many children, I don't save a lot. But what I do is I sell some vegetables in the market and use the money to buy essential items for my children—like shoes, clothing, food—or I use the money to pay school fees."
"I will try to save and save, and then if the money I have in savings reaches a good amount, I will use it to buy a goat," she adds. "Then the goats can multiply."
Meanwhile, Lazoros Kuju has already used his earnings to buy livestock. "Sometimes I use the money to buy goats. Then I use the goats to get milk for my children," Lazoros says, adding that he has a herd of 10 goats now.
The group has received seeds, tools and equipment—as well as training and technical assistance—from Catholic Relief Services through the Resilience and Food Security Program, or RFSP, which is funded by the U.S. Agency for International Development's Bureau for Humanitarian Assistance. The program improves food security and helps conflict-affected communities build up resilience to shocks such as drought, flooding and conflict-driven crises. By promoting self-reliance within households and communities, the program also helps to reduce the expectation of, and dependence on, relief assistance.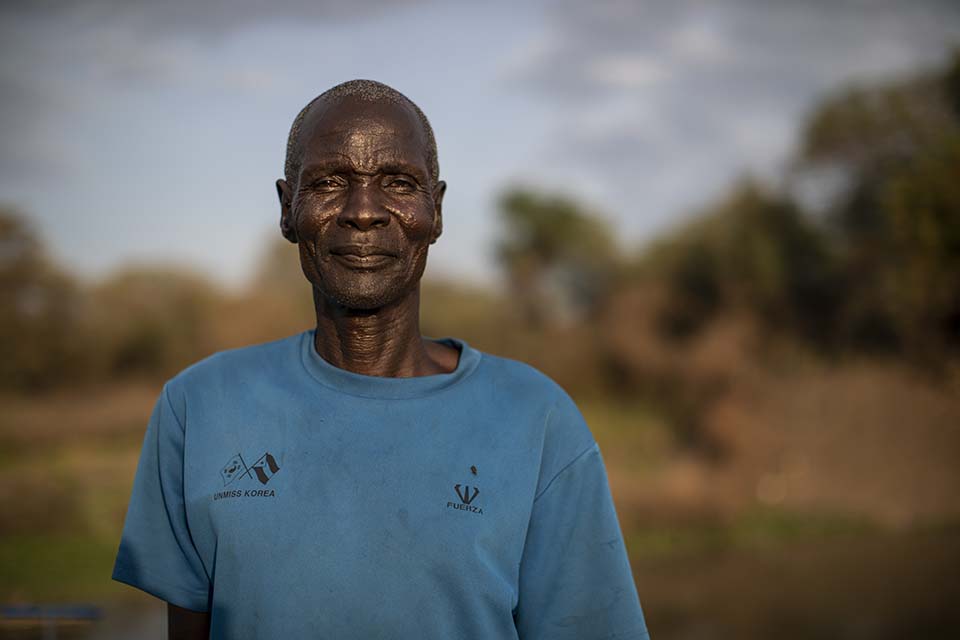 Johnson Aria, a member of a vegetable producer group, stands in a field prepared for use by farmer groups who grow vegetables to improve security and build prosperity in conflict-affected communities.
Photo by Will Baxter/CRS
"We learned how to plant in rows, how to divide up the land into different sections, how to prepare nursery beds, how to clear the land and fertilize with manure," group member Johnson Aria says. "We learned to leave the small clippings of grass from when we clear the land. When the grass decomposes, it will make the soil more fertile."
The RFSP also helps unemployed young people to form farming collectives under the same model. Nyigak Oboch and his wife, Sirah Nyigak, recently helped clear land for a newly formed group of 50 young people from Lukurnyang, Pibor county. At the time of writing, they were waiting for the right time to plant their crops.
"When we grow our own crops, it will fight hunger because we are going to get enough food to feed our families," says Nyigak. "After harvesting the crops, we can sell some to get spending money. Then we can buy essential items like soap."
Sirah says the farm will make them more self-sufficient. "I won't have to go the market to buy food. I won't have to go and beg for food from others, because I will have food already. I will even be able to sell some of what I grow. Then I can use the money I earn to buy clothes for my children."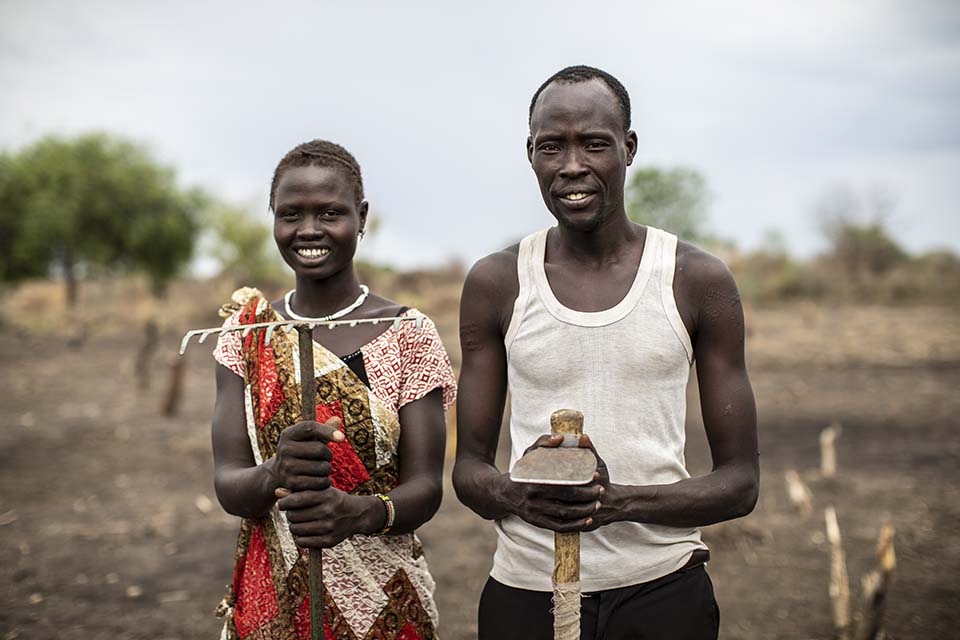 Sirah Nyigak and her husband, Nyigak Oboch, help prepare a field for planting. They are part of a farming group that grows vegetables for personal consumption and sales.
Photo by Will Baxter/CRS
Since they have been working together, Nyigak has seen the benefits of a collective. "One of the advantages is that when we are many, we can do a lot of work in a short amount of time and not get tired," he says. "You divide the land. You give each person a piece of land. You clear your part today, you go back home, and tomorrow you come back to do the same until you finish the land clearance." He says they have received axe heads and small shovels from RFSP.
In Murle culture, men and boys are categorized into age sets, with each cohort spanning 10 to 15 years. According to tradition, eventually a time comes for the youngest age set to challenge the next eldest group in order to assume responsibility and power. This includes the right to marry and arrange marriages, as well as defending their communities from outside attackers. Last year saw brutal fighting between the youngest age sets of communities in the area, which left more than 80 dead across Greater Jonglei.
Nyigak and Sirah's collective includes members of the youngest age sets from many communities.
"Since the farm has brought people together, it has created friendship among the different age sets. Some young people used to go cause problems because they are unemployed, because they are idle. Since they are busy here taking care of their own farm, they won't have time to organize to attack another area," Nyigak says.