Early each morning, in Zamalva, in the Far North region of Cameroon, 20-year-old Deni Koda  lights a fire under a giant metal pot and fills it with water. He is a tea seller, preparing for the first of many walks around his community that day.
"People, they like to drink tea at any time of the day, so I must be ready for my customers," he says, explaining that he sells around 50 cups daily—and more on market days.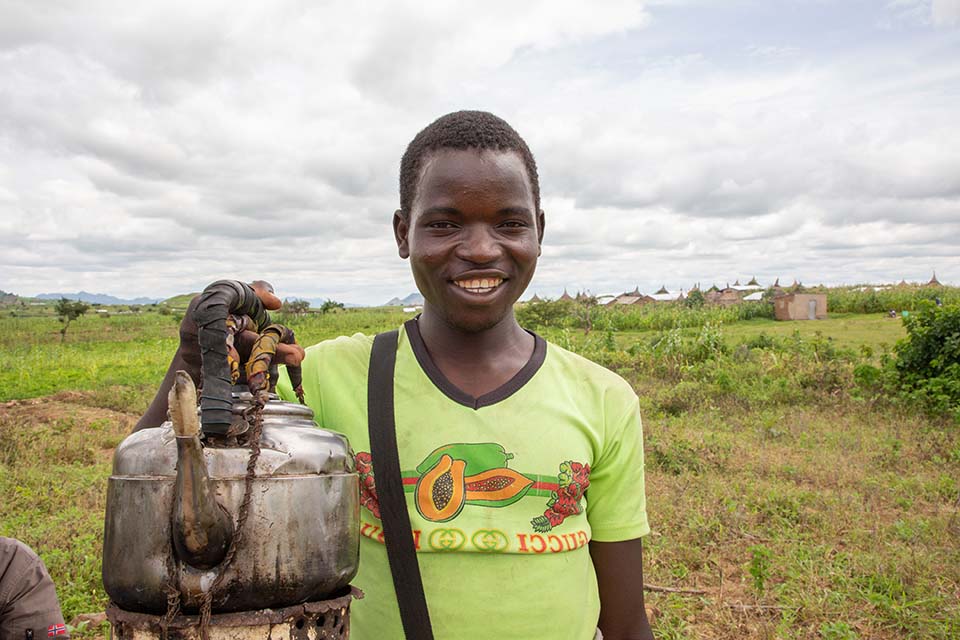 Deni, a SILC member, proudly stands with his teapot. He plans to use the small loans from his SILC group to grow his tea-selling business.
Photo by Jennifer Lazuta/CRS
The work is not easy, carrying the heavy teapot in the hot sun all day. But for Deni, it is a good way to care for his wife and their newborn daughter. Due to ongoing conflict, which has plagued the area, Deni was not able to finish school. Employment options here are few, even for those who did.
"I certainly can't say I grew up dreaming of being a tea seller, but I like my work," he says, smiling. "And not to brag, but people tell me I have the best tea in all the village!" 
Deni now dreams of growing his business—something he is sure will soon be a reality since he's recently joined a Savings and Internal Lending Community, or SILC, group. The SILC group, part of the economic revitalization component of Catholic Relief Services' STaR II project, is a place where he can safely save money and access small loans.
The 18-member group meets once a week and each person contributes a minimum of about 50 cents to the savings and loan fund and about 1 cent to the solidarity fund. In addition, they can take out small loans at a 5% interest rate.
Access to this kind of credit is vital in a community where most people don't have access to banks and lack sufficient capital to take out loans from nearby cities. The group is also important for social cohesion, helping bring together people from different backgrounds. "We started coming together to save money and have access to credit, but this group is much more than that," says the group's secretary, Gondi Konomda.
Zamalva is home to many internally displaced people who came there seeking safety, and the SILC group has helped bring the displaced and host communities together. Konomda explains, "Before, we didn't understand each other well. But now we have solidarity—we are united. If one person has a problem, it's also your problem, so we work together to solve it."
Deni says he plans to build his business slowly and will use his first loan to buy sugar in bulk, which will reduce his costs and increase profits. Then he will buy a bigger container for his tea, so that he doesn't have to make as many trips back to his house. He would also like to buy a small pushcart or a trailer so he can use his bicycle to transport more than one container at a time. And if things go really well, perhaps he'll even open a small tea stand in the market.
"I had never heard of SILC before," Deni says. "But it's a great idea because now I have a safe place to save my money, and I can take out loans to grow my business. With the profits, I can provide for my family and improve our lives. This is going to change things for the better."
The Stabilization and Reconciliation in the Lake Chad Region, or STaR, project is funded by the German Federal Ministry for Economic Cooperation and Development via the German Development Cooperation. Phase I started in 2019 in Chad, Niger, and Nigeria, while Phase II launched in September 2021 and expanded to include Cameroon. The project has activities under four components, including infrastructure development and rehabilitation, economic revitalization, social cohesion, and local governance. In Cameroon, CRS partners the Diocese of Maroua-Mokolo to implement the project.