Saving Lives During Food Crisis in South Sudan
Photo by Will Baxter
Aluel Lueth felt helpless when her firstborn child died of diabetes at the age of 12. So, when her infant daughter Achol Atem became ill last year, Aluel was fraught with worry.
"This child used to have diarrhea and fever almost all the time. She was so malnourished," Aluel says. "She was looking so bad."
When conflict erupted in Bor Town, where she lived in late 2013, Aluel fled for safety. She found it in a settlement for displaced persons in Mingkaman, in the Lakes state of South Sudan, where she now lives with her 5 children.
Displaced people like Aluel struggle to get enough food, a situation made worse by conflict and unpredictable weather. The outlook is dire for children under age 5, pregnant women and new mothers. Among these groups there is an alarmingly high prevalence of malnutrition. Without food or nutritional supplements, a vulnerable child's health can quickly deteriorate, leading to illness, disability, and even death.
Reaching malnourished mothers and children
The United Nations estimates that by July 2019 nearly 7 million people in South Sudan will not have access to enough food. But, with support from our partners, CRS is responding by providing life-saving food to more than 97,000 people across the region. Some of the most vulnerable women and children are being supported by a program to improve food security and nutrition, and help vulnerable households meet other essential needs.
Baby Achol was lucky. CRS-trained community nutrition workers came to her home. They measured Achol's arm circumference, a universal indicator of nutrition status. Achol's left arm was just 4.7 inches in circumference—a healthy, well-nourished child her age would normally measure more than 5 inches.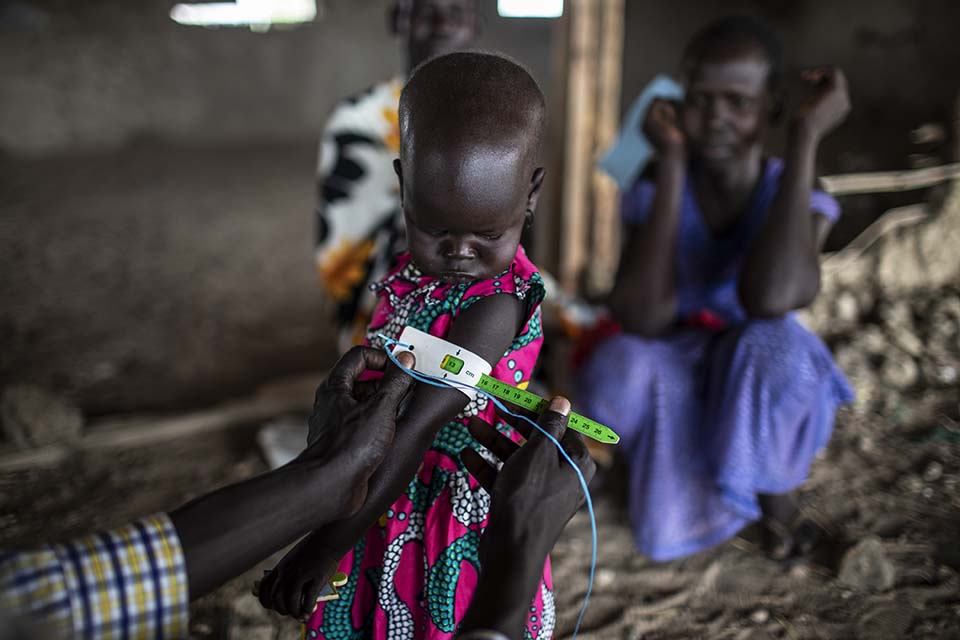 Eleven-month-old Achol Atem has her arm measured at a nutrition center in Minkaman, South Sudan.
Photo by Will Baxter/CRS
"They came to my house and my child was measured. She was found to be very malnourished, so I was told to come to the health center," says Aluel.
In January, Aluel enrolled Achol in the CRS-led feeding program. The program supports children under age 5, as well as pregnant women and new mothers suffering from malnutrition. Women and children in the program get a nutritious blend of corn and soybean meal fortified with vitamins and minerals. CRS distributes the meal each month and trains mothers how to properly prepare the meal into porridge to ensure their children receive the nutrients they need.
CRS staff also conducts health and hygiene education sessions. Hosea Makur, a community nutrition worker, says it was important for mothers to learn how to measure out the meal in the correct portions, and to cook and serve it in a hygienic manner.
Improved health and sanitation practices
"The first thing we tell them is to make sure that all the items they want to use for cooking are clean," says Hosea. The mothers are then shown the amount of water and meal to measure out depending on the number of children. They are told to bring the water to a boil, and instructed that the porridge should not cook for more than 10 minutes when prepared correctly.
"After you cook it, you make sure the child's face and hands are clean, and then they can start eating," says Hosea. It was through these education sessions that Aluel learned better health and sanitation practices.
"Some of the community hygiene promoters move house-to-house to show people how to wash their hands and how to wash their babies properly after they defecate. That's how I learned about hygiene. I was taught how to wash the baby and how to clean my utensils and put them on a rack to dry, and how to sweep my compound so the flies don't come around," says Aluel. She followed the cooking instructions and gradually noticed improvements in Achol's health.
"Her body has changed now. This is not how she used to look before. She has not been sick, she has not had diarrhea. She is healthier now," Aluel says.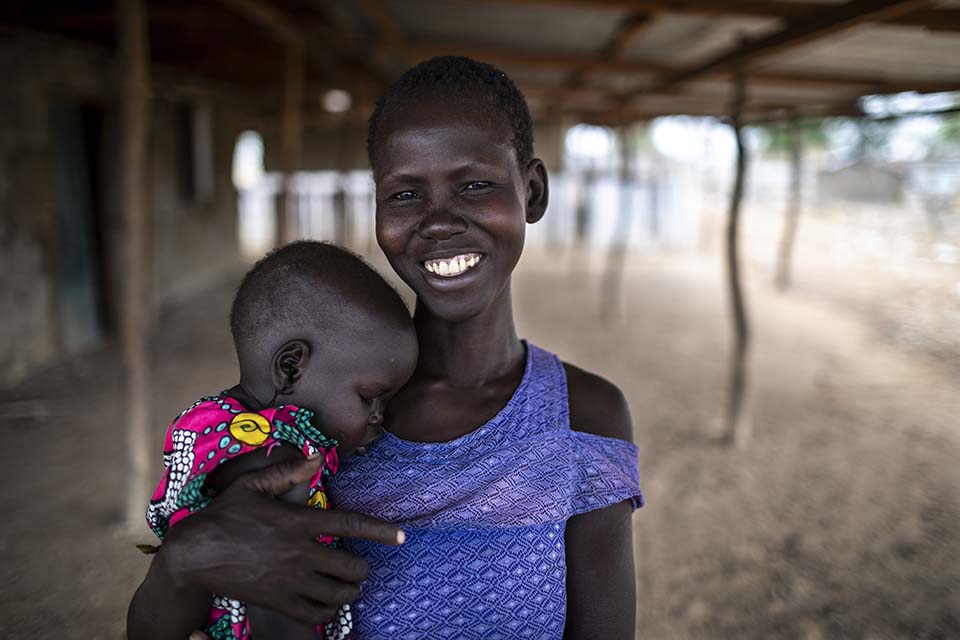 Aluel Lueth holds her daughter, Achol Atem, at a nutrition center in Minkaman, South Sudan.
Photo by Will Baxter/CRS
During the distribution in April, Aluel was happy to see the circumference of Achol's left arm had increased to 5.3 inches. Because it was the second consecutive visit on which she had been measured at more than 5 inches, Achol was discharged from the targeted feeding program, graduating to a broader CRS-managed nutrition program that supports all children 6 months to 5 years old in Aluel's community. Aluel's 3-year-old son Piot Atem is also enrolled in this community-wide program, which aims to reduce micronutrient deficiency and decrease current malnutrition levels.
"These kids like the porridge so much. I can prepare it and put it in the cup, and then they will enjoy it so much," says Aluel.
Another notable change is that Aluel's mind is far more at ease now that her child's health has improved.
"Before I could not sleep. I was having so much stress. That was all because of my daughter, because she was getting sick all the time. But now she is ok, she is not sick anymore. So my mind is at least free from all that stress," says Aluel.