Saving Lives Among Mali's Displaced
Photo by Annika Hammerschlag for CRS
Fatouma Minta was at home preparing tea with her husband when a spatter of gunshots pierced the evening's calm.
She woke her seven children and fled with them into the bush just outside their small village in Mali. Her husband, Mamadou, was following right behind—or so she thought.
Fatouma returned home the next day to find that the entire village had been burned to the ground. She also discovered that Mamadou and three others had been killed.  
More than a year has passed since the attack, and Fatouma's grief for her husband—to whom she was married for 25 years—is still palpable. The pain is etched into her face.
"He was my best friend and confidant. He was my everything," she says. "We were inseparable."
Since the attack, which took place in March 2019, Fatouma and roughly 100 of her fellow villagers have lived in a camp for displaced people, located in the small town of Mopti.
They are among the 3.5 million from across Africa's Sahel region who've been displaced by violent outbreaks.
Prolonged droughts have contributed to land disputes between farmers and cattle herders. As the climate has warmed, the amount of arable land has diminished, causing tensions to escalate. Meanwhile, armed groups have pitted farmers and herders against each other and exploited their economic desperation to recruit new members. 
Central Mali saw a record 456 documented civilian killings in 2019 alone.
With support from the U.S. Agency for International Development's Office of Foreign Disaster Assistance and Office of Food for Peace, CRS has been working closely with local partners and the government of Mali to provide lifesaving assistance like food, water and shelter to more than 210,000 displaced people in Mali.
Upon their arrival at the camp, Fatouma and other villagers received cooking supplies, shelter and a one-month supply of food.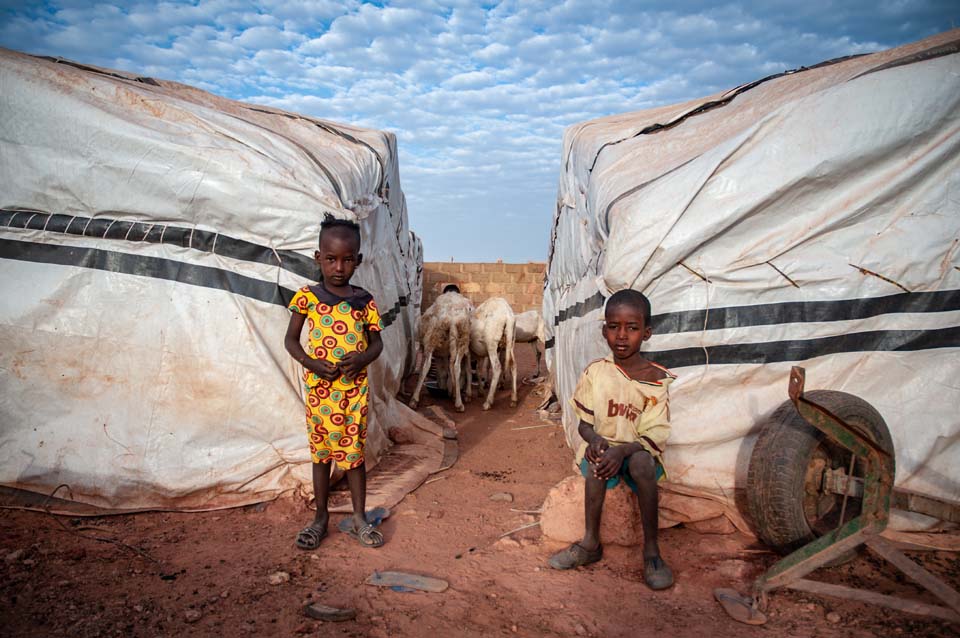 Some 3.5 million people throughout Africa's Sahel region have been displaced by violent attacks by armed militias and terrorist groups.
Photo by Annika Hammerschlag for CRS
To make matters worse, the COVID-19 pandemic has added a layer of danger to the everyday hardships displaced people endure. Now, they face not only food shortages, but the threat of a virus.
At the onset of the pandemic, CRS program staff worked quickly to secure protective equipment, adding N95 masks, thermometers, hand sanitizer and educational materials to their distributions. They also assembled hand-washing stations at remote sites, and partnered with local health organizations to provide wellness screenings and teach appropriate hygiene practices. During distributions, villagers wear masks, use hand sanitizer and maintain six feet of distance from others.
Fatouma says she's grateful for the aid she's received over the last year, but that she misses her old life. Back in her village, she ran a business selling beignets and soap. But now, she's dependent on others to support her family.
Fatouma dreams of reviving her old business and of planting a garden to feed her family. But for now, she has nothing to distract her from the overwhelming grief that envelops her each day.
"I do nothing but look after my kids," she says. "At least here, we are safe."
While the reality remains desolate for thousands of people displaced by violence in the Sahel, CRS is expanding our emergency response and long-term development programming to bring peace, stability and resiliency.