Saving Children's Lives in Somalia
Photo by Will Baxter/CRS
Sadia felt powerless four years ago as she watched her baby waste away from severe malnourishment. At the time she didn't know how to seek treatment and her child eventually died. But when her newborn son Abdul fell ill last year, she was able to act quickly.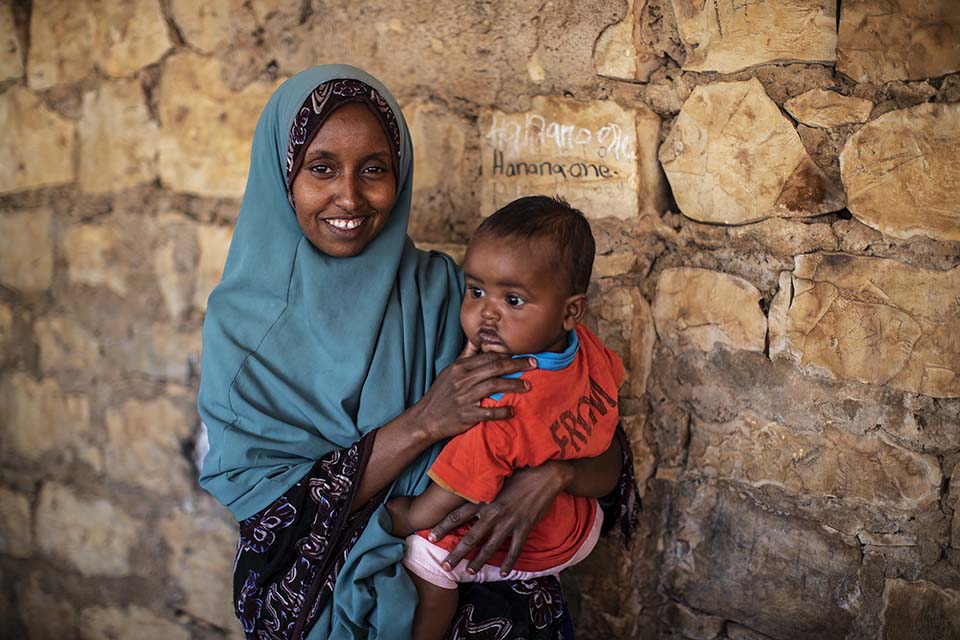 Sadia holds her 5-month-old son Abdul at a mobile health clinic in Somalia. Many of the people CRS serves come from vulnerable communities, including displaced women and children.
Photo by Will Baxter/CRS
"Before, I did not have access to health services. I did not understand about malnutrition," says Sadia, who now lives in a camp for internally displaced people. "That's how I lost one of my babies."
In December 2019, Sadia brought Abdul to a clinic supported by Catholic Relief Services through funding from the U.S. Agency for International Development's Office of Foreign Disaster Assistance.
"The first time I came here my baby was so sick. He was so thin. He had diarrhea and a fever all the time," she says. "I didn't know exactly what was wrong with him."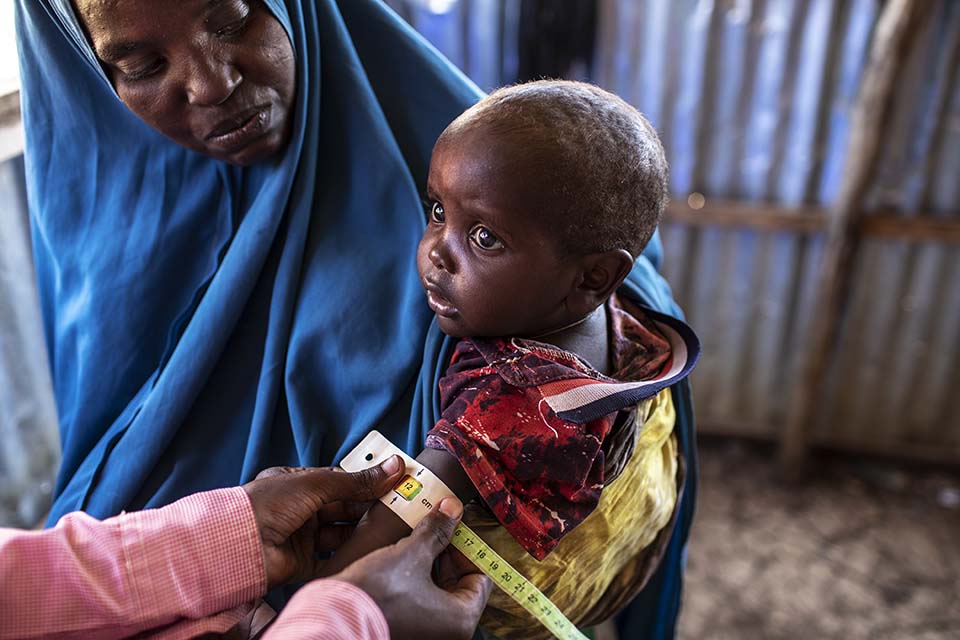 A young boy is checked for malnourishment at a mobile health clinic in Somalia.
Photo by Will Baxter/CRS
A health worker measured Abdul's upper arm circumference, a universal indicator of nutrition status. His left arm was under 12 centimeters in circumference. A healthy, well-nourished child his age would normally measure at least 12.5 centimeters.
"After they examined the baby, they said he was malnourished," Sadia says. Abdul, who was 5 months old at the time, was treated with nutritional supplements and vitamins.
Ongoing Crises
Millions of Somalis are impacted by factors such as alternating droughts and floods, ongoing conflict and lack of livelihood opportunities. In response, CRS and its partners are providing lifesaving services in the areas of health, nutrition, protection and water access through the OFDA's SHArPEN: Somalia Health, Protection, and Nutrition project.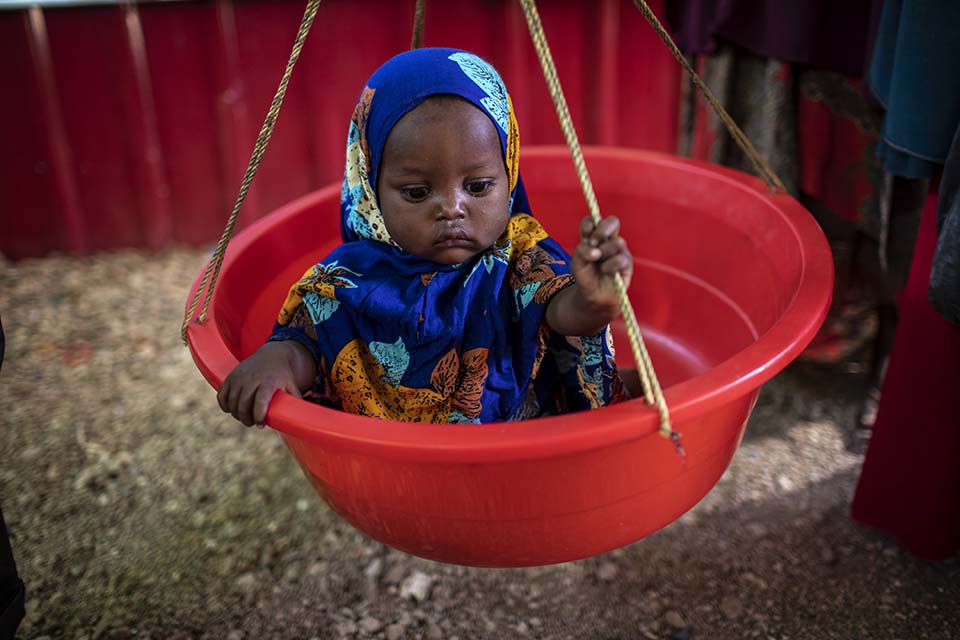 A child is weighed at a health clinic in Somalia where CRS supports health and nutrition programming. Photo by Will Baxter/CRS
The services we deliver include access to primary healthcare through health centers and mobile clinics, comprehensive support for survivors of sexual and gender-based violence, access to clean water, and a program that focuses on community-based management of acute malnutrition. Under the nutrition component of the project, children under age 5 are screened to identify those who are malnourished. Children are also provided with access to services like deworming, immunizations and vitamin supplements.
Many of the families we serve are from vulnerable communities, including people displaced by conflict and climate-change related disasters. At the health centers, parents like Sadia are encouraged to take part in educational health and nutrition sessions where staff cover important topics like good hygiene, nutrition and the importance of exclusive breastfeeding for the first six months of a child's life.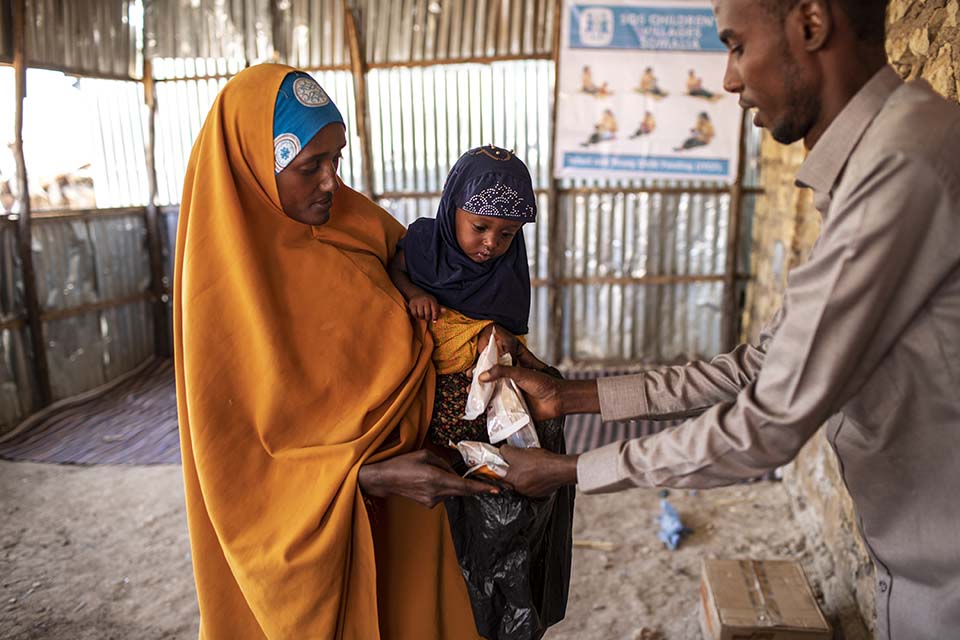 A Somali woman receives nutritional supplements for her children at a mobile health clinic supported by CRS.
Photo by Will Baxter/CRS
"I didn't know how to take care of my baby very well. But from the health education session, now I know I should use soap for handwashing before and after cooking for my children," Sadia says. "Because I didn't know any better, I used to just wash my hands with plain water."
Sadia, whose only income is through casual labor, didn't closely monitor what Abdul ate until she took part in the educational sessions. Now she knows the importance of exclusive breastfeeding.
 "I used to leave my baby with his older siblings when I went to look for small jobs. When I came back, I wouldn't know what they had fed him. So, I don't leave him alone like that now," Sadia says.
"I used to breastfeed him four times a day, but since coming to this center I have started breastfeeding more regularly so the baby can develop well, both physically and mentally."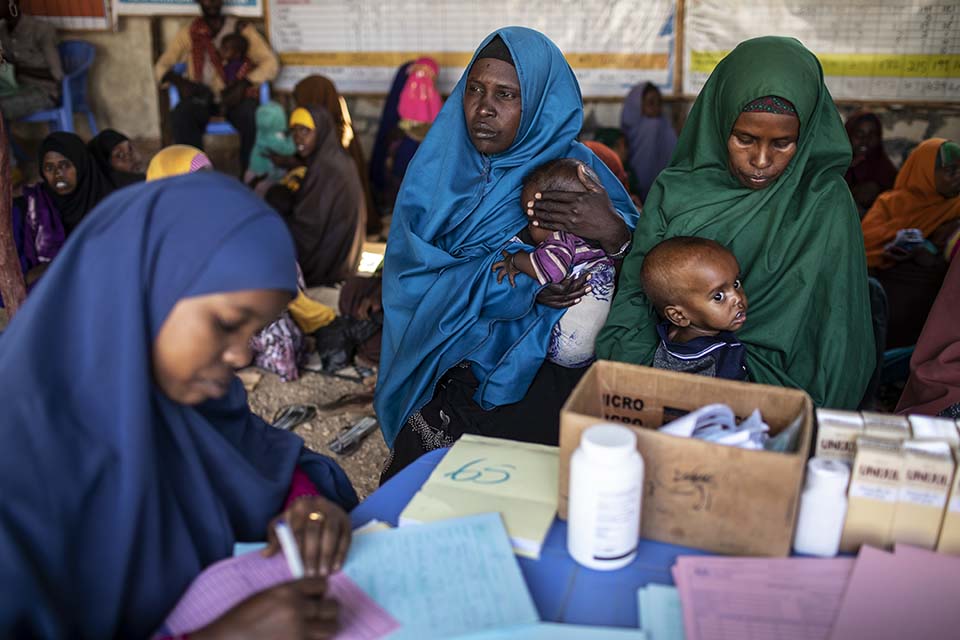 Amina, right, waits for her 2-year-old son Mohamed to be examined at a health clinic in Somalia. Mohamed was found to be malnourished and was given nutritional supplements including Plumpy'Nut.
Photo by Will Baxter/CRS
Sadia was also given a hygiene kit that includes soap, two jerry cans, sanitary pads, underwear, a bucket, a ladle and Aquatabs, which are used to purify water for drinking.
"My home hygiene has really improved," Sadia says. "I use the jerry can to fetch water and now I boil water for my children."
As a result, Abdul is healthy now. "My baby is improving as you can see. You can see from his physical appearance. My baby's arm measurement is now over 12 centimeters."
Sadia has also tried to help other mothers in her community when she sees warning signs.
"When I see that one of my neighbors' children is malnourished, I can recognize the symptoms and I can help refer them to the center," she says, noting that she has urged three of her neighbors to bring their children to the clinic. "Their babies are improving very well."
Fadumo, a nurse in the nutrition department at the health center, says the educational sessions are a vital component of the initiative.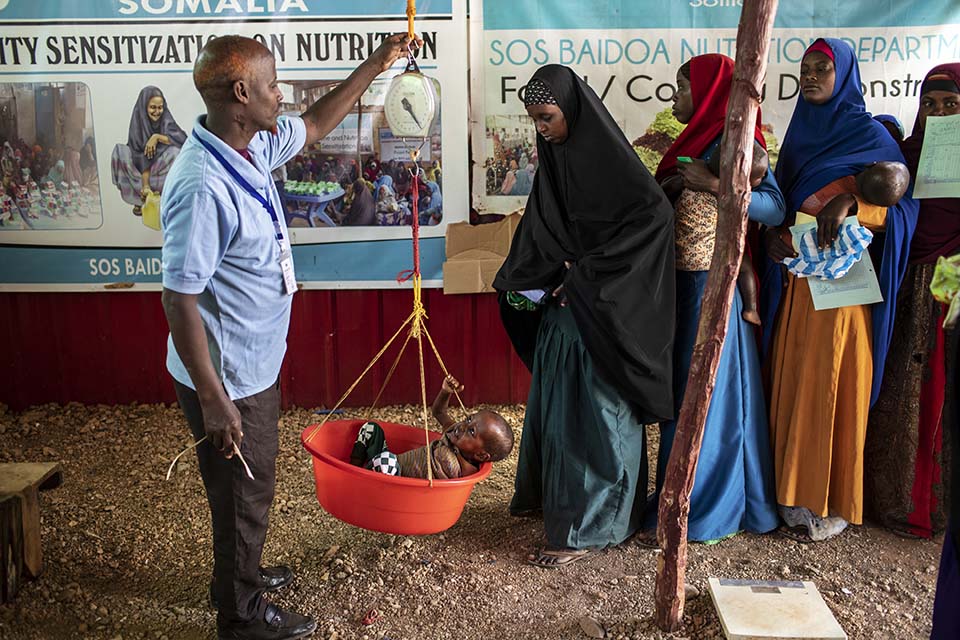 A child is weighed as a measure of good health and nutrition at a health clinic in Somalia.
Photo by Will Baxter/CRS 
"Most of the beneficiaries are illiterate," she says. At the clinic, staff can explain best practices related to health, hygiene and nutrition in terms the parents can understand.
"They are being given health and nutrition education messages about things like having a balanced diet, and about how important breastfeeding is for their babies, plus handwashing, general hygiene, and how they should take care of their homes and their children."
Fadumo says they still see an average of 15 to 20 new cases of severely malnourished children a day.
"Even now we have new children coming here. The important thing about this project is it is reducing the mortality and morbidity of malnourished children," Fadumo says. "If the program wasn't here, who would treat these children?"