The first thing you notice about Sister Theresa is her sense of serenity. She's been living in Gorom Gorom, Burkina Faso, for 9 years now, where the Sisters of the Annunciation of Bobo run a guest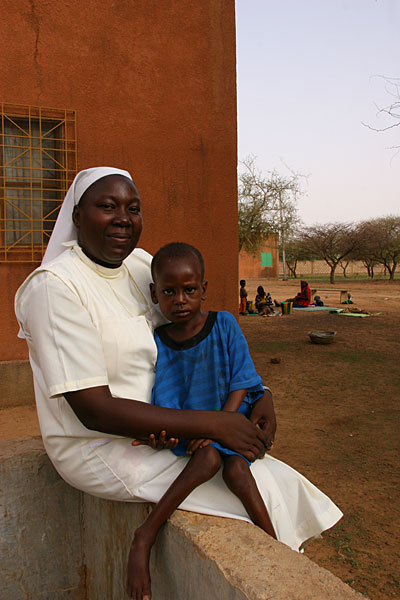 house, an orphanage and a health center.
As soon as a smile breaks across her face or she lets out her robust laugh, the room comes alive. Sister Theresa works at the health center and, over dinner, talked to Catholic Relief Services about the patients she treats there. The next morning, after introducing them, she went to a shady spot and talked about her hopes and fears for her corner of Burkina Faso.
This year, as the rains weren't good, people haven't been able to harvest enough millet. And then the locusts ravaged the crops. Those who did manage to grow some millet plants that bore fruit…, the locusts ate them in the fields. So that made the situation worse.
At the moment, we're seeing families who just don't have enough to meet their needs. They're forced to buy millet at the market, which is very expensive. A lot of families can't afford it. And with our Malian brothers who've arrived in our country, the situation's becoming rather difficult.
People who can buy some millet, do. Those who don't have much money, they buy just a bit to have enough for one meal a day. And you know, one meal a day is not enough. For a woman who is pregnant or breastfeeding, she'll become malnourished. It goes without saying, if a mother is malnourished, her baby will be too. Already, at birth, the baby will not be a healthy weight. Malnutrition starts in the mother's womb, and, after birth, it continues.
Fighting Malnutrition With Peanut Paste
Here at the health center, we welcome everyone no matter their race or ethnicity, age or gender. We also have a maternity section where we do prenatal checkups. We talk with the mothers about nutrition, we check whether all's well from the start of the pregnancy through to the birth and up until the child is 5 years old.
This year, with the food crisis, the number of children coming to the center with malnutrition has risen. Those who are severely malnourished and are also ill are sent to us. We treat them and try to feed them with enriched flour and [peanut paste]. We teach mothers how to make porridge with the special flour, and we try to give advice so that severe malnutrition can be avoided in the family in future.
When a child is malnourished, it's a worry for all the family. This little boy sitting right here, Amidou, his father brought him to us. The whole family, with five children, traveled over 45 miles to get here. The boy is 5 years old and was suffering from severe malnutrition when he arrived. The father burst out crying, he was sobbing, which is very rare in Burkina Faso. Usually it's women who are emotional.
I was very touched to see the man crying. He thought his boy was going to die. He had no more hope, and that really upset me. I tried to comfort him and tell him we'd help.
Praying for Good Rains, Good Harvests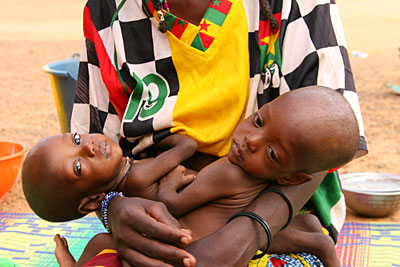 Amidou weighed just 17½ pounds when he arrived 2 weeks ago. We've fed him with the enriched flour and [peanut paste], and now he's already gained 9 pounds.
Catholic Relief Services has given us enriched flour and vitamins for women of childbearing age. Thank you for this act of generosity. May the Lord watch over you in your work. More help is always welcome. If we had some foodstuffs, like cereals, we could give that to families who are here with their sick children. If the parents have enough to eat too, that'll help the child to recoup.
We'll pray to God that we have good rains this year so that people can have something to eat in the villages, and have water and enough grass can grow so the animals will have enough to eat. That will be a relief. But if the rains aren't enough, it will be very serious. It'll make this current situation in the region even worse. The number of people in need will only rise, and right now, I don't know what will become of us.
At the end of the day, we are a people of hope. We are all God's children. We hope that the situation will get better. Those who come, like CRS, to help the poorest of the poor, together we'll be able to do something. I hope the situation will improve. I have faith that it will.