Safe, Clean Water for Madagascar
Photo by Dooshima Tsee
In the small rural community of Ankilisoa in southern Madagascar where Masintsoa lives, water is scarce. This region of Madagascar has the lowest water supply in the country. Droughts have led to low water tables. Wells often dry up at the height of the dry season. Those who cannot afford to buy water during the driest months walk for miles to gather water that is often unsafe and could make them sick.
In 2017, Catholic Relief Services repaired 24 water pumps across southern Madagascar. These water pumps are constructed with a rope mechanism that simplifies maintenance. The well in Masintsoa's village provides water for 20 families.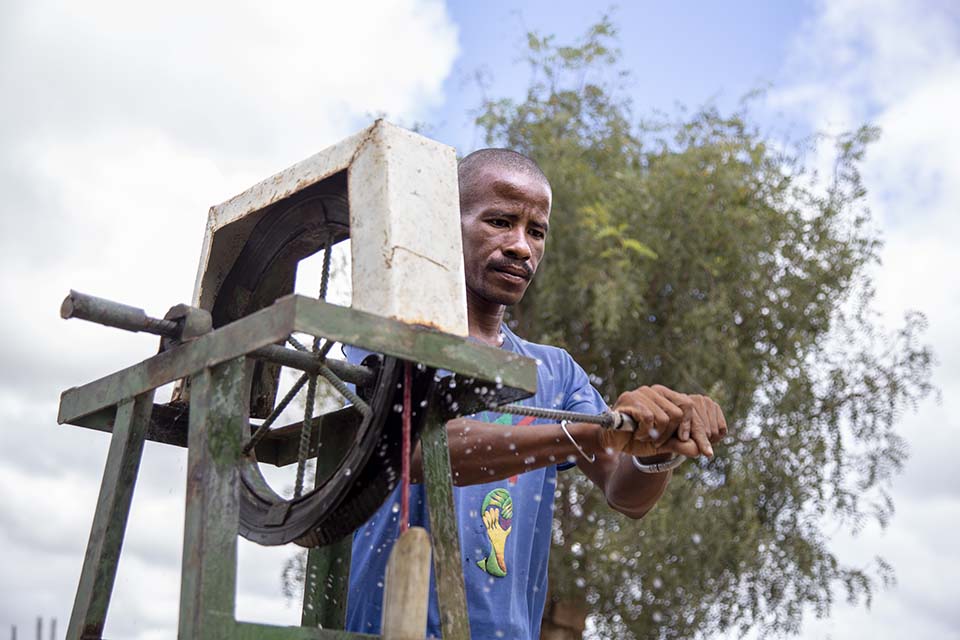 Lahisoa is part of the water management committee. The well pump is such a simple design that even without training Lahisoa can maintain it.
Photo by Dooshima Tsee/CRS
Masintsoa's daily routine used to include two hours of walking to a well in the next village to gather water for her family. She used a hollowed-out pumpkin that held a little over 1 gallon of water. She carefully rationed the water because it took so much time and energy to gather. By the end of each day, Masintsoa was exhausted.
Everything changed when the simple water pump near her home was rebuilt. Now that Masintsoa walks less than five minutes for clean water, she can clean more often and bathe more frequently. She even started a vegetable garden that she waters using a drip irrigation system.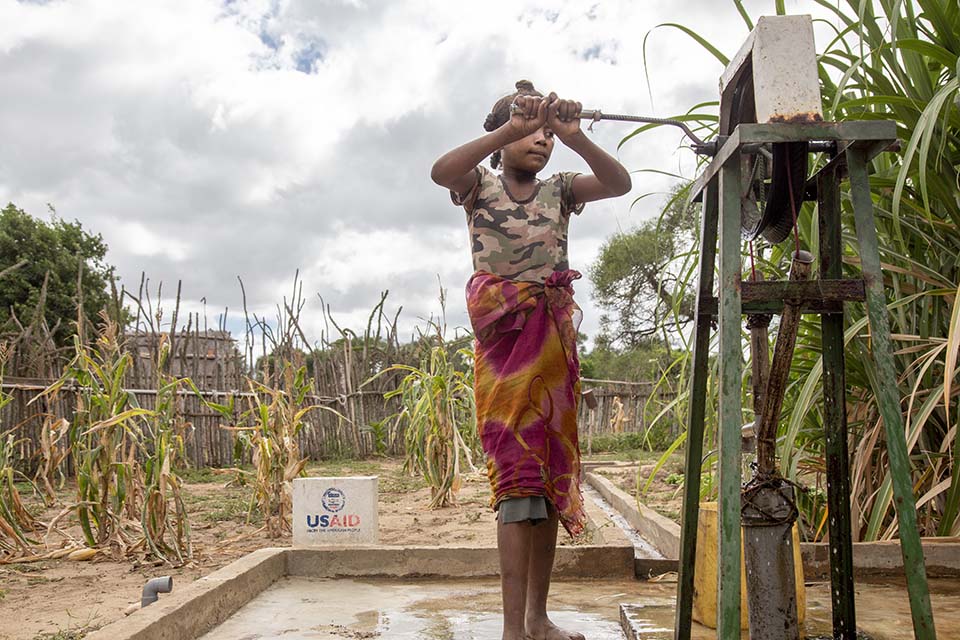 A girl works a well pump rehabilitated by CRS in Madagascar.
Photo by Dooshima Tsee/CRS
"I didn't have a garden, but I used to farm. I grew corn, but then it was too dry. And I didn't have the strength to go back and forth to fetch the water to water the corn, so I had to rely on the rain, which hasn't been enough. Now I have water to water my fields. You've seen the greens and corn I've grown. This is important for me." Masintoa says.
Today, Masintsoa grows vegetables for her family and produce that she sells.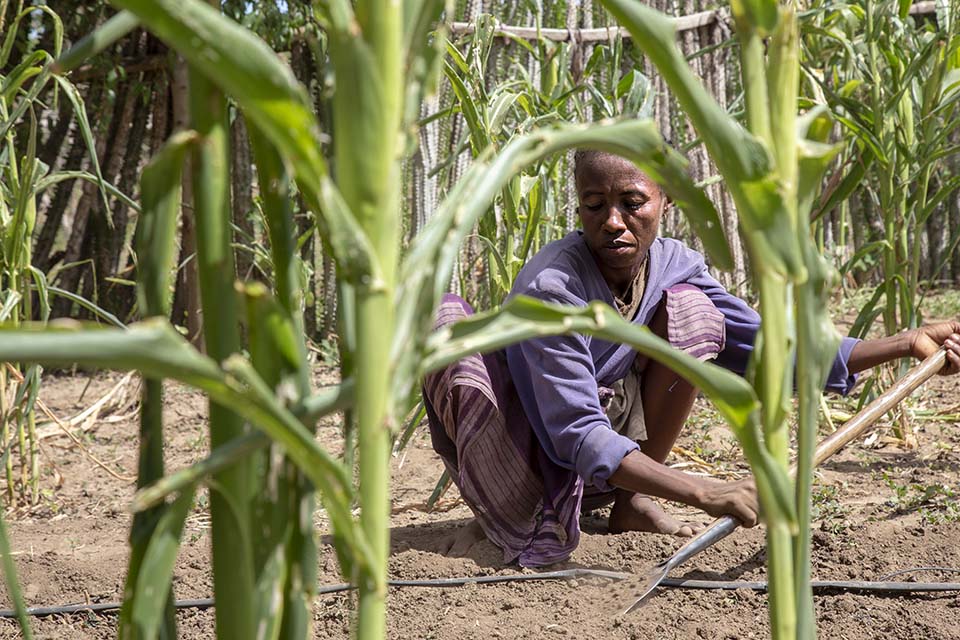 Masintsoa tends her vegetable garden in southern Madagascar. A well in her community saves her time and helps Masintsoa irrigate her garden.
Photo by Dooshima Tsee/CRS
The water pump used by Masintsoa was built on Lahisoa's farmland. He is part of a water management committee responsible for maintaining the pump. Prior to CRS making repairs to the pump, Lahisoa had to pay someone to gather water. His wife was pregnant when the pump was repaired, and he was grateful for the clean water. Also, since the families in the community began to use the pump, Lahisoa has noticed a reduction in the number of children that fall ill.
"The biggest change I have seen is fewer diseases," he says. "Before we had to bring lots of people, lots of children, to the hospital. Many cases of diarrhea. This is something we have really overcome."
CRS rehabilitated the water points as part of the DiNER project, funded by the U.S. Agency for International Development through its Office for Foreign Disaster Assistance. DiNER programs focus on increasing food security for families by increasing their access to clean water, seeds for growing crops and fishing equipment.